Veterans GOODNEWS for Feb. 6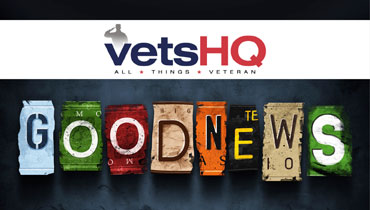 Dying veteran giving away his possessions, home to help other veterans (KARE-Minneapolis)
After 38 years in his Maple Grove home the time has come for Bob Karlstrand. Everything he owns, from toys and books to home appliances and furniture has to go. "Most of the things I can remember having. Maybe some pictures I'll keep but in the end it's only material things," he said The end has been on his mind a lot. A battle with colon cancer and a terminal lung disease makes a man think about the 65 years he's had and the 66th he's not sure he'll see. "I've had a good life so I can't complain at all," Bob said. Bob was an only child, who never married and never had children. So he's been giving his things away as he prepares to die. "I had people come in and just take what they wanted," he said. Most of his possessions are gone. Even the living room carpet has been stripped. Soon his home will be someone else's too. Bob decided earlier this fall that when he dies he wants to give his home to Susan Haigh and her team at Habitat for Humanity. "It's a real legacy for a family and we're really grateful," Haigh said. Habitat for Humanity will rehab the home and help a new family move in. The one requirement Bob has is that the home go to a veteran, just like him. Bob served his country in Vietnam coordinating B-52 bombers. "I wanted to give back to the veterans if I could," Bob said. But Bob's generosity doesn't end there. A few months ago Connie White Delaney, dean of the University of Minnesota's nursing school, got a surprise visit. "The school receives many gifts. This one is just deeply touching," White Delaney said. Bob, a graduate of the U's business school returned to donate his retirement fund to the nursing program. "If I can help a little bit that will be good," Bob said. His little donation was a $1 million endowment.
Advocate: Persistence pays when filing a disability claim (Virtual-Strategy Magazine)
Author and veterans advocate Jon Macintosh describes the Department of Veterans Affairs as "essentially an insurance company modeled after big insurance companies and that's just how they operate." Thus his book, which Macintosh describes as a field manual for any individual in need of pursuing a disability claim with the VA. The author, a former Army Ranger and himself a disabled veteran, offers sage advice in 'VA Disability Claim,' which runs 134 pages. Given his military background, Macintosh can be forgiven for referencing the advice he dispenses in his book as 'intel.' And it begins when the claimant first puts on the uniform, he says, advising service members to keep diligent records of everything and to avoid "just sucking it up" when an injury happens while in the service. Rather, Macintosh states, the injured service man or woman should report and document everything that happened. "Eventually, in four years, or eight years, or 20 years, you are going to get out of the service and you may find yourself dealing with a whole new beast," says Macintosh, who served with the US Army Airborne Rangers. "I think it is important for young kids, young men and women that go into the military to know what their options are. If you don't know who to talk to or what questions to ask, you will lose."
For disabled veterans, COVERT adaptive sports is therapy that works (The Miami Herald)
For disabled war veterans, the thought of playing sports may seem impossible, especially if suffering from Post-traumatic Stress Disorder (PTSD), head traumas, amputations, spinal cord injuries or paralysis. Yet veterans like Brian Bohne, who says he's "served all over," in his 15 years with the Army, and Francisco Abreu, a paraplegic who was stationed in Korea, want other disabled vets to know that adaptive sports – modified for people with disabilities — is a therapy that works. A major hurdle exists though: extremely low turn-out because of lack of knowledge from veterans about the programs. Bohne travels from Fort Lauderdale and Abreu from Miami Gardens to Trail Glades, an outdoor rifle and shotgun shooting range in Southwest Miami. There, they unleash bullets and anxiety during trap shooting on Wednesdays, as part of Miami-Dade County Park's adaptive sports program for disabled vets. What Bohne likes about the program is being outside and around people. "When you're retired, if you stay inside you'll go crazy. I'm not going to sit inside and watch The View or anything," he says. Recently, Miami-Dade County's Disability Services Division was granted nearly $23,000 from the U.S. Department of Veteran's Affairs to expand and aide its "COVERT" program (Connecting the Outdoors with Veterans through Education, Recreation and Training). The goal is to promote lifelong mental and physical health through regular participation in adaptive sports. Last year's grant came from U.S. Paralympics. The program is completely dependent on grants to operate. Now, in its second year, COVERT helps local disabled veterans enjoy adaptive sports like archery, which begins in March, shooting (trap/air rifles/pistols), hand-cycling, and swimming, which will begin in May during warmer weather. The grant money will be used to purchase supplies like rounds of ammunition, shotgun rentals for vets, more hand-cycles, archery equipment, fund staff time, and to keep the program running until the end of the fiscal year, on Sept. 30.
Student veterans fight back against 'American Sniper' critics (USA Today)
Despite the record-breaking $90 million "American Sniper" racked up in its opening weekend alone, not everyone has been thrilled with the portrayal, and arguable glorification, of Chris Kyle and his roughly 160 kills made while in the military. "I've heard stuff mostly online, just people reacting on social media," says Robert Rubio, a student veteran from Texas A&M University. "It's mostly just reactions to the movie and how it's depicted. But it's not so much about the war itself, but the result of it and the hardships veterans have when they come back home." Mainly citing Kyle's memoir, the like-named American Sniper, writers have argued that his view on war is not worthy of being shown to impressionable audiences across the nation. Guardian writer Lindy West cited Kyle as a "racist" and condemns the film and its director, Clint Eastwood, in an opinion piece published a few weeks before the film's release. Student veterans, however, have a different perspective on the film and the events portrayed. "American Sniper is from the perspective of Chris Kyle, which is just one solider and one perspective," says Matthew Wilson, a student veteran at Appalachian State University. "Every soldier is different. My mentality to the war is completely different from someone else's. Just because one soldier was this way doesn't mean everyone else is." A particularly large issue in the film revolves around Kyle struggling with Post-Traumatic Stress disorder, or PTSD, which is common among those who serve in war. Some believe while the movie does acknowledge this issue, there is a better way to go about understanding the disorder. "The effects aren't visual," says Rubio, who served in the Navy for 10 years. "You have an amputee come home, and you can see. But people have trouble with (servicemen) coming back who have trouble adjusting…People don't realize war isn't a movie, it isn't a video game. You can't hit 'reset' and erase it from your memory."
Denver Zoo volunteer helps vets connect with their families through love of animals (ABC-Denver)
As a young man he served his country in the U.S. Navy. Now retired, Samuel "Bud" Gawn serves to educate others. He has volunteered at the Denver Zoo for nearly 20 years. "I have been a member here for about 30 years," said Gawn. And he has put in more 7,000 hours doing a myriad of things. "I have done a lot of touring of school children over my time and that's my favorite activity," said Gawn. A World War II veteran, Bud helped the zoo develop a program for vets returning from Iraq and Afghanistan. "Some of the vets struggle to reconnect with their families. So, he helped us create a program where veterans can bring their families for a zoo tour. The veterans are free and it's a very reduced price for the family," said Brad Parks, Director of Guest Engagement, the Denver Zoo. Bud also gives his time at the zoo with something called the PAWS program. "PAWS stands for Partners Advancing With Support. It is an adult volunteer program to include people with disabilities," said Parks. The Denver Zoo has more than 600 adult volunteers and in the summer more than 100 teen volunteers.
Veterans, VA seeking alternative treatments for PTSD, chronic pain (KOAA-Colorado Springs)
The right prescription for veterans and active duty service members, may not be a prescription at all.  Alternative treatments, like yoga, meditation, acupuncture, electrotherapy and chiropractic work are proving extremely helpful for military men and women suffering from an array issues. It's a shift taking place inside and outside of Veterans Affairs health clinics in Colorado. Veteran Jason Smiley is an instructor in Colorado Springs with the Veterans Yoga Project.  Every week, he and other vets meet at Hot On Yoga for a free class, designed specifically with veterans in mind.  The yoga is restorative and Smiley leads the class through guided meditation. "They understand that you've been through the same things they've been through," said Smiley. The vets share a common ground, going through war, deployments and service to their country.  That service can come with a price, such as Post Traumatic Stress Disorder, physical injuries and chronic pain, anxiety, depression and insomnia. "I don't sleep very well," said Coast Guard veteran Tom Noomen.  "The thing that really helps for me is that this is totally to relax and get well, and it's not a push to the limit kind of thing which a lot of times you do experience in the military and sometimes pushing over the limit."
Florida woman finally convinces VA she's not dead (WFLA-Tampa)
When the first of several U.S. Veterans Affairs condolence letters about the death of Mary Ann Clough arrived at the Hampton at Clearwater senior housing complex before Christmas, no one was more distraught than Mary Ann Clough. The 86-year old was certain that she wasn't dead. But, it took some doing to convince VA staffers, who by that time, had cut off her benefits as as the widow of a deceased Vietnam veteran who died in 1997. Not only did the VA cutoff her monthly stipends, but so did the Social Security Administration. Both of those agencies also reached into Clough's bank accounts and took back months worth of benefits, since they were sure she'd died in August. Clough believes they confused her with the second wife of her first husband whose first name was Mary. Thanks to an intervention by Congressman David Jolly (R) Pinellas County, Clough's benefits have now been restored, although she still hasn't managed to convince the VA that she married another veteran last May and that the couple is due additional VA benefits from that relationship. Jolly has just written VA Secretary Robert McDonald regarding Clough's VA fiasco and pointing out there have been several other similar instances in the Tampa Bay area where the VA has prematurely "killed" beneficiaries in that agency's records, when in fact they are still quite alive. "It goes without saying that these occurrences are disconcerting and unacceptable," Jolly writes. "I would like you to provide me with information regarding how often such incidents have occurred over the past five years and how the process for designating someone as deceased has evolved over time."