Veterans GOODNEWS for Feb. 9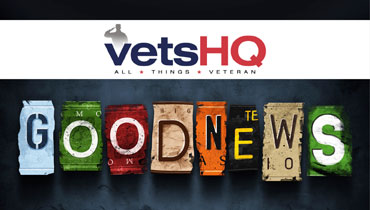 Report: Veterans high on 'learning agility', make excellent leaders (Military Times)
Corporate leaders that talent management powerhouse Korn Ferry works with are assessed for "learning agility," described as a top predictor of leadership success. After the company teamed up with Exelis Action Corps and Points of Light on the Leveraging Military Leadership Program, Korn Ferry's experts were able to discover how veterans measure up. As a group, "it is obvious" that vets rate "high on learning agility," says Korn Ferry's Noah Rabinowitz. "In fact, examining the distribution of overall learning agility, we found that close to two-thirds of them are higher than the population mean." Learning agility predicts a leader's likelihood of being successful in new situations — "the willingness and ability to learn from experience and then apply those lessons to succeed," according to the company. Korn Ferry measures five factors to get an overall learning agility score. Overall scores of the 200-plus veterans ranked in the 58th percentile on average, meaning the veterans scored higher than 58 percent of leaders in Korn Ferry's database. While it's possible the veterans in question were higher on learning agility than a wider population of vets — "there's a reason they applied to the program; that's a signal of learning agility itself," Rabinowitz said — he also pointed out that the veterans were compared largely against "high-performing people in great organizations."
Veterans honor four WWII chaplains' brave sacrifice (The Columbus Dispatch)
Lighting candles, ringing a bell and retelling the stirring story of four World War II Army chaplains — one of whom was a Columbus native — Franklin County veterans paid tribute to "their ultimate sacrifice" in a ceremony held yesterday for the first time at City Hall. The story focuses on the "Four Chaplains," sometimes called the "Immortal Chaplains": the Rev. George Lansing Fox, a Methodist minister; Rabbi Alex Goode; the Rev. Clark V. Poling Sr., a Dutch Reformed minister; and the Rev. John Washington, a Roman Catholic priest. Poling and the other three chaplains came from different backgrounds as well as different faiths, and they formed a close bond during training in 1942 at the Army Chaplains School at Harvard University. When they joined 900 other men on board the U.S. Army Transport Dorchester in January 1943, they couldn't know that their bond — unusual at a time when religious bigotry was common — would be put to the ultimate test. "The vessel was old and small," said Earl Bailey, assistant chaplain of the 12th District of the American Legion, recounting the story to the audience in his burnished baritone. "Naked light bulbs lit their way. … Only a few knew they were headed to Greenland." But the ship would never reach its destination. Shortly after midnight on Feb. 3, 1943, a German submarine fired a torpedo at the Dorchester, hitting the converted luxury liner below the waterline near the engine room. Within 20 minutes, the ship sank and more than 670 men died. But during those final minutes, the four chaplains were "giving some men strength to live; others, the courage to die," Bailey said. The four helped as many men as they could into lifeboats, distributed life jackets and, when they found that some men had lost their life vests, removed their own and gave them away.
Study shows telemedicine could help veterans with PTSD (Law Firm Newswire)
Recent research published in JAMA Psychiatry shows that off-site, multidisciplinary care may be an effective form of treatment for veterans with severe post-traumatic stress disorder (PTSD) who live in remote, rural areas. A multisite, randomized trial examined the effectiveness of Telemedicine Outreach for PTSD (TOP), which involved a collaborative care team using telephone calls, video conferencing and shared electronic medical records. The study found that this approach, applied to PTSD sufferers living in areas with sparse resources, was more effective than traditional forms of treatment. "Access to psychological care is a major issue for veterans living in rural areas," said Jim Fausone, a Michigan veterans disability attorney. In 2012, more than 500,000 veterans, or about nine percent of the total Veterans Health Administration (VHA) population, had a diagnosis of PTSD. The disorder can be as disabling as it is prevalent, preventing veterans from being productive or engaging with their loved ones in many cases. PTSD can be effectively treated, but the 37 percent of VHA enrollees who live in rural areas face barriers to accessing psychiatrists and psychologists who specialize in PTSD.
VA program matches patients with foster homes (Green Bay Press-Gazette)
Home-cooked food and a yearning to explore photography prompted Carleton Dedolph to move from the Tomah VA Medical Center to a foster home in a new Veterans Affairs program there. "Frankly, I was getting fed up with the food, and I thought it would be better to have different surroundings to restore my creativity that I couldn't do in the hospital," the 60-year-old Army veteran said in an interview with the La Crosse Tribune while relaxing in the VA Medical Foster Home near Sparta. "I grew up shooting pictures with a Polaroid and a Super 8, but they're outdated," said Dedolph, who had been hospitalized at the medical center for treatment of his paranoid schizophrenia and other health issues for nearly 10 months before moving to the foster home setting last month. The Medical Foster Homes program began nationally in small pilot programs in 2000, and the Tomah VA last year became the first VA facility in the state to offer the option, said Danielle Puccetti, who launched the effort and now is coordinator of Patient-Centered Care and Cultural Transformation there. The program matches veterans with people who can provide 24/7 supervision in their homes, augmented with support from a home-based primary care team to provide medical and therapeutic services, she said. "The VA is working to provide care that enhances veterans' health not just physically, but their overall well-being," Puccetti said. "It's really about veteran choice."
Double amputee veteran to receive a new home in California (NBC-San Diego)
A Marine Corps veteran who was left severely injured while serving in Afghanistan will soon have a brand new home to call his own in El Cajon, Calif. Marine Cpl. Carlos Torres lost both of his legs and injured his left elbow when he stepped on an improvised explosive device in Afghanistan in 2011. Four years later, he never imagined he would be the recipient of a brand new mortgage-free home. "I don't know what to say or what to feel its just a lot of confusion," Marine Cpl. Torres said at Saturday's groundbreaking on Crummy Court. "But happy confused." Torres was presented with the keys to his future home thanks to Home for Our Troops, a national, non-profit organization that aids critically injured veterans by giving them mortgage-free, specially adapted homes. Torres said the event left him humbled. "There's really no words to describe what it is to get a home, I mean a home mortgage free," Torres said. "It's huge. I don't even know how to say thank you because thank you is just not enough." The home will feature several special adapations to make life for Torres easier. It will include widened doorways for wheelchair access, a roll-in shower, and pull-down shelving and lowered countertops.