Veterans GOODNEWS for Feb. 23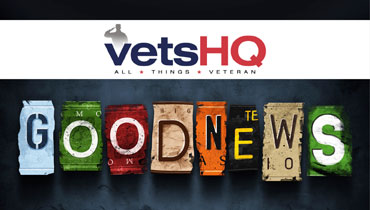 VA suicide hotline documentary wins Oscar (Military Times)
A film that turned the camera lens on those who work behind the scenes to keep veterans from committing suicide took home an Academy Award on Sunday night. As the feature film "American Sniper" stole headlines and has grossed more than $428 million worldwide, a small documentary short, "Crisis Hotline: Veterans Press 1" touched Academy members with its riveting portrayal of the employees who staff the VA's suicide hotline in Canandaigua, New York. In their acceptance speeches, producers Dana Perry and Ellen Goosenberg Kent thanked those who answer the phones — many of whom are veterans themselves or military family members — and former service members. "I want to thank the people at the crisis line who care for veterans as deeply as if their own lives depend on it," Kent said. First aired on HBO in late 2013, the 40-minute documentary showcases the emotional strain the job has on employees and the deep compassion and devotion they have for troubled veterans on the other end of the line. After her Oscar win, Kent told Military Times that she wanted to honor veterans, their families and those who "support them in their journey home." "We want them to know it's brave to reach out for help," she said.
How Vietnam veterans broke their heroin addictions (The Huffington Post)
It was 1971 and the Vietnam War was heading into its 16th year when two congressmen, Robert Steele from Connecticut and Morgan Murphy from Illinois, made a discovery that stunned the American public. While visiting the troops in Vietnam, the two congressmen discovered that over 15 percent of U.S. soldiers had developed an addiction to heroin. (Later research, which tested every American soldier in Vietnam for heroin addiction, would reveal that 40 percent of servicemen had tried heroin and nearly 20 percent were addicted.) The discovery shocked the American public and led to a flurry of activity in Washington, which included President Richard Nixon announcing the creation of a new office called The Special Action Office of Drug Abuse Prevention. The office was created to promote prevention and rehabilitation of drug addictions and also to track and research the paths of addicted servicemen and women when they returned home. It was this last part, the tracking of returning soldiers, that led to some surprising insights. Lee Robins, one of the researchers in charge of tracking the veterans, found that when the soldiers returned to the United States only 5 percent of them became re-addicted to heroin. In other words, 95 percent eliminated their addiction nearly overnight. This finding completely contradicted the patterns of normal addiction. The typical heroin cycle went something like this: an addicted user would enter a clinic and get clean, but once they returned home, the re-addiction rate was 90 percent or higher. Nearly every heroin addict relapsed. The Vietnam soldiers were displaying a pattern that was exactly the opposite.
Back from Iraq and Afghanistan, veterans produce a surge of great fiction books (Dallas Morning News)
Ben Fountain was driving to Galveston in March 2003, about a week after the U.S. invasion of Iraq, when he caught a glimpse of the literary future. "I was thinking, 'They're out there,'" Fountain says from his Dallas home. "Those men and women who are going to write the novels of the next generation are out there in that sandstorm right now." It would be several years before he would conceive and create his own award-winning war-themed novel, Billy Lynn's Long Halftime Walk. But give him points for foresight. The last few years have seen a steady stream of first-rate fiction written by veterans of the Iraq and Afghanistan wars. The latest is Elliot Ackerman's Green on Blue, which takes its title from the code used for an Afghan police or military attack on coalition forces. Ackerman, who served five tours of duty in Iraq and Afghanistan and was a primary combat adviser to a 700-man Afghan commando battalion, will join Fountain on Friday at the Dallas Museum of Art, part of the museum's Arts and Letters Live series. Ackerman's book is hardly the only searing fiction to come out of the wars. Other highlights include Phil Klay's Redeployment, winner of the 2014 National Book Award for fiction; The Yellow Birds, by Kevin Powers (a graduate of the Michener Center for Writers at the University of Texas at Austin); and Fives and Twenty-Fives, by Michael Pitre.
VAe opens veterans' skills training facility in Orlando (Orlando Business Journal)
Veterans Assembled Electronics LLC opened its third training center for service-disabled veterans on Hoffman Avenue in Orlando. "Our focus is to solve veterans' unemployment, homelessness and societal problems by giving them a fresh start in meaningful and productive jobs," said VAe CEO John Shepard. "The training and job placement we do is in response to the growing demand for electronics technicians in Florida and the high unemployment rate among veterans." Following a five-month skills, training and certification program immersion program, VAe then works with each veteran to assist him or her in crafting a resume and preparing for job interviews. VAe also works directly with an employer to get the veteran placed.
New VA clinic pays tribute to WWII hero from Colorado Springs (Colorado Springs Gazette)
A Colorado Springs hero got an honorary home Friday when the city's new Department of Veterans Affairs clinic was named for Pfc. Floyd Lindstrom. The World War II Medal of Honor recipient was mostly unsung in his hometown before veterans groups and Congress came together to put his name on the 76,000-square-foot facility at Centennial Boulevard and Fillmore Street. "He's a hometown hero that the hometown doesn't know," said Keith LaMee, an Army veteran who spearheaded efforts to put Lindstrom's name on the building. The naming ceremony drew Colorado Republicans U.S. Rep. Doug Lamborn and U.S. Sen. Cory Gardner, who pointed to the clinic as a success story for the VA amid the agency's recent missteps. "We have to keep pushing them when they do things too slowly," said Lamborn, who has criticized the agency for its troubled Denver hospital project that's over budget and behind schedule. Gardner said he's pushing the VA to clean up problems, including long delays in veterans' care and tangled construction projects. "The most important thing is to meet the needs of veterans," he said. The VA clinic in Colorado Springs, which opened in August, is a step in the right direction, both lawmakers said. The facility replaced three smaller clinics, giving veterans a single place to get care.
Sharing vets' unabashed joy, and unrelenting pain (CBS News)
For anyone curious about the lives of veterans once they return home, the Veteran Vision Project photo collection is a revelation. No one is speaking in a still photo, but they're still sending signals, reports CBS News correspondent Wyatt Andrews. In this collection, one photographer has asked dozens of veterans to send messages or tell stories about themselves while posing in front of a mirror. There are more than 130 photos so far of veterans and active duty service members, and they are projecting who they are. or what's hiding behind the uniform, with all of it revealed through the looking glass. What viewers get to see is unabashed joy and unrelenting pain. There is pride, diversity, and there are Americans free to be whatever. And while the photos are very different, the format is the same. On one side of the mirror the veteran is in uniform, on the other is an image the veterans choose themselves. The photographer is Devin Mitchell, an amateur photographer and a sociology student at Arizona State University. He started the project to bolster his application to go to grad school. Here's the concept: Mitchell takes the photos and creates the mirror images through a photo editing system, but he never suggests what anyone should show or should be. "The only way to get the truth from anyone is to allow them to create what their story is," Mitchell said. The veterans choose which uniform they would like to wear and what the other side of the reflection will be. Mitchell explained it as, "the mirror image of your life, the mirror image of your past, the mirror image of who you see yourself in the future. There are so many different dynamics — each photo has its own dichotomy."
Veteran's portraits bring war's consequences into sharp focus (The Los Angeles Times)
War isn't what it used to be. Nor are war stories. Since 2006, Jennifer Karady has been making elaborately staged portraits of veterans of the wars in Iraq and Afghanistan. Neither a journalist nor a documentary photographer, the Brooklyn-based artist invites us to think differently about war by using photography to bring some of its consequences — and otherwise invisible realities — into sharp focus. In the 20th century, photography and later television brought war home — making U.S. viewers acutely aware of the flesh-and-blood consequences of battles, bombings and firefights. For photographers and camera operators, that meant being on the frontline, under fire and in the thick of things. Karady stays close to home but does something similar. Her work begins with veterans who have brought the war home — in memories, flashbacks, dreams and nightmares — after the physical violence has subsided yet before the psychological turmoil has settled. In a phone interview, the 48-year-old artist said, "I knew early on that I wanted to try to tell different kinds of stories. Some that really challenge your idea of what a war story is." Sixteen of those make up "Jennifer Karady: In Country, Soldiers' Stories from Iraq and Afghanistan." At the Palm Springs Art Museum, Karady's exhibition pairs 4-foot-square photographs with printed accounts (two to seven paragraphs long) of the soldiers' experiences that led to the pictures.
For Marjah veterans, 5th anniversary is bittersweet (Marine Times)
A lot has changed in the five years since Marines fought in the Battle of Marjah, Afghanistan. Many of the Marines who charged into the Taliban stronghold as young lance corporals in 2010 are now bearded veterans with new careers and ambitions. The brass who led the invasion have either retired or added new stars to their crisp uniforms. But the years and the changes fell away Feb. 12 as hundreds gathered here for a two-day reunion to mark the anniversary of what has been called one of the most decisive victories of the war. The event was organized by several of the veterans themselves. The significance of the small, southern town of Marjah was clear to commanders well before the 10-month siege on the town was launched in February 2010. Overrun by insurgents, the region was called a "black hole" that stood adjacent to key locations such as Lashkar Gah, the capital city of Helmand province. A joint assault called Operation Moshtarak — the name taken from the Dari word for "together" — was planned and launched as President Obama ordered a surge of 17,000 additional troops into Afghanistan. The battle was a heavily publicized effort to flush out civilian non-combatants. Comparisons were made to another key Marine fight: the two-part Battle of Fallujah in Iraq. Ultimately, the Battle of Marjah would involve 15,000 U.S., Afghan, and NATO troops in a lengthy and costly battle. Nearly 50 Americans would die supporting Operation Moshtarak.
Inmates train service dogs to help veterans in need (KTRK-Houston)
Behind the bars of prison units in Texas, inmates are changing the lives of veterans one dog at a time. Inmates who participate in the Patriot Paws program train service dogs that go on to live with veterans with PTSD and physical disabilities from the war. The scars of war are not visible on veteran Carl Scarborough, but he battles them every day. "I saw an end to my life and not wanting to be here anymore," Scarborough said. The war veteran left the Army after 5 years in Iraq and Afghanistan after being diagnosed with PTSD and a traumatic brain injury. He says some of his war buddies eventually took their own lives. His salvation came in the form of a Golden Retriever appropriately named Angel. "There was a void in my life that needed to be filled with something before I became that number, that statistic," Scarborough said. Angel calms him with the touch of a paw, helps him sleep, and gets him out in the world. Angel received part of her training behind bars at various Texas prisons, just like all of the other dogs in the Patriot Paws program. Some of the dogs are bought with donations, others are donated by breeders, and the rest are taken from shelters. They are trained to do everything a veteran needs from opening a refrigerator and retrieving a drink to picking up a prosthetic limb.
From yoga to food startups, how veterans found their true calling (New York Post)
When Anu Bhagwati supervised 38 staff members and 450 new Marines monthly in combat skills as company commander, it was one "incredibly intense, high-adrenaline experience after the next" — but she never thought it would lead her to yoga. Calling it "an act of survival" navigating stress, trauma and sexual harassment, the now 39-year-old Upper West Sider discovered yoga while on vacation in upstate New York in 1999. "The schedule was very ascetic. You're up at 5 a.m. doing the yoga version of Marine Corps training before the sun even comes up," she recalls. "Instead of running and pull-ups you're doing meditation." Although it was challenging integrating Zen into military life, she rediscovered it off-base and brought it back to comrades. After serving in Camp LeJeune, NC, Virginia and Japan, Bhagwati became a certified yoga instructor in 2008, four years after completing her military service. She launched Yoga for Vets, a free service, at the Integral Yoga Institute in the West Village. More and more veterans like Bhagwati are realizing that the military can help them find their true calling, connecting the dots to their next civilian role. "You don't have to dive into your new passion immediately — it's OK to take your time to ensure you feel comfortable pursuing it," says Dorie Clark, author of "Reinventing You."
Meet the veterans who make it their mission to bring in the laughs (New York Post)
It's Monday night at 6 p.m. and Derek Humphrey is ready to take the mike in front of a crowd of 20 people at Dardy Bar in Williamsburg. It's a far cry from his time serving as a Navy petty officer in places like Baghdad, the Suez Canal and Oslo. Although the 36-year old Flatbush resident also performs in venues like the Upper West Side's Stand Up NY, that wasn't always the case. Humphrey gained the confidence to pursue his childhood dream during deployments between 2000 and 2005. En route to the US after firing some of the first shots during Operation Iraqi Freedom, his shipmates started a talent contest to break up the monotony of being at sea for 90 consecutive days. Although he didn't initially enter the contest, by the end, everyone started pounding on tables and chanting his name, coaxing him into doing the impressions of crew members he became known for at sea. "I didn't intend on entering," he recalls, "and ended up winning despite going up against people who could actually play an instrument or sing." Beating out talented peers marked his aha moment: "To come away with a victory was the moment when I thought, 'Maybe I have something here,' " he says. Turns out, Humphrey's not alone in pursuing his passion. Although jobs for actors, including comedians, are anticipated to increase by just 4 percent through 2022 — slower than average — comedian David Goldstein says standing out is key for veterans and nonvets alike. "You have to find your own voice in this business if you're going to be really great," he explains.