Veterans GOOD NEWS for March 10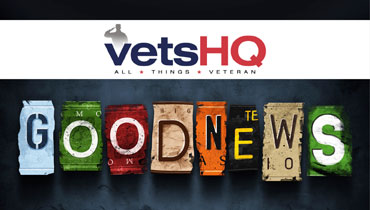 Now out of the ranks, veterans get help finding work (The Washington Times)
When Carl Vickers left the Air Force in 2005, he prepared his resume detailing his skills learned as an aerospace ground equipment technician to present to prospective employers. During one interview, he recalled, the man behind the desk read his application and asked him why he chose to leave the military. There was nothing from his experience and training, he was told, that could be of use in the civilian work force. "I was so shocked and angry," said Mr. Vickers, speaking at a job fair for wounded veterans and military caregivers organized earlier this month by the U.S. Chamber of Commerce, the Elizabeth Dole Foundation and Paralyzed Veterans of America. "We have all heard the same things repeated time and again about how valuable our veterans are. We were assured that when we returned home we would have somewhere to go." With two major wars winding down and a new generation of ex-servicemen and women re-entering the private sector, Mr. Vickers' case is by no means an isolated one. And business groups and the federal government are stepping up their efforts to ease the transition from discharge to profitable employment as a civilian. Like Mr. Vickers, many veterans struggle to translate their skills they've learned in their military training into the workforce. Wounded veterans can face an even more difficult time finding jobs after leaving the military. The Chamber, the nation's biggest business lobby, launched Hiring Our Heroes in March 2011, an initiative to help transitioning service members and military spouses find long-term employment. HOH hosts over 800 job fairs throughout the country annually, including one March 4 at the business group's headquarters a block from the White House. When veterans looking for work register, they list their skills and experiences and are paired with companies at the fair and given pointers on the application process and interviewing. This month, the Chamber announced the launch of the Wounded Veterans and Caregiver Employment and Advisory Council.
Minnesota men give puppies to veterans needing a friend (St. Cloud Times)
Danielle Whitacre was not surprised when she found out two of her friends would be driving 19 hours to give away a puppy. The Milaca, Minn., woman had seen a news story on Facebook last month about a Colorado veteran who suffered from post-traumatic stress disorder, and whose beloved Saint Bernard was near death. She shared the article with Tom Berger and Drew Austin, two Sartell men whose Saint Bernards had given birth to a litter of puppies last fall. Just one week later, Berger and Austin called to tell Whitacre they would be taking an RV from Sartell to Colorado Springs, Colorado, to deliver a puppy named Cleo to the veteran. "By that point, I really wasn't surprised they would do something like that," she said. "If giving a puppy to (Brian Gliba, the Colorado veteran) would help him out, they were going to do it." Whitacre knew it wasn't the first time the men had given away a puppy to help someone with military connections. Her husband is a Navy veteran, who she said suffers from mild PTSD. In October, their 7-year-old Saint Bernard died suddenly and unexpectedly. At almost the same time Berger and Austin's dogs, Carter and Asia, had produced five puppies. The two Sartell men heard through the veterinarian's office a family was looking for a new dog. When they heard Whitacre's story, they decided to give her two of the puppies for free, as a gift to her family. They brought them to their new home on Christmas Eve. "It was simply wonderful," Berger said. "I think it was the best Christmas we've ever had. We bring them up, and they have these acres of wonderful land. We thought, they're going to have the time of their lives growing up here."
Vietnam veterans reunite after four decades (KENS-San Antonio)
Two Vietnam Veterans met for the first time Saturday in San Antonio after four decades. One of the men credits the other with saving his life in December of 1967. Surrounded by his family, Richard Vasquez left a seat empty next to him at Mamacita's Restaurant and Cantina waiting for the man he said gave him the chance to have it all. "if it hadn't been for Charles that day I would have never come home," Vasquez said. At just 19-years-old Vasquez was in Vietnam when his team came under enemy fire. Vasquez hid behind a large stone being bombarded by bullets from a machine gun. "All of a sudden the machine gun stopped firing at me and started firing at him," said Vasquez. Vasquez was talking about Charles Schwab who stood up distracting the enemy and fired back, saving Vasquez' life. Schwab said, "Being a marine we all did things that we call beyond the call of duty. I'm sure Richard would have done the same thing if it had been him in my place and I was the other person." Then the men were separated never forgetting that they were more brothers than comrades. Vasquez looked for Schwab for forty years, looking through military records and trying to reach out to other people who may have also served with Schwab . During that time the U.S. entered the Persian Gulf War; declared war against terrorism and elected eight presidents. However it was the internet that ultimately brought these two men together. Roughly three years ago Vasquez' wife found Schwab on Facebook. After years of talking they decided it was time for Charles to fly in from Seattle.
Anytime Fitness, Tee It Up for Troops team up to help veterans open businesses (Fayetteville Observer)
An international fitness chain and national nonprofit are teaming up to help veterans open their own businesses, starting in Fayetteville. Anytime Fitness and Tee It Up for the Troops will launch a national initiative today to help military veterans open their own gyms and provide additional employment opportunities for fellow veterans, officials said. Operation Heartfirst will provide a $125,000 grant and a $125,000 loan to a select number of honorably discharged veterans to help cover the initial start-up costs of an Anytime Fitness franchise. A committee whose members come from the two organizations will choose select markets for each of the grant recipients to open franchises, a spokesman for Anytime Fitness said. The committee has decided the first Operation Heartfirst gym will come to Fayetteville. "Operation Heartfirst is our way of saying thank you to all of the fine service men and women who've made tremendous sacrifices for our country," Dave Mortensen, president of Anytime Fitness LLC, said in a news release. "Currently, about 10 percent of our franchisees are military veterans. We'd like to see that number grow even higher. Veterans are some of our best and most successful club operators." The fitness chain does not have any locations in Fayetteville or near Fort Bragg. There are 23 North Carolina locations and seven others planned for the state. Right now the closest is in the Raleigh area. Officials said approved veterans, members of the National Guard and reservists are eligible to apply for the program.
VA accepting applications for the Veterans Summer Sports Clinic (Healio.com)
The Department of Veterans Affairs is now accepting applications for the 2015 National Veterans Summer Sports Clinic. The 2015 National Veterans Sports Clinic runs Sept. 13-18 at The Department of Veterans Affairs (VA) San Diego Health Care System. The event attracts veterans with injuries ranging from traumatic brain injury, spinal cord injury or limb loss. Any veteran may apply. "I encourage every veteran who may be eligible to take advantage of this opportunity," Robert McDonald, VA secretary, stated in a press release. "This is a rehabilitative power in leader an active lifestyle and learning new skills and activities." To apply and for more information, visit www.summersportsclinic.va.gov. Deadline for applying is May 1.
WWII veteran, 89, receives belated Purple Heart, Bronze Star (Military Times)
Alfred Bettencourt was an 18-year-old private first class in the Army when he was wounded in combat in France during World War II. His military records were destroyed in a 1973 fire, according to officials, so he never received his military honors. But on Monday, Bettencourt, 89, finally received his medals — including the Bronze Star Medal, the Purple Heart and the World War II Victory Medal — at a ceremony at the Morgan Health Center in Johnston, Rhode Island. U.S. Sen. Jack Reed, who helped recover Bettencourt's military records, hosted the event. "From 1944 to now is a long time," Bettencourt said with tears in his eyes. "I waited a long time for this." Bettencourt, who has been at the health center for the past two months, said he was "shocked" to finally receive his medals and other honors like the European-African-Middle Eastern Campaign Medal with 1 Bronze Service Star and the Combat Infantryman Badge 1st Award. The ceremony was a surprise planned by Bettencourt's family, state officials, and the Cranston fire and police departments. Last fall, Cranston police Officer Julie Furgasso met Bettencourt while responding to a well-being check at his apartment. Furgasso said she became like an "adopted granddaughter" to Bettencourt, who was living alone. When Furgasso discovered that Bettencourt had never received his military honors, she reached out to her friend, Cranston fire Capt. Chuck Pollock. They worked with Reed's office to get the records and complete the paperwork.