Veterans GOOD NEWS for March 11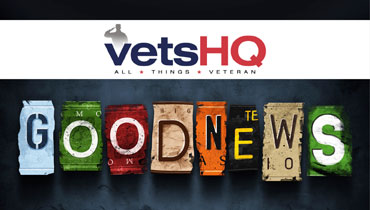 Apple commits more than $50 million to veteran hiring, diversity efforts (Fortune)
A flashy new smart watch isn't all Apple has up its sleeve. The company is donating more than $50 million to organizations that aim to get more women, minorities, and veterans working in tech. It's a big week for Apple. On Monday the iPhone-maker unveiled the latest addition to its ecosystem of devices, a smart watch whose price will range from $350 to $18,000. On Tuesday, the company kicks off its annual shareholders' meeting in Cupertino, Calif. But there's more. In an exclusive interview with Fortune, Apple's human resources chief Denise Young Smith said the company is partnering with several non-profit organizations on a multi-year, multi-million-dollar effort to increase the pipeline of women, minorities, and veterans in the technology industry—and, of course, at Apple. "We wanted to create opportunities for minority candidates to get their first job at Apple," said Young Smith, who took over as its head of HR a little over a year ago. (Before her current role, the longtime Apple exec spent a decade running recruiting for the retail side of the business.) "There is tremendous upside to that and we are dogged about the fact that we can't innovate without being diverse and inclusive."
Military has high hopes for face transplants (The Washington Post)
Face transplants are at the cutting edge of medical technology: Only around 35 patients worldwide have had their facial skin, bones, muscles, and blood vessels replaced by those of a deceased donor. But now Charla Nash, one of just a handful of facial transplant recipients in the United States, is taking it a step further. As a subject in studies funded by the U.S. military, she's being weaned off the drugs that keep her body from rejecting the face she received in 2011. Nash, who was attacked by an employer's pet chimpanzee in 2009, was a prime candidate for the surgery. The attack left her without lips, eyes, eyelids, or a nose. By taking a donated face, reconnecting nerves and blood vessels, and stretching it over the recipient's skull, doctors were able to create a much more functional — and less jarring — new face. But because the experimental procedure isn't covered by insurance — and costs about $350,000 — Nash and her doctors relied on U.S. military funding. The hope is that military veterans — around 50 or 60 of whom have sustained injuries in recent wars that make them good candidates for the surgery — can benefit from expertise doctors gain from working on patients like Nash. All in all, the military has provided grants to 14 medical centers around the country to allow them to provide these surgeries.
U.S. Capitol flyover to mark 70th anniversary of V-E Day (Military Times)
Vintage aircraft of World War II will fill the skies over the nation's capital Friday, May 8, in tribute to the 70th anniversary of Victory in Europe (VE) Day. Fifteen flying formations will form up near Leesburg, Virginia, and follow the Potomac River southeast toward Washington. But unlike the usual "river run" of modern commercial flights into Reagan National Airport, the venerable war birds will bank over the Lincoln Memorial, overflying the National World War II Memorial, head east past the Washington Monument along Independence Avenue, turning south when they reach the U.S. Capitol. Among the two dozen aircraft types slated to fly are the:
• P-38 Lightning
• P-40 Warhawk
• P-39 Aerocobra
• P-51 Mustang
• P-47 Thunderbolt
• FG-1D Corsair
• B-25 Mitchell
• B-17 Flying Fortress
The Arsenal of Democracy Flyover will coincide with a commemorative veterans celebration at the WWII Memorial on the National Mall. Participation of each airframe is subject to weather and aircraft maintenance.
Veterans participate, learn about golf through PGA program (The State)
After serving in the Air Force for six years, Ralph Carbello lived in New York in the 1970s, worked as a cop, started a family. But in 2000, complications from diabetes led to the amputation of a leg. Now, the 75-year-old has one prosthetic leg and has no feeling in the other from the calf muscle down. He can't stand for more than a few minutes. But last week at Melreese Country Club in Miami, Carbello, at the press of a button, was lifted in a chair. As the world's best golfers started gathering across town in Doral for the WGC Cadillac Championship, Carbello stood upright and smacked a golf ball with a group of other veterans. His service dog, Cody, stood by his side. "It's like night and day," he said. "It was unbelievable the feeling. It was out of this world." Carbello, who lives in North Miami Beach, is one of 15 South Florida veterans participating in an eight-week golf program in the Professional Golf Association's "Helping Our Patriots Everywhere," HOPE for short. Each week, the participants come out to the country club, 1802 NW 37th Ave., for two hours. During the first part, golf professionals give a short lesson to the veterans about the game. Then the veterans go out and play. PGA professionals give instruction and encourage players along the course. Carbello hit the greens last week for the program's seventh session in the club's $20,000 wheelchair that lets a disabled golfer hit a ball standing up.
Louisiana bills would help veterans earn college degrees (Military Times)
Gov. Bobby Jindal is asking lawmakers to approve two measures aimed at making it easier for veterans to get a college degree in Louisiana. One bill would require public colleges in the state to accept veterans' course credit from accredited schools that have contracts with the Defense Department to offer classes through military bases. The other bill would create a "veterans friendly" campus designation for schools that meet a list of requirements intended to ease the transition to campus for students with a military background. Jindal's office announced the bills March 5. Lawmakers will consider the proposals in the legislative session that begins April 13.
Veteran of nuclear sub maintains vintage torpedo (LancasterOnline.com)
The recruiting posters bragged: Join the Navy and see the world. James Wilhelm, a Navy veteran of the Cold War, did not see much of the world — just U.S. ports and Rota, Spain. "With submarines, they don't have windows," Wilhelm said. Wilhelm, 75, is sharing a bit of his naval heritage. He's build a parade float to show off a vintage Mark 37 torpedo. It doesn't bother Wilhelm in the least that he spent much of his five-year career underwater in either the diesel-powered U.S.S. Sirago or nuclear U.S.S. Woodrow Wilson. "I wanted to do this," Wilhelm said. A black and white television series, not a poster or slogan, inspired him to be a submariner. Silent Service, which ran 1957-58, was based on the patrol reports of submarines in World War II. Wilhelm, a native of Martinsburg, West Virginia, joined the Navy when he was 20. He was on the Sirago for a year, then signed up for accelerated schooling in nuclear power. He learned the operations of a nuclear reactor. He earned a certification to weld a reactor's pipes. He joined the crew of the newly constructed Woodrow Wilson.
B-24 Liberator 'Diamond Lil' going to Georgia (Warbirds News)
A rare 1940s B-24 Liberator bomber will highlight this year's World War II Heritage Days, hosted by the Commemorative Air Force (CAF) Dixie Wing on April 18-19, 2015. The CAF's B-24, "Diamond Lil," one of only two still flying, will arrive at Atlanta Regional Airport-Falcon Field (KFFC) in Peachtree City for the event. This historic WWII aircraft will be on display and rides will be available. The 2015 event will celebrate the 70th Anniversary of the Allied victory and end of the Second World War in 1945. The program provides a living history experience unique to the state of Georgia, bringing together historic aircraft, vintage military vehicles, antique cars, educational displays and demonstrations, including mock military ground battles staged by war re-enactors. The CAF Dixie Wing's fleet of WWII aircraft also will be on display for the 12th annual World War II Heritage Days weekend. Visitors will see the Wing's Corsair, P-51 Mustang, SBD-Dauntless dive bomber and other restored aircraft. Rides on the B-24 and other aircraft can be scheduled in advance by visiting www.wwiidays.org. The B-24 is the same type of aircraft featured in the recent hit movie, "Unbroken." The B-24 was used by the United States, Great Britain and Canada during World War II and ended the war as the most produced heavy bomber, with 18,400 copies built.  The B-24 also holds the record for the most-produced military aircraft in American history. Former B-24 crew members and other World War II veterans will be on hand to share their experiences through a series of panel discussions.
WWII skiers-turned-soldiers meet servicemen slope-side (Gazette.com)
Given the choice between turning soldiers into skiers or skiers into soldiers during World War II, the U.S. government decided the latter was easier. And anyone who watched 91-year-old veteran Richard Calvert easily outpace a bunch of young servicemen in New Hampshire last weekend likely would agree. "I was intimidated a little bit. I knew I wasn't going to keep up with him," said Spc. Sebastian Gaitan, a 21-year-old snowboarder. "He was haulin' … ." Gaitan finished 80 spots behind Calvert in the Hannes Schneider Meister Cup Race at Cranmore Mountain on Saturday. But the day was more about connections than competition for the former and current members of 10th Mountain Division, which is credited with hastening both the end of World War II and the rise of the American ski industry. Now based at Fort Drum, New York, the division was the brainchild of Charles Minot Dole, who as founder of the National Ski Patrol convinced the federal government to create an infantry trained in winter warfare. Under a special contract with the war department, the ski patrol hand-picked recruits from among the country's greatest skiers, mountaineers and outdoorsmen. "For the most part, we were young people from outdoor experiences, from skiing, to mountain climbing, rock climbing, hunting, fishing, canoeing, you name it. … We were kindred souls," said Calvert, who started skiing as a teenager, using rubber bands cut from tire inner-tubes to hold his boots in place. The ski troopers spent several brutal winters training in skiing, snowshoeing, rock climbing and other elements of winter combat at Camp Hale in Colorado, nicknamed "Camp Hell." Calvert recalls a two-week stretch out in the hills when the temperature never rose above minus 10 degrees.