Veterans GOOD NEWS for March 12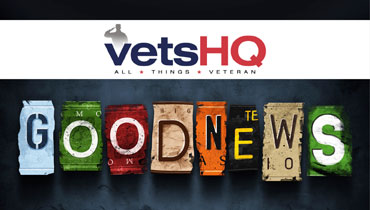 Raytheon pledges $10 million to support military families, veterans (PRNewswire)
Raytheon Company announced a $10 million pledge to support initiatives aimed at empowering service members and their families through education opportunities. The new five-year commitment will support science, technology, engineering and math education and mentorship programs in partnership with Boys & Girls Clubs of America and Student Veterans of America. Raytheon's Chairman and CEO Thomas A. Kennedy said the new initiative builds upon the company's commitment to support the men, women and families of the armed services. "Our goal is to develop the innovative technologies and solutions our service members need to accomplish their mission and return home safely," Kennedy said. "This pledge demonstrates our commitment to supporting success in civilian life that armed service members and their families so richly deserve." "Raytheon volunteerism is a key tenet of our culture that continues to manifest itself in mentoring and training in classrooms, after-school programs and professional workshops," continued Kennedy. "Boys & Girls Clubs of America and Student Veterans of America have longstanding commitment to the communities they serve. We are honored to be able to bridge these two communities to support military personnel, veterans and their families." Boys & Girls Clubs of America are a constant presence in the life of a military child, with a BGCA-affiliated youth center on nearly every U.S. military installation and in communities with a strong military presence. The organization partners with every branch of the U.S. military serving nearly half a million school-age military youth. Student Veterans of America chapters are run by and for student veterans. The organization is the world's largest network of student veteran groups with more than 1,100 chapters in all 50 states and four countries, providing a peer support network that is critical to a veteran's successful transition to academic life. SVA's national initiatives and campus-based model focuses solely on enabling veterans to graduate with market-valued degrees.
As numbers of troubled vets grow, hotline offers help (Milwaukee Journal-Sentinel)
Despondent over a breakup, the caller admitted he had relapsed into drug abuse and was afraid he'd lose his job as a long-haul trucker. He no longer wanted to live. From her office in Milwaukee's Zablocki Veterans Affairs Medical Center, Karen Gage listened to him pour out his story as staffers at the Veterans Crisis Line pinged his cellphone in a frantic effort to learn his location. She reminded him that "we all change our minds. Suicides always start with a thought, and thoughts change." The caller — a veteran from eastern Wisconsin — stayed on the line with Gage for three hours. When he was pinpointed in Tennessee, she gently talked him into driving to the closest VA hospital. As the man pulled in, Gage asked him to hand his phone to a suicide prevention coordinator just like herself. Then she breathed a sigh of relief. The VA estimates that 22 veterans commit suicide every day — men and women who served in peacetime and war, officers and enlisted personnel, all ages and from all military branches. Many more, like the long-haul trucker, call the Veterans Crisis Line in New York. Hotline staffers ask veterans for permission to contact the VA hospital nearest their home. If they agree, they're referred to suicide prevention teams at those hospitals. Their efforts have gained recognition in the film "Crisis Hotline: Veterans Press 1," which won the Academy Award last month for best short documentary. The movie is being screened Thursday at the Milwaukee VA hospital. Since the hotline started in 2007, calls and referrals have increased every year and now reach 22,000 annually.
States vie to lure military retirees (MarketWatch)
With a surge of retirements expected as the nation's armed forces contract after two wars, lawmakers in 19 states are seeking to create or expand income-tax breaks for military pensions in hopes of attracting highly skilled veterans. More than 65 such bills are pending in statehouses, according to the National Conference of State Legislatures, an uptick from recent years. Last year, Iowa enacted a full exemption and Nebraska a partial break for recent military retirees. The plans face some resistance from critics who say states can't afford the loss of revenue. Others question the fairness of giving veterans special breaks unavailable to most retirees. Nationwide, nearly 2 million military retirees received pensions as of September, Defense Department figures show. The federal government taxes the pensions of non-disabled veterans as ordinary income, generally at a much higher rate than the states that tax them, and Washington isn't expected to offer breaks anytime soon. In Maryland, Philip Campbell, a 42-year-old Navy commander based in Annapolis, hopes his state soon joins the ranks of states that don't tax any military pension income. Currently, only the first $5,000 is excluded. He expects to retire next year and move his family to Tennessee, which doesn't tax most personal income. Once he starts drawing his roughly $50,000-a-year military pension, he plans to launch a second career in management consulting. But he might stay put if Maryland lawmakers approve a full exemption. "The decision gets a lot harder," he said. The change would save him $3,000 a year, he estimated.
How orphaned parrots help veterans, and vice versa (The Los Angeles Times)
Some troubled Los Angeles veterans are getting help through an unlikely source: orphaned parrots. The West L.A. campus of the Department of Veterans Affairs has an exotic-bird rescue facility on its sprawling 387-acre campus. It houses 21 aviaries with nearly 40 parrots that are part of a unique animal-assisted therapy program for veterans coping with post-traumatic stress disorder, depression, alcoholism and other ailments. The Feathered Friends program at the VA Medical Center gives veterans a chance to work through their issues by caring for orphaned exotic birds. "Trauma has many tentacles," said Navy veteran Matthew Simmons, director of operations at Serenity Park Parrot Sanctuary. Simmons' wife, psychologist Lorin Lindner, established Serenity Park. At the facility, veterans volunteer to feed and clean up after the orphaned birds, often nursing the animals back to health. The program has had a "huge success rate" with the veterans "that no one gave a chance to succeed … me included," said Simmons, who was a yeoman during Operation Desert Storm. Another such success story is Lillyin Love, a Coast Guard helicopter search-and-rescue veteran who had PTSD. "I don't even know if I'd be here without this place," said Love, who was diagnosed in 2001 and has cycled through the VA's psychiatric ward many times. The bird sanctuary "keeps me out of the hospital," she said, adding, "It keeps me sane. It's the best therapy for myself that I've found to live a more fulfilling, rewarding life."
Veterans pool funds for local amputee (SanBenitoCountyToday.com)
Hollister, Calif., veteran Brian Jergens will be getting a swimming pool he can use for exercise and physical therapy, thanks to a little community love. Since last week, five local veterans groups stepped forward to offer about $15,000 in funds toward installing the man-made lagoon in the Jergens' backyard. "That's we do," said Joe Love, the commander of the American Legion Post 69. "We're a veterans group and we do fundraisers to help veterans out." Jergens, 26, is an Army medic sergeant who returned home from deployment in Afghanistan without legs below the knee. Currently, Jergens uses a pool 90 minutes away for therapy and cardio but the community is rallying to install one in his backyard. "We're there to make sure that it gets put in," Love said. Swimming pool contractor Paul Benedetti spearheaded the project and got donations for everything from base rock to an automatic pool cover but when a key donor backed out, he stammered to foot the bill for $30,000 worth of concrete, pipes, drainage and landscaping. That's when the local groups stepped in with the Veterans of Foreign Wars Post 9242 and the American Legion Post 69 each pledging $5,000 while the Sons of the American Legion and the American Legion Riders promised $500 each. The Auxiliary of the Veterans of Foreign Wars Post 9242 have also said they'll donate, Love said. Two veterans groups—American Legion Post 69 and the Veterans of Foreign Wars Post 9242—also staged a clean-up Monday for the family's backyard.
Iraq veteran's war memoir being turned into an opera (Idaho Statesman)
A Buffalo-area Iraq veteran's memoir of his harrowing experiences as a bomb disposal expert is being turned into an opera by a New York City opera company and will be premiered at an upstate theater this summer. Brian Castner's "The Long Walk: A Story of War and the Life That Follows" was published in 2012 to strong reviews and comparisons to other highly regarded war memoirs. The American Lyric Theater has developed Castner's book into an opera that will be performed in July by Opera Saratoga at the Spa Little Theater in Saratoga Springs, N.Y. "The Long Walk" is Castner's account of his two tours in Iraq serving with an Air Force explosive ordnance disposal unit that defused roadside bombs.
Military sexual assault survivors find healing in therapy, education, service (WYSO-Public Radio)
Commentary: "Ashlie Hawes and I have a lot in common. We're both veterans, she served in the Marine Corps; I served in the Air Force. We both got out of the military in 2013. We both decided to go to school full time, and we both are suffering from PTSD. It can be anywhere from frustrating to completely unnerving when attending a class that triggers a memory or anxiety attack. Another thing Ashlie and I have in common: we are both Military Sexual Trauma survivors. Ashlie entered the military in 2009 and within a month of arriving at her first duty station, she was assaulted. "I didn't really know if I should tell or what I should do," she says of her assault. "So after a couple years just trying to like pretend it never happened I just broke down. You know, it started with small stuff like not being able to sleep well, and it was just like kind of turning the symptoms into what the problem was when in reality those were just symptoms of the main problem that I wasn't willing to accept." I related with the concept of  just dealing with the symptoms and treating those as the problems because I've been doing that for a very long time, which I think is making it really difficult now for me to really get down to how all these symptoms are connected back to that original trauma. "You know, I still have feelings about it but eventually I just decided that I needed to focus on the main issue of the attacks," says Ashlie. To do this, Ashlie is getting ready to begin Cognitive Processing Therapy, the same therapy I started in January. But more than just seek treatment, Ashlie is also using school to help her focus on something else. She's a majoring in Human Resources at Wright State University and says that her experience has definitely influenced her future career goals. "I want to help people in situations or just preventing these situations from happening. Like maybe with training and development you get to create the programs that, maybe not so much focus on people protecting themselves from that happening but to stop someone that is a risk to do that to someone else."