Veterans GOOD NEWS for March 13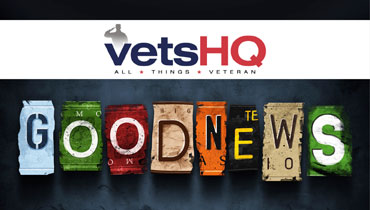 Veterans are helping Washington State fight cybersecurity war (KING5-Seattle)
The state of Washington is recruiting and training military veterans to help fight a war on cyberterrorists. Brian Gosch, who served as an Army Specialist in Iraq, is now working for IID, an internet security company in Tacoma. In Iraq, his job meant seeking out the enemy, finding their location and spreading word about the threat. Now, he does the same thing for IID. "Tracking bad guys and helping prevent them from being able to attack your network," said Gosch of his current job. He's now a member of the Washington National Guard. Gosch landed the job after participating in a new internship offered to veterans by the state's Office of the Chief Information Officer. "They're coming out with skill sets that are very appropriate. They know how to pull on the threads," said Mike Hamilton, Washington's Cybersecurity Policy Advisor. Another group of veterans will go through a six-month internship later this year. Hamilton said the hope is the veterans end up finding a job in the state looking for cybercriminals. He said the state's technology companies and ports make it a target.
Johns Hopkins start-up lands $2 million contract with the VA (Baltimore Business Journal)
Baltimore's Personal Genome Diagnostics has been awarded a $2 million contract to help treat veterans newly diagnosed with lung cancer. Through the three-year contract with the U.S. Deparment of Veterans Affairs, Personal Genome Diagnostics will use its genome sequencing technology to help shape treatment approaches for lung cancer patients in the New England Veteran's Integrated Service Network. Personal Genome Diagnostics specializes in cancer genome analysis. The company's CancerSelect uses gene-sequencing technology to identify mutations and abnormalities that will influence how a patient's cancer progresses. Doctors can use this information to improve their approach to treating the cancer. Personal Genome Diagnostics launched in 2010 by Dr. Luis Diaz and Dr. Victor Velculescu, two cancer and genome specialists at Johns Hopkins Sidney Kimmel Comprehensive Cancer Center.
Group running across Georgia to help veterans (WRDW-Augusta)
Six runners will lace up their shoes this morning in hopes of helping veterans. They will hit the pavement at Fort Benning on Thursday right outside of Columbus, and end at Fort Gordon on Sunday. They're covering 300 miles, and the reason is to raise money for the Wounded Warrior Project. This is the third year the group has been running and they've raised over 8,000 dollars the past two years. That money went to help the Warrior Transition Battalion and the Fisher House which provides housing for families of soldiers being treated at the Eisenhower Medical Center. With more than 66 thousand veterans just in the Augusta area the group said there is definitely a need. They said their sole purpose is to raise awareness about injuries suffered by our military while protecting freedoms we enjoy everyday. They are inviting people to come out and run a few miles with them, and you can see the list of where they plan to be on their Facebook page called Benning to Gordon relay.
Fresno VA hospital announces $20 million in new hires at town hall meeting (The Fresno Bee)
The Veterans Affairs Medical Center (Fresno) announced at a town hall meeting on Thursday that $20 million of additional funding will be used to hire 86 new employees, most of whom will replenish a specialty care department that both VA officials and veterans say is lacking. About 75 veterans and community members gathered in the Clovis Veterans Memorial District building to listen to local and regional Veterans Affairs representatives and respond with questions. Dr. Wessel Meyer, director of the Fresno VA hospital, said the new hires will staff areas like podiatry, urology and other specialty services that often have long wait times for veterans. Although the average wait time of one day for primary or mental care in Fresno is well below national averages, the typical wait for specialty care is 14 days — twice the U.S. average. Lee Self, a Navy veteran who served in Vietnam, said he has waited more than a year to see a dermatologist. Meyer said that a national shortage in the dermatology field has made it difficult to replace the Fresno VA's dermatologist, but the hospital is in negotiations with a replacement. Meyer also discussed a need to "reclaim and keep the trust of our veterans." The local hospital will undergo a series of policy changes and a full retraining of staff members to provide better, more efficient care, Meyer said. Appointment wait times have been an area of drastic improvement at the local VA medical center, Meyer said. "In June 2014, we had over 750 veterans who had been on a wait list for longer than 90 days," he said. "Now, we have only 16, and we are in constant contact with them."
Wounded warriors take part in Air Force Academy's equine-assisted therapy (U.S. Air Force Academy)
Just as service members come from all walks of life, so do the 30 Academy-owned horses which an Army veteran and wounded warrior said comforted him when he took part in the Warrior Wellness program here. Retired Army Sgt. 1st Class Jacob Legendre suffers from chronic pain, post-traumatic stress disorder, deafness in one ear and a traumatic brain injury, but by connecting with the horses, staff and other combat veterans at the Academy's Equestrian Center, he said he's gained hope and found reasons to keep moving forward. "The horses don't care how damaged you are," he said. "Some of them had been abused prior to coming to the Academy. What they care about is how you treat them." Legendre, 39, enlisted in the Army at 17 and served in the infantry. After several deployments, he endured life-changing injuries, lost close friends in combat and watched his marriage crumble. Also a cancer survivor, Legendre said although he'd never been around horses, they immediately sensed his pain when he visited the equestrian center. "They just knew," he said. "They knew I was hurting. I had a very natural connection with most of them, and they loved me." The Academy's Warrior Wellness program, developed in 2009, has helped Legendre and over 100 soldiers and their families reconnect amid new realities and rehabilitation. Located on 950 acres here, the equestrian center allows veterans to experience equine-assisted therapy, enjoy a mountain setting and spend quality time with horses and others at no cost.
McConnell Airmen save veteran's life (U.S. Air Force)
The largest winter storm this year struck early on the morning of Feb. 28, and without the quick thinking of Airmen here, the substantial amount of snow and ice it brought could have cost a life. The morning began like any other winter morning; cold, dark, bleak and snowy. A melting snow and slush mixture covered the streets causing perilous driving conditions. Suddenly, a vehicle swerved across traffic and crashed into a fence parallel to a major road next to base. Airman 1st Class Naxiel Nunez, a 22nd Medical Support Squadron outpatient records technician, and Airman 1st Class James Escobar, a 22nd Comptroller Squadron financial management technician, drove by the scene soon after the crash. They stopped and went to check out the wrecked car entangled in the twisted fence. "When we turned on the road we saw that there was a crashed car," Nunez said. "I started driving slowly to see if anyone was in the car. I stopped the car when I saw someone and (Escobar) called security forces to let them know." The man inside the car was going in and out of consciousness. With the help of a civilian who had witnessed the accident, the Airmen offered assistance. "The civilian said the man stopped breathing while he was checking his vital signs," Nunez said. "That's when we decided we had to take him out of the car and start chest compressions." Security forces arrived shortly after Nunez began chest compressions on the unconscious man, then they took over. In the aftermath, it was discovered that the victim had suffered a heart attack while driving. Thanks to the Airmen's quick leap into action, he was saved and transported to a hospital for further treatment after the firefighters performed a "field save." A field save means they brought back the victim's pulse and breathing before the emergency room staff at the local hospital could take over. Airmen at McConnell train annually on self-aid and buddy care, CPR and other life-saving skills. "Every Airman can make a difference whether at home or deployed. When this incident occurred our Airmen did not hesitate to act," said Col. Jamie Dermer, the 22nd Air Refueling Wing vice commander. "They recalled their training, relied on their teammates and ultimately saved this man's life. We couldn't be prouder of our Airmen and the difference they made."