Veterans GOOD NEWS for March 16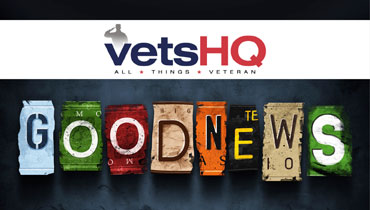 Veterans answer the call to help families of fallen Marines (WTVD-Durham)
Five children under the age of five. Two children on the way. Wives. Fiancees. Countless loved ones. These are the legacies left behind by the seven Camp Lejeune Marines who lost their lives in a helicopter crash during training in Florida this week. For the families left behind, it's an unspeakable loss. The basics are hard to navigate. That's why the convoy of black vehicles came into Sneads Ferry from Cary, N.C., Friday afternoon. The mission for the U.S. Veterans Corps is simple — answer the call at a moment's notice. "People know us as the black shirts," said USVC executive director Andrew Ladner. "About 10 percent of our mission, it's never on social media. We've never shown on camera." But social media is exactly what connected the Triangle veterans with coastal veterans, volunteers and the Marine Corps Special Operations command, home to the seven fallen troops. The Marines, identified by their command on Friday, ranged in age from 26 to 33. Word quickly spread around the tight-knit community outside the Camp Lejeune gates. Nancy Greene, a Marine veteran, goes to church with part of the MARSOC command. On Thursday, she hopped on Facebook to start gathering help to provide hot meals, housekeeping, and morale boosters for the family. Greene connected with Sherri Yuhas, a football mom from Dixon High School in Sneads Ferry, and a former military spouse who helped mobilize other mothers. That led to a call to the USVC in Cary. On Friday morning, the USVC took $1,000, did quick shopping for non-perishables in the Triangle, picked up toys leftover from their annual drives, and hit the road to Onslow County. Local volunteers fixed the hot meals to send straight to the families.
Air Force finds stories by replacing veterans' lost medals (Air Force Times)
Some people look at a military medal and only see a piece of metal or cloth. But Will Brown knows that those medals are part of a veteran's legacy. In other words, they are history. "Each one of these medals has a story behind it and means something to not only the veteran but also their family members," Brown told Air Force Times. Brown is chief of the Air Force Evaluations and Recognitions Program Branch, which provides replacement medals to Air Force veterans or their families. His office is based out of the Air Force Personnel Center at Joint Base San Antonio-Randolph. His staff of eight fields about 45,000 requests per year, Brown said. Each request typically involves replacing nine medals per person. Brown's staff works with the National Personnel Records Center in St. Louis to verify what awards the veterans have received, he said. The process can take between 60 and 90 days per request, depending on how much research needs to be done. One of the toughest parts of the job is responding to veterans who feel they deserve an award that is not listed in their official record, Brown said. Other times, his staff has to ask veterans if they still have their records because a 1973 fire at the National Personnel Records Center destroyed between 16 million and 18 million official military personnel files. "Unfortunately, sometimes we are unable to do that – but we go through extensive research to try and do what we can for our airmen," he said. His office can replace any award issued by the U.S. military, including the highest award for valor.
Obama reinforces bond with wounded veteran at Arizona home (The New York Times)
If one relationship embodies the burden President Obama has carried as a wartime commander in chief, it may be the one with Sgt. First Class Cory Remsburg, an Army Ranger who was severely wounded in Afghanistan. As detailed in a New York Times article in 2013, Mr. Obama first met Sergeant Remsburg on Omaha Beach in France in 2009, when the two were taking part in a D-Day commemoration. Less than a year later, they met again by chance at a military hospital outside of Washington, where the soldier was recovering from combat wounds — paralyzed and brain-damaged. A third time, in 2013, White House aides arranged a private meeting between the two men as Mr. Obama passed through Phoenix, Sergeant Remsburg's hometown. On Friday, Mr. Obama again visited Sergeant Remsburg — who was walking and talking, though still struggling with his injuries — at his new home in Gilbert, a suburb of Phoenix, built and specially renovated by veterans' organizations. The president joined a backyard picnic with Sergeant Remsburg's family and friends to celebrate his move into the new house. Among Mr. Obama's housewarming gifts: some of the beer brewed in the White House. "The greatest honor of my life is serving as commander in chief of the greatest military the world's ever known," Mr. Obama said, adding that Sergeant Remsburg's "never give up, never give in" attitude was "the kind of thing that keeps me going."
Vindication after a battlefield error and Purple Hearts long denied (The New York Times)
Long after Dan Jones's last flight over Vietnam ended in wreckage and blood, his combat tour was never quite complete. In 1968, Mr. Jones, a Marine first lieutenant, was co-piloting a helicopter carrying supplies to troops in battle when an American howitzer accidentally shot the aircraft down. Three Marines were killed. Lieutenant Jones, the only survivor, was notified while convalescing that the deceased crew members, victims of an embarrassing mishap, would not be awarded Purple Heart medals, which recognize troops wounded or killed in action. He was instructed, he said, not to inquire further. Forty-seven years on, Mr. Jones's determined journey — from silenced victim of a fratricidal mistake to a veteran vindicated by his insistence that his dead crew be honored — is reaching its end. Last year, the Marine Corps reversed previous decisions and approved Purple Hearts for all the Marines who had been aboard the aircraft. A spokesman said the family of the one Marine who had not yet been formally recognized, a door gunner who was ejected from the crippled helicopter and fell to his death, would receive the medal as soon as his surviving family members set a date. "The Purple Heart is absolutely an appropriate recognition of their courageous service and sacrifice to our nation," the spokesman, Maj. Rob Dolan, said of the crew members. "This is closing a tragic story from the Vietnam era."
Veterans paint houses for disabled veterans, elderly (KSAT-San Antonio)
Several volunteers worked to spruce up East Side homes in San Antonio on Saturday with a fresh coat of paint. A total of 15 houses belonging to elderly homeowners and disabled veterans were painted.  The effort was a partnership between the San Antonio Housing Authority and several groups, including Starbucks, Goodwill and the University of Texas at San Antonio. "The homeowners are overwhelmed by the response of the volunteers. They are thrilled with the new colors of their homes and the spruce up of their block," said Lori Hall, assistant director of real estate and home ownership of the city of San Antonio. Organizers said Saturday's work was the kickoff to a number of housing improvement programs in the area over the next two years.
Changing how veterans are portrayed in TV, film (Minneapolis Star Tribune)
A group dedicated to the entertainment industry's realistic representation of veterans has released a new seal of approval for portrayals of military men and women in films and television shows. Called "6 Certified," after the military term that means "I've got your back," the program is being launched with the support of First Lady Michelle Obama. The campaign seeks to shift perception of veterans in pop culture. Studios, producers and other content creators will be eligible for the certification badge if the work contains "a representative and balanced depiction of veterans" and fulfills at least one of six pledges: to research or consult with veterans, family members or experts in the subject; to cast a veteran; to hire a veteran as a writer; to portray a veteran character; to tell a veteran story, or to use veterans as resources on set or in writers' rooms. Studies show that the public can have skewed views of veterans based on what's seen in film or on television, said Chris Marvin, executive director of Got Your 6, the group launching the new program. "They are heroes on one end of the spectrum or broken veterans on the other end of the spectrum," he said. Marvin, an Army veteran, cited Ed O'Neill's role as Jay Pritchett on "Modern Family" and Bradley Cooper's depiction of Navy SEAL Chris Kyle in "American Sniper" as accurate portrayals. In "Modern Family," Pritchett is "first and foremost a small-business owner, father and grandfather" who happens to be a Navy veteran, Marvin said. "American Sniper," he said, tells "a great story that American audiences were anxious to hear. "I think the American public is thirsty to have a conversation about the war, about returning veterans, about the issues and about opportunities that surround that group of people," Marvin said. "Veterans a lot of the time are everyday people … but not many take the time to incorporate that into their content development."
WWII vets witness historic flight from Houston in their honor (Houston Chronicle)
Among the World War II planes that can be found at the Texas Flying Legends Museum at Ellington Field, 93-year-old Joe McPhail's favorite is the FG-1D Corsair, nicknamed "Whistling Death." McPhail flew Corsair planes as a fighter pilot in WWII. He lives three miles from Ellington Field and said he visits at least twice a week to watch the planes take off and land. He said he likes to criticize the pilots about their landing skills. "I'm just poking fun; they know that," he said. McPhail's favorite vintage plane was among five launched Sunday morning at Ellington Field for a 2,200-mile journey to St. Barthelemy. The pilots will fly to perform next weekend at the 2015 St. Barth's Bucket Regatta air show in honor of veterans and their families on the Caribbean island. The launch marks the largest fleet of Warbirds to travel overseas since 1945. "It's fun to see them fly again," McPhail said. "Most of the people my age remember these airplanes, and it's neat to see them." During his time in the Marine Corps, McPhail flew in 240 missions, including 102 missions in the Korean War. McPhail started flying when he was a teenager, and after taking a civilian pilot training class, he was hooked. He enlisted for WWII mainly because he wanted the chance to fly bigger and better aircraft. He was sworn in just eight days after his 20th birthday. "It was just fun to me, to be able to climb to 40,000 feet and see what all you see," he said. McPhail was one of several veterans at Sunday's launch. Bob Butler, 82, served as an air crew member in the Korean War when he developed a passion for airplanes. Butler said he loved seeing the real war birds up close and was honored to be recognized by this special flight. "They are very brave," Butler said. "I can't believe they are going to fly these things over water; the value of them is too great."
E-learning advice from veterans who are making it work (Military Times)
For those who wear the uniform, the appeal of online learning is obvious. Deploy with a laptop and you're still in school, regardless of where you go. When the marching pace picks up, put the books aside and learn when it's convenient. Don't be lulled, though. Just because it's convenient doesn't mean it's easy. Timing matters when chasing a degree. Technology tools can ease the load. And just as when out on maneuvers, it always pays to plan ahead. Click the headline link to get more on this advice about online education: 1) Get it while you can; 2) Be ready to work — whenever; 3) Make the most of technology; 4) Always plan ahead; and 5) Picking the right online experience.
Service dogs, trained by and for wounded warriors (Stars & Stripes)
Meet Ron. He has helped hundreds of service members suffering from PTSD. He works at Walter Reed National Medical Center in a Navy camo harness. His title? Animal co-therapist. Ron is a 3-year-old yellow Labrador retriever — a facility dog who works at Walter Reed and the National Intrepid Center of Excellence in Bethesda, Md. The Department of Defense institute is dedicated to studying and healing service members with traumatic brain injury and psychological issues. He is among the first service dogs produced by the nonprofit Warrior Canine Connection. Wounded warriors train the dogs to help other wounded warriors. The training helps the veterans readjust socially, easing the transition to post-combat life. Once the dogs graduate, they're placed with a permanent companion or "career," as the trainers call it. The dogs who make it through the program have been placed as service dogs for mobility-impaired veterans, therapy dogs at medical facilities and military family support dogs, where their job is to help the family adjust to their servicemember's PTSD. The ones that don't graduate still make great pets, trainers say. Capt. Bob Koffman, a Navy psychiatrist who retired last month after 32 years, works with Ron. Koffman is the chief medical consultant at the nonprofit, which also pairs with military and civilian experts to determine the science behind dogs helping veterans with PTSD and TBI. Ron, who was in WCC's first graduating class, "immediately breaks the ice," Koffman said. "I can't do in 10 hours what Ron does in 10 minutes. There's a tremendous psychological resistance. It's the reason why people don't want to talk. It's a burden that needs to be overcome." Ron is trained to pull tissues for servicemembers — without slobbering too much — and will rest his head in their laps or lay at their feet when he senses they need soothing. He's trained to do a "war cry" and "war face" — tricks that aren't part of the therapy but are popular among veterans, Koffman said. "Not uncommonly, my patients will lay with Ron on the ground, petting him or using him as a headrest. He is specifically trained to comfort individuals, particularly as they're having a difficult time," he said. "And I don't know too many patients that when they're telling their stories, that they're not having a difficult time."