Veterans GOOD NEWS for March 17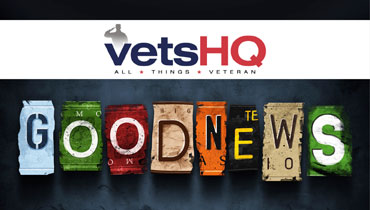 Program to teach troops civilian skills before transition (Military Times)
The Defense Department will launch a new pilot program this spring to teach commercial skills to troops before they start their transition out of the military, in an effort to better prepare them for civilian life. The program, called Onward to Opportunity, is a partnership between the Pentagon, Syracuse University's Institute for Veterans and Military Families, and the Schultz Family Foundation, founded by the CEO of Starbucks Corp. It will launch at five military installations and one city with a high military presence, with the goal of helping up to 10,000 troops and family members in the first year. The locations have not been finalized. In a statement, Defense Secretary Ash Carter called ensuring a smooth transition for service members "one of our most important national commitments" and praised the pilot program as a way to "bring their experience, talent, and leadership abilities to the private sector." Organizers said the program will complement military-learned skills and experiences with industry-specific training, certifications, and job placement services. Individuals targeted will be troops and family members months or years away from separation — not just weeks, like many existing transition programs — and focus on creating a "clearly defined path" from military service to civilian employment. That will include benchmarks for things like certifications, skill development and education requirements. The initial pilot sessions will focus on customer service and technology careers, with classes designed by corporate officials from such companies as Starbucks, Microsoft and JPMorgan Chase & Co.
Prepping veterans for health IT careers (HealthcareITNews.com)
After two decades of service as a lieutenant colonel in the Air Force, Jaime Parent knows something about the skills of U.S. service members. As vice president of IT operations and associate CIO at Chicago's Rush University Medical Center, Parent is also well aware of the growing career opportunities in healthcare. Seeking to put that knowledge to good use, Parent launched the EN-Abled Veteran Program at Rush, an internship that trains returning members of the military for careers in health information technology. At HIMSS15, Parent will show how health organizations can do the same. His session, "Building a Veteran Healthcare IT Internship," will lay out the steps hospitals can take to harness the considerable talents of veterans. This isn't the first program at Rush aimed at military members. Several years back it launched the Road Home Program, a clinic focused on treating traumatic brain injury, post-traumatic stress disorder and generally helping veterans "cope with and heal from the invisible wounds of war." When it came time for those veterans to enter the workforce, however, there wasn't always that level of concern and understanding. "I found a lot of service members were using their GI bill for two-year degrees, four-year degrees, even specialized training," says Parent. "And they were still getting the same answer from job recruiters: 'No, because you don't have any experience.'" It was time to "figure out a way to give these veterans on-the-job training experience," says Parent – who realized he was in the perfect place to help. "Healthcare is hot. IT is hot. Put them together, it's super hot," he said. At Rush, he set about putting together a fast-track program to get veterans up to speed on the basics of health IT work, so "when they go to a recruiter, they're ready for the civilian world." For four days a week, over 13 weeks, participants in the EN-Abled Veterans Program get a crash course in the basic ins and outs of a hospital IT department.
Pentagon to host Warrior Games this summer at Quantico (The Washington Post)
Wounded warriors from across the country will be converging on northern Virginia this summer for an Olympic-style competition. The Pentagon announced Monday that it will host the Department of Defense Warrior Games 2015 at Marine Corps Base Quantico from June 19-28. In previous years, the annual competition had been held at the Olympic Training Center in Colorado Springs and run by the U.S. Olympic Committee. About 200 athletes are expected to compete, representing teams from the Marine Corps, Army, Navy, Air Force and U.S. Special Operations Command.
Florida veterinarians unite to help a veteran's dog (Florida Today)
Rosie has been a companion, a protector and a therapy dog of sorts to her homeless military veteran owner, Bob Benson. Rosie, a five-year-old Labrador mix, needed surgery to correct a painful leg injury, so veterinarians, a veterinary laboratory and animal hospitals all came together to provide treatment, surgery and therapy free of charge. Benson rubbed the side of Rosie's head as Dr. Jeff Christiansen, the veterinary surgeon doing the surgery on the dog's right back leg, prepared the dog for the procedure. "She going to get pain medication for about four days," he assures Benson as he injects the animal near the back of its neck. The surgery, which will be followed by stem cell therapy and rehabilitation, was to correct a tear in the canine equivalent of an anterior cruciate ligament. "It's the most common orthopedic injury on a dog," said Christiansen, owner of Superior Veterinary Surgical Solutions. Christiansen said that by late Monday afternoon, Rosie was recovering well from her surgery, which took about an hour and 45 minutes. Benson, 59, who served in the U.S. Air Force between 1973 to 1976, lives in a wooded camp in Melbourne, and has been homeless for more than 17 years. Rosie has been his constant companion for the past five years. "She's my buddy," he said as Rosie was being prepared for surgery at Brevard Animal Emergency Hospital in Palm Bay. "She is better than most people I know. She makes everybody happy and that makes me happy."
War veterans healing, growing by digging in dirt (KING-Seattle)
War veterans aren't known for being exceedingly open about their feelings, but plant a few of them in a big glass building with a few hundred seedlings and you encounter a sort of "greenhouse effect." "You gotta get dirt under your fingernails so it becomes therapeutic," chuckled Mike Hackett. A group of war veterans working together to plant tomato sprouts in Whatcom County quickly becomes an impromptu counseling session through something called "Growing Veterans." "I didn't realize it when I got out, but I really missed being around other veterans," said Tom Renteria. Renteria did two tours in Iraq before an IED sent him home, unprepared to cope with life after war. "I threw my uniform in the trash," he said. "I was ready to get my life started, but I did the opposite." Then Tom discovered Growing Veterans, a Bellingham-based organization that teaches veterans to farm and garden. It's about sharing experiences, planting seeds of recovery, and trusting that they will one day take root to produce something healthy and strong. Mike Hackett served in Vietnam and now serves as a sort of elder statesman to the group. "Instead of destroying things, we're growing things," said Hackett. "That's pretty basic, but it makes sense to me." Marine Corps vet Chris Brown founded the group after his own difficult experience transitioning to civilian life. Veterans farm and garden with each other and also with members of the community to help bury stereotypes.
Indianapolis police officer to walk across America to raise awareness for vets (WRTV-Indianapolis)
An Indianapolis police officer plans to walk across the United States to raise money and awareness for military veterans and their families. Helping Hands for Freedom is an organization that provides support to soldiers and their families. The mission now is to build a retreat house — a place where families can gather to become whole again. "Not to mention PTSD, suicide issues, financial issues and the stresses that come from multiple deployments. Everybody kind of wanted the same thing," said Indianapolis Metropolitan Police Department Officer David Roth. To help raise money and awareness, Roth, a 21-year IMPD veteran, has started training to fulfill his plan to walk across America and participate in the Route for the Brave. Indianapolis' own Lamon Brewster, a former heavyweight boxing champion, has become Roth's volunteer physical and spiritual trainer for the long road ahead. "I told him you're going to find out a lot about yourself. This is the kind of thing where you're going to be alone, you're going to want to quit. And it's just like a fight, you're going to keep going. You can't give up. That's what a champion does. He finds a way to win," Brewster said. "We joked around let's walk across the United States, sounds like an adventure to me. And it's going to be a reality now," Roth said.  Helping Hands for Freedom provides mentoring, leadership and support programs for husbands, wives and children who lose a loved one in combat. The organization has a goal of bridging gaps between military and government programs that fall short of helping families through loss and multiple deployments.
Respite center's program helps female veterans (Charlotte Observer)
While coming home can be hard for any veteran, women who've served in active military duty can face unique challenges. Many have to switch from "soldier" mode to "mom" mode, on top of dealing with housing, child care and a host of other issues. The Respite: A Centre for Grief & Hope, a nonprofit organization that works with people who have suffered tragedy and loss, has launched a program for female veterans called "Hope Back Home." "What they have lacked is the support of other women to help them through those things," said Elizabeth Berrien, director of marketing and development for The Respite. "I think women benefit from the support of other women." Berrien's husband, a Special Forces soldier, was killed on a mission in Afghanistan in 2009. She has since co-founded The Respite, written a book about grief and established a support community for young widows. "Through my experience, I recognize the plight of military veterans and their families, and the sacrifices they make," Berrien said. "Our goal is to honor their service by providing a unique program that targets women veterans as they face the difficulties of transition back into civilian life." Hope Back Home, a 12-week program, recently began with four female veterans who The Respite connected with by reaching out to veterans' Meetup groups and veterans' organizations. The four women meet weekly with Mandy Eppley, a licensed psychotherapist at The Respite. There, they practice yoga, get therapeutic massages, participate in a support group and practice therapeutic art to help them cope with issues related to their military service.
Home remodeled for veteran battling health issues (AZFamily.com)
Sunday was a very emotional day for a Vietnam veteran and his family as they saw their home for the first time in six months.Judd Davis, who is going through some health issues, got an extreme makeover for his home to make his life a little easier. Among the improvements, wider doors so that Davis can get through when he needs to use a wheelchair. He was moved to tears after seeing all the work that had been done to his home. Judd and his wife stood hand-in-hand with tears in their eyes as he took a moment to thank the volunteers who made this possible. "Thank you. Thank you all very much," said Judd. It's a common phrase as the couple looks around the home. Everything Judd needs to be get around is here. "My husband suffers from congestive heart failure, diabetes and a disease that attacks all the major organs in the body," said Maureen. "Paramedics can now get in through the doorway where before they couldn't." Operation Enduring Gratitude has pictures of what the house looked like before. "There was no flooring in the house," said Operation Enduring Gratitude founder Charlie Ellis. "We put a new roof on, remodeled the kitchen, remodeled two bathrooms, cleaned up some dry wall…" The mission of Operation Enduring Gratitude is to help rebuild veterans' homes and in the process rebuild their lives.
Washington-based Army widows group takes care of their own (Army Times)
Reeling from the death of her husband in Iraq, Stephanie Groepper received a 5-inch-thick manual from an Army officer detailing hundreds of programs she could call for help in her grief. Over the next seven years, she kept having questions the manual couldn't answer. Like, what do you do if the Army can't find all the belongings your husband took to Iraq? Or, how do you raise a daughter to know a father who was killed in combat before she could crawl? Groepper, 27, doesn't have all the answers, but she knows where to start. The Puyallup resident is the founder of a new nonprofit organization called Washington Warrior Widows. It aims to walk the surviving loved ones of late military service members through a sometimes bewildering bureaucracy during times of mourning when few survivors can think clearly. It's crucial work, she says, as the nation's attention turns away from the long wars that claimed the lives of almost 7,000 U.S. military service members in Iraq and Afghanistan, including Cpl. Chad Groepper and 315 others from Joint Base Lewis-McChord. "Everyone thinks we are very well supported, but we're not," she said. "That may have been the case. Now it's like everyone's forgotten." Groepper wants Washington Warrior Widows to become a place where spouses of deceased military service members can support each other as they move forward in their lives. It's rare to find someone outside a military community who can relate to their experiences, the widows say. They've confronted agonizing decisions, such as how to get along with in-laws after a tragedy or how to balance their checkbooks if they give up military benefits by remarrying. "We are survivors," said Groepper, who grew up partly in Kent and has family in the South Sound. "I was in a place in my early 20s doing things that no 20-year-old should have to do." The group welcomes surviving spouses of military service members who die in combat, in accidents, from illness or by their own hands.