Veterans GOOD NEWS for March 18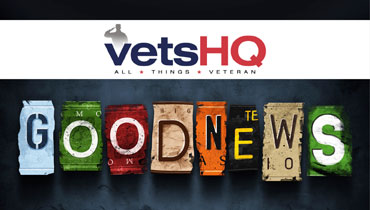 Army vet who lost two limbs stuns judges, audience on 'Dancing With The Stars' (The Blaze)
Tears flowed and standing ovations abounded after Noah Galloway, a U.S. Army veteran who lost both his left arm and left leg to an IED while serving in Iraq back in 2005, took to the dance floor during Monday night's 20th season premiere of "Dancing With the Stars." Galloway, 33, was met with a rousing applause after he performed the cha-cha with partner Sharna Burgess, proving that his personal motto — "No Excuses Noah" — is more than mere rhetoric. He and Burgess pushed boundaries, especially considering the challenges they faced in adapting to the show's oft-times complex routines, leaving the audience in absolute awe. "This is the biggest challenge I have ever faced as a choreographer," Burgess said in a video package that aired before the rousing performance. Galloway clearly moved the masses, as the majority of the studio audience gave him a standing ovation, clapping and expressing just how deeply they were moved by the combat veteran's courage. Even Judge Carrie Ann Inaba was, at one point, visibly moved to tears. "First of all thank you for challenging yourself … my heart is still beating and I'm not quite sure what to make of it," she told Galloway after the performance, pausing to admit that she was getting emotional. "And secondly, I want to thank you for challenging me as a judge … it was profound and you're broadening my scope of what dance looks like." Judge Bruno Tonioli added, "Noah, you are a titan amongst men. You have a presence that is unique." You can watch his performance here.
Hundreds of Orlando-area homeless veterans have a place of their own (Orlando Sentinel)
In a one-bedroom apartment near a bus stop in south Orlando, Army veteran Michael Bailey has found nirvana. Tidy but simple, his home has one overwhelmingly attractive quality. It's all his. "I've been here a year now, and I'm still tickled pink," said Bailey, 54, who spent 16 years homeless — sleeping in shelters, cars and under bridges. Though he never saw combat, his four years in the military left him with a chronic hip problem and, eventually, severe pain that he medicated with drugs and alcohol. Struggling to work odd construction jobs, he said, "I thought I'd never make it back" to a normal life. Then he learned about the Department of Veterans Affairs' "housing first" effort to help homeless servicemen and -women — an effort that now counts more than 1,260 veterans in six Central Florida counties as success stories. In a report being released today, officials cite a 59 percent drop in veteran homelessness in Orange, Osceola and Seminole counties since 2011, shortly after President Barack Obama launched a nationwide initiative of ending veteran homelessness by 2015. The region still has a ways to go — 300 other veterans in Central Florida were still homeless in January 2014 — but the progress, officials say, is significant. "This was a moral imperative of helping those who have served us and paid a price for our freedom," said Andrae Bailey, CEO of the Central Florida Commission on Homelessness. "When it wasn't popular, when no one was talking about it, the VA quietly housed hundreds of people who will sleep in a bed with a roof over their head tonight."
Veterans courts trending in Arizona (AZCentral.com)
This man is accused of hitting his wife. That one was caught driving drunk. Another has a traffic violation. They're here because they served in America's military forces, and court officials and prosecutors believe they deserve a second chance. With more military men and women returning from the battlefield with physical and mental wounds, courts that cater only to veterans — focusing on rehabilitation rather than punishment — are operating across the country, and Arizona is on the vanguard of the trend. Arizona has 10 Veterans Courts, stretching from Tucson to Phoenix to Flagstaff, and the capital city is considered by some to have the largest Veterans Court in the country. Three new courts have been added in Tempe, Mesa and Chandler since September, and an 11th Veterans Court is being planned in La Paz County. Often referred to as "therapeutic courts" or "problem-solving courts," Veterans Courts promote treatment and self-improvement for defendants with relatively minor misdemeanor offenses. Veterans who complete a variety of counseling sessions typically plead guilty to lesser charges and receive lighter sentences. Eligibility for more lenient sentences is not unique to defendants in Veterans Court; the same is true for a number of first-time offenders who complete court-ordered programs in Superior and Justice courts.
Project Healing Waters helps veterans heal through fly fishing (Fox News)
In April 2005, less than two months into his first deployment to Iraq, the battlefield dreams of now-retired Capt. David Folkerts were cut short by an improvised explosive device (IED) bomb blast. He would undergo emergency surgery in Baghdad to save his left arm before being medically evacuated to Germany and then the U.S. for additional procedures. After arriving in the states, Folkerts was an inpatient for a few months at Walter Reed Army Medical Center before taking leave in his home state of Nebraska. Over the ensuing months and years, doctors performed more surgeries to repair the nerve damage done to Folkerts' hand by the IED before he was medically retired from the U.S. Army in January 2008. Over the course of his recovery, Folkerts encountered other wounded warriors, who, like him, had been scarred by the hell of war. One particular officer's recovery stood out to him among the rest, as during their first encounter at Walter Reed, Folkerts recalled him being depressed, angry and bitter. However, when Folkerts returned to the center the following year, the officer had undergone a complete transformation. "I met him again, and he was this really happy, outgoing, jovial guy," Folkerts said. "He said, 'Hey, man, I've been fly fishing, you've got to get with this group called Project Healing Waters.'" "I didn't even want to give it a try because my hand was still damaged due to the nerve damage from the shrapnel," Folkerts said of Project Healing Waters. "I thought it would be too difficult, and I was worried about trying something new and not being good at it, and being further depressed about my situation." A fellow soldier kept pushing Folkerts to try it, and when he did, he learned how to cast and was outfitted with a special reel so that he could crank the line with one hand. He gained the confidence he needed and was ready to go out on his first outing with the group to a fresh water hatchery on New York's Long Island. "I caught my first brook trout, pulled this thing out of the water and I thought it was so beautiful," he said. "Something just clicked in me."
Veterans take first at Marine Corps Trials (San Diego Union-Tribune)
A team of American veterans took first place competing against several hundred other injured service members from around the world at the fifth annual Marine Corps Trials at Camp Pendleton. The paralympic-style games drew about 270 wounded warriors to the competition March 3-11 hosted by the Wounded Warrior Regiment on base. Participants competeted in eight sports, track and field, swimming, shooting, archery and cycling along with sitting volleyball, wheelchair basketball and wheelchair rugby. Service members formed teams including two active duty teams, a veteran team and an international team of wounded warriors from U.S. allies. Wounded warrior athletes from across the globe came together for the event, representing their native countries of Australia, France, Great Britain, Germany, Netherlands, Georgia, Colombia and New Zealand. The team of veterans won the most medals and took first place, winning the Chairman's Cup.
A fix for jobless vets? Make them entrepreneurs (CNBC.com)
Military veterans are almost twice as likely as nonveterans to start their own business, but their unemployment rate stands at 6.7 percent as of February, and has been consistently higher than the national average, according to the Small Business Administration. For a variety of reasons, the solution to joblessness among veterans may be to prod more of them toward entrepreneurship. "This gap is a nut that's hard to crack, but I actually truly believe that veteran-owned businesses are going to be the thing that heals our country in the next 15 years," said Michael Zacchea, a retired Marine lieutenant colonel and director of the University of Connecticut's Entrepreneurial Bootcamp for Veterans with Disabilities. The Entrepreneurial Bootcamp for Veterans with Disabilities program trains veterans in the fundamentals of kickstarting a small business. Zacchea said that even though some states receive monetary incentives from the federal government to hire veterans, those measures don't guarantee long-term employment. "Some employers are churning these veterans," he said. "They would hire them, get paid for it and fire them. What they really need to do is try for retention." Obviously, entrepreneurship carries inherent risks and isn't a panacea for every veteran. The Small Business Administration does not provide direct loans to veterans, said Barbara Carson, acting associate administrator for the Office of Veterans Business Development. Rather, veterans are exempt from borrower fees for a loan value of up to $350,000. For a loan between $351,000 to $5 million, the agency promises to pay half of the borrower fee in case of default.
Actor praises TAPS program, military members (Defense.gov)
A noted actor visited Pentagon leaders and staffers today to discuss his support for the Tragedy Assistance Program for Survivors, or TAPS. "TAPS offers help, hope and healing to families of our fallen service men and women," actor Eric Dane said during his visit. TAPS is a nonprofit national veterans service organization that offers peer-based emotional support, grief and trauma resources, casualty casework assistance and crisis intervention for military families. Dane has acted in the television series Grey's Anatomy, and is the current lead in the post-apocalyptic dramatic series The Last Ship. But perhaps his most meaningful role has been in real life, as the son of a Navy veteran who served in Vietnam and passed away when Eric was just 7 years old. Dane said working on the The Last Ship has afforded him the chance to meet people from across the ranks and military branches, a privilege he doesn't take lightly. "The more I learn from you, the more impressed I am by your service to this great country, and the more determined that I am that all of us on the show get it right when it comes to portraying military [people] on television," Dane said to current and former service members and their families. And though he feels a sense of pride when donning his "digi-blues," the dark and light blue Navy pattern of the service's utility uniform, he said, he's humbled to be part of The Last Ship and, along with fellow cast members and crew, to help tell the stories of service members. "My job is not just to entertain but also to manifest and honor the courage and commitment that each of you possess," Dane said. "My show is fictional. You're the real heroes."
Oregon funeral home pays tribute to homeless veterans (Statesman Journal)
Rodney Angier served in the Navy during the Korean War. Harry Auman and Kenneth Smith both served in the Marine Corps, Smith during the Vietnam War and Auman not long after. We don't know what units they were assigned to, where they were deployed, or what medals they might have earned. But those details were irrelevant to those who gathered Tuesday to honor the three men during a memorial service at the Salem funeral home of Howell, Edwards, Doerksen with Rigdon-Ransom. "All we know is they're brother veterans, and we're here for them," said Richard Romano of the Patriot Guard Riders. "We're here to honor them and their service." Chances are Rod, Harry and Ken, as they were referred to by the chaplain, were not honored in life. And when they died, homeless, no one claimed them. Howell, Edwards, Doerksen is helping make up for that neglect, providing free services, caskets and ceremonial honors through the Dignity Memorial Homeless Veterans Burial Program. Rod, Harry and Ken will be interred today with full military honors at Willamette National Cemetery in Portland. "They may not have blood relatives," said Mindy Rocha-Barella, funeral home manager, chairperson of the local program, and wife of an active duty Oregon Army National Guardsman. "But everyone here is their family." One woman has left flowers beside the guest book for each service the funeral home has held for homeless veterans. This was the third in less than three months.