Veterans GOOD NEWS for March 2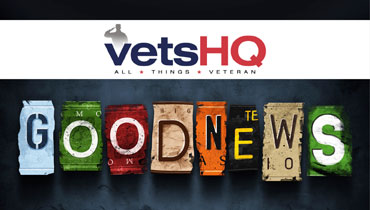 Army veteran, golfer starts group for peers (The Fayetteville Observer)
Joshua Peyton wasn't sure what to expect. A competitive golfer who had once made the varsity team as a middle-schooler in South Carolina, Peyton nearly lost his right hand in a vehicle rollover accident during an Army deployment to Iraq in 2011. Four surgeries and months of recovery later, he made his way to a driving range in northern Virginia and hoped for the best. "I was really nervous," he said. "I was scared that I was going to hit the ground and hurt my hand again. "But you know, once you hit that one pure golf shot, you're good," he said. "I wanted to test those waters and it worked." Peyton, who has managed to lower his handicap by about 10 strokes to a 6 since his injury, hopes to help others experience the power of healing through competition. He has founded the Veterans Golf Association, operating out of the 3,000 square foot former Carolinas Golf Association building in West End, N.C. "I think I always had a competitive spirit, and that helped me get through three deployments," he said. "Competition just keeps your spirit up." It wasn't long after he returned to the game after his injury that he realized he wasn't the only wounded veteran who could hit a crisp 7-iron. "I ended up meeting a group of wounded guys," he said, "and they were beating me up and down the course." Peyton, who has spent most of his 20-year career with Fort Bragg's 82nd Airborne Division, went on to play for the United States against Great Britain on the 2013 Simpson Cup team. The event, held since 2012, gives teams of 12 injured servicemen the chance to compete in a format similar to the Ryder Cup. "It was one of the most incredible experiences of my life," he said. "I got to represent my country, and I got to compete for my country. It was pretty amazing."
Homeless Oklahoma veteran's dying wish to be granted (KTLA-Los Angeles)
After being diagnosed with terminal cancer and given only three weeks to live, a beloved Marine had one last wish: to be buried in uniform, along with a Marine Corps flag. Donnie Loneman had loved being a Marine. But the veteran, who was homeless for the past decade, did not own a dress uniform. He also could not afford to buy one. He had given everything up in order to care for his mother in her final days and ended up homeless, spending cold nights on freeway overpasses and under trees. Loneman passed away Thursday night. Christine Cleary, with the Oklahoma City Veteran's Affairs Medical Center, was constantly by Loneman's bedside before he died. "Donnie was his own person. He did what he wanted, and a lot of people fell in love with him for that," Cleary said, adding, "We get guys like him once in a blue moon, who really make a difference for everyone here." After hearing his story, the Oklahoma City VA and several veteran's organizations came together to honor Loneman's dying wish, providing the dress uniform and flag that he had requested, the station reported. Additionally, the organizations would also cover his funeral cost and give him an honor guard. "He said, 'I'm going to enter the gates, and I'm going to tell all the Marines that are standing there that they're relieved of their duty, and I'm going to take their place, and I'll stand there until my arm gets tired, and another Marine comes,'" Cleary said. "He said 'I'm ready to go.'"
Service organizations unite to expand housing for homeless veterans (Columbia Missourian)
An old lamp flew from the second story of the former Deluxe Inn in Columbia, Mo. Sledgehammers crashed and power tools whizzed in a destructive cacophony as snow began to fall onto the broken drywall and shattered sheet rock lying in industrial-size waste containers. Volunteer demolition teams of seven to eight laughed as they tore through the derelict motel to discover adult magazines and empty whiskey bottles hidden in the ceiling. Saturday was Demo Day. Welcome Home Inc., which provides shelter for mid-Missouri veterans, and the Columbia Housing Authority teamed with Team Rubicon and other organizations Saturday to prepare new shelter and housing facilities to veterans and others in need. Volunteers gutted motel rooms, removing carpet and drywall in preparation for the asbestos removal. Although the ground became slick as more snow fell, interior demolition stayed well ahead of schedule, partially because volunteers were working harder to stay warm in the cold. The Housing Authority and Welcome Home each own one of the two buildings that made up the former Deluxe Inn. The Housing Authority plans to create 25 single-bedroom units from 44 motel rooms. Sarah Grim, Welcome Home's chief executive officer, said, "Everyone involved either is a veteran, has a veteran in the family and knows veterans. They know the cost of being a veteran in terms of what it does to your family, and the thought of men and women coming back after being deployed who end up homeless just tugs at your heart. We are not going to leave them on the battlefield, and we aren't going to leave them on the streets."
Horse therapy program aims to help veterans (WCAX-Burlington, Vt.)
Army veterans suffering from PTSD are seeking treatment through an up and coming horse therapy program. Steven DePalma is an Army Veteran with over 40 years of horsemanship experience, but it wasn't until recently that he discovered a new potential for his passion. After returning from Afghanistan with Post Traumatic Stress Disorder, also known as PTSD, he says his horses helped him heal. "The more I spent with the horses, the happier I felt," he said. DePalma came up with a plan to share the therapeutic experience with others through a riding program he's calling the Veteran Barn Door Project. On Sunday he held his first ever workshop with two veterans in Plainfield. "We went and got the horse out of the pasture, and then we took his blanket off, groomed him, and then we led him around the arena a little bit and then we put the saddle on," said Peter Craig, one of the participants. DePalma emphasized the connection between horse and rider when in the arena. He believes this unique bond is one important part of the therapy process, helping patients to relax through their work with the horses.  "It helps. It really does. Horses really do connect with the human, and as long as the human is willing to connect with the horse, as you saw this morning, it really does work," he said.
'Hounds and Heroes' matches dogs with veterans (The Palm Beach Post)
For Frank Policastri, having Buff means for the first time in 23 years he can walk without a cane. The 71-year-old Army veteran, who worked in medical centers from Germany to Denver, said Buff his service dog has given him a new life. "He's sharp and picks things up so quickly," the West Palm Beach resident said of his dog. "He predicts my movements and he's a great companion." On Saturday afternoon at Palm Beach Kennel Club, four local veterans received trained greyhound service dogs through the program Hounds and Heroes. The organization, which works under Boynton Beach's Awesome Greyhound Adoptions, provides "therapy dogs or fully-trained service dogs for veterans with PTSD or who need mobile assistance," according to their website. Barbara Mesi,who runs the program, said they've provided eight retired racers, including those at Saturday's ceremony, since they began in 2011. It costs $4,000 to pay for all medical bills and training for the dogs, according to the website. It takes six months to train the dogs, two of which are spent bonding with selected veterans. "It's just awesome,"she said. "It makes me tear up every time."
Montana veterans guaranteed in-state tuition by new law (Bozeman Daily Chronicle)
Congress used to offer states a financial incentive so that military veterans attending state universities could pay in-state tuition rates, instead of higher out-of-state tuition. Now, instead of a carrot, Congress is using more of a stick. Because of changes in federal law that take effect July 1, the Montana University System will no longer receive $2.5 million in Yellow Ribbon matching funds in exchange for charging veterans the lower in-state tuition. Out-of-state students pay tuition that's three times higher than Montana students pay. The revised law will require Montana campuses to consider all veterans and their dependents who live within the state to be state residents and to charge them in-state tuition — or else. Montana would stand to lose $15 million in payments from the Post-9/11 GI Bill. "We're fine with that," said Kevin McRae, deputy commissioner and spokesman for the University System. "It will not cause us any problem whatsoever. We're a vet-friendly state. We are proud to accept veterans from all states."
Fly-fishing clinic for veterans geared toward fellowship (The Fayetteville Observer)
The folks who gathered at the John E. Pechmann Fishing Education Center on Feb. 20 spent a little more time indoors than they'd planned. The Project Healing Waters Fly Fishing event was supposed to give participants a chance to tie and cast flies, but the Pechmann Center's ponds were still iced over by late afternoon, making casting out of the question. No problem, said PHWFF member and Pechmann Center volunteer Kenny Turner. The day, after all, was about more than fishing. "I like the fellowship of it," said Turner, a Fayetteville resident and retired Army veteran. "You see all the veterans coming together. A lot of wounded veterans have issues, not only physical with their body, but with their minds. This sort of stuff strengthens you mentally." The fly-tying session was part of a two-day event hosted by Project Healing Waters Fly Fishing, an organization that uses fly fishing to promote the physical and emotional rehabilitation of disabled service members, both active duty and retired. Robbins resident and Navy veteran Rick Allard said it was his first PHWFF event. "A lot of us veterans have the same afflictions," Allard said. "This gives us something to do other than sit around and whine about our problems."
Disabled Sports USA helps wounded veterans on the slopes (KTVN-Reno)
Saturday's fresh powder was perfect for the Disabled Sports USA's snow sports camp at Northstar California. Each of the camp's veterans are recovering from different physical and emotional effects from their time in the service. Each of them received special ski and snowboarding instructions to help boost their confidence and overall well-being. Robert Evans is one participant in the program who joined the U.S. army in 2003 and was an active member for five years. In 2007, he lost his right hand when an improvised explosive device exploded near him. Since then, Robert has relocated to Reno. This year marks his third year with the Disabled Sports snow camp. He says they helped fuel his passion for snowboarding. "Learn with an instructor and these instructors, all of them are extremely motivated.  They're very good at what they do and they are not only good at what they do, but they're very good at teaching it," says Evans. Dozens of veterans participated in Saturday's program, some bringing along spouses or friends. Disabled Sports is able to accommodate for these disabled veterans by supplying specialized equipment for each type of injury. Program Director Michael Hunter says he enjoys outdoor activities like snowboarding. This is why he wants to help teach his passion to the veterans. "We just take them out like any other guest and make sure they can have a wonderful time on the mountain," says Hunter.
Navajo veterans housing project continues into second year (Santa Fe New Mexican)
A 2013 project to build houses for Navajo veterans in each of the five agencies is continuing into another year. An update about the Navajo veterans housing project was provided on Wednesday to officials in the Navajo Office of the President and Vice President in Window Rock, Ariz., according to a press release from the office. The housing project was implemented in September 2013 after the Navajo National Council and tribal President Ben Shelly approved an amendment that divided the mandatory 4 percent set-aside for the Veterans Trust Fund, sending 2 percent to the trust fund and 2 percent to the Department of Navajo Veterans Affairs.  The 2 percent received by the veterans affairs department is being used to build up to 15 homes and provide minor renovations for veterans' homes in each of the five agencies through fiscal year 2017. Wallace Charley, the veterans service officer for the veterans affairs department's Shiprock Agency office, said 12 houses were built in 2014. With 19 chapters comprising the Shiprock Agency, it was determined to provide one house for each chapter, he said. Although each agency is funded to build one-bedroom, two-bedroom or three-bedroom houses, the office is finding out that some veterans are not interested in receiving a one-bedroom house, he said. The office also had three veterans who qualified for two-bedroom houses but wanted three bedrooms. In those cases, the veterans provided the extra funding to increase the house size to three bedrooms, he said. Last February, the tribe and Home Depot Inc. signed a $1.9 million contract to receive housing materials for the project until December. "I have to commend Home Depot," Charley said. "They gave us real nice materials."