Veterans GOOD NEWS for March 20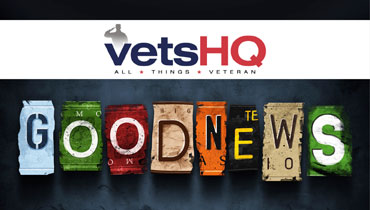 What percentage of Americans have served in the military? (FiveThirtyEight.com)
As of Jan. 31, there were close to 1.4 million people serving in the U.S. armed forces, according to the latest numbers from the Defense Manpower Data Center, a body of the Department of Defense. That means that 0.4 percent of the American population is active military personnel. The Department of Veterans Affairs (VA) uses its own data as well as numbers from the Department of Defense, the U.S. Census Bureau, the Internal Revenue Service and the Social Security Administration. As of 2014, the VA estimates there were 22 million military veterans in the U.S. population. If you add their figures on veterans to the active personnel numbers mentioned above, 7.3 percent of all living Americans have served in the military at some point in their lives. But since only 2 million veterans and about 200,000 current personnel are women, that overall percentage varies a lot by gender — 1.4 percent of all female Americans have ever served in the armed services, compared to 13.4 percent of all male Americans.
Bill setting day to welcome home Vietnam vets passes Maryland Assembly (The Baltimore Sun)
The General Assembly passed a bill Thursday designating March 30, the 42nd anniversary of troop withdrawal from the Southeast Asian conflict, as Welcome Home Vietnam Veterans Day. The emergency bill, which passed both Houses unanimously, takes effect immediately because it received more than three-quarters of the votes in both chambers. The measure sets the day aside for special commemorations "in recognition of the service and sacrifice of Vietnam veterans." The bill was sponsored by Sen. John C. Astle, an Anne Arundel County Democrat who is a Vietnam veteran. The date has already been set aside to honor Vietnam veterans by the U.S. Congress. Numerous commemorative events are scheduled for that day.
5 things to know about the job market for veterans (The Wall Street Journal)
Military veterans who served since the Sept. 11 terrorist attacks are more likely to be unemployed than their peers involved in earlier conflicts. The jobless rate for the most recent group of veterans was 7.2% in 2014, the Labor Department said this week. The figure is down from 9% in 2013—matching with steady improvement in the overall labor market—but remains elevated compared with other jobless measures. The jobless rate for all veterans was 5.3% last year. Click the headline link for what you need to know in these five areas: Elevated Rate, Veteran Payrolls, Age Difference, Gender Disparity, Government Work.
5 things every veteran should know to start a technology business (Entrepreneur)
As military engagements start to wind down after more than a decade of active combat, and as improved technology and weapons systems decrease our need for "boots on the ground," the composition and size of the U.S. military is quickly changing. With these changes, more of our military veterans are leaving the service and entering the civilian workforce. While many veterans will seek and find traditional jobs at existing companies, some are breaking out on their own and starting new enterprises. Historically, entrepreneurial veterans start brick-and-mortar businesses, such as restaurants, construction contractors and other service-related companies. Increasingly, however, some are looking to the technology industry to launch an idea. One such veteran is Sean Maday, who after serving four years as an Air Force intelligence officer moved to Silicon Valley in 2009 to work for a variety of tech companies, including Google, Gnip and Mapbox, and to pursue his entrepreneurial aspirations. Maday's journey was not easy, and even as an experienced entrepreneur and technologist, he saw firsthand the challenges many veterans face while trying to break into the technology industry. As Maday puts it, "The military and the technology industries are two very different communities with unique languages, cultures and stakeholders." Maday's experience and strong relationship with other returning veterans who share his entrepreneurial aspirations is what prompted him to join Patriot Boot Camp (PBC), a nonprofit entrepreneurship program whose mission is to equip military veterans and their spouses with the education, resources and community needed to be successful technology entrepreneurs.
University of California system extends discounted tuition to veterans (Los Angeles Times)
Military veterans and their dependents who are UC students will be able to pay lower in-state tuition even if they otherwise are not eligible, the UC regents decided Thursday. The move came primarily in response to a federal law enacted last year that requires all public universities to allow veterans to pay the lower costs or lose the substantial revenues from the GI Bill financial aid programs. The 10-campus UC system received at least $30 million in those federal grants for the education of about 1,400 veterans and family members in the 2013-14 school year, officials said. Beyond the pressure from the federal government, UC regents said they wanted to accommodate military families whose duties often move them so frequently that they do not have the chance to establish residency long enough to qualify for in-state discounted tuition. And they said they wanted to honor the service of military veterans. UC officials said they did not know exactly how many students will directly benefit from the more lenient policy, but that fewer than 300 of those receiving GI Bill aid were thought to be nonresidents and paying tuition beyond the in-state level the federal scholarship covers. The policy change awards the discount to any veterans who were discharged within three years of becoming students, which the regents said they hope encourages more of them to attend UC. In-state undergraduates pay about $12,200 for tuition, not including room, board and other costs, while students from other states and nations pay about $23,000 on top of that.
Program teaches veterans with PTSD how to care for horses (Albuquerque Journal)
On a Friday in February, Air Force veteran P.L. Dillon made her way through several inches of snow to a corral at the Crossed Arrows Ranch, where she would tend to horses. The wind blows cold here, and the panorama of the vast Galisteo Basin stretches out in the distance. The scene has an Old West feel, tinged with something more primordial. In the 1970s, when Dillon was an Airman, she couldn't have imagined being here, working with horses, she said. As the volunteer coordinator for the Horses for Heroes women's veteran retreats, she said, this work has been vital to her life and recovery from post-traumatic stress disorder. "You leave the ranch better-prepared to make your life for the highest good," she said. "You have the God-given beauty of these animals. The horses pull things out of you. And you can't do a thing in the presence of these animals except focus on the horse." Dillon found her brand of treatment with help from Army veteran Rick Iannucci and his wife, Nancy De Santis, who run the ranch and Horses for Heroes, a nonprofit organization aimed at giving veterans an opportunity to learn horsemanship. "Horsemanship is leadership," said Iannucci, a retired U.S. Marshal, West Point instructor and Green Beret. The program is free and open to active-duty military members and veterans, especially those suffering from PTSD, combat trauma or physical injuries. Iannucci said the focus is giving veterans a new mission by teaching them horsemanship skills. "We don't sing 'Kumbaya' here," he said. "But working with these horses has some magical quality. It's effective."
Justice steps up assistance efforts for veterans, troops (Military Times)
The Justice Department is stepping up its efforts to address the legal issues troops face on employment protections, voting rights and financial safeguards with the launch of a new "Servicemembers and Veterans Initiative." "We have brought significant enforcement cases and expect more to come," said Acting Associate Attorney General Stuart Delery. Justice officials recently:
• Settled a lawsuit for almost $10 million in relief against a company that allegedly repossessed the cars of more than 1,100 troops.
• Obtained relief for 138 Missouri National Guard dual-status technicians who were allegedly illegally required to leave their civilian positions before being called to Active Guard Reserve status.
• Recovered over $123 million for service members who were the victims of alleged illegal non-judicial foreclosures.
The initiative will be led by three career Justice Department attorneys with strong ties to the military community, including the director, Silas Darden, an Air Force Reserve major, and two assistant directors: Spencer Fisher, a Marine Corps Reserve chief warrant officer, and Andrew Braniff, who works in the Justice Department's Civil Rights Division's Uniformed Services Employment and Reemployment Rights Act program.
New MRI technique may help diagnose TBI in veterans (News-Medical.net)
More than 300,000 U.S. veterans have been diagnosed with traumatic brain injury (TBI) in recent years, a legacy of the Iraq and Afghanistan wars. But these numbers don't tell the whole story. While severe TBI can be obvious, milder cases involving symptoms such as memory loss or inability to concentrate are difficult to confirm and treat. Advanced imaging of the microscopic motion of water molecules in the brain shows promise for detecting these subtle injuries. A new study of TBI using this diffusion magnetic resonance imaging (MRI) technique will get a quality control boost from the National Institute of Standards and Technology (NIST), which has been working in collaboration with other organizations for nearly a decade to improve quantitative measures for MRI. NIST has developed a series of MRI "phantoms" to enable measurements that can be traced to international standards. Phantoms are stable reference objects designed to mimic human tissue responses to MRI, but in a predictable, repeatable way. They are used to calibrate MRI scanners. As interest in quantitative MRI measurements grows, NIST phantoms are being tested around the world, used in U.S. clinical trials, and transferred to industry. The goal is to improve image comparisons across scanners, test sites and time, thereby enhancing quality of care and reducing medical costs. NIST has applied for a patent on its basic phantom design and use to help promote commercialization. NIST and collaborators have already developed a phantom for diffusion MRI, which is now being tested in Europe and the United States. "It has shown very good reproducibility so far," NIST's Michael Boss says. "Diffusion MRI can reveal differences between tumors and normal tissue. But until now, there has been no widely accepted phantom or traceability to standards. NIST's expertise lies in phantom development and what characteristics they should have in order to determine sources of error and inform protocols to be used with MRI patients."
Authors seek combat near-death experience stories (Military Times)
Two former U.S. Army Medical Command civilian employees are looking for troops and veterans to share something they may be reluctant to discuss: near-death experiences. Not "near-dying" events like when a service member was nearly killed and saved by advancements in combat medicine. Rather, they're looking for the kind of episode in which a service member was badly injured and died, or came very close to it, before being revived — and in the interim had some sort of experience, like hovering over their own broken body, seeing a bright light or meeting a dead relative or even Jesus Christ. You know, that kind of near-death experience. San Antonio residents Genny Krackau and Jan Justice have launched "Light Stories: Beyond the Explosion" to solicit anecdotes from combat veterans who underwent a near-death experience, or NDE. The two believe that by providing a platform for these troops to share their unique stories and aggregating them, they can help them feel less isolated, and consequently promote mental healing. Krackau said the opportunity could help troops understand what they went through and how they can learn from it. "Once they feel comfortable talking about their NDE and read other similar stories, they will realize they are not alone. Often, they don't want people to know what they went through because they may think they are weird or mentally messed up. That's unfair," said Krakau, a retired researcher and health systems specialist.
Former enemies mourn Iwo Jima dead together for 70th anniversary (Bloomberg)
Tetsuro Teramoto never set eyes on his father, who died in the bloody five-week battle for the remote island of Iwo Jima 70 years ago as the U.S. closed in on Japan at the end of World War II. Preparing to honor him at a joint memorial event with Japan's former foes on the island on March 21, Teramoto said the two countries should continue to mark the battle together as they have done for decades, to set an example of reconciliation. Despite the death toll on both sides, the U.S. and Japan forged an enduring alliance after the war, with nearly 50,000 U.S. military personnel stationed in Japan, providing a check on China's growing military muscle. Japan has failed to achieve a similar rapprochement with its neighbor, where bitterness and territorial disputes remain a legacy of its occupation of much of China in the 1930s and 1940s."It's something the former enemies do together," Teramoto, the head of the Japanese Iwo Jima Association, said of the commemoration in a phone interview on Wednesday. "From the point of view of the relatives, we want it to continue. It's very significant — it's something we should tell the world about."  About 21,000 Japanese and nearly 7,000 U.S. troops were killed in the battle for Iwo Jima, a volcanic island 1,220 kilometers (760 miles) south of Tokyo. The Japanese dug an intricate maze of tunnels that enabled them to hold out against overwhelming odds, launching surprise attacks on the invaders. Only 216 were taken prisoner.