Veterans GOOD NEWS for March 23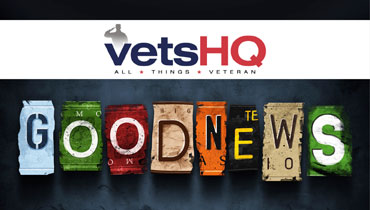 Dog digs up Purple Heart; search on for veteran's family (USA Today)
At her home in Stapleton, a golden lab mix named Smuckers is about to get an unusual visitor — the kind usually reserved for military veterans and their families. It's all because of her tendency to dig holes in the yard, much to the chagrin of her owners, Tom Unterwagner and Steve Jankousky. "I was just trying to put the dirt back in the hole, when I saw something shiny and that was it," Jankousky said. "And I went back inside and told [Tom], 'You're not going to believe what she dug up.'" Turned out, it was a Purple Heart. The military medal given to those wounded or killed in service of their country was at the bottom of a 10-inch hole Smuckers dug in her old backyard. It appeared to be in good condition and was engraved on the back: Cpl. Richmond Litman. "We had this Purple Heart for a decade and just had no way to get it back to where it belonged," Jankousky said. Years later, they heard about the Vermont-based, non-profit "Purple Hearts Reunited." The organization was founded by Army captain and Afghanistan veteran Zachariah Fike. "We see this all the time. I's a mystery," Fike said. "Every medal has its own journey, and who knows how that medal got into the ground." The backyard where Smuckers found the medal is just blocks away from where Litman used to live in Denver. Fike began looking into Litman's past and discovered he was an African-American army soldier who served in the Korean War. He earned his Purple Heart there in 1950. Litman is buried at Fort Logan National Cemetery, along with his wife, Ida. Fike and other recipients of the Purple Heart came to honor him, and symbolically reunite Litman with his medal. "It is very important to remember the veteran that either gave his life, or shed his blood for his country, and that it remain with the family," said Ret. Col. Jeff Roy, who is with the group "Military Order of the Purple Heart." The next step is to find any of Litman's surviving family members. He had two brothers: one who served in World War II and the Korean War; the other serving in both those wars and in Vietnam. His brothers are deceased, with one buried outside Philadelphia and the other not far from the family's hometown of San Angelo, Texas.
WWII veterans mark Iwo Jima anniversary (Christian Science Monitor)
Dozens of aging U.S. veterans, many in their early 90s and some in wheelchairs, gathered on the tiny, barren island of Iwo Jima on Saturday to mark the 70th anniversary of one of the bloodiest and most iconic battles of World War II. More than 30 veterans flown in from the U.S. island territory of Guam toured the black sand beaches where they invaded the deeply dug-in forces of the island's Japanese defenders in early 1945. They were bused to the top of Mount Suribachi, an active volcano, where an Associated Press photo of the raising of the American flag while the battle was still raging became a potent symbol of hope and valor to a war-weary public back home that was growing increasingly disillusioned with the seemingly unending battle in the Pacific. For some of the veterans, the return to the island where many of their comrades died, and which is still inhabited only by a contingent of Japanese military troops, brought out difficult emotions. "I hated them," said former Sgt. John Roy Coltrane, 93, of Siler City, North Carolina. "For 40 years, I wouldn't even buy anything made in Japan. But now I drive a Honda." Speeches at the Reunion of Honor ceremony held near the invasion beach were made by senior Japanese politicians and descendants of the few Japanese who survived the battle. Also speaking were U.S. Secretary of the Navy Ray Mabus and Gen. Joseph Dunford, the commandant of the Marine Corps, who noted that the battle for Iwo Jima remains the "very ethos" of the Marine Corps today. "We should never forget that the peace and prosperity of Japan and the United States at present has been built on the sacrifice of precious lives," Japanese Defense Minister Gen Nakatani said in his remarks.
Vietnam veteran gives back to returning soldiers (San Gabriel Valley Tribune)
On most Sundays, Vietnam veteran Howard Hernandez protests at the intersection of Wilshire and San Vincent in downtown Los Angeles. Hernandez is the commander of the city of Commerce American GI Forum Chapter, which advocates for employment and training veterans. The 64-year-old Montebello resident's commitment to veterans is spurred by how he and his peers who survived Vietnam were treated when they returned home. "You saw so many guys who were taking off their uniforms and stuffing them in a trash can when they got home," he said. "I was a sergeant, so I didn't care. Anybody who wanted to spit on me was probably going to get a knuckle sandwich." It is no surprise that Hernandez volunteered for duty in the Army. The then 19-year-old wasn't alone. About 250 mostly Latino men from the city where he grew up, Commerce, had volunteered. A substantial number of them went to Vietnam, he said. Hernandez said he completed basic training in Fort Ord as private first class, and he went on to receive more training, moving up as a corporal and then sergeant right before being deployed to Vietnam. He was assigned to a gun section and had about 10 soldiers in his artillery unit. But when his sergeant was killed, Hernandez, 20, was left in charge. "There was animosity, because I was Mexican-American," Hernandez said. "It was different at the time, but what was I going to do? I'm in charge." Through the years, Hernandez has kept in touch with two other soldiers from his unit. One lives in Boston and the other in Georgia. He goes on yearly vacations with them. "You always have each other," he said. "I respect them more than most people I know because we have a strong camaraderie. It's a lifelong friendship, they're like my brothers. Period." Now that his children are adults Hernandez is dedicating himself to veterans causes. "When I came back I had a chip on my shoulder and didn't feel appreciated. A lot (of that) was I didn't want to see another veteran treated like we were."
Seeking ways to bridge the 'civilian-military' gap (Military Times)
When veterans acquire a significant public profile, experts say they can help bridge the "military-civilian gap." Or they can help widen it. Some veterans who have had broken into the media cycle — some on purpose, some not — include recently engaged Medal of Honor recipient Dakota Meyer, Iraq War vets Noah Galloway and J.R. Martinez, Iraq veterans-turned senators Joni Ernst and Tom Cotton, and Chris Kyle, the Navy SEAL portrayed in "American Sniper," who was killed by a fellow veteran. But experts warn that the way Iraq and Afghanistan veterans often are portrayed in mainstream media, movies and TV shows doesn't necessarily enhance the public's perception of veterans — and often makes veterans feel even more alienated. Military and civic leaders have discussed for years the military-civilian "gap" — the social and cultural disconnect between those who have served and those who have not — in various studies, articles and other venues. But the idea of a single, monolithic gap, if it ever really existed as such, is splintering these days as veterans are portrayed as altruistic heroes or badly damaged goods. "Sometimes the coverage generates these negative tropes, but sometimes it generates these overly positive images that … gives civilians very polarized views of veterans that isn't necessarily very realistic," said Meredith Kleykamp, an associate professor of sociology at the University of Maryland. Kleykamp has been involved in military studies for 15 years. She and her university associate Crosby Hipes are working on a study that looks at how the media and society in general often tend to view veterans are "victims" — a widely publicized misconception that Kleykamp feels does not represent the average veteran.
Veterans chip in to recreate Lincoln's hearse (Fox News)
Former soldiers from around the country are working on a recreation of President Lincoln's funeral hearse, nearly 130 years after it was destroyed in a fire. The project is a labor of love for veterans, who have done their part and passed it along to the next soldier-turned-craftsman in preparation for the 150th anniversary of Honest Abe's funeral. Recently, the death carriage was in Eureka, Calif., at the Blue Ox Millwork's School for Veterans, a nonprofit teaches craftsmanship skills to returning soldiers. At Blue Ox, Vietnam veteran and millworks owner Eric Hollenbeck led a team of nine Afghanistan and Iraq vets in their effort to help restore the vehicle that carried the body of Lincoln. The idea is not just to rebuild the hearse, but to help veterans bond and re-integrate into society. "The biggest thing that this hearse project is giving the veterans is a sense of self-identity, a returning combat veteran has to find a new civilian identity. And these guys and gals did that," Hollenbeck told Fox News. Hollenbeck says the process of completing a project helps bring focus and therapy to the team, while also giving them skills that can help them find jobs. "Working with your hands is one healing aspect of the project," said Hollenbeck. The hearse's next stop is Tombstone, Arizona, where Vietnam veteran Jack Feather and his team will finish the job. Completing Lincoln's lavish, ostrich feather-adorned hearse has been a difficult process. The original was destroyed in a stable fire in 1887. The team has only one picture of Lincoln's hearse to work from, and most of the components used just aren't around anymore. "Finding out what goes into this thing has been a challenge," said Feather, "Just figuring out the dimensions- that took months. I went everywhere trying to find someone who would build a 16-spoke rear wheel. They said they didn't exist." They eventually found wheel craftsman Jay Jones, a Kentucky resident and Vietnam veteran, who built them from scratch. Project coordinator P.J. Staab said they didn't set out to make this an 'all-veterans' project when they got the hearse request from the Lincoln Funeral Coalition. But that's exactly what it became.
Real estate firm to pay for NYC veterans to train as brokers (New York Daily News)
With the unemployment rate at 5.5%, many New Yorkers are finding it tough to get work. But, as hard as it is for regular New Yorkers, it's even more challenging for war veterans, who often end up unemployed and hard up after serving their country abroad. Rutenberg Realty, a local real estate brokerage founded in 2007 by veteran Richard Friedman and his army buddy Larry Krug, is trying to do something about it, by paying for unemployed veterans to train for careers as real estate agents, the company told the Daily News. Rutenberg has partnered with the Wounded Warrior Project, a service organization for veterans, to send recently returned U.S. armed forces veterans from Iraq and Afghanistan to real estate school to study to pass the New York State real estate exam. The program will launch next month. "We will be offering veterans an opportunity to make a living when they come home by helping pay for their real estate classes," said Stefani Markowitz, president of Rutenberg. "My belief is that we wouldn't be able to look at real estate, much less buy and sell it, without these heroes protecting our country." Markowitz believes ex-soldiers with armed forces training will be well suited to careers in real estate. "This is an especially great industry for people who understand discipline and motivation," she said. Veterans aren't 100% guaranteed a spot at Rutenberg if they pass the exam but they will be guaranteed an interview, a spokesperson said.
VA helps Iowa veterans tell their life stories (Des Moines Register)
If the Department of Veterans Affairs wants to take down John Gualtier's life story, it's going to take a while. The Vinton, Iowa, retiree was one of the first to volunteer for a new project in which VA staffers interview veterans and write up short biographies. The resulting essays are to be attached to the veterans' medical charts, to help VA health care providers understand their patients' perspectives. Gualtier, 89, went decades without discussing the World War II experiences that left him shattered. But he's opened up in the past few years, because he wants younger veterans to avoid the mistake of trying to bury troubling memories. "During combat, when I was into some really gory stuff, I never gave any thought about the effects it might have on me later," he told Stephanie Henrickson, a nurse who coordinates a mental health program for the regional VA system based in Iowa City. Henrickson sat across from Gualtier at the VA's Coralville clinic one morning last week, taking notes in pen and capturing his gravelly voice on a digital recorder. She plans to write up his story, go over it with him, then put it in his medical file and give him a copy to share with his family. She has interviewed about 15 veterans so far as part of a pilot project in the Iowa City area and five other U.S. locations. Most of Henrickson's interviews have taken an hour or so, but Gualtier's has required several sessions. He has so much to say. In the most recent session, Henrickson asked Gualtier about his childhood in a small Ohio town during the Depression. "It seems like we always had it rough until the war broke out," he said. "It was a very, very hard time." In a house with nine people, his father was the only one with a job. Everyone he knew was poor, but they stuck together. A neighbor had a few spare acres, which he let other families use to grow potatoes and other staples.
Wounded veteran receives custom-built home in Florida (Fox News)
A wounded veteran from Florida received a huge surprise Friday — a brand new, custom-built home. According to Fox 35,  retired Army Sgt. Jackie Irving, who did tours in both Afghanistan and Iraq, got a mortgage-free house from Operation Finally Home, a non-profit that builds homes for wounded and disabled veterans. Irving suffered serious injuries, including a brain injury, from an IED explosion in 2012. He also suffers from post-traumatic stress disorder. "My family is happy, my kids are in there somewhere right now going crazy," Irving told Fox 35 after seeing his new home. "I'm happy, they're happy and I'm grateful for what's been done for us." Lee Kirgan, vice president of construction at Operation Finally Home, told the station that the non-profit looks for veterans who, in spite of their injuries, "they just will not let anything get them down." "For a while, I had to wait until it really got into me like 'OK dude, this is real. Nobody's playing jokes on you. This is the real deal,'" Irving told Fox 35.