Veterans GOOD NEWS for March 24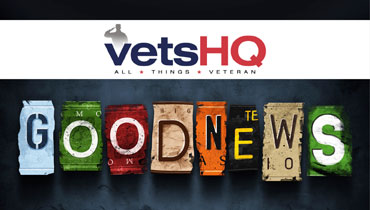 Army to create certifications, licenses for every MOS (Army Times)
The Army is working to give you credit where credit is due — whether you're still in uniform or preparing to re-enter civilian life. As the service undergoes its largest draw down in decades, Army leaders are doubling their efforts to boost the Army Credentialing Program, which gives soldiers opportunities to earn civilian-equivalent certifications and licenses. As recently as March 11, Army Secretary John McHugh signed a directive calling for the service to streamline and improve its credentialing and career skills programs. The Army, in an effort led by Training and Doctrine Command, also is working to link credentialing opportunities to every single military occupational specialty in the Army. "What you do as a soldier has tremendous value for the rest of your life," said Sergeant Major of the Army Dan Dailey. "By making this a focus, the Army is giving soldiers an opportunity to start out their civilian transition equipped with a recognized standard of professional excellence in their chosen field." The push to expand credentialing opportunities has taken on new urgency as the Army continues to cut tens of thousands of soldiers each year from the active-duty force. "Our Army is committed to preparing soldiers for the transition off of active duty [and] back into the civilian society from which they all came," said Walter Herd, director of the Army transition division and a retired colonel. "We take that preparation seriously, and while the ultimate success is the soldier's responsibility, it's the Army's responsibility to get them prepared to succeed." Earning credentials also helps those soldiers who stay in uniform, by providing promotion points — essential for getting an edge over your peers. Soldiers competing for promotion to sergeant and staff sergeant can earn 10 points for each technical certification, for a maximum of 50 points. "This is a win-win for the Army and its soldiers," Dailey said. "What better time than now, when the nation needs an Army of soldiers and leaders with creative and critical thinking skills to accomplish any mission the nation asks of us. We must be able to give them the most educated fighting force in the world."
Veterans get in-state tuition at N.J. schools under new law (NJ.com)
Military veterans from all states will qualify for in-state tuition at New Jersey's public college and universities under a new state law signed Monday. The "New Jersey Tuition Equality for America's Military (NJTEAM) Act" (A3967) implements a federal law requiring in-state tuition rates for recent veterans and expands it to include veteran's spouses and children. Regardless of where they live, they will be considered New Jersey residents for tuition purposes. The transition to civilian life can be challenging for veterans, said Assemblyman Robert Andrzejczak (D-Cape May), a U.S. Army veteran wounded in Iraq. "With this law, we'll rightfully be giving veterans a helping hand and showing respect for their sacrifices and bravery in protecting our freedoms," Andrzejczak said. "An education is the road to a better future, so let's make it easier for our veterans — who have given so much to our country — to obtain one." Some New Jersey public schools, including Stockton and Rowan universities, already offer in-state tuition to veterans regardless of where they live. However, veterans from out-of-state will not be eligible for the state financial aid programs. The federal government, through the Post-9/11 G.I. Bill, pays most of veterans' tuition at public institutions. The NJTEAM law takes effect immediately.
New Jersey veteran, IT company launch effort to help veterans find work (NJ.com)
A Ridgewood Marine veteran and IT company have teamed up to help veterans get jobs. The unemployment rate for veterans coming home from Iraq and Afghanistan was 7.9 percent in 2014. That represents a slight decrease from 2013, but hundreds of thousands of veterans remain out of work, according to the Bureau of Labor Statistics. When Jesse Canella returned home to Ridgewood in 2008 after serving in Iraq with the Marines, he was one of them. "I assumed when I came home that it would be easy to find a job," the 29-year-old said. It wasn't. He had trouble even landing a $9-an-hour overnight security job. Like many veterans, he didn't know how to translate his military skills to the civilian world, Canella said. He included "machine gunner" on his first resume. Not many companies were looking for machine gunners. Canella eventually channeled his veteran experience into something productive, forming a non-profit online veterans community and launching a veterans hiring initiative with a staffing company. His new company, co-founded with Parsippany IT company KandilIT, is an extension of that work. HonorVet Services is a staffing company dedicated to pairing military veterans with companies. After just about a month, the company's customers include Prudential, Zumba and Morgan Stanley, Fred Syed, co-founder and CEO of HonorVet and KandilIT, said. The company screens and prepares veterans for job interviews and works with non-profit and government organizations to provide job training, Canella said.
World Trade Center stair climb to benefit wounded veterans (ABC News)
The first stair-climb race at One World Trade Center — the nation's tallest building — will raise money for military veterans struggling with combat-linked disabilities, two foundations formed after the 9/11 attacks announced Monday. Officials of the Stephen Siller Tunnel to Towers Foundation and the Captain Billy Burke Foundation detailed plans for the athletic event at Burke's firehouse, Engine Company 21 in midtown Manhattan. Burke lost his life on 9/11 along with Firefighter Stephen Siller from Squad 1 in Park Slope, Brooklyn. Proceeds from the May 17 tower climb will support service members who've been catastrophically injured in war and help educate children who've lost a parent. The money also will help build 200 new homes for veterans with the worst disabilities, mostly triple or quadruple amputees. About 40 houses have been completed. On Sept. 11, 2001, Siller was off-duty when he ran with over 60 pounds of gear through the blocked-off Brooklyn Battery Tunnel to the World Trade Center. "Our foundation couldn't be more honored to be chosen to hold the first stair-climb event at One World Trade Center," said his brother Frank Siller, foundation chairman and CEO. There's also a "virtual stair climb" — using elevators — for people who want to participate but are unable to handle the stairs.
First woman named to head Arizona Veterans Services (Tucson.com)
Gov. Doug Ducey today named retired Col. Wanda Wright to be the first woman to head the Arizona Department of Veterans' Services. In that position Wright will be responsible for the operation of two nursing homes, two cemeteries and about three dozen counselors who help the state's 600,000 veterans navigate a system of federal benefits. Her appointment is subject to Senate confirmation. Wright said she is not expecting there to be any kickback from the fact that she is not only a woman, but also a woman of color. She said she was always interested in the military as her father, a veteran of the Vietnam war, wanted her to go to West Point. But Wright said she decided to attend the Air Force Academy because they had a much better program in the sciences. Wright said she never was hassled there. She acknowledged, though, she was not breaking new ground. "By the time that I got there, there had been four classes of women," she said. "While I was there, I don't recall ever experiencing any additional issues because I was a girl," Wright recalled. She said there were no problems while she was in active duty with the Air Force or afterward, when she joined the National Guard, first on a part-time basis while working at Hughes Missile Systems Group and later when she went to work full time for the Air National Guard at the 162nd Fighter Wing at Tucson's Davis-Monthan Air Force Base. She became executive officer for that command in 2000 and director of staff for the Arizona Air National Guard in 2005. After retiring as a full colonel, she now is vice principal at the Montessori Academy in Paradise Valley, Ariz.
Starbucks CEO opens new front in helping veterans enter workforce (Chronicle of Philanthropy)
While many employers have committed to hiring veterans, Starbucks CEO Howard Schultz is leading a push to train soldiers for civilian jobs even before they leave military service. His latest effort, Onward to Opportunity effort, was announced last week. The Schultz Family Foundation committed $1.7 million to provide job-skills training to 10,000 service members and spouses on as many as six military bases in 2015. The idea is to patch professional-competencies gaps that researchers and veterans service providers say make it difficult for members of the military to transition smoothly into other work. The money is a slice of a $30 million pledge the foundation made last year to military and veterans causes. Daniel Pitasky, executive director of the Schultz Family Foundation, declined to say what the annual funding for Onward to Opportunity would be after the inaugural year but described the program as a multiyear investment. "If done right, I think it is a game-changer," says Mr. Pitasky, adding that it will provide America's employers access to one of the country's greatest national assets, its veterans. Post-9/11 conflicts have produced 3.2 million U.S. veterans. They had a 7.2 percent unemployment rate in 2014, while the jobless rate for all veterans was 5.3 percent, according to the Bureau of Labor Statistics. Currently, the overall national unemployment rate is 5.5 percent. In addition to Starbucks, Microsoft and JPMorgan Chase have signed on. The idea is for Onward to Opportunity to dovetail with the corporations' existing efforts to train and hire transitioning military personnel. Microsoft, for example, has been providing software development training to active-duty members at Joint Base Lewis-McChord in Washington since 2013.