Veterans GOOD NEWS for March 25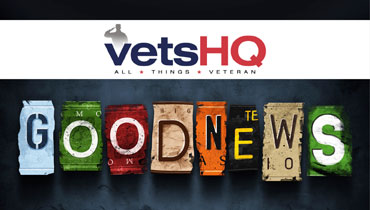 Did Jon Stewart, 'Daily Show' lead to change in VA Choice Program? (Huffington Post)
"The Daily Show" has just made a huge difference in the lives of veterans, helping many gain access to a program they were unfairly kept from using. The Choice Program, which was put in place to speed access to medical care after it was revealed that some patients had been waiting months for treatment, allows veterans who live far from VA facilities to get out-of-network care closer to home. The problem? To be eligible, you have to live 40 miles from the nearest VA facility using "as-the-crow-flies" miles. "Because that is the least-meaningful way to judge how hard it is to get somewhere for non-crows," Stewart said on Monday night's "Daily Show" as he highlighted the struggles of some veterans to obtain the health care they needed. The rule kept many who lived far from hospitals by roads from using the program. But on Tuesday, seemingly in response to what Stewart called his "damning piece of investigative joke-a-lism," the Department of Veterans Affairs changed the rule and will now use actual driven miles based on Google Maps rather than "as-the-crow-flies" miles. The change in language will double the number of veterans eligible for the Choice Program.
Illinois lottery scratch-off tickets support veteran programs (Examiner.com)
The Illinois Department of Veterans' Affairs (IDVA) yesterday announced that thanks to the people of Illinois buying the Veterans' Cash scratch-off lottery ticket the IDVA are able to award this year $353,100 in grants to 18 non-profits and local governmental entities that provide specialized programs and services to the Illinois veteran community. Four times a year IDVA's Veterans Cash Grant Committee reviews applications of veteran organizations, non-for-profits organizations and services that help Illinois veterans, and according to the funds available award grants are given to those groups that help address PTSD, homelessness, health insurance costs, long-term care, disability benefits, and job placement and training. IDVA Director Erica Jeffries stated the grants program makes a real and direct impact in the lives of thousands of our Illinois veterans. Veterans' Cash scratch-off lottery ticket is the first of their lottery tickets in which 100 percent of net proceeds are dedicated to support Illinois veterans. The $5 Veterans Cash instant tickets are currently available at about 950 retail locations across Illinois. To date the Veterans Cash Grant Committee has provided over $12.5 million in grants to over 220 organizations.
Veteran receives overdue Bronze Star recognition (KING5-Seattle)
City Hall is where they chose to right a wrong. Major Matthew Carl explained why a gathering in Gig Harbor, Wash., was needed. "Just recognizing a gentleman for what he has done for his country," he said. The gentleman is Paul Evans and the achievement is a Bronze Star medal. After what he did more than four decades ago, the medal was handed to Evans with no ceremony as his tour ended. "A lot of things were going on. It was a very busy time," said Brig. Gen. Jamie Jarrard. "Who knows why things happened like they did?" But now Evans is receiving the recognition. With family and combat veterans by his side, his service was in the spotlight Monday night. Before City Hall's regular meeting, a packed room heard Evans' story from when he was a teenager in Vietnam. "The 26th of March, we had a big battle and my unit got pinned down," began Evans. Others read from a paper that detailed what happened next. "We stumbled upon a Viet Cong encampment. He was the M60 gunner… He laid down suppressive fire, protecting his soldiers and saving some of their lives… After a short time, the VC were dispersed and cease fire was called." The Bronze Star, awarded to Evans for his work for the entire year he was in Vietnam, was presented to him a second time Monday, but in a more proper way. "Thank you very much," said Evans to a room full of people that honored him with a standing ovation.
Team McConnell helps vets 'move on' (Air Force Reserve Command)
When it comes to assisting local Veterans find a place to live, Melissa Hodge, a social worker from the Robert J. Dole Veteran's Administration Medical Center in Wichita, knows that Senior Master Sgt. Eric Peel, 931st Aircraft Maintenance, is only a phone call, or text message, away.  For the past few years, Peel and Hodge have been assisting veterans to find a place to live. To help furnish the veteran's new surroundings, they have collaborated with His Helping Hands, a local non-profit agency that provides household items for individuals and families. Peel began organizing and managing the volunteers for the moves last year, after the original manager, Master Sgt. Stephen Hedden, transferred to another base. According to the VA website, www.va.gov, the agency served more than 240,000 veterans who were "homeless or at-risk of becoming homeless" in 2012. The site states the VA identified more than 62,000 homeless veterans in January 2012. With statistics like that, it's not difficult to surmise there are a significant number of veterans who have fallen on hard times. Fortunately, Peel and his team McConnell Airmen volunteers are combating this statistic, one "move" at a time. Each week, Peel sends out an email to enlist volunteers from the base. Usually, about ten volunteers, both Reservists and active duty, are used for each move, which includes a furniture pickup from the His Helping Hands Warehouse, and then transferring and loading that furniture to the veterans' new home, which is coordinated through Hodge and the local VA. Hodge, is one of eight social workers at the VA in Wichita. She says the agency is continuing to make improvements to assist homeless veterans, but there are always challenges. Since becoming involved with the program, McConnell has enhanced Hodge's efforts with homeless veterans. "Prior to McConnell's involvement, we were moving veterans on our own and it would take us all day long because we had to find a truck and make several trips back and forth because we didn't have enough people," Hodge said. "Without their help, we can only move one veteran per week. [McConnell] has tripled our efforts."
DOE helps military vets, Native Americans go solar (TriplePundit.com)
The Department of Energy is zooming in on U.S. military veterans and Native Americans as the Obama administration continues its effort to spur green job creation and deployment of solar energy. On March 17, DOE announced it would offer a free public webinar about hiring veterans for solar energy jobs as part of the president's SunShot Initiative. On March 25, the DOE Office of Indian Energy and the Western Area Power Administration will sponsor a live webinar on tribal energy development operation and management best practices. Numbering nearly 17,000, U.S. military veterans represent almost 10 percent of the nearly 174,000 Americans employed in the U.S. solar energy industry. And the Obama administration is working to see that figure increase. Five leading U.S. solar energy companies – SolarCity, Vivint Solar, Sunrun, SunEdison and SunPower – pledged to interview exiting military vets that graduate from a DOE solar job training pilot program. A first class of U.S. Marines recently graduated from the pilot phase of the SunShot Initiative's solar industry jobs training program for U.S. military vets at Camp Pendleton, California. As the Energy Department explains, the groundbreaking program prepares "service members for careers in the solar industry as solar photovoltaic system installers, sales representatives, system inspectors and other solar-related opportunities."
Veterans' families would get in-state tuition in Arizona (Arizona Public Media)
The Arizona Senate gave preliminary approval Tuesday to a bill extending in-state tuition to spouses and dependents of men and women in the military. The bill would grant in-state tuition at Arizona's community colleges and three, public universities. It would also extend for three years if the military member is killed. Sen. Martin Quezada, D-Phoenix, tried to amend the proposal to also cover students who fall under President Barack Obama's deferred action order. "These are individuals who want to contribute to our society, they want to contribute to our economy," said Quezada. "And in reality, at the end of the day, folks they aren't going anywhere." The amendment failed on a voice vote. The bill is expected to come to a vote in the full senate soon.
Wounded vet to tackle 'toughest footrace on the earth' (Military Times)
First, Army Capt. Mark Wise biked more than 50 miles from Washington, D.C., to Gettysburg, Pennsylvania, just six months after he lost his left eye and socket, cheek, portions of his left hand and chunks of his legs and torso in an IED blast in 2009. Then in 2013, the infantry soldier — now retired — joined 11 other wounded warriors on a 13-day, 250-mile trek to the South Pole, using skis to cross the icy terrain and dragging 150 pounds of gear on sleds behind them. Now Wise will take on what's been called the "toughest footrace on Earth" — the infamous Marathon des Sables, a six-day, 156-mile jaunt through the sands, rocky bluffs and stones of the Sahara Desert. For Wise, putting himself through these paces is the least he can do to raise awareness — and money — to help other veterans. It's a mission he says he adopted just a month after waking up at then-Walter Reed Army Medical Center in Washington, D.C., following his injuries. "I knew I was not going to be able to return to the field, so as an officer and a leader, I asked myself, 'What is my contribution? What is my role, my job?' " Wise said. "It's to set the example, to be an advocate and pave the way for the guys who come behind me with serious injuries."