Veterans GOOD NEWS for March 27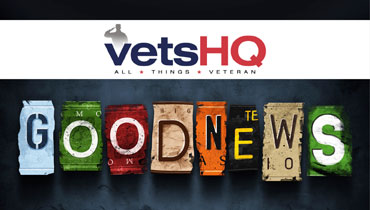 Veterans groups support offering troops 401(k)-style retirement plan (Military.com)
Organizations that represent U.S. combat veterans are getting behind a controversial proposal to offer troops a 401(k)-style retirement plan. Officials from the Veterans of Foreign Wars of the United States and the Iraq and Afghanistan Veterans of America told lawmakers on Wednesday that many of their members would support such a change to the military's retirement benefit. "It is fundamentally unfair that one could serve 10 or 12 years, with three, four, five or more deployments, and leave the military with absolutely no retirement benefit at all, yet a careerist who possibly never even deployed could be entitled to a full benefit package," said Chris Neiweem, a legislative associate for IAVA. The retirement overhaul is one of 15 recommendations from the congressionally mandated Military Compensation and Retirement Modernization Commission. In January, after nearly two years of review, the panel released the proposals designed to give troops, retirees and their families more benefits options while saving the Defense Department $12 billion a year in personnel costs by 2040.
California WWII landmark to be converted into apartments for disabled veterans (ABC7-Los Angeles)
Residents in Riverside, Calif., are restoring a World War II landmark by building apartments for service-disabled veterans. Right in the middle of Riverside was Camp Anza, which was the last stop for about 600,000 U.S. Army soldiers before they headed off to combat. After the war, the place fell into disrepair, and at one time it was close to being demolished. But now, work is underway to not only renovate the piece of history, but make it valuable for veterans. "We're in dire need of proper housing for our disabled heroes," Riverside City Councilman Jim Perry said. Eyewitness News learned about this story thanks to the help of project superintendent Jim Watson, who shared it with us using the hashtag #ABC7Eyewitness. "We get to come into the neighborhood and bring something back to life," Watson said. WWII veteran Andy Melendrez, Sr. remembers Camp Anza well and said it was the place where countless soldiers got their "service-appropriate" haircuts. Almost 70 years later, Melendrez is excited to hear about the renovations and the focus on veterans in need. "There's a bunch of veterans out there that don't know what to do," he said. If everything goes as planned, veterans and their families could be moving in to the renovated apartments around this time next year.
Warrior hikers begin 2,168-mile journey (The Macon County News)
In 1948, Earl Shaffer became the first person to hike the entire length of the Appalachian Trail from Georgia to Maine. Now at 2,168.1 miles, the journey is an ambitious mission in itself, but completing the trek wasn't Shaffer's sole mission. His intention was to "walk off the war" to forget about the sights, sounds, and losses of World War II. It took Shaffer a little over four months to hike the entire trail. Recognizing that having to become accustomed with day-to-day life, and to set aside the training and instinctual reactions taught by the military as being no easy feat, following in Shaffer's footsteps, Marine Corps Captains Mark Silvers and Sean Gobin turned to nature to help become assimilated back into civilian life after service. With their own understanding of the therapeutic impact long distance hiking has for veterans, Silvers and Gobin set out to establish the Warrior Hike "Walk off the War" Program, which is designed to support combat veterans transitioning from their military service by hiking America's National Scenic Trails. In March 2013, the first class of veterans made their way up the Appalachian Trail to begin their six-month thru hike from Springer Mountain, Ga., to Mount Katahdin, Me. Fourteen veterans made the first hike, followed by another 14 in 2014, and this year 11 veterans will be making the journey. Since its inception, the Warrior Hike has continued to grow, according to founder Seth Gobin. "This year is different because we have more trails across the United States for veterans. We started with the Appalachian Trail, then added the Triple Crown. We now have the Arizona Trail, Continental Divide Trail, Florida Trail, Ice Age Trail, and Pacific Crest Trail."
Wounded Marine vet receives a huge welcome home with a new house (Raleigh News & Observer)
U.S. Marine Corps veteran Cpl. Ryan Wightman and his wife, Melissa, accepted the keys Thursday to their new, free, custom-built home in Fuquay-Varina, N.C. The home is the ninth built by Operation: Coming Home, a project of the Home Builders Association of Raleigh-Wake County, local nonprofits and businesses. The effort provides homes to combat veterans with disabilities who served in the Middle East. Wightman gratefully accepted the house keys in the presence of people and vendors who gave to the project, as well as 150 fellow Marines from Camp Lejeune. He then asked for a moment of silence for the military personnel who never made it home. "I joined the Marine Corps because I wanted to be a part of something bigger than myself," Wightman said. "I definitely feel with all these people here that I was able to accomplish that." Said Col. Kenneth DeTreux, commanding officer of the 8th Marine Regiment at Camp Lejeune: "We all joined for different reasons, but I think at our very heart, we do it for our God; we do it for our country; we do it for our Corps, but most importantly we do it for that Marine on our right and left." Keynote speaker Gov. Pat McCrory presented a narrative of how much has changed for Wightman in the past four years. In March 2011, the Marine returned from his first six-month deployment in the Helmand Province of Afghanistan and married Melissa just days later. In January 2012, Wightman was deployed a second time to the same area and was injured by an improvised explosive device, trying to help a fallen Marine. At Walter Reed National Military Medical Center, his residence the past three years, Wightman underwent several surgeries in an attempt to salvage his left leg. But it was amputated below the knee in September. With a prosthetic leg, Wightman will begin schooling to help others with prostheses. His wife, who is a physical therapy assistant, will go back to college to become a licensed physical therapist.
Army veteran receives mortgage-free house in Florida (Daytona Beach News Journal)
A few weeks ago, Kevin Sosa's future home had mildewed carpets, a wrecked kitchen and muck on the walls. The foreclosed property was scrubbed, painted and renovated and Thursday was the first time the improvements were shown to Sosa, a U.S. Army veteran who served three combat tours in Iraq. Sosa, 29, took a few steps through the front door with his wife, Kendra, and three children. His mouth was agape as he scanned the dining and living rooms. The tile floors sparkled, the walls were freshly painted and the carpets were spotless. "I'm so humbled to have a home," an emotional Sosa said moments after he and his wife walked through every room and marveled at everything — including the two-vehicle garage and backyard swimming pool. Building Homes for Heroes, with an assist from Chase Bank, matched up Sosa and his family with the mortgage-free home. The nonprofit group builds and modifies homes and gives them to veterans and their families. Chase took ownership of the 1,840-square-foot house after it had foreclosed, and eventually it was selected to be a home worthy of a military family. Its approximate value is $165,000, according to the Zillow Group, an online real estate database company.
Utah nonprofit shares horse therapy wisdom with the world (The Salt Lake Tribune)
A horse is often the best therapist. That's what several hundred counselors and horse experts are learning this week at a conference for practitioners of a horse therapy method first developed in Utah and spreading throughout the world. At the Legacy Center Arena in Farmington on Thursday, a gray, a chestnut and two bay horses stepped into their roles as playful, curious and sometimes obstinate "clients" in one workshop and as therapist-assistants in others. Some 400 people from 10 countries and 42 states are attending the 16th annual conference of the Santaquin-based Equine Assisted Growth and Learning Association (EAGALA) this week in Davis County. Lynn Thomas, the nonprofit's founder and executive director, is a licensed clinical social worker who had nothing to do with horses before witnessing their use in therapy at a ranch for troubled boys. "I've always been a believer in the experiential, the idea of doing versus just talking," Thomas said. "When I saw horses added in, I was amazed. This works!" She formed the nonprofit in 1999 and it now has 4,500 members in 50 countries. In the EAGALA method, a client such as a veteran with post-traumatic stress disorder or a couple in crisis does not ride the horses but instead remains on the ground, touching or talking to the horses, watching for their reactions and using props like plastic balls, cardboard boxes or foam noodles. For some, the animals' beauty is compelling. For others, fear is the key. "That can be a metaphor for what else is scary in their lives and how they're going to approach that," Thomas said. A two-person team — a licensed mental health therapist and an equine specialist — watch the interaction from the side of the corral and ask questions of the client to help him or her clarify the experience. The approach is especially good for those who don't like talk therapy. But it's also increasingly used for corporate team-building or personal development.