Veterans GOOD NEWS for March 3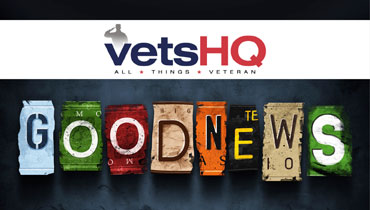 Navy Reserve celebrates centennial today (Navy Times)
The Navy Reserve marks its centennial Tuesday with a series of events starting in Washington, D.C., and continuing at installations around the country during the year. The events will highlight the history of the Navy Reserve and the contributions Reserve sailors have made, and continue to make, to the nation's security. "Our Centennial commemoration is a truly a once in a lifetime opportunity to highlight the Reserve Sailors for their service, and that of their families, to America," said Vice Adm. Robin Braun, chief of the Navy Reserve. "We want to recognize our rich history and heritage with all of our sailors, both past and present." Congress authorized the establishment of the Federal Naval Reserve on March 3, 1915. At first, only enlisted Navy veterans were eligible to enroll. But on Aug. 29, 1916, with the prospect of America's entry into World War I looming, the Navy Reserve reorganized to allow the enrollment of nonveterans and was renamed the Naval Reserve Force. When the U.S. entered World War I on April 6, 1917, there were 8,000 sailors serving in the Navy Reserve Force. When the fighting ended on Nov. 11, 1918, more than 250,000 Reserve sailors were on active duty, more than half of the wartime Navy. They included 12,000 pioneering women who were all released from active duty by 1920, not to serve again until World War II. During World War II, the Navy Reserve contributed 84 percent of the Navy's manpower. Their numbers included five future U.S. presidents — John F. Kennedy, Lyndon B. Johnson, Richard Nixon, Gerald Ford, George H.W. Bush — and 15 recipients of the Medal of Honor. More than 22,000 Reserve sailors were mobilized for the first Gulf War, and since Sept. 11, 2001, there have been more than 70,000 Selected Reserve mobilizations, along with an additional 4,500 deployments by full-time support sailors.

Operation Rolling Thunder remembered, 50 years later (Air Force Times)
Air Force leaders, Vietnam veterans and their families gathered Monday at the Air Force Memorial in Arlington, Virginia, to honor the 50th anniversary of the Vietnam War and remember those lost in the conflict. The ceremonial wreath laying at the base of the monument's three soaring spires was accompanied by a flyover of a B-52 Stratofortress from the 69th Bomb Squadron at Minot Air Force Base in North Dakota. Chief of Staff Gen. Mark Welsh in his speech saluted several family members of prisoners of war and troops missing in action . He became emotional as he described watching February 1973 news coverage of POWs returning from Vietnam and reuniting with their families. Some of those POWs were present at the ceremony. "Even those whose injuries made it impossible for them to stand fully at attention somehow did when the band played the National Anthem," Welsh said. "Gentlemen, there is no way to repay you for your service or your sacrifice, but we would like to show our respect and our appreciation." March 2 marked the 50th anniversary of the first day of Operation Rolling Thunder, the massive B-52-led bombing campaign that was the first sustained assault over North Vietnamese territory. It lasted three years, and more than 1,000 aircraft were lost in the campaign. The first Air Force POW of the Vietnam War was then-1st Lt. Hayden Lockhart. He was shot down over North Vietnam while flying one of eight F-100 aircraft that day. Lockhart, braved heavy anti-aircraft fire to hit the target "with complete disregard for his own safety," his Distinguished Flying Cross citation says. He noticed his plane was on fire and ejected. Lockhart evaded the enemy for a week before being captured. During his nearly eight years of captivity, Lockhart withstood torture by his captors. In addition to the Distinguished Flying Cross, Lockhart received the Legion of Merit and the Silver Star.
GI Bill proposal would help veterans receive small business loans (Military.com)
A proposed change to the popular post-9/11 G.I. Bill would allow veterans to use their education benefits as startup collateral to start their own businesses. "If we could do this, it would change the landscape for our veterans" who choose not to go to college, said C. Lynn Lowder, a retired major who was a Force Reconnaissance Marine in Vietnam. Lowder formed 1 Vet at a Time, an organization built about one year ago to advocate for jobs and entrepreneurship for the 40 percent of current generation veterans who don't use the G.I. Bill's education benefits valued at about $186,000. He said he works with mostly junior enlisted troops — "those PFCs, lance corporals, corporals, and young sergeants." "They're focused, motivated and loyal to a fault," Lowder said. "They're trying to get their feet on the ground, feeling for zero," and they can be clueless on how to start a business. The problem for the young veterans with a business dream in most cases is that "there's no way to get a loan. The access to capital is a challenge," he said.
Veterans, active duty military, tap social network for support (Fox News)
Around last April, LinkedIn co-founder Konstantin Guericke was approached by Yinon Weiss about supporting an interesting twist on the social media networking model that he helped introduce back in 2003. Weiss, who served for 10 years on active duty as a Marine Corps scout and sniper platoon commander as well as an Army Special Forces officer, met with Guericke to discuss RallyPoint, a professional network for active duty members of the military and veterans alike. Weiss founded the site back in 2012 alongside Aaron Kletzing, another veteran, when they were both students at Harvard Business School. In fact, the idea literally was formed on the back of a napkin in a Cambridge, Mass. restaurant. The two men saw their project as filling a big void for military personnel – both veterans transitioning to civilian life and individuals serving on active duty often express frustration at not having guidance and networking in navigating life in and outside of the military. Flash forward three years, and the site has grown beyond networking. It is a social forum that has become an online community, sounding board, and professional guide for over 500,000 veterans and active duty men and women serving in the military. The site's growth has made it an indispensable resource for individuals hailing from a very specialized career who didn't necessarily find the guidance and social connections they needed from sites like LinkedIn or Facebook. With the announcement last week that Guericke was joining RallyPoint's board of directors the site has further established itself as a go-to social networking venue.
Beauty magnate's Maine estate sold to veterans nonprofit (Portland Press Herald)
The former Maine summer home of beauty magnate Elizabeth Arden has been purchased by a nonprofit dedicated to disabled veterans. The Travis Mills Foundation announced the purchase Tuesday. The foundation says it intends to make extensive renovations to the property and convert it into the nation's first fully accessible, "smart home" dedicated to serving the recreational and reintegration needs of combat-wounded veterans. The estate was placed on the market last summer for $765,000, but the foundation did not announce the purchase price. Arden built the main house in the town of Rome as her summer estate in the 1920s and later established the Maine Chance Spa at the site. Mamie Eisenhower, Judy Garland, and Ava Gardner were among the guests.
St. Louis mayor signs bill giving veterans preference in city hiring (St. Louis Post-Dispatch)
Veterans will soon get preferential treatment when applying for city jobs in St. Louis. Mayor Francis Slay signed a bill into law on Monday that gives military veterans extra points on employment applications to St. Louis. The bill, championed by Alderman Jeffrey Boyd, was approved by voters in the November election.  "We know that veterans are already dedicated to serving others, which is exactly what City government does," Slay said. "I am proud to give a hiring preference to the men and women who have served our country and who return with proven skills, aptitude for teamwork, and a deep sense of commitment." The law gives hiring preferences to "honorably discharged members of the armed services of the United States who successfully pass examinations for civil service positions."
'Flightless' trip to Washington honors local WWII veterans (Orlando Sentinel)
Dorothy Baggett witnessed plenty as a nurse in Germany during World War II a month after American soldiers liberated prisoners at the Dachau concentration camp. She saw bodies of Holocaust victims stacked outside a crematorium and nursed survivors as part of the Army Air Corps. But the 94-year-old Villages resident hadn't seen the World War II Memorial in Washington, which opened in 2004 to pay tribute to the nearly 16 million Americans who served during the war from 1941-45. That changed Saturday when Baggett and 14 other veterans "visited" the monument thanks to a "flightless" program offered by the group Villages Honor Flight. The five-hour program for those who are too frail or ill to make an Honor Flight trip simulated the often-emotional journey veterans healthy enough to fly experience. "It was wonderful, more than I expected," Baggett said. "I couldn't believe it." The "flightless" adventure, which featured video clips of an Honor Flight to the nation's capital and footage of war memorials, is free for veterans. Saturday's trip was the group's second "flightless" version, a unique way to recognize the dwindling population of World War II veterans, who are dying at a rate of more than 400 a day. It's the only such program offered through the Honor Flight Network, a national nonprofit of more than 100 chapters dedicated to honoring veterans by making about 300 to 500 trips to Washington each year. "We don't have to go to Washington, D.C.," said Mark Erdrich, president and vice president of operations of The Villages' chapter. "We can simulate this." The simulation extended to the departure and returning ceremonies.
Library of Congress gets high school Vietnam vet interviews (Montgomery Advertiser)
Auburn High School history students are looking beyond the textbooks to learn about the Vietnam War firsthand. "As we begin the 50th anniversary commemoration of the war, it is our mission that through this project we can provide a rich history of how our community was involved in the Vietnam War as well as honor the legacy of our local veterans through helping preserve their contributions and reflections," said Dr. W. Blake Busbin, AP history teacher at AHS. Students in six AP U.S. History classes are seeking 40 to 50 Vietnam War veterans living in Lee County to interview about their experiences in the war. The in-person interviews will be recorded, and copies of the recordings will be provided to the Library of Congress' Veterans History Project, becoming part of the library's permanent collection. Copies will also be uploaded to the classes' Auburn Veterans Project website and will be provided to the veterans' families. "By creating a permanent record of the oral history through its inclusion in the Library of Congress, our goal is to ensure that future generations can gain an appreciation and knowledge of the contributions of our local military veterans while better understanding the realities of war through the voices of the veterans themselves," Busbin said.
Legislators collecting suits and business attire for veterans (Burlington County Times)
Lt. Gov. Kim Guadagno is teaming with more than two dozen women legislators to help veterans transition to civilian jobs. During March, lawmakers will collect men's suits and women's business attire to donate to Suiting Warriors Foundation, a Delaware nonprofit that outfits veterans with business clothes at no cost. Guadagno announced the Dress Our Vets campaign with several participating lawmakers Monday morning during a Statehouse news conference, saying the group hoped to help all veterans but especially was focused on assisting and highlighting issues facing women veterans in honor of Women's History Month. "We thought a perfect opportunity to raise the profile of women veterans in New Jersey would be to partner with (Suiting Warriors)," Guadagno said from the Statehouse Rotunda. There are an estimated 33,000 women veterans in New Jersey, including about 8,500 under age 40. Guadagno said those women often feel left out from services provided to former military members because they have unique issues. "They served our country and fought for our freedom. They should not also have to fight for jobs and services when they return," Guadagno said. The group collects new or lightly used suits and business clothes to help outfit veterans at job fairs and before business interviews, said Star Lotta, Suiting Warriors' founder and CEO.
Alternative treatments for veterans battling PTSD (WFTS-Tampa Bay)
For decades, Mike Nositz has been dealing with what he experienced in Vietnam. Recently the Marine veteran turned to something called accelerated resolution therapy. "It's like a motion picture in front of you. Things are very, very vivid," he said. This form of psychotherapy, which incorporates eye movements and doesn't involve medication, helps reprogram the way distressing memories are stored in the brain. Now he hopes veterans who served in Iraq and Afghanistan will try it, too. Especially those suffering from PTSD. "It was much different in my era. When we came home, we were 19. Now the guys coming home, they've been over there three times. They are fathers. They have kids. It's a little bit rougher," said Nositz. The therapy is just part of what's now offered in a converted American Legion building in Holiday. It's now home to the Veterans Alternative Center, headed up by former Green Beret Brian Anderson. He was haunted by images of his best friend who was killed in combat. "I went through one session of accelerated resolution therapy and those images went away," Anderson said. The facility focuses on post-traumatic growth, trying to make productive citizens of those veterans damaged by war. Another component is a form of yoga called iRest, a meditation practice that Anderson said helps those who can't sleep. "They've done an initial investigation on this, and they've shown 20 minutes is actually equal to two hours of REM," Anderson said. They plan to add a physical fitness component with a gym, obstacle course and areas where veterans can just hang out and talk.
Winning the battle for a job (AOL Jobs)
If you are a veteran or transitioning out of the military, understand that you are facing a new–but very different–battle than you have faced before. Even if you've succeeded in a civilian job search in the past, this job market is very different. Today's job seeker faces many more competitors than in the past, plus new obstacles to winning this battle. Fortunately, no real "enemy" is trying to kill you. But you do face many competitors and other issues that make achieving your objective more challenging. Demonstrate your skills and experience in gathering intelligence, in planning and targeting, and in executing plans to accomplish your new "mission." View your job search as a series of planned actions focused on a well-defined objective, just as you have in your military career: analyze the current job market; leverage existing assets of support; and learn to translate military conversation into civilian speak.
Veteran-owned firms land financing at competition (Houston Chronicle)
Investors extended more than $700,000 in financing offers during the Entrepreneurs' Organization-Houston Veterans Business Battle. The competition, held at Rice University over the weekend, was a chance for veterans to pitch their businesses to a panel of investors. Several companies are still in talks with investors. Mobile C-Arm Services, based in Kingwood, Texas, won the SBA category and received a $300,000 offer from Amegy Bank/Main Street Capital Corp. Mobile C-Arm Services rents X-ray equipment for surgical procedures. Owner Carlos Castro is a Marine Corps veteran. Castro said it was humbling to be around other veteran entrepreneurs and to see their drive and passion, adding, "It was just a great experience." Houston's AAA Energy Audits & Solutions won the Growth category and was offered $60,000 from Amegy. The company provides home builders, buyers and residents with energy efficiency audits. "It was awesome. The Veterans Business Battle was a great opportunity for my business," said Anthony Mackey, who owns AAA Energy Audit & Solutions with his wife, Adriane Mackey. They're both Army veterans. Anthony Mackey said they will use the money for a website, for branding and marketing, additional equipment and licensing for two employees in training.