Veterans GOOD NEWS for March 30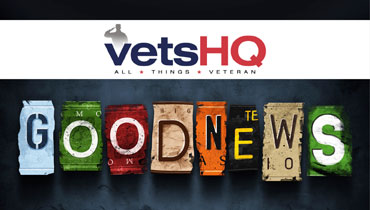 Vietnam veterans, POWs/MIAs honored at commemoration ceremony (KSAT-San Antonio)
Veterans, family members and friends took time out Saturday to honor and remember fellow veterans, prisoners of war and those still missing in action from the conflict in Vietnam.  A 50th Anniversary Commemoration Ceremony was held at Fort Sam Houston National Cemetery. Tom Earnest, a veteran, who was a speaker at the event, talked about the unpopularity of the Vietnam War at the time and how veterans who made it back home were treated with "indifference." "When we came home, we did not receive what we felt was an honorable return," said Earnest.  The Veterans of the Greater San Antonio Area coordinated the 50th Anniversary Vietnam War Commemoration Ceremony to honor and remember veterans, prisoners of war and those still missing in action from the conflict in Vietnam. "San Antonio is Military City USA," said Earnest. "And, they support all branches of the service, all the military and all the functions that happen out here." Earnest said the Vietnam War took its toll on the country with more than 58,000 military causalities, but that the impact was also great here in San Antonio. "The Edgewood School District had the most boys that were in Vietnam through the draft and were lost and never came home," said Earnest.
Texas Capitol unveils Vietnam Veterans Monument (KVUE-Austin)
A monument unveiled on the Texas Capitol grounds represents an appreciation for the sacrifices of Vietnam War veterans, Gov. Rick Perry told a large gathering Saturday. Perry spoke near the Vietnam Veterans Monument for an event coinciding with the 41st anniversary of the last U.S. troops leaving South Vietnam. About a half-million Texans served in the war, with more than 3,400 losing their lives and 105 still missing in action. The monument on the northeast side of the Capitol grounds joins others honoring Texans who have fought in other wars, dating back to the Texas Revolution. Perry said the newest monument is a reminder of what is noble and good about the human spirit. It will stand as a declaration that in Texas, we understand how blessed we are to have warriors ready to step forward and draw a line between us and those who would do us harm, he said. Perry spoke of the contributions of Vietnamese who fought alongside American soldiers, with many later obtaining U.S. citizenship and settling in Texas, he said. The 5,500-pound monument was approved by lawmakers following legislation submitted by state Rep. Wayne Smith and state Sen. Juan Hinojosa, both Vietnam veterans.
Couple and their donkey trek across Colorado for veterans (The Denver Post)
A Cortez couple battling post-traumatic stress disorder is planning a therapeutic and educational tour of western Colorado with their three donkeys. Wolf and Rachel Karneffel will soon embark on "Donkey Trek 2015 — Trekking for Troops," a combined mission advocating for working donkeys and support for war veterans. Their educational and fundraising journey will take them from Cortez to Colorado Springs and then Grand Junction. "Along the way, we will stop in towns and present to whoever we can the working qualities of donkeys and their therapeutic power to help veterans," Rachel said. "These animals can help heal warriors like they are doing for my husband." Wolf, 30, suffers from PTSD after serving three combat tours in the Army during the Iraq War from 2004 to 2011. Working with donkeys has become his salvation. "All my memories are from the Army and the violent battles I was in," he said, while adjusting saddle bags on his donkey, Raymond. "PTSD has robbed my mind, but being around these guys has created new memories that are positive. They're amazing animals, very intelligent, and you have to earn their trust, like soldiers do with each other." Donkeys are often forgotten or discarded, Wolf said, a parallel he sees with some veterans who come home from war. "We are tossed aside, stubborn, just like them," he said. "On this tour, we want to change the perception that donkeys are worthless. We want to connect with veterans who are suffering, and show them nontraditional therapies work better than all the pills." Equine-facilitated therapies are gaining in popularity, explained Rachel, who works at the Medicine Horse Center in Mancos. Like all animals, donkeys act congruently, meaning their inner feelings and desires line up with how they act in that moment, a useful trait for therapy. "They are very intuitive and empathetic animals and act like mirrors to people, reflecting our inner feelings despite what we show on the outside," she said. "When we work with donkeys, they force us to be in the moment and not think about past trauma or future troubles."
VA program records life stories to personalize medical care (Milwaukee Journal Sentinel)
Maddie Pyle shook Dave Christianson's large hand and placed a digital recorder on the table next to the Korean War veteran. Balancing a white notebook on her knees in the hospital room bright with afternoon sunlight, Pyle quietly asked Christianson what he wanted his caretakers to know about his life. Christianson, 83, started with his childhood in Sun Prairie and DeForest, talked about his love of sports, how he was a darn good baseball player who signed a contract with the Pittsburgh Pirates and about the day he was playing third against Mickey Mantle and the Yankees during spring training in Florida when a coach handed him an envelope. His draft notice. Scribbling notes in neat penmanship, Pyle's pen paused. She looked up surprised. "I was standing up and just about fell on the ground when I read it and saw that it said I was drafted into the U.S. Army," recalled Christianson. "I asked Branch Rickey if I could get out of it and he said no." Christianson was recovering from the amputation of his right leg at the William S. Middleton Memorial Veterans Hospital in Madison when Pyle stopped in his room and asked if he wanted to participate in a unique program, My Life, My Story. Christianson agreed and shortly after the 45-minute interview Pyle, 21, turned her notes into a 1,000-word story that's now part of the Middleton man's VA medical record. Two years after the innovative project started at the Madison VA, My Life, My Story is expanding this month to six other VA hospitals across the country. Written as first-person narratives, the stories are part of the patient's chart, easily accessible to medical personnel within the VA system. Veterans appreciate that someone is taking the time to listen, that they're no longer simply a name on a medical chart. Doctors and nurses enjoy reading their patients' stories, which help them connect on a more personal level rather than focusing only on diagnosis and treatment.
Army veteran to get new home in Virginia (Newport News Daily Press)
Retired Staff Sgt. Woodrow Slate joined the Army in 2000 thinking he would make a career out of it. "We were definitely lifers," said the Newport News native, who most know as Woody. That all changed in 2004. After suffering several serious injuries during dives in the Euphrates and Tigris rivers in Iraq, Slate developed a severe case of compartment syndrome, which occurs when excessive pressure builds up in the body cutting off circulation. Since then he has undergone more than 40 surgeries. But in the end, he lost of both of his lower legs. Slate, his wife Sandra and their three children — Lane, 15; Kyle, 13; and Christy, 11 — live in a small apartment in City Center. The family broke ground on a new home in York County on Saturday. It is being donated by Homes for Our Troops, a national nonprofit that builds specially-adapted, mortgage-free homes for severely injured veterans from Iraq and Afghanistan. Tim McHale, president of Homes for Our Troops, said at the groundbreaking that the group isn't a charity — it's just doing a duty for those who have given so much. "There was nothing free about this home for Staff Sgt. Woody Slate," McHale said. "He didn't lose his legs on the battlefield. He gave his legs for our country." Around 100 people, many from area veterans' groups, turned out to the tucked-away lot Saturday morning for the ceremony. When asked to speak, Slate stood at the podium for nearly a minute, choking back tears before his wife stood up to help his express their gratitude. After she spoke, Slate found his voice. "I think no words are better than words," he told the crowd. "I can't describe how honored I am." The home will have more than 40 adaptations allowing full wheelchair access to all living spaces.
For disabled vets, playing team sports boosts the quality of life (Reuters)
Wheelchair basketball and other adaptive sports could help disabled veterans boost their self-esteem and lead healthier lives, early research suggests. "Adaptive" sports have been modified to accommodate people with disabilities. While the study doesn't prove the benefits of adaptive sports for disabled veterans, the researchers say they found a strong association between this special form of recreation and happier and healthier individuals. "A number of patients have told me even after going through rehabilitation and even after being able to accomplish activities of daily living . . . they never truly felt like themselves until they participated in adaptive sports," said Justin Laferrier, the study's lead author and a U.S. Army veteran. The number of disabled U.S. veterans has more than doubled since 2001 to 5.5 million because of the many wounded service members from the conflicts in Afghanistan and Iraq, the authors note. Laferrier, now at the University of Connecticut, formerly led amputee physical therapy at the Walter Reed National Military Medical Center in Maryland and at the Center for the Intrepid at Fort Sam Houston in Texas. He and his team write in American Journal of Physical Medicine & Rehabilitation that wheelchair sports date back to shortly after World War II, when neurologist Sir Ludwig Guttmann organized the first games at Stoke Mandeville Hospital in Aylesbury, England. Although many disabled people have benefited from adaptive sports and the moral support of comrades since then, hard evidence is needed, said Laferrier. "If you ask 100 people in a room if they thought adaptive sports and recreation was beneficial both physically and psychologically, 100 would say 'yes,' but then if you ask for money, they'd say, 'Well, we don't have any real evidence behind that, so we can't give you money,"' Laferrier said in a phone interview with Reuters Health. To test the effect of adaptive sports, 220 disabled veterans were recruited in 2009 and 2010 from the National Disabled Veterans Winter Sports Clinic, U.S. Olympic Committee Warrior Games and National Veterans Summer Sports Clinic. Activities included sled hockey, archery, swimming and wheelchair basketball. Researchers looked at participation in individual sports, team sports or a combination of the two. They used various self-esteem and quality of life scales, noting physical and psychological health, social relationships and environment. The veterans had spinal cord injuries, posttraumatic stress disorder and upper or lower limb amputations, but also chronic diseases like arthritis, digestive problems, heart trouble and diabetes. The more the veterans participated in the sports after they were injured, the significantly better their quality of life.
The light of a veteran's long life (WBUR-Public Radio)
Commentary: Day by day, the numbers of World War II veterans grow smaller. Their dwindling is a matter close to my heart, because, earlier this month, a week shy of his 94th birthday, my father joined that waning parade. Wounded and captured in the Battle of the Bulge, weakened and hollowed out by slow starvation in a prisoner of war camp, nearly succumbed to despair on a death march toward the North Sea, my father just barely made it out of the war alive. He was scarred, afterward, weighed down not only by the shrapnel he still carried in his body, but by a darkness that shadowed him, and shadowed us, his family.  At the same time, in a good way, my father's experience of the war — and his own improbable survival — left him deeply aware of the preciousness of life. More vividly than anyone else I've known, he sought to live joyfully in the present, building boats and sailing them, gardening, playing basketball, singing — and encouraging others to sing and leap and play along. He also felt an urgent imperative to change the world for the better. Shot from the turmoil of the war into the opportunities of post-war America, he followed a brilliant trajectory from Maine farm boy to international agricultural scientist, advocate and pioneer. Farmers all over the world were able to feed their children and send more to market because of his work. His ambition could not have been more noble, but it left behind his first family, a wife and three daughters. That, too, I've come to see as a familiar story. Still, we were proud of him; and very lucky: he lived long. He had time to mellow, to slow down a little. He listened to us, knew us, savored us, finally, as individuals. (To continue reading, click the headline link …)
Virginia Tech teaching veteran entrepreneurship as part of DoD program (DCInno)
Virginia Tech has teamed up with the U.S. Small Business Administration to to offer a one-day Boots to Business entrepreneurship workshop specifically geared toward veterans. The course, which specializes in teaching entrepreneurship to past and present service members and their families, is a part of the Department of Defense's Transition Assistance Program. According to Virginia Tech, curriculum will include "steps for evaluating business concepts, the foundational knowledge required to develop a business plan and information on small business administration resources available to help access start-up capital and additional technical assistance." Given that Virginia Tech employs more than 300 veterans and is home to the Virginia Tech Corps of Cadets that is more than 1,000 students strong, it makes sense that the SBA would want to partner with the Blacksburg school. Virginia Tech has been recognized numerous times for its commitment to helping veterans find employment. It was the first university to be certified by Virginia Values Veterans in June of 2013, named to the top 2013 Military-Friendly Schools list by Victory Media and honored for leading a regional effort to hire veterans in August of 2013.
These vets are keeping kids safe on dangerous Chicago streets (NationSwell.com)
Veterans come from an environment," says Eli Williamson, president of Leave No Veteran Behind (LNVB), "in which everyday they understand what their purpose is." He continues: "When they come out of the military there's this moment in which they say well, 'what's my new purpose?'" Williamson asked himself this very question shortly after returning from a deployment to Iraq in 2004. His homecoming was met with the news that his student loans — which he used to pay for his college education before he went overseas — had come out of deferment. His friend and LNVB co-founder, Roy Sartin, was in the same situation. So the two army buddies from Chicago decided to write Oprah, in the hopes that the same charity that inspired her to give away cars might finance their student debt. When sharing their plans with other veterans, they discovered that student debt is a widespread burden for many returning servicemen and women. Eventually they settled on a simple plan. "What if we were to raise dollars," says Williamson, "apply those dollars directly to the veteran's student loan account, and then require that veteran to give back 100 to 400 hours of community service once that debt has been paid?" From this idea, the nonprofit was formed. Hakki Gurkan, a Chicago police officer and a veteran of Iraq and Afghanistan, accessed it for student loan assistance in 2011. His mother's cancer had recently come out of remission, his father had been through hip replacement surgery, and Gurkan struggled to financially provide for both of them. After his loans were paid, Gurkan's service project created LNVB's most visible program: Safe Passage. In response to the widespread violence among youth in parts of Chicago, LNVB approached the Chicago school system to see if veterans could help. Tipped off about repeated violent incidents on the corner of 35th and Martin Luther King Drive, LNVB deployed 20 veterans to the location to stand guard, positively engage with youth and maintain the peace. Several weeks of calm led to expansion, and now, more than 400 veterans have participated in the Safe Passage program, positioned at several hot spots for crime in tough Chicago neighborhoods. On any given school day, about 130 veterans patrol the streets. As a result, the Chicago police has seen a significant decline in violence in the communities served. Coming from all walks of life, the service members are paid $10 an hour and work during the times that students are traveling to and from school. That important off-time between shifts gives veterans the hours they need to search for jobs and to attend interviews. LNVB also provides its workers resume assistance.