Veterans GOOD NEWS for March 31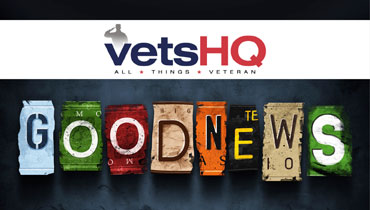 Duckworth could become Senate's second female combat veteran (Crain's Chicago Business)
Tammy Duckworth, a Democratic representative from Illinois, said Monday she will challenge Republican Senator Mark Kirk in 2016. If she won, she would become the second female combat veteran ever elected to the Senate. The first is Republican Joni Ernst, who won an Iowa Senate seat in November. A lieutenant colonel in the Iowa Army National Guard, Ernst, 44, served as company commander of a unit running convoys from Kuwait into southern Iraq in 2003-2004. Duckworth, a 47-year-old retired lieutenant colonel in the Illinois Army National Guard, deployed to Iraq and lost both legs when her helicopter was shot down there in 2004. Ernst and Duckworth's entrance into the spotlight comes as the overall number of veterans in Congress is on the decline, but as veterans of the post-9/11 wars in Iraq and Afghanistan—women and men—find roles in Washington. In 2012, Duckworth and Tulsi Gabbard, a Democrat from Hawaii, became the first female combat veterans elected to the House, according to the RutgersCenter for American Women and Politics. (Three past female representatives had served in non-combat roles, according to the center.) In 2014, they were joined by Arizona Republican Martha McSally, who was the first woman to fly in combat for the Air Force.
Utah celebrates first-ever Vietnam Veterans Day at state capitol (Standard.net)
Vietnam veterans say they've been waiting more than 40 years for a day like Monday. The state of Utah officially celebrated its inaugural "Vietnam Veterans Day" on Monday, allowing for an atonement of sorts for many Vietnam veterans who returned from war mocked and scorned. The day was made a reality last year, when a bill that was introduced by Rep. Curt Oda, R-Clearfield and conceived by Ogden area Vietnam veteran Dennis Howland was adopted in last year's legislative session. March 29 was designated as the day of remembrance, but because it fell on a Sunday this year, it was celebrated on Monday. A special ceremony was held at the Utah State Capitol building featuring remarks by Utah Gov. Gary Herbert, Rep. Justin Fawson, R-North Ogden, Sen. Curtis Bramble, R-Provo, Sen. Peter Knudson, R-Brigham City and Vietnam veterans Sterling Poulson, Howland and Lt. Col. Jay C. Hess, a former Vietnam prisoner of war. "The politics (of the war) were difficult," Herbert said. "And I think they got in the way of mending wounds. We should always thank the veteran for their service — they don't really get to ask why, they just do." Herbert signed bills sponsored by the three lawmakers that deal with Vietnam veterans or other veterans issues.
Maryland governor signs first bill — one honoring Vietnam veterans (The Baltimore Sun)
Gov. Larry Hogan signed the first bill of his administration Monday–a measure welcoming home Maryland's Vietnam veterans and establishing March 30 as an annual commemorative day to honor them. Flanked by Senate President Thomas V. Mike Miller and House Speaker Michael E. Busch,  who helped speed the measure to the governor by unanimous approval in both chambers, Hogan grinned broadly as he fixed his signature to the legislation. Hogan, the presiding officers and Lt. Gov. Boyd Rutherford were joined at the ceremony by dozens of Vietnam-era veterans and sponsors of the legislation:  Sen. John C. Astle of Anne Arundel County and Del. C. T. Wilson of Charles County. Astle is a Vietnam veteran, while Wilson is House chairman of the General Assembly's veterans caucus. "I couldn't be more proud to have my first bill signing be one that honors Vietnam veterans," Hogan said. "Making sure all our veterans receive the support and gratitude they deserve will always be a priority of our administration." Marylanders made up 1,014 of the 58,000 members of the armed forces who were killed in Vietnam.
Veterans helping veterans rebuild their lives (WickedLocal.com)
With less than one percent of the country's population serving in the military today, coming home from war can be isolating, making it essential for veterans to help each other rebuild. In Natick, Mass., local veterans groups are in the process of merging their efforts, calling it the Metrowest United Veterans Group, which held its third meeting on Sunday at American Veterans Post 79. The group invited Bill Moore, founder and president of Project New Hope, a nonprofit run by volunteers that holds retreats for veterans to help them share their experiences and adjust to civilian life and is looking for support from the Natick group. "We are our best advocates," said Moore, a disabled U.S. Air Force veteran. Based in Worcester, Project New Hope works with veterans and active duty members from all over New England adjusting to civilian life by holding weekend retreats in the wilderness at no cost to veterans and their families. The retreats help veterans deal with PTSD, marital problems, military sexual trauma, drugs and alcohol abuse and suicide prevention. Veterans participate in activities including yoga, meditation, guest speakers and live music performances. But the retreats also do something that's much more simple. They provide company. "It's all that it takes, it's not rocket science," said Michael Damon, a Gulf War veteran and outreach coordinator at Project New Hope.
Quadruple amputee vet to build retreat home for wounded vets (Huffington Post)
Travis Mills is at it again. The retired staff sergeant and quadruple amputee announced last week that his organization — the Travis Mills Foundation — purchased the Maine Chance Lodge in Rome, Maine, and plans to convert it into a retreat for veterans with disabilities and their families, WCSH 6 News reported. The Travis Mills Foundation Retreat (TMF), which will be able to accommodate up to 10 families at a time, allows for veterans with disabilities to "recover, relax and enjoy a wide range of adaptive sports and activities" — like kayaking, fishing and swimming — Mills told the outlet, helping them heal physically and emotionally. "We just really want to give back to the veterans," Mills said. "I was given such good fortune from everybody around the nation giving back. Kelsey and I, my wife, wanted to start a foundation, and what better way to give back to ours that served … this is how we're going to do it." A GoFundMe page has been set up to help fund renovations for TMF, which will be a fully accessible "smart-home" space for wounded veterans and their families in the U.S., according to WCSH 6. So far, more than $157,000 of the group's $1.7 million goal has been raised. Mills — who is one of just five quadruple amputee veterans — has made a name for himself helping others who've been injured while serving. A documentary, "Travis: A Soldier's Story," premiered in 2013 and continues to screen across the country, telling the story of how he, Kelsey and their daughter moved on after he was critically injured from an IED in Afghanistan in 2012.
Vietnam veteran helps others deal with substance abuse (Raleigh News & Observer)
When Vietnam veteran Jerry Michalowicz was discharged from the Army, he stayed drunk for some three years, received two drunken driving citations and paid some fines and kept on drinking. "There was no help for those of us who put themselves in very dangerous situations under the guise of protecting our country," he told the Detroit Legal News. So Michalowicz is glad about the addition of a Veterans Treatment Track at the Jackson County Recovery Court, where he works as a volunteer from the community, with the support of his employer, adding his life experience with addictions and the treatment of mental disorders to an already diverse team responsible for making sound treatment recommendations. "Our veterans deserve any and all of the help we can give after being traumatized from the atrocities of the things they have encountered," he says. "This is only a start, and I do have great empathy for our veterans." The veterans program, that recently celebrated its first anniversary, is part of the Jackson County Recovery Court, presided over by Judge Susan Beebe. The court programs, providing drug treatment and rehabilitation services and lasting at least 12 months, are an alternative to incarceration. Michalowicz is a case manager, client advocate, and recovery group co-facilitator at Recovery Technology, the largest mental health provider in the greater Jackson area. He works in the Assertive Community Treatment program, an intensive and highly integrated approach serving those whose symptoms of mental illness result in serious functioning difficulties in major areas of life, often including work, social relationships, residential independence, money management, and physical health and wellness. The program's mission is to promote independence, rehabilitation and recovery, and prevent homelessness, unnecessary hospitalization and other negative outcomes. He also works with the Integrated Dual Disorder Treatment program that integrates mental health and substance abuse interventions by the same team, in one setting, providing individualized treatment and rehabilitation for both disorders in a coordinated fashion.
Adaptive sports give disabled vets a chance to be free (USA Today)
Skiing with Jake Hipps means seeing a lot of his back. The former Marine is partially paralyzed and normally uses a wheelchair. But come winter, Hipps takes to the slopes in a custom chair-mounted ski outfitted with a shock that looks as if it belongs on a mountain bike. He leaves most able-bodied skiers behind in a spray of spring snow. "I like to go fast," said Hipps, 59, with a smile. "I've got the need for speed. That's my thing." This week, Hipps and nearly 400 other disabled veterans are skiing, playing hockey and learning to SCUBA dive at the annual National Disabled Veterans Winter Sports Clinic, sponsored by the U.S. Department of Veterans Affairs and the non-profit Disabled American Veterans. The clinic brings disabled veterans from across the country to the Roaring Fork Valley near Aspen, Colo., for recreation therapy and community building. The clinic teaches veterans what are known as adaptive sports, like sit-skiing or sled hockey, along with self-defense techniques. Hipps learned to mono-ski at the clinic 14 years ago, pushed by a man he jokingly calls his ski drill instructor. He returns every year to encourage his fellow disabled veterans, especially the younger ones struggling with both the loss of mobility and the loss of their community after discharge. He calls them "my brothers," cheering them on from the chairlift as they zip downhill, balancing their weight with small pole-mounted skis. "I was taught by an older veteran how to live my life again," Hipps said. "I want to show these guys how to live their lives again."
VA begins clinical trials of mobile app PTSD Coach (MobHealthNews.com)
According to a posting on ClinicalTrials.gov, the US Department of Veterans Affairs is embarking on a new clinical trial of its PTSD Coach app, to test whether the app is more effective with clinician support. After a first phase of interviews with primary care and mental health practitioners, investigators will move onto a small 16-week study of 30 veterans with post-traumatic stress disorder (PTSD) who will be randomized to either clinician-supported or self-managed interaction with the app. The study has two goals: investigators will assess the feasibility of recruiting participants and get a preliminary read on the efficacy of the technology with and without clinician supervision. They will compare patients based on "a) reductions in PTSD, depression, and general distress, and increases in health-related functioning, b) increases in knowledge about PTSD symptoms, PTSD management strategies, and patient coping self-efficacy, c) increases in initiation of tradition PTSD treatments," according to the post. The trial will be conducted at the Syracuse VA Medical Center. According to the VA, 7 to 8 percent of American adults have PTSD, and for returning veterans that number goes up to 11 to 20 percent. PTSD Coach is one of the VA's oldest mobile health applications; it launched in April 2011. In 2013, it resurfaced as one of the flagship apps in the VA's new app store, still in its pilot phase at the time. The app offers a self-assessment tool, information about PTSD, a portal to connect with others, and tools that help veterans manage their PTSD. Some PTSD management tools include relaxation skills, positive thinking, anger management and other self-help strategies.