Veterans GOOD NEWS for March 4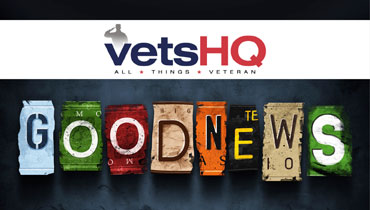 Why USDA wants veterans to take up farming (NPR)
Sara Creech has grown dependent on farming. She started out planting an orchard of fruit trees: apples, peaches, cherries and pears. She added berry bushes and rows of vegetables. And then she bought her first chickens. "A lot of people call chickens the gateway animal," says Creech, who lives in rural North Salem, Ind. "Like once you have a chicken on the farm, then you end up getting sheep on the farm, and then you end up getting horses, and cows. And then it just explodes from there." Creech served as a surgery nurse during the Iraq War. She has a master's degree and 16 years of experience. In recent years, thousands of veterans like Creech have showed an interest in farming as a way to find peace and purpose. Several nonprofit organizations and universities have launched programs to help them pursue careers in agriculture. Now, Congress has gotten on board, giving veterans a dose of financial support. The 2014 Farm Bill designated veterans, for the first time, as a distinct class of beginning farmers within the U.S. Department of Agriculture. The status grants veterans access to low-interest-rate loans to buy animals and equipment. It also allows them to apply for grants to build onto their farm, and it can help them receive extra payments to implement conservation practices on their land. "More than anything, it's just an acknowledgement," says Michael O'Gorman, founder of the Farmer Veteran Coalition, a nonprofit organization that links up veterans with farming jobs and apprenticeships.
To help prevent suicides, Clay Hunt Act is a start (Cleveland.com)
Opinion: "More than 2.5 million veterans have served our country in Iraq and Afghanistan. About 60 percent of those who feel mental effects from their service do not immediately seek help from the Department of Veterans Affairs. By its own estimates, the VA reported in 2012 an average of 22 veteran suicides a day, with half of those having served in Iraq and Afghanistan. That is more than 8,000 suicides a year — a town's population. Overwhelmed, the VA is falling behind helping those on the path toward suicide who are suffering from post-traumatic stress disorder, are homeless or are abusers of alcohol or drugs. But a few weeks ago, Congress started to address this problem by passing the Clay Hunt Suicide Prevention for American Veterans Act, also known as the Clay Hunt SAV Act. It's named for Marine Corps sniper Clay Hunt, who found the transition back to civilian life too difficult after serving in both Iraq and Afghanistan. He took his life in 2011 at the age of 28. … The law increases veterans' access to mental health care by creating a peer support and community outreach pilot program to assist transitioning service members. It starts a pilot program to repay the loan debt of students in psychiatry so it is easier to recruit them to work at the VA. And it requires an annual evaluation of VA mental health and suicide prevention teams. With a central website listing resources for veterans, this can only help veterans who are reaching out for help, particularly coming on the heels of the VA service scandal last year. And there is money to back the law: Congress has budgeted $22 million for the program, putting a bite to the bark."
For injured veterans, bike ride helps heal body (Montgomery Advertiser)
A triple amputee, Tim Brown is cycling from Atlanta to New Orleans. On Monday, Brown, along with 175 other injured veterans and their supporters, stopped at the Tuskegee National Historic Site as part of the Ride 2 Recovery Gulf Coast Challenge — a six-day, 470-mile bike ride from Atlanta to New Orleans. Ride 2 Recovery supports physical and psychological rehabilitation programs for injured veterans, featuring cycling as the core activity. The fourth annual Gulf Coast Challenge, sponsored by UnitedHealthcare, included about 20 riders. Brown, who served in Afghanistan as a Marine, said cycling allows him to take any frustration, anger or depression and "ride with like-minded individuals. Riding a bike keeps whatever stuff you're dealing with … it keeps it down, keeps it from getting out of hand. It keeps you from getting down too low, from hitting rock bottom." From indoor spinning training at military installations to multi-day, long-distance rides, Ride 2 Recovery helps injured veterans heal through the challenge of cycling long distances using hand cycles, recumbents, tandems and traditional road bikes. It serves to improve the health and wellness of veterans by helping to speed the recovery and rehabilitation process. "We want to be a small part of returning them to health and a sense of well-being," said Glen Golemi, CEO UnitedHealthcare. "We have hundreds of our employees that make the ride a success. I'll be picking up with them in Mobile and riding through New Orleans with them for a couple of days. It's heartwarming and a tremendous honor to be with these true heroes. What's great about it, is they see the support of our country, of these volunteers who truly take an interest in their recovery and thanking them for their service."
Stories of love, grief, penance left in mementos at Vietnam memorial (The Washington Post)
The black and white snapshot of the seven enemy soldiers was left in a box at the Vietnam Veterans Memorial with a two-page letter. The writer explained how he had grabbed the picture from the knapsack of a dead North Vietnamese soldier after cursing him, kicking him, and firing into his corpse in a fit of rage. The veteran, who was 20 at the time, in 1969, had lost a close friend in battle six days earlier, and his outfit had just ambushed and killed 40 enemy soldiers, including this one, in a "turkey shoot." Forty-two years later, the former "grunt" came to the Wall in Washington on a chilly fall morning. He put down the box and, weeping, read his letter aloud. "I come here today in sadness and humility, the arc of my life having transformed me from the angry young man who desecrated your body to an older man seeking peace. … Please forgive me, my brother, and rest in peace." Over the past three decades, the Wall has become a hallowed spot, a place of pilgrimage, homage and reconciliation. Now, some of the 400,000 items left there over the years by visitors are being selected for display in the new $115 million Vietnam War education center planned for a site nearby. For the past 2 1/2 years, experts have been combing through the mementos that were left at the Wall since it was dedicated in 1982 and that were later stored in a National Park Service facility in Maryland. Letters, dog tags, college rings, a football helmet, a motorcycle, posters, sneakers, cigars, medals and a piece of a helicopter rotor blade are among the things that make up what is now the Vietnam Veterans Memorial Collection.
Marine walking across America to raise money for wounded veterans (The Shelby Star)
A U.S. Marine Corps veteran spent Monday afternoon walking from Kings Mountain to Shelby in North Carolina as part of his challenge to walk across America to raise money for programs that benefit wounded veterans. Roy Wesley Brady Jr. began his journey on Sunday at the Marine Reserve Unit office in Charlotte, a city where he also has family. He intended to stop in Gastonia, but along the way he bypassed the city and made his way to Kings Mountain. Brady recently retired from the Marines after 22 years of service, which included two tours in Iraq. His experience overseas made him want to give back to the men and women who sacrificed for their country. "Having memories of combat and some of those people that got hurt, I definitely want to do something to help those guys," Brady said. While some of the money raised will go toward helping veterans who were physically wounded, Brady wants to help those who have suffered emotional trauma as well. "The suicide rate (for veterans) is going up. I've lost a lot of friends to that," Brady said. "These guys are really messed up when they come home. I didn't have a problem with that, but some do. I want to bring recognition to that to help them." The money raised from the walk will go toward the Combat Wounded Veteran Challenge, an organization that raises money to develop programs for wounded veterans. Brady decided he wanted to walk across the country and reached out to CWVC to partner with the organization.
Veterans ship care packages to troops overseas (Muskokaregion.com)
Rick Thomas says a care package is more than a box of stuff to a soldier. "When a group of soldiers on deployment opens these kinds of cartons from people in Canada, it shows just how much they are truly appreciated by the folks back home," said Thomas. The NATO veteran was one of 30 volunteers participating in a care-carton packing event hosted by Marching for Veterans at the Royal Canadian Legion Branch 232 in Huntsville on March 1. Volunteers included veterans ranging from age 30 to 90, plus several family and community members. Thomas and others started the Marching for Veterans campaign last year to raise funds through various events to support veterans' social and material needs. He said he is a firm believer in veterans helping veterans, which is why the campaign's committee opted to host the packing event. "During the Afghan war, a number of different organizations across the country would send care packages to troops," he said. "Now that the Afghan war is over, we have other deployments going on and the need for people here at home to show appreciation by sending care packages continues." Volunteers packed eight cartons with toiletries, baked goods, magazines and various other items bound for Canadian Forces Base Trenton. Thomas noted the Friends of Fairvern provided more than 500 homemade cookies for the cartons.
Combat stress vs. PTSD — knowing the difference (JournalTimes.com)
It seems like the terms combat stress and PTSD are everywhere these days; it's hard to go a few days without seeing a news story about veterans and these issues. But what are these concepts? Do they mean the same thing? And, perhaps most importantly, what can be done? Combat stress and PTSD — or Post-Traumatic Stress Disorder — are very different. However, because they share certain symptoms, you may not easily recognize that they're different. It requires some understanding to separate the two. By definition, combat stress is an expected and predictable reaction to combat experiences. After being in a combat zone where you're under constant physiological stress (poor diet, extreme temperatures, little opportunity for good personal hygiene, etc.) and psychological stress (concerns about improvised explosive devices, snipers or the death of fellow service members), a number of responses is expected. These responses often show up as hyper-startle (exaggerated response when something surprises you — often a loud noise), hyper-vigilance (always being on guard or super-alert), nightmares, irritability, sleep problems, etc. While they sound negative, some combat reactions are actually considered adaptive, notably hyper-startle and hyper-vigilance. PTSD, on the other hand, refers to a psychological disorder which impairs functioning. It's considered very serious, whereas combat stress is considered to be a normal reaction to traumatic circumstances. To receive a PTSD diagnosis, specific symptoms have to be present following a traumatic event in which death, serious injury or sexual violation occurred or was a real possibility. These include re-experiencing symptoms (recurrent dreams, flashbacks or intrusive images), avoidance symptoms (avoiding conversations about the event or people associated with the event, memory loss, etc.) as well as sleep disturbance, irritability/anger problems, concentration difficulties and hyper-vigilance.
Wounded warriors show healing power of sports (Bayonet & Saber)
Wounded warriors all have injuries. Some are apparent – a missing limb or visible scar; other wounds are not so obvious. But it's not the disability that defines them, it's their ability to adapt extreme challenges successfully like they did at the 2015 Army Regional Trials at Fort Benning. "They've all been doing a great job," said Scott Winkler, two-time Paralympian and field coach. "They've been pushing their bodies. Actually, every day they get better and better. If you believe, you can achieve anything you want in life." The 30 Soldiers and veterans from Fort Stewart, Georgia, Fort Gordon, Georgia, Fort Campbell, Kentucky, and the Fort Benning community who competed in the Southern Regional Medical Command's East Regional Trials Feb. 23-27 demonstrated competitive sports can be a powerful catalyst in the rehabilitation and healing process. After many months of training, participants were put through a rigorous qualification process in track and field, air rifle, air pistol, cycling, swimming, archery, wheelchair basketball and sitting volleyball. Part of the Warrior Transition Battalion's comprehensive transition program, adaptive reconditioning is designed to highlight the physical and emotional needs of Soldiers and veterans with activities specific to their physical conditions. "Sports help you mentally, physically and emotionally, … ," Winkler said. "Everybody has hidden talent in their body; it's just learning where it's going to come out."