Veterans GOOD NEWS for March 5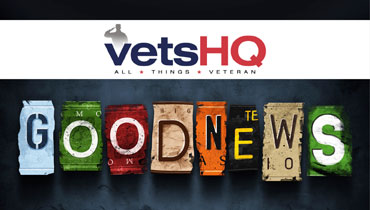 Veterans' insights foster cybersecurity innovation (The Hill)
A group of veterans has set out to improve cybersecurity for .gov and all of .com — and the merry band may just do it, armed with "knowledge" and led by a former food services executive. The big-thinking foursome have had IT success before. One of the three co-founders, Will Dantzler, an Air Force Academy graduate, previously founded NetBase Corporation, a 20-year old software company that provides Web-based workforce management solutions for federal agencies and commercial companies. The other two co-founders, David Leigh (the president) and Elvis Barrera (the CIO) were senior officers at NetBase. Together, the trio built a collaborative platform called Rofori, which Trekkies will appreciate as the Vulcan word for "knowledge." Rofori Corporation software enables teams to manage cyber events, but it also importantly measures the productivity and contribution of the team members. And, unlike some other programs in the marketplace, there are built-in escalation features to ensure that just because one person is asleep at the switch, it doesn't mean the whole enterprise will go down. Interestingly, they've built all this on the National Institute of Standards and Technology (NIST) Framework approach to cybersecurity and risk management. So, as an organization uses the program, it automatically generates a Framework assessment that provides the CEO with insight into just how the organization is doing in terms of beginning to manage its cyber risk.
Ford broadens outreach to transitioning female veterans (The Auto Channel)
Ford Motor Company is collaborating with the National Veterans Transition Services, Inc. on a three-week workshop designed specifically to address the issues women veterans face as a growing number of them are returning to civilian life and a possibly uncertain future. "These brave women have served and sacrificed to defend our freedom, and yet there are few programs that address their unique needs as they return to the home front and to their families," said Pamela Alexander, director of Community Development, Ford Motor Company Fund. "It's another opportunity to say thank you, while also helping them make a successful transition." The Freedom's Sisters REBOOT Workshop runs from March 9-27 on the campus of National University here. Up to 25 women veterans will be able to attend free classes five days a week that focus on employment and career, personal well-being, achieving goals. Also included is a personal makeover session to ease the move back to civilian dress from military uniforms. A report from the Disabled American Veterans in September 2014 said that the country's nearly 300,000 female veterans face greater challenges than their male counterparts when they re-enter civilian life because they experience the rigors of deployment and reintegration differently.
How the Army jacket became a staple of civilian garb (The New York Times)
Half the people on the street are dressed to kill. Every second woman on the avenue and every second man on the town and every other kid on the jungle gym has his or her back clad in army green. Challenging the ubiquity of black outerwear in the cities and lending a flavor of the PX to the suburban shopping center, the color has conquered the national wardrobe. The history of getting dressed is in large part a story of borrowing combat garb — cravat and cardigan, bomber jacket and pea coat — but the proliferation of the army green jacket is different in kind and in degree. The most symbolically resonant of this year's models evoke the M-65 field jacket worn by United States troops in Vietnam. The ideal color — the one approved by the Army Uniform Board — is "Army Green Shade 44," but a variety of hues and cuts speak in the same idiom, likewise breathing military jargon into the general American vocabulary of dress. Proving immune to the seasonal cycles of designer fashion, retaining currency with elites despite its presence in bargain bins, losing no prestige with youth even as their elders try the same look, the army soldier's green jacket has developed a status on par with that of the gold miner's bluejeans with which it pairs so well.
Researcher examines impact of service dogs on returning veterans (Medicalxpress.com)
With scores of military veterans returning from Iraq and Afghanistan, a University of Colorado Anschutz Medical Campus researcher is examining the therapeutic impacts of service dogs on their mental and physical health. "We are finding that service dogs are improving the health of our returning wounded warriors," said Cheryl Krause-Parello, PhD, R.N. at the CU College of Nursing. "Through the C-P.A.W.W. program, veterans are reporting that they are more empowered to speak about their experiences and advocate for their own health needs. With this knowledge, we hope to pair more service animals with more veterans, and ultimately, change the face of veteran care and public policy." Krause-Parello founded C-P.A.W.W., or Canines Providing Assistance to Wounded Warriors, as a way to train dogs, including shelter dogs, to assist returning veterans suffering both physical wounds and mental trauma like depression and post-traumatic stress disorder. Inspired by her husband, a Marine Corps veteran, Krause-Parello's research is focused on the benefits of animal-assisted interventions in restoring long-term health and well-being to returning active-duty military veterans. She hopes to assemble enough evidence to show the value of these dogs and eventually have them covered as a reimbursable medical expense. A fully trained service dog can cost up to $30,000. "We really like the model of working with shelter dogs," Krause-Parello said. "It cuts down the wait time for a service dog – which can sometimes be more than a year – and it gives both the veterans and the dogs a second chance."
San Antonio looks to end veteran homelessness (San Antonio Express News)
Given that San Antonio is widely known as Military City, U.S.A., the idea that veterans who've served their country might be living on the streets or in shelters here is unconscionable, officials said Wednesday. While the number of homeless veterans in Bexar County has dropped by 25 percent in recent years — from 351 in 2011 to 263 in 2014 — there's still much work to be done, they said.  To that end, Mayor Ivy Taylor and a host of community partners kicked off the Mayor's Challenge to End Veteran Homelessness, an initiative that seeks to bring the number of homeless veterans to zero by the end of 2015. In doing so, San Antonio joined more than 225 cities nationwide that have signed onto the pledge, a program that began in the White House and is supported by a host of federal agencies. The initiative doesn't bring any new funds to battle veteran homelessness locally, Ivy said, but it does provide support and tools to help existing programs collaborate better to bring services to homeless vets and those who are at risk of becoming homeless.
Tampa veterans to be featured on Sarah Palin's show (Tampa Tribune)
If you want to see a blind Iraq war veteran from Tampa go hunting, tune into the Sportsman Channel Thursday night at 9 p.m. Joel Tavera, who was severely burned, suffered traumatic brain injury, lost part of his right leg, the sight in both his eyes and the fingers on his left hand on March 12, 2008 when a rocket exploded near his armored Chevrolet Suburban inside Talil Air Base in Iraq, will be one of three area veterans appearing on Amazing America with Sarah Palin. "It was awesome," said Tavera of being on the show. Tavera shoots with the aid of a device that attaches to an iPhone, allowing a spotter to see the view through the rifle scope. Sometimes the spotter will talk to him, sometimes it may be a touch that helps Tavera aim. The appearance on the Palin show was engineered by Dave Winters, president of the Black Dagger Military Hunt Club, a local charity that helps veterans continue taking part in shooting sports activities. "We want to show that anyone can do this after being wounded or injured and that you don't have to give up," said Winters, who retired from the Air Force and is now working as a contractor at MacDill Air Force Base. "We struggle with 22 veteran suicides a day. This is a good news story that people can overcome some very serious injuries and still do the things they love."
Veteran cyclist: We aren't disabled, we're inconvenienced (AL.com)
Wednesday afternoon about 200 injured veterans made a rest stop at Battleship Memorial Park as they embarked on a 470 mile cycling trip which started in Atlanta and is set to end in New Orleans. The 2015 Ride 2 Recovery Gulf Coast Challenge, sponsored by United Healthcare, supports physical and psychological rehabilitation programs for injured veterans, featuring cycling as a core activity. There are six Ride 2 Recovery cycling challenges this year across the United State and in Germany. Participants rode hand cycles, recumbents, tandems and traditional road bikes, depending on their needs, as they made their way into Battleship Memorial Park, stopping in front of the USS Alabama battleship. This was one of the many stops the group makes on their six-day endeavor. Double amputee Duane Wagner, a veteran from Arizona, was enjoying the ride as well. He lost both legs in May 1967. "Losing my legs was the best thing that ever happened. Closed one door of my life and opened a million more doors," Wagner said. "I just come along and try to help people, and tell them 'You don't have any limitations, it's just what you set for yourself.' I can't read unless I put on my glasses. I can't walk unless I put on my legs." Wagner rides a road bike using prosthetic legs. "We aren't disabled. We're inconvenienced."
How this bakery helps vets re-enter the workforce (ABC News)
Some disabled veterans are getting sick of the "disabled part." "We might have a 'disability,'" retired Sgt. Maj. Sedrick Banks told ABC News. "But it's not about your disability. It's about your ability." Banks served 23 years in the military, bouncing around between eight deployments and various assignments at the White House, 82nd Airborne Division, 520th Infantry, North Atlantic Treaty Organization and more, before medically retiring after a brain injury and some physical injuries. Despite doctors telling him it would be difficult for him to ever work again, Banks started volunteering with Mission Continues, the Wounded Warrior Project and other organizations. He began building back his mental and physical strength enough to want to go back to school, so he tried a sociology course at Strayer University. "I found I wasn't where I needed to be at yet, so I dropped that course," he said. That's when he found Dog Tag Bakery in Washington, D.C., whose mission is to provide these still-abled veterans a roadmap to entering the civilian American workforce. Founded by Father Rick Curry, SJ and Constance Milstein, both of whom have prior baking and nonprofit experience, Dog Tag teamed up with Georgetown University's School of Continuing Studies to create a program where disabled veterans specifically could learn the skills of a business administration certificate program through classes and running an actual bakery. Proceeds from the bakery are reinvested in the education program to pay professors' salaries and give the veterans stipends while in the program.