Veterans GOOD NEWS for March 6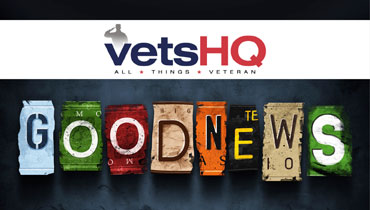 Visit a Cold War missile base in the heart of the Everglades (The New York Times)
Everglades National Park is famed for its colorful — and often savage — wildlife. But rangers at the Florida park also take visitors to one of its equally fearsome man-made attractions: the HM-69 Nike Missile Base. Built in the jittery wake of the 1962 Cuban missile crisis and quietly mothballed in 1979, the Nike base sits amid the swamp as an eerie reminder of an era when South Florida remained on high alert. Day in and day out, soldiers at the base pored over radar screens, waiting for Soviet bombers to come screaming north out of Cuba. With the push of a button and the launch of 11,000-pound Nike Hercules missiles — some armed with nuclear warheads — these attackers would, theoretically, be blown out of the sky before reaching their American targets. "Listen closely and you can hear the residual whispers of the Cold War," explained Leon Howell, a ranger, while leading several dozen people through the base recently. A mix of homegrown tourists and history buffs from Europe and Japan, they were among the 15,000 or so visitors who have taken the free tour since the base opened to the public in 2009. Yet neither accessibility nor this winter's thawing of once-icy diplomatic relations with Cuba have dispelled the ominous vibe. Much of the grounds, still enclosed by barbed wire, remains seemingly untouched, from the guard dog kennels whose inhabitants once sniffed the humid air for lurking saboteurs, to a 41-foot-long Nike Hercules missile, recently returned to its original hangar.
Marine-turned-firefighter saves boy from house fire (Marine Corps Times)
A Marine veteran and off-duty firefighter is being hailed as a hero after running into a burning home to rescue a child. Rob McVoy was driving through Peabody, Massachusetts, on Feb. 23 after leaving his shift at the nearby Melrose Fire Department. But he was quickly diverted when he noticed a house had caught fire. "I looked across the highway and saw smoke coming from the second floor window," McVoy said. "I looked down the street and nobody was there." He called 911, made a U-turn and drove toward the house. "I ran up and I started pounding on the door and I could hear someone in there," he said. He found an open door, went in the home, and saw a middle school-aged boy inside. "I got into the house and I told the teenager, 'Hey, we gotta go!'" McVoy recalled. The boy grabbed the family dog and they all made it outside as 20-foot flames flew out of a second floor window. Everyone was safe, but the house had extensive damage and the family was displaced, he said. But his work wasn't over. Eastern Massachusetts, like much of the Northeast, was covered in snow. McVoy said he started shoveling out fire hydrants so firefighters could hook up hoses when they arrived. McVoy was an aircraft rescue and firefighting specialist in the Marine Corps. He served from 2000 to 2004, got out as a sergeant, and joined the Melrose Fire Department in 2006. He was recalled to the military in 2007 for a deployment to Iraq where he served in al Asad before getting out for good, he said.
250 Marines, veterans train for annual trials at Camp Pendleton (KPBS-San Diego)
About 250 Marines and veterans are training for the 5th annual Marine Corps Trials at Camp Pendleton. The competition — which features eight sports including wheelchair basketball, track and field, sitting-volleyball and swimming — is hosted by the Marine Corps Wounded Warrior Regiment. Participants are veterans and Marines who were injured in or out of combat. The goal of the competition is to give wounded service members a chance to further their physical and mental rehabilitation, said organizers. Gunnery Sgt. Gabriel Guest lost his leg from injuries sustained in an IED attack while serving in Helmand Province, Afghanistan in 2008. He said preparing for the trials has made him physically and mentally stronger. "The biggest thing, from my personal standpoint, is learning from the guys who have already done a lot of this process, seeing how they do things," Guest said. "I'm just happy to be around these guys. They're all inspirational and they help me out." Two teams of active-duty Marines, a veterans team and a team formed from international allies will compete against each other in the games.
Band of brothers: Young guitarists rock to help veterans (People.com)
Like most boys their age, brothers CJ and Max Teas spend their days shuttling from middle school to baseball practice. But it's the end of the day when they work the hardest. The brothers rock out at least an hour a night in the family's Charlotte, North Carolina, guest bedroom turned music studio, rehearsing with their band. They play to crowds at area restaurants and festivals, but don't earn a dime. The boys give away everything they make. Before moving to Charlotte two years ago, CJ, now 13, and Max, now 12, grew up in a town devastated by the 9/11 attacks. Middletown, New Jersey, lost 37 first responders and residents that day, more victims per capita than any other town in the state. So the brothers grew up hearing about loss, terrorism and the veterans serving in the wars that grew out of the 9/11 attacks. They felt a strong need to do something. "We've been raised to give back," CJ says. "The feeling you get when you do it is the reward, and we thought it would be special to help the veterans that have helped our country." So far, the boys have donated $4,500 to pay for a specially trained service dog for a veteran who has suffered from PTSD.
Cycling 470 miles helps veterans overcome obstacles (Biloxi Sun Herald)
For Col. Glenn Ritchie, Thursday's wind — more than 20 miles per hour with gusts above 30 — was just another obstacle to overcome. Cycling had helped him overcome post-traumatic stress disorder, he had overcome the wind to get to Gulfport and he would use the lessons learned to overcome future obstacles, he said. Ritchie, who served in the Gulf War and Operation Enduring Freedom, biked into Gulfport on Thursday as part of the fourth annual Ride 2 Recovery Gulf Coast Challenge. Ride 2 Recovery is a rehabilitation organization for wounded veterans that uses cycling as therapy for both physical and psychological wounds. About 175 cyclists are participating in this seven-day, 470-mile trek from Atlanta to New Orleans. "Being around people, engaging with the public helps me overcome the tendency to isolate," Ritchie said. "This makes you feel good." Cycling is a particularly good activity for veterans, said Joe Coddington, a staffer in charge of event operations. It's low impact, and it's adaptive in that bicycles can be created for people with permanent injuries. Riders who don't have use of their legs can use bikes with hand pedals, and blind bicyclists also can ride. Several veterans said the week-long group rides gave them something to strive for and a sense of camaraderie they missed when out of the military.
Dog tag of WWII veteran found, delivered to family in Indianapolis (WISH-Indianapolis)
The dog tag of a local D-Day veteran is now with his family 70 years after the Battle of Normandy. The dog tag of Staff Sgt. James Wallace was found near the shores of the battle site and after a long journey is home in Indianapolis. Wallace survived the Battle of Normandy and eventually returned to Indianapolis where he died in 1997. But his dog tag stayed in Normandy until last summer, when a man from France found the tag and with the help of a World War II researcher, located the Wallace family. He mailed the tag and a bag of sand from Normandy to United States Marine Corps veteran Corey Goodwin. Goodwin said it was an honor to deliver the items to the Wallace family. "I really can't describe it. I'm just so happy to be a part of this," Goodwin said. "It makes me feel good to be able to give back. I love my country very much and this is a way for me to give back to my country." "I think it's a miracle," said widow Catherine Wallace . After the war, Staff Sgt. James Wallace served his community as an Indianapolis firefighter. Indianapolis Fire Department officials were also at the event to pay their respects.
Microsoft co-founder says he's found sunken Japan WWII warship (Military.com)
Microsoft co-founder and philanthropist Paul Allen and his research team have found the wreckage of a massive Japanese World War II battleship off the Philippines near where it sank more than 70 years ago, he said Wednesday. The apparent discovery of the Musashi, one of the largest battleships in history, comes as the world marks the 70th anniversary of the war's end. Allen and the team aboard his superyacht M/Y Octopus found the ship on Sunday, more than eight years after their search began, Allen said in a statement issued by his publicity agency, Edelman. Detailed images captured by a high-definition camera mounted on an underwater probe confirmed the wreckage as that of the Musashi, it said. Allen said on his website that the video and still images showed a valve wheel with Japanese letters saying "main valve handle" which used to be in a lower engineering area, a catapult system used to launch planes, a large gun turret, and one of the ship's two 15-ton anchors. He said the team also found the ship's bow. Japanese experts said they were eager to study the images to try to confirm the ship's identity. Kazushige Todaka, head of a private museum specializing in the battleship Yamato, Musashi's sister vessel, said the details in the images matched those of the Musashi, which was the only battleship that sank in the area. "Judging from the location, it must be the Musashi," Todaka told NHK public television.