Veterans GOOD NEWS for March 9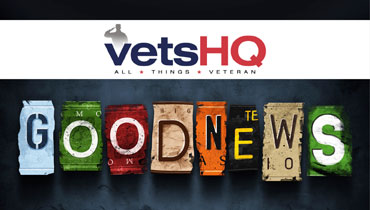 Health care for veterans goes high tech (The Washington Post)
When Barbara Van Dahlen was brainstorming ways to address veterans' mental-health needs 10 years ago, she was inspired by Craigslist and the way the site made it easy for buyers to find sellers. "I thought — I should be able to use technology to connect mental-health professionals all over the country with veterans and their families," said Van Dahlen, a licensed clinical psychologist and president of nonprofit group Give an Hour. The organization gives troops and their families access to free mental-health services through video sessions with a network of volunteers. Give an Hour was founded in 2005 — when few had heard of "telehealth" and the iPhone did not exist yet. Fast forward to 2015: The charity now teams up regularly with technology firms to help veterans. It has worked with the likes of Google to reach more veterans through a series of video chats. It paired with Booz Allen Hamilton to analyze program data to better deliver services. And it is exploring a partnership with Doctor on Demand, an app that gives users 15-minute appointments with doctors, virtually. Technology is critical in overcoming the stigma around mental health issues, said Van Dahlen, who launched a national campaign to raise awareness about the topic in Washington last week. "Technology allows people from the privacy of their own computer screen to say, 'I don't know if I'm depressed, but I'd like to find out more,' " she said.
New Orleans VA hospital moving to 2016 opening under new chief (NOLA.com)
Fernando Oscar Rivera Jr. ducked beneath a low-slung two-by-four and stepped onto the dusty concrete foundation of what will become the region's first veterans hospital in a decade. Around him, the $1 billion project of wood, steel and PVC stood like massive bones on the 30-acre construction site, an undertaking the Department of Veterans Affairs has termed "Project Legacy." Rivera, 54, became the new director and chief executive officer for the Southeast Louisiana Veterans Health Care System in January. He replaced Julie Catellier, who retired in August. Rivera's chief responsibility is overseeing the New Orleans hospital and its expected 2016 launch — a job he's been coveting for some time. "It's like winning the lottery to be a part of this facility," Rivera said. For Rivera, a Cuban immigrant who fled that country with his mother at age 8 and spent his youth bicycling the potholed streets of New Orleans, the statement is not just a phrase he tosses off lightly. It's why he didn't bat an eye at moving his wife, three teenagers, a dog and a turtle from Washington, D.C., to New Orleans, in the middle of the school year. It's why he says he felt fine leaving a top position with the VA overseeing four medical centers and 18 community-based clinics in five states. And it's why, on his family's annual two-week vacations to New Orleans, he would often stop at the construction rising on Canal Street and peer in on its progress. Rivera's 30-year career with the VA started in New Orleans when he was 24. And after 10 years away, it's still where he feels most at home.
Work on VA's Omaha National Cemetery could begin this fall (Omaha.com)
The VA is months away from turning the first shovelful of dirt in its planned Omaha National Cemetery, but local veterans already are lined up to be buried there. The John A. Gentleman Mortuaries is storing at least a dozen sets of cremated remains for future burial in the cemetery, said owner and President Tom Belford. Some families of deceased veterans are keeping urns at home. "It's something we do as a service," Belford said. "We can't hold a body, but we can hold cremated remains." There's considerable anticipation among veterans in eastern Nebraska and western Iowa over the future cemetery, which will be on a 235-acre site at Highway 50 and Schram Road in western Sarpy County. The Department of Veterans Affairs has said little about the cemetery since announcing the selection of its name last September, and the VA's public affairs office in Washington, D.C., didn't respond to phone messages seeking a progress report on the project. But government contracting information available online shows the VA awarded a $28.9 million contract Sept. 30 to Archer Western Construction of Chicago to design and build the first phase of the cemetery.
How you can help honor our Vietnam veterans (The State)
Opinion: "The man who said his name was Danny arrived at my door with a huge floral box. Inside was one of the most beautiful bouquets I'd ever seen. Danny was with the Maryland highway department, supervising a crew installing new curbs on my street. He was also a Vietnam veteran who had seen the small blue star in my window, indicating two family members were serving in Iraq and Afghanistan. Danny came from a generation which provided 9.2 million people who served in the military during the Vietnam era, many of whom came home from war reviled, not thanked for what they gave their country. Like most of his fellow veterans, Danny vowed to show only gratitude to those in military service, no matter what the politics of any current war that service members are called on to fight. Flowers to a stranger were to thank my family. This month marks the 50th anniversary of the arrival of 3,500 Marines in Da Nang, South Vietnam, beginning 10 years of a terrible conflict that would sear and scar this nation. In the "lessons learned" department, perhaps the most important is to separate the warrior from the war. Today Americans of all political stripes express sincere appreciation for what the men and women of the armed forces are called on to do for their country, whether the mission is popular or not."
Rafting program helps veterans deal with stress, anxiety (The Washington Times)
His thirst for adventure and exploration gone, the Army veteran struggled with deep anxiety and depression. "I've always been active, and then with these conditions, I shied away from being who I was," Mike Busovicki, 36, of Canonsburg, Pa., said. But last summer, on the Colorado River in Arizona, with fellow veterans at his side, Busovicki — who now works for the Department of Veterans Affairs — rediscovered his zest for life. He is among many whose lives have changed for the better thanks to Canyon Heroes, a Ligonier, Pa., group sending veterans dealing with emotional and physical wounds from their deployments on therapeutic rafting journeys down the Colorado. The organization is accepting applications until March 16 for its 2015 trip, which is scheduled for July 29 to Aug. 5. "It got me back in touch with who I was, who I felt comfortable being," Busovicki said. "If you're thinking about (applying), absolutely do it," he said. "Don't hesitate. You will be among friends. You will be among battle buddies and shipmates."
Hotline created to help homeless veterans in Minnesota (MPR News)
The Minnesota Department of Veterans Affairs is launching a final push to find homes for homeless veterans by year's end. Minnesota has made progress toward the federal government's goal of ending veteran homelessness. From 2010 to last year, the state cut the number of homeless veterans nearly in half to about 320, said Eric Grumdahl, a special adviser to the state agency. The agency maintains a homeless veteran registry that officials use to connect veterans with housing assistance and other resources. The registry has more than 170 names on it, but officials want to identify all veterans in need, Grumdahl said. Toward that end, citizens are asked to contact the department at (888) LINK-VET if they know of a veteran who needs housing assistance. "The centerpiece of our approach is that we want to know every single veteran by name, where they are and what they need," Grumdahl said. "We need everybody's help in doing that. And we've created a very easy way that anybody can refer someone experiencing homelessness to this kind of unified approach."
Ice climbing offers veterans a challenge and a new view (KBZK-Bozeman)
It's an extreme sport that takes place in some of the most secluded and scenic areas Mother Nature has to offer. Every March, veterans head to Hyalite Canyon near Bozeman, Mont., to camp and tackle some of the best ice climbing in the world. Cathleen Ephgrave took the challenge on head on – ice climbing for the first time. It's a pretty fun experience, it's a lot easier than it looks though. A group of 10 veterans and active service members spent four days in Hyalite Canyon camping and ice climbing. Sierra Club Mission Outdoors hosts the annual trip to help veterans with the transition after leaving the military. "I miss is, I miss it a lot, said Skiy Detray, an Air Force veteran. "So coming out here and participating with these guys it brings back a lot of good memories." Out on the ice, the group works as a team like they did in the military. "So we're executing the mission, but we're doing it in an environment that is adventurous and fun and non hostile," Detray added.
With Iditarod and Everest, Army veteran seeks risky adventure (Stars & Stripes)
Out here Steve Watkins is alone — alone with a past that haunts him and a future that drives him. But otherwise, as the frigid, muted morning slowly stirs to life and the layers of gray begin to separate, he's alone. His dogs are especially eager to get going, leaping and barking and begging to be among the eight harnessed together to Watkins's sled, the one outfitted in camouflage. Soon, they all pull away from the kennel and disappear into the snowy Alaskan wilderness. Watkins, 38, has spent the past year training for two perilous pursuits, exposing himself to risk that is both a seduction and a distraction for a military veteran in need of both. This weekend, he will be perhaps the least likely musher in the Iditarod, which bills itself as the "last great race on Earth," 1,000 raw and rugged miles from Anchorage to Nome. If all goes well, he will finish in 10 to 12 days. Then, barely one week later, Watkins will board a flight to Kathmandu, Nepal, where he will embark on an expedition to climb Mount Everest, the tallest mountain on the planet. If Watkins's body and mind hold up over two grueling months, he hopes to be standing on top of the world on or about May 20, the first person to complete — or even attempt — the Iditarod and an Everest summit in the same year. Watkins is an Army captain who served in Afghanistan and then spent parts of the next 10 years working as a civilian contractor there and in Iraq. There are addictive qualities to war, he says, and the adrenaline rush associated with danger. His current pursuits, he realizes, are attempts to scratch an itch that never seems to go away. "I knew I needed to take on risk in order to feel happy and normal," he says.