Veterans GOOD NEWS for April 1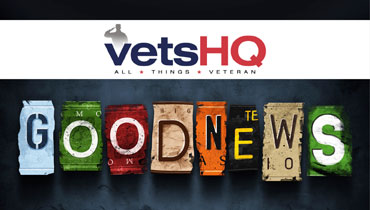 VA cites 67 percent drop in backlogged disability claims (Newport News Daily Press)
Thanks to new automation and workers putting in more hours, the Department of Veterans Affairs says it is making progress in eliminating backlogged claims. The agency has reduced delayed claims from a high of 611,000 in March 2013 to 200,000 this week, said Under Secretary for Benefits Allison Hickey. "Our goal is to eliminate the claims backlog by the end of 2015 — meaning all veterans will receive timely and accurate decisions on their disability claims," she said in a press release. Hickey credited extra hours of work on evenings and weekends by claims processor as well as "procedural efficiencies" from automation tools and paperless processing. Veterans are filing more claims electronically, which allows them to upload supporting documents and check the claim's status.
To build an army of STEM workers, look to veterans (AL.com)
Opinion: "While the U.S. job market has been gaining strength in recent months, there's one group of Americans who are still struggling to find work: veterans. According to the latest report from the Bureau of Labor Statistics, unemployment among post-9/11 veterans was 6.7 percent in February — a full point higher than the population at large. As a veteran myself, it's disheartening to see so many former service members struggle in their transition to civilian life. The problem is especially troubling given that these men and women are uniquely qualified to provide the kinds of skilled labor our economy sorely needs. In particular, the shortage of Americans with training in science, technology, engineering, and math has left many U.S. employers unable to find qualified workers. In recent years, the need for skilled STEM workers has been growing rapidly in industries ranging from medicine to forensic science and even architecture. According to the labor analytics firm Burning Glass, there are currently 2.5 entry-level job postings for every STEM-educated American with a 4-year degree. And, as a recent report by the Brookings Institution shows, STEM job vacancies take twice as long to fill as non-STEM openings. … The demand for employees with technical training, meanwhile, isn't likely to subside anytime soon. Indeed, the number of STEM jobs is expected to increase 55 percent faster than the number of non-STEM positions over the next ten years, according to BLS data. … In order to meet this challenge, a number of prominent businesses, educational institutions, and non-profits have launched efforts to train the next generation of skilled workers. To this end, one of the most promising ways forward involves educating our veterans. Why veterans? For one, military service leaves many men and women particularly well-prepared for careers in science, technology and engineering fields."
Duke experts to help N.C. VA overhaul veteran service systems (WUNC-Public Radio)
The North Carolina Department of Veterans Affairs is working with experts at Duke University to overhaul its strategy to connect vets with the right resources. State VA Director Ilario Pantano says Duke's Evidence Based Practice Implementation Center will help the VA train its service personnel to better understand how to assess a veteran's needs. Pantano says the experts will help create better customer management software. They'll also help improve intake questions, follow-up guidelines, and messaging. "Is our resource guide family friendly? Can a veteran digest this in the way that we formulated? Right now we have a lot of veterans that are well-intentioned developing resource guides, We want to get people to develop stuff at a higher level that will be more palatable and digestible." Pantano says the VA will start a pilot training with staff next month. Duke specialists will help refine protocols over the next two years.
23 pairs of combat boots at Minn. state capitol to carry anti-suicide message (Minneapolis Star Tribune)
A group of veterans advocates is planning to bring 23 pairs of combat boots to the Minnesota State Capitol next week. It's estimated that 23 veterans a day commit suicide, and the boots are intended as an awareness campaign to bring attention to the crisis. The hope is to place the boot display on the steps of the Capitol every day but they may be moved around within the building. They'll be on display from 7 a.m. to 5 p.m. from April 6 through April 10. Veterans, non-veteran supporters and Gold Star Families have been working to collect the boots, which many have donated from their own service. Others have been specially purchased for the display. The number 23, which has sometimes been disputed, represents the estimated 22 vets who commit suicide each day and the one active duty member who is believed to commit suicide every day. Even though it is usually cited in the context of the recent wars, most of those suicides involved older veterans, who account for the vast majority of the nation's 22 million former service members. The average age of male veteran suicides was 59.6 years old — older than the average for non-veteran male suicides. A new study funded by the Army shows the suicide rate for veterans who served in recent wars is much lower than 22 a day. The study, published in the February 2015 Annals of Epidemiology, studied 1.3 million veterans who were discharged between 2001 and 2007.
Marine veteran hiking Appalachian Trail to raise money for PTSD (Military.com)
Dave Ray's resume reads like a list of the some of the hardest jobs in the world. He's been a Marine, a police officer, a coal miner, and he's currently a father of three. Being no stranger to a challenge, Ray decided he is going to take on some of the toughest terrain around: the Appalachian Trail. He'll be starting the trail April 11. The 2,180-mile path stretches from Georgia to Maine. Ray isn't doing this for a thrill. He's raising money while fighting his own demons. "I'm raising awareness for PTSD and traumatic brain injury," Ray, of Beckley, said. "Those are the invisible wounds of war." Money he raises will benefit the Connected Warrior Foundation. "We lose 22 veterans a day to suicide," he said. "I'll be wearing wristbands with Connected Warrior Foundation on one side and the number 22 on the other to bring awareness to the veterans we lose every day." Ray has walked through the dark valley of PTSD since 2003. "I went to Iraq in 2003 and 2004," he said. "I was there for the initial invasion of 2003 and then I went back to the war-torn streets of Fallujah. The second time was a lot tougher than the first time." Ray was diagnosed with TBI and PTSD. He asked the VA how he was supposed to keep going with his life. "Through hours and hours of counseling and different trips and doctor's appointments, they told me," he said. "I came to realize that PTSD is not something that you get rid of. It's not like poison ivy. You don't put a cream on it and it goes away in a couple of days."