Veterans GOOD NEWS for April 10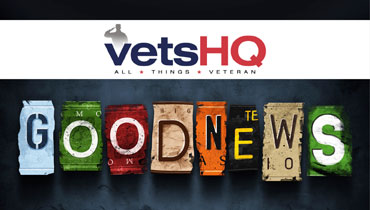 Teen leaves touching 'thank you' note on veteran's car (WPXI-Pittsburgh)
A Georgia teenager's simple note of thanks to a veteran is touching hearts around the country. Tom Robinson's wife found a note on their windshield and posted the kind words on Facebook. As you can imagine, the post was instantly well-received. Channel 11's sister station WSB-TV in Atlanta reports the veteran met the teenager who wrote the note, 13-year-old James Dorris, this week. "This is one of the very first notes I've ever gotten left on my vehicle, just thanking me for being a veteran, or for serving," Robinson said. Dorris says he left the note after seeing a veteran license plate on Robinson's car.
Navy SEALS help veterans get an island renamed (Charlotte Observer)
The best part of Spring Fling, which will be held April 18 at LangTree Lake Norman in North Carolina, won't be the exhibits from nurseries, landscapers, outdoor-specialty stores and outdoor-themed organizations. Nor will it be the music, food, beverages or nature crafts. The best part of the Lake Norman Wildlife Conservationists Spring Fling in Mooresville will be a dedication ceremony. LKN SEAL Swim charities, which holds the annual SEAL Swim, will rename a Lake Norman island, currently called Whale Island, as Navy SEAL Island, said Chris Durant, of the charity group. Eventually, the group will hold a dedication ceremony on the island and a plant a Navy SEAL flag there. The dedication is a result of the LKN SEAL Swim, created three years ago to raise awareness and funds to help veterans suffering from Post Traumatic Stress Disorder and Combat Related Stress. Three former Navy SEALs – Rich Graham, Shannon Rusch and Troy Pusateri – swim 13.6 miles, beginning at McCray Creek access in Mooresville and ending at the Rusty Rudder in Cornelius with a huge party. The swim this year will be held July 24. This year, swimming with the SEALs will be an Underwater Demolition Team, Vietnam veteran and an Army Ranger/Special Forces sniper veteran, according the LKN SEAL Swim website, lknsealswim.org. According to the website, "Every day, approximately 22 former and active U.S. service personnel commit suicide as a result of the effects of PTSD and CRS."
Helios Warriors: A haven for veterans (Asheville Citizen-Times)
Dedicated to offering low-cost, high quality, holistic therapies to veterans and their caregivers, Helios Warriors is the kind of place you just don't want to leave. Its walls are covered in refreshing earth tones of green and blue. The scent of burning candles and the sound of soothing music fills the main lobby. Staff immediately offered me tea and healthy snacks. "That's part of our mission," said Willow Walker, executive director of the charity. "We're trying to be a safe, supportive space for veterans and many of the people we serve are living in their cars, at the VRQ (Veterans Restoration Quarters, a shelter for homeless veterans) or some place that isn't that relaxing; the first step in any healing process is to relax." Reliant on the work of 20 volunteer licensed and certified practitioners, Helios Warriors offers its clients acupuncture, chiropractic care, massage therapy and a variety of other nontraditional holistic health services. Clients help determine their own treatment plan and are charged on a sliding scale based on income levels and health needs. Sometimes the bodies of veterans are more stressed, said Will Booker, owner of River of Life Chiropractic, who started donating his services at Helios Warriors In January. "It is really inspiring to know they have gone through a lot, and they can still come out on the other side and get better," he said. Last year, Helios Warriors served 131 people with 976 sessions. It expects to almost double its outreach in 2015. "There are lots of new folks who want to come in and I can't keep up with the intake," said Walker. "We serve any veteran who comes in the door."
A moving tribute to Vietnam veterans (Santa Cruz Sentinel)
The Vietnam Veterans Memorial in Washington, D.C., is a powerful monunent to a generation of warriors who were not honored in their time. But as Vietnam veterans enter their twilight years, many have never visited the Memorial Wall, and some never will. To give veterans and their families throughout the country a chance to experience the emotional power of the wall, the Vietnam Veterans Memorial Fund created "The Wall That Heals," a half-size replica that travels the country. This weekend the wall is stationed at Golden Gate National Cemetery in San Bruno to commemorate the 50th anniversary of the beginning of the American ground war in Vietnam. At an opening ceremony Thursday, more than 100 veterans and their loved ones gathered to view the replica. George Smith, of San Mateo, Calif., was among a group of volunteers, led by the local Avenue of Flags Committee, who helped bring the wall to San Bruno. "I'm hoping it will do exactly what it's supposed to — heal a lot of wounds that are still open for a lot of people," said Smith, a former Marine corporal who served in Vietnam for 13 months beginning in 1967. "Everybody forgets that for each name on that wall, there's not only a mother and a father, or a brother and a sister, or aunts and uncles, but there's friends, there's guys they served with and their families. It doesn't just affect one person." The original Memorial Wall, dedicated in 1982, is made of polished black granite. It lists in chronological order the names of more than 58,000 Americans who died in the Vietnam conflict. At 250 feet, the "The Wall That Heals" is half as long as the original and consists of powder-coated aluminum.
France honors five WWII Virginia veterans (Roanoke.com)
Five World War II veterans received France's highest honor Wednesday in Richmond when they were inducted into the French Legion of Honor. The men received the distinction from the country's ambassador to the U.S., Gérard Araud, for helping free France from the Nazis during the war. "We know that in the darkest hour of history you, the Americans, came to our rescue," Araud said. "We will never forget that without you we would not have been able to maintain our freedom and rebuild our country and our democracy." The presentation was made at the Virginia War Memorial's Shrine of Memory. The engraved names of Virginians killed in action loomed over the veterans, their families and officials, including Gov. Terry McAuliffe. "I wish more of my buddies that were killed in the war were here to get the same thing," John Burke of Richmond said afterward. Burke, who was 21 at the time of the Normandy invasion, said he still thinks about the war every day. He said everyday sounds still trigger memories. Bernard L. Marie was 5 years old and living near Normandy on D-Day. "We spent 16 hours in the basement that day," he said. "We didn't know it was [an allied invasion]. Nobody could know that."
Vets ride to raise awareness, but not for themselves (Military Times)
Navy veteran Josh Sharpe, who lost the use of his legs in a car accident in 1994, will use a handcycle to travel the 180 miles from Houston to Austin, Texas, to raise awareness for his cause. Another 14 injured veterans will join, too, in the hopes of more public attention. But it's not a military cause, or one dealing with injured veterans or their struggles. Rather, it's an annual fundraising ride for multiple sclerosis research, an illness to which the veteran riders have only tangential connections. "As injured veterans, we can identify with people struggling with this terrible disease," Sharpe said. "But it's also about partnerships and being part of the larger community. Our partners come out to the Marine Corps Marathon and our other events. So when they called and asked if we could come ride (at the Texas event), it's great to be part of that." The BP MS 150 — taking place April 18 and 19 — will attract more than 13,000 riders and is expected to raise about $21 million for the National Multiple Sclerosis Society. But for the veterans involved, the ride doubles as another chance to bridge the civilian-military divide, giving them a chance to interact with individuals who may never have met an injured veteran or even someone who served in the military. "If you see an injured vet in the grocery store, it's pretty awkward to go up and learn about their story and challenges," Sharpe said. "But at events like this, you're already more comfortable. We're already all riding together, so we have something in common. Somebody can see my handcycle and ask about my experiences."