Veterans GOOD NEWS for April 13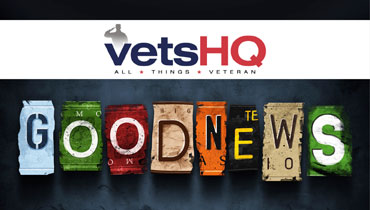 Vietnam vets involved in friendly-fire incident reunite in D.C. (The Washington Post)
They came from across the country — Virginia, Michigan, even California — reuniting at the black granite wall etched with the names of their fallen comrades. A friendly-fire incident in Vietnam made their company famous, but in the years since each of them departed the war, they had scarcely kept in touch, and never gotten together in a large group. On Saturday, that changed. Just 11 veterans strong — plus their wives and some children — they gathered for a morning of touring monuments, a lunch at the Pentagon City mall food court and a dinner filled with reminiscing. It wasn't particularly flashy, but for a company that is perhaps best known for a tragic incident that sparked the C.D.B. Bryan book "Friendly Fire," it was cathartic. "Veterans are good for veterans," said 70-year-old Jim Stark, who came from San Francisco to reunite with the other former Company C members who served in 1969 and 1970. Those in the group said they didn't shy from discussing the friendly-fire incident, but as they toured Washington, they didn't seem to dwell on it. At the Vietnam Veterans Memorial, they made note of where to find the name of one soldier, Sgt. Michael Mullen, who was killed when an American artillery round fell short. It was Mullen's mother's outrage that largely drove Bryan's narrative of Mullen's death. Terry Ivey, 65, who was injured in the same incident and came for the reunion, said he had talked the night before with others about the incident, largely because his wounds were so severe he did not recall exactly what had happened. He said it was "hard to explain" what being around his fellow soldiers in the nation's capital meant to him but that he hoped there would be more opportunities to get together.
Student project looks to chronicle voices of WWII veterans (Stars & Stripes)
Running bombing missions over Germany in the last months of World War II provoked a fight or flight dilemma for young Jim Kavanaugh. "Sometimes over a target you'd think, 'I don't like this. I don't think I'll do anymore,'" said Kavanaugh, who in 1945, at 19, served as a radio operator on a B-17 Flying Fortress. His was a natural reaction to the perils posed by German anti-aircraft fire and fighter planes. At the time, U.S. crews volunteered for missions and, in theory, could choose to ground themselves. But to drop out of the flight rotation was to risk ridicule and ostracism from fellow airmen, a fate most of them considered worse than getting shot down. So by the time his bomber landed safely at its base in England, Kavanaugh found his reluctance dissolving, his resolve returning. "You felt like, 'One more — I could do one more,'" he said. Kavanaugh, now 89, recently recalled that wartime anecdote in a video filmed by students at the University of Virginia who have launched an oral history project to chronicle the stories of WWII veterans. The students are working with ParadeRest, a nonprofit organization in Charlottesville, Va., and supported in part by the university. The group seeks to fortify ties between area communities and military members, veterans and their families. Greg Saathoff, a member of ParadeRest's board of directors, conceived the project with the dual purposes of preserving the voices of WWII veterans and closing the gap between the so-called "greatest generation" and Millennials.
One way to help vets with PTSD? Lots of yoga (The Washington Post)
Army Lt. Col. John Thurman lost 26 co-workers in the Sept. 11, 2001, attacks on the Pentagon. He suffered severe smoke inhalation while trapped in the building for 25 minutes. He spent a week in the hospital recovering. In the months after the attacks, Thurman found he was suffering from post-traumatic stress disorder (PTSD). Thurman's PTSD meant he wasn't sleeping for months after the attack, even with the prescription drugs he was taking. And his pulmonary function hadn't returned to full capacity. But when Thurman started doing yoga, it "made all the difference in the world in my ability to deal with the stress and my injury from that day." He fell so in love with his time on the mat — with yoga's traditional asanas, or poses, and deep breathing — that in 2013 he attended teacher training. He left his job at the Pentagon and is now teaching yoga full-time, including at the  Pentagon Athletic Center, where his classes are packed. Starting Friday night and running through Sunday, Thurman and 17 yoga teachers from five states will be gathering at Yoga Heights in the Park View neighborhood of the District of Columbia for yoga for PTSD and trauma training. The studio will host workshops specifically designed to heal and help veterans suffering from both the emotional and physical wounds of war.
Texas man finds WWI dog tag, returns it to veteran's family (KTRE-Lufkin)
An East Texas man armed with a metal detector is reuniting families with their long-lost history. The Murchison, Texas, native says he wasn't looking for anything special, when he ended up finding a World War I veteran's dog tag. George Middleton says most of the time his metal detector is set on coin mode. "Basically, it just pulls up coins to where I'm not picking up pull tabs and things like that," Middleton said. But after finding a lock in his brother-in-law's yard, he switched to relic mode which basically picks up anything. "I didn't even get maybe five foot around this tree and I got a hit. So I started digging just to see what it was," Middleton said. It was a round dog tag. Middleton said he'd never seen anything like it before. "I could see U.S.A. on the bottom of it with a hole. I keep cleaning the thing up and the next thing I know I see a name around the outside edge," Middleton said. The name on the tag was Private Elmer Jordan. After a little research, Middleton learned round dog tags were used in World War I. So he and his wife took to Facebook and other social media sites to find out who Elmer Jordan was and track down his family. "I wanted to remember this gentlemen's legacy and give it to a family member," Middleton said. It took all of 24 hours to track down Bill Jordan, Elmer Jordan's grandson. On Saturday, he and his family made the drive from Kaufman, Texas, to receive the dog tag and see for themselves where it was found.
3 things military husbands, wives can do to secure their finances (Forbes)
Despite the many health, income and retirement benefits afforded veterans, the immediate families of enlisted soldiers' spouses are especially vulnerable financially. A recent study by the Military Officers Association of America and the Institute for Veterans and Military Families found that 90 percent of female spouses reported being underemployed or overqualified for the positions they hold, and spouses of both genders earn 38 percent less than their civilian counterparts and at 26 percent, are 30 percent more likely to be unemployed. A full 95 percent of military spouses are women, and 80 percent of military spouses say they want to work. Frequent moves are often cited as the main reason it is difficult for spouses to develop a successful civilian career. Further, the typical enlisted solider and spouse have a high school education (though the report did find that even spouses holding doctorates faced unemployment rates of 16 percent, while 47 percent of those with associates degrees were unemployed), and often military bases are located in areas with few career opportunities off-base. Once a spouse is deployed, the remaining husband or wife is then faced with making all of the financial on their own at a time when deployment pay means their income has jumped by as much as $600 to $1,000 — additional money that a young person is not accustomed to managing, especially during an especially stressful time, Meese says. "The last thing you want to do is deal with all those emotions through retail therapy," he says. These periods of deployment make holding a job–much less developing a professional career — even more difficult, as the burden of caring for children and the home is entirely on the spouse at home.