Veterans GOOD NEWS for April 2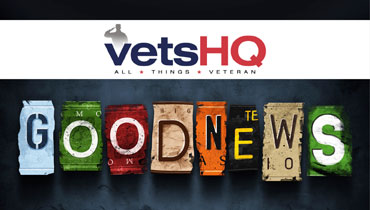 April is Paralyzed Veterans Awareness Month (BusinessWire)
April marks Paralyzed Veterans of America Awareness Month and the 69th anniversary of the founding of the veterans service organization. Throughout the month of April, Paralyzed Veterans of America and its 34 chapters across the country will be highlighting the challenges veterans with spinal cord injury/dysfunction face and educating the public about the programs, services and support Paralyzed Veterans provides to these injured veterans and their families. "This April, during Paralyzed Veterans Awareness Month, we're encouraging the public to learn about the unique challenges paralyzed veterans face and to give back and support these veterans," said Al Kovach, national president of Paralyzed Veterans of America. "Consider volunteering with one of our Chapters, visiting veterans at your local VA hospital, or hiring a veteran if you're a business owner. Paralyzed Veterans of America provides all of its programs and services free of charge to veterans—this includes benefits and employment assistance, as well as rehabilitative adaptive sports and recreations programs. We encourage everyone to learn more about how we assist veterans and to get involved." Paralyzed Veterans chapters across the country will be holding local awareness events throughout the month of April, and the national headquarters in Washington, D.C. will have an information table open on the first three Wednesdays of the month. To locate a Paralyzed Veterans Awareness Month event in your city, please visit www.pva.org/pam.
DoD Secretary: Time to think about post-military career is while serving (Stars & Stripes)
The Pentagon and servicemembers need to have a longer-term view when it comes to preparing troops for their post-military civilian careers, Secretary of Defense Ash Carter said Tuesday. Carter talked about military transition at Syracuse University, the final stop on a trip that was focused on the Pentagon chief's ideas for building "the force of the future." "When you become a veteran, to me, that is a loss for [the military] but a gain for the country, because I think our people are some of the most promising, constructive, well-contributing citizens we have," the told students. "It's best for them and therefore best for country if they start thinking about life after the military [as soon as] they're in the military." For those who leave the service, DOD leaders are trying to ease the transition by addressing a leading concern: jobs. Syracuse University is home to the Institute for Veterans and Military Families, which is focused on tackling the economic, social and policy concerns. While at Syracuse, Carter held a roundtable discussion with IVMF leaders to discuss a new initiative called "Onward to Opportunity," designed to help transitioning servicemembers and families acquire the skills they need to land good jobs in the private sector. The program, which will be piloted at Joint Base Lewis-McChord, Wash., and five other yet-to-be-determined military installations later this year, will provide industry-specific training and job placement services for troops and spouses.
Federal hiring of vets growing; vet unemployment at 7-year low (AllGov.com)
Times are good for veterans seeking work, either with the federal government or in general. The Office of Personnel Management (OPM) has reported that a third of all new hires by federal agencies last year were veterans, a record. Veterans made up 33.2% of new federal workers in fiscal year 2014, up from 31% in fiscal 2013. Both rates were the highest ever, according to OPM. The increase is a result of the Veterans Employment Initiative, signed by President Barack Obama in 2009 to increase the number of veterans in civil service positions. The effort has involved establishing liaisons at every agency to recruit veterans. During the George W. Bush administration, the veterans hiring rate barely inched up between fiscal years 2003 and 2007 from 25% to 25.5%. More good news came out last week from the Bureau of Labor Statistics, which reported the national unemployment rate for ex-service personnel in 2014 dropped to its lowest point in six years. Last year, the jobless rate for veterans dipped to 5.3%, "representing a decrease of 1.3 percentage points compared to 2013 and the fourth consecutive year of improvement," Josh Hicks wrote at The Washington Post. The unemployment rate reached an Obama administration high of 10% in January 2011.
Veterans' use of GI Bill surges in Pacific Northwest (Oregon Public Broadcasting)
The Veterans Resource Center at Portland State University has already outgrown its space. "We see a lot of traffic in here," said Ray Facundo, coordinator of student veteran services. "Anywhere from 200 to 700 people a month." Facundo, who said he served three years in the U.S. Army and deployed to Iraq twice, points out that the GI bill is an important recruitment tool. "A lot of people, like myself, joined for the GI Bill," because, he said, the post 9/11 GI Bill is so generous. More and more veterans are going back to school, using the GI Bill to get a degree. And with more vets on campus, schools around the country are figuring out how to help veterans succeed in the classroom. The GI Bill dates back to World War II. The most recent version, passed in 2008, provides 36 months of in-state tuition, books and a monthly housing stipend. Since then, the number of veterans using the benefit throughout the Pacific Northwest has grown, according to data from the U.S. Department of Veteran Affairs. Between 2009 and 2013, the number of veterans using the GI bill more than doubled to 12,000 in Oregon and 25,000 in Washington, according to the VA. That means in 2013 alone, more than 35,000 veterans in Oregon and Washington were using the education benefit to attend colleges and trade schools.
Fort Sam Houston volunteer helped bury 7,000 veterans (Military.com)
Retired Texas Army National Guard 1st Sgt. Rudy Munoz marched amid the long rows of white marble headstones Monday at Fort Sam Houston National Cemetery and took his position behind a seven-man firing detail. Munoz raised his right hand to his forehead for one final salute to a fallen veteran. "Ready! Aim! Fire!" cried Steve Shaffer, the squad leader. The squad fired their M-1 rifles for three volleys. A bugler played taps, and with that, Munoz ended his career with the all-volunteer Memorial Services Detachment. Munoz, 85, retired after 20 years of attending military funerals, a record that saw him fire his rifle more than 21,000 times and salute 7,000 veterans as they were buried at Fort Sam. Since joining the detachment, which renders final honors to fallen veterans, on March 10, 1995, Munoz has braved all kinds of weather, from below-freezing temperatures to summer days that topped 101 degrees. He failed to make one detail because of flooding. And as a season-ticket holder, he missed a few details to attend Dallas Cowboys games. His last salute was for the burial of Army 1st Lt. William James Winkler, 81, who died March 13 in San Antonio. "My plan originally was I was going to join this for five years, and then five years turned into 10, 10 turned into 15 and at 15, I said I might as well stay in," he recalled. "I enjoy doing this. I'm glad I'm involved in it. I guess make a career of it, you know." Munoz has been in for the long haul no matter what he has done. He spent 35 years in the Texas Guard and 41 years as a Kelly AFB civil service worker. He's been married for 58 years. Munoz retired because he felt his age. His knees hurt too much these days to march, and the rifle's recoil leaves his shoulder in pain for days. Rather than endure that, he offered a simple salute Monday at his final burial.
WWII veterans share memories of Chincoteague Island (Delmarvanow.com)
George Hall's memories of serving in World War II are as carefully stashed away in his mind as the war photograph he keeps safe in a clean manila folder. During a recent interview inside his home, the Chincoteague resident wasted no time taking out the black and white snapshot of him and two fellow Navy sailors. When asked why he did not want to enlist in the Army, Hall gave a candid response one can only expect from a 95-year-old. "I didn't think much of the Army," he said with a light chuckle. "I thought you suited a better chance in the Navy." Hall was given his unique chance in September of 1942 when he and five Chincoteague locals, including his brother-in-law Everett Potts, became the first Navy sailors to be stationed on the island. He is the only remaining sailor out of that group still living. Last Saturday, Hall was a guest panelist during the Museum of Chincoteague Island's Heritage Weekend — an event commemorating the 70-year anniversary of the end of World War II. The free Heritage Weekend festivities included panels on war memories and family war heirlooms, as well as an updated version of the museum's World War II exhibit. Dressed in his Sunday's best with his manila folder in hand, Hall sat alongside fellow WWII veterans Richard "Smitty" Smith and Forrest "Mac" MacDowell. Agnes West Hancock of Onancock, who taught first grade on Chincoteague from 1942 to 1945, was also on the war memories panel. "They shipped me to Chincoteague and I'd never heard of the place," said Smith, who was stationed at the U.S. Coast Guard infirmary that once stood near Assateague beach. Light was scarce on public streets because of nationwide blackout regulations, which required people to hang thick black curtains in their homes at night. The regulations were put in place to conceal light and prevent enemy aircraft from being able to navigate their targets by sight. Hoods were also placed over Chincoteague's street lamps and the top half of car headlights were painted black to deflect light downward on the road. "I suspect I painted a hundred cars that way," said Hall, who was sought after by islanders to paint their cars because he was a mechanic.
Seattle VA breaks ground on $152M expansion project (Seattle Times)
For the first time in nearly three decades, Seattle's Veterans Affairs (VA) hospital campus is poised to expand, with construction of a new mental-health and research building set to start later this month amid a booming veteran population seeking treatment. By the time it's finished in late 2017, the six-story, 219,000-square-foot building will house more than 250 mental-health staff members and 60 researchers and offer improved services for patients, VA officials say. "This comes at a time when we're seeing a tremendous growth in the number of veterans in need of this kind of care," Michael Murphy, director of the VA Puget Sound Medical Center System, said Wednesday after a groundbreaking event on the medical center's Seattle campus on Beacon Hill. The $152 million project, which also includes a parking garage now being built, aims to advance mental-health research while providing the latest treatment services for veterans suffering from post-traumatic stress disorder (PTSD) and other mental-health problems, officials said. In the Puget Sound area, more than 22,000 veterans sought mental-health treatment last year at this region's VA hospital system — an 8 percent spike over the previous year, hospital spokesman Chad Hutson said. Overall, some 97,000 patients sought health-care treatment of some kind last year from the VA's Puget Sound system, an 18 percent increase since 2010.
'American Sniper' guitar being auctioned for charity (USA Today)
Seeking to raise funds for veterans suffering from post-traumatic stress disorder, Nashville-based Gibson Guitars has produced a one-of-a-kind Les Paul inspired by former Navy SEAL Chris Kyle. The guitar will go up for auction Thursday at www.charitybuzz.com/chriskyleguitar with a starting bid of $3,000. Proceeds from the auction, which closes May 5, will benefit the Guardian for Heroes Foundation, which provides an array of services to in-need veterans with disabilities. The guitar's design features the skull logo that Kyle's SEAL Team 3 used during tours in Iraq, and its control knobs were crafted with shells from the same kind of ammunition Kyle used in combat. The project was the brainchild of Nashville country artist Tim Montana, whose friend was a Marine veteran from Franklin, Tenn., who battled PTSD. Tim Montana and The Shrednecks will perform at the Chris Kyle Memorial Benefit and Auction, which takes place May 1-3 in Texas. "The goal is obviously to raise awareness to PTSD and help raise money for such a worthy cause in honor of an American hero," Montana said.