Veterans GOOD NEWS for April 20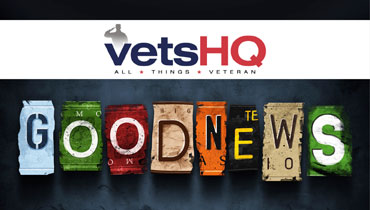 10,000 more plots for veterans planned at National Cemetery of Alleghenies (Pittsburgh Tribune-Review)
The National Cemetery of the Alleghenies plans to add more than 10,000 burial sites for veterans. The proposed 25-acre expansion would include at least 6,500 burial plots and an above-ground tomb, or columbarium, that would hold 4,000 funeral urns, cemetery director Ronald Hestdalen said. It's unclear how much the project would cost, because plans are in the design phase, Hestdalen said. The expansion would be on land the cemetery owns. Construction may begin in the spring if the Department of Veterans Affairs approves the proposal. "Plans have started, but nothing has been finalized," Hestdalen said. About 10,000 people are buried at the cemetery in Cecil. It is one of three national cemeteries in Pennsylvania with open burial space. The site covers 292 acres — only 91 have been developed — and has room for 160,000 burial plots. "We have enough acreage to develop way into the future," Hestdalen said. The cemetery opened in 2005. The federal government paid about $4 million for the land, and construction cost $14.8 million, said Kristen Parker, spokeswoman for the VA's National Cemetery Administration.
Michelle Obama, Jill Biden visit Maryland veterans center (Military Times)
Wayne Miller was 18 when he lost his leg and became temporarily paralyzed after being hit by a mortar round during the Vietnam War. He told his friends he'd been in a motorcycle accident. "It was a tough time," said Miller, who had to readjust his social life while being cared for by his parents. Now 64 and walking with only a slight limp from his metal left leg, Miller is a social worker and the team leader of the Silver Spring Vet Center. On Friday, Miller served as guide during a visit by Michelle Obama and Jill Biden, who toured the therapeutic services center as part of their Joining Forces initiative, which highlights the need to provide resources and support for military members and their families. "There are a lot of veterans who don't know that these resources exist, and that's the thing that we want to change," Obama said. "Every vet, every family member should know that there are places like this that feel like home, with people who are professional, that are trained, who know how to deal with any issue that you all encounter." "The reason we're here today is to listen to you, listen to your experiences and learn from you," Biden said to the small group before closing the round table so clients could share their stories privately. The center opened two years ago in a nondescript brick building just off I-495. It provides services ranging from bereavement support to sexual trauma therapy — help that Miller said is invaluable now and would have been just as helpful for him when he returned home after being injured.
Project Healing Waters teaches disabled vets fly fishing (Roanoke.com)
On Mike Doyle's fly-fishing adventure, he snagged a couple of trees, waded into a swift, rising Roanoke River and swapped a few tall tales over barbecue. Not bad for a first-timer. Doyle, who is blind, is one of the latest recruits for the Project Healing Waters Fly Fishing program hosted through Salem Veterans Affairs Medical Center. On Sunday, he and several other disabled veterans continued to learn the sport from volunteers with Trout Unlimited who served as guides on the river, and as fly-tying tutors beneath a pavilion at Roanoke County's Green Hill Park. "It's good to have two guys who know what they're doing standing there helping you fish," Doyle said. He first heard of the program through a presentation at the blind veterans association about two years ago. "It's taken me until now to become actively involved," he said. "It's not about catching fish. It's about camaraderie and fishing. Great, I'd like to catch a fish though." Doyle's career in the Marines lasted 17 years, seven months and 27 days — not that he counts — and ended abruptly in June 1992 when his sight failed at the age of 35. "The Navy told me it was hereditary blindness even though there isn't any blindness in my family," Doyle said. He suspects it might have been related to the Gulf War. "It was tough. We had planned for a 20-year career and talked of extending it to 30 years when all of a sudden it got cut short," he said. "It was financially challenging along with the loss of my dignity and work ethic as a man." He entered the "poor me, pity me, why me phase. Denial, anger, frustration all kicked in. About a year after that I woke up and said this is ridiculous, grow up, be a man. You can't change anything so go forward." Moving forward is part of healing, which the program seeks to promote. Bob Crawshaw, Virginia deputy regional coordinator for Project Healing Waters, tells stories of disabled veterans whose lives were changed by learning how to fish. He counts Kyle Chanitz among those successes. The 29-year-old native New Yorker moved to Roanoke seven months ago specially for the Salem VA's post-traumatic stress disorder program.
Honor Flight recognizes vets, values they represent (AL.com)
Milton Rayburn's heartbeat sped up as he walked up to the towering World War II memorial in Washington, D.C., last year for the first time. Walking through the entrance, a 6-year-old girl took his hand in hers and said, "Thank you for your service." Rayburn, 92, served three years in the U.S. Army during World War II. He was one of about 80 veterans to take the fifth Honor Flight, a free flight for WWII and Korean War veterans from Tuscaloosa to Washington, D.C., to tour the war memorials. "It was one of the best things I've done in my life," Rayburn said. Veterans can now sign up for the sixth Honor Flight, which will be May 6. In addition to the war memorials, the trip includes stops at the Lincoln Memorial, the Franklin Delano Roosevelt Memorial and Arlington National Cemetery, where the veterans visit the Iwo Jima Memorial and the Tomb of the Unknown Soldier for the changing of the guard ceremony. Chuck Turner, president of the club, said the Honor Flight was created to give veterans a chance to see the war memorials before they become too elderly to travel. He said it's about honoring the veterans who have served the country while educating younger generations about past wars and their importance to American history. "The biggest thing is to honor their service, but it's an education I think we all need to have as to the value that this country has and the values it stands for," Turner said.
Local families reunited with WWII dog tags (KGW-Portland)
It was a military reunion more than 70 years in the making. Four families from the Pacific Northwest on Saturday were reunited with dog tags lost during WWII. The man who found them traveled all the way from Australia to make it happen. Tim Hill's hobby is metal detecting. While searching an old military camp site, Hill and his friends found more than a dozen dog tags buried in the soil. Hill said he made it his mission to bring them back to the veterans and their families. "Gone but not forgotten," Hill said. Hilding Olson, 95, met Hill and received his tags from all those years ago. "I didn't think I would ever see that again," Olson said. Olson said he wasn't sure what happened to his dog tags at the time. He remembers getting a new set in New Guinea. It's a mystery how they ended up in Queensland. Lee Parker traveled to Portland from Spokane to get tags that belonged to her father, who died years ago. "I've learned more in the last couple of months than I ever knew about my dad's service at the time," Parker said.
Injured veterans take on triathlon camp, body and mind (Pensacola News Journal)
Pensacola Beach will be home to some 20 injured veterans over the next two weeks as they take part in training for upcoming triathlons sponsored by teams Semper Fi and America's Fund. Beginner and advanced athletes will have the opportunity to hone their swimming, cycling and running skills while regaining the sense of teamwork and camaraderie of military life. "Part of the camp is triathlon," said Petty Officer 2nd Class John Murray of Team MPI, Multisport Performance Institute, and triathlon camp head coach. "And part of this is getting together with other folks that have been through the same things." Murray said he's never witnessed people reliving any trauma they've experienced or even talking about things they've gone through. It's unspoken, he said. Veterans come here as strangers and leave as good friends. When they're at the training camps, they're not thinking about their injuries and they don't complain, Murray said. "They're encouraged by it," he said. "They're challenged by it and they're uplifted. All the coaches are supportive and helpful and want to make them better … There's a really high spirit on race day when they come across the finish line." Participating athletes' injuries include both physical and invisible disabilities such as combat wounds and PTSD. The goal of Team Semper Fi, one of the organizations sponsoring the triathlon camp, is recovery through sports. "We use athletics as a recovery tool in their everyday life," said Lt. Cmdr. Sam Tickle, Team Semper Fi associate director. "We have the average athlete — somebody whose maybe never even played a sport before who's maybe looking for an outlet — to elite athletes and para-Olympic level athletes."
Three Philadelphia war veterans will be honored in bronze (Philly.com)
All three Army veterans were Philadelphians who distinguished themselves in combat for their heroism and coolness under fire. Two – William "Wild Bill" Guarnere and Edward "Babe" Heffron – were portrayed in the HBO World War II miniseries Band of Brothers, first aired in 2001. The third, Michael J. Crescenz, was posthumously awarded the Medal of Honor and the only Philadelphian to receive the nation's highest commendation during the Vietnam War. Now, projects aimed at remembering all three with bronze statues are moving closer to completion at locations in the city and Delaware County, supporters said. The Guarnere piece – depicting the late veteran as an older man in uniform, standing tall on one leg and crutches – will be placed this summer at the Delaware County Veterans Memorial on West Chester Pike in Newtown Square. A ceremony is expected to be held on the June 6, D-Day anniversary while other site work is being completed, Guarnere family members said. The statue, by sculptor Chad Fisher of Dillsburg, Pa., will likely be installed by August or September, memorial officials said. The Heffron statue – showing the late veteran as a 20-year-old in uniform, with one foot on a set of South Philly steps – will be dedicated Sept. 17 in the neighborhood where he grew up, at Second and Reed Streets. The bronze, created by sculptor Terry Jones of Newtown Square, will house a heart-shaped vessel in the chest with some of Heffron's ashen remains. The Crescenz statue, depicting the soldier charging into battle with bandoliers and an M-60 machine gun, is expected to be dedicated by Nov. 20, the anniversary of his death in 1968.
The last aces: Project races time to save their stories (Military Times)
In this age of drones, capping decades of lopsided U.S. air superiority, generations of fighter pilots have come and gone since true aces were born — and so often died — in the kind of big air battles that now are all but lost to the mists of time and technology. Those who did survive to earn that elite distinction of ace — shooting down at least five enemy aircraft in the heat and blood of battle — are almost gone, too. America's remaining aces are literally the last of a dying breed. Fewer than 90 remain — mostly World War II and Korean War veterans. Nearly all of them are in their 90s. A new book, "Wings of Valor: Honoring America's Fighter Aces," hopes to capture their legacy before it's too late. Indeed, award-winning author Peter Collier and documentary photographer Nick Del Calzo describe their latest project as "a race against time." "In my opinion, America's aces are the most unrecognized men in our military history," Del Calzo tells OFFduty. He and Collier want to fix that. Their commemorative coffee-table book will feature portraits of the aging warriors, often alongside the vintage airborne beasts they rode into battle so many years ago. The pair have launched a Kickstarter campaign to help fuel the project. It ends May 3, with a goal of raising $65,000 to cover production costs.