Veterans GOOD NEWS for April 21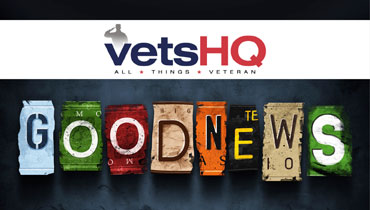 HUD, VA announce $65 million to house 9,300 homeless veterans (RealEstateRama)
In the ongoing effort to end veteran homelessness, the U.S. Department of Housing and Urban Development (HUD) and the U.S. Department of Veterans Affairs (VA) announced nearly $65 million to help more than 9,300 homeless veterans find a permanent place to call home. The rental assistance announced today is provided through the HUD-Veterans Affairs Supportive Housing (HUD-VASH) Program which combines rental assistance from HUD with case management and clinical services provided by VA. HUD-VASH works in reducing veteran homelessness because it provides funding for both the housing and supportive services that are essential for ending homelessness for tens of thousands of veterans nationwide. HUD-VASH is an important part of the Obama Administration's efforts to provide critical housing and services to veterans experiencing homelessness. This effort also includes HUD's Homeless Assistance Programs, as well as VA's Supportive Services for Veteran Families (SSVF) and Grant and Per Diem (GPD) programs. "Our nation has a sacred responsibility to support the brave men and women who served with honor, courage and distinction," said HUD Secretary Julián Castro. "These vouchers will help thousands of veterans start a new chapter in their lives and build for the future. We look forward to partnering with communities to ensure that every veteran can secure this opportunity and have a place to call home." "The Department of Veterans Affairs, Housing and Urban Development and our federal and local partners should be proud of the gains made reducing veteran homelessness," said Secretary of Veterans Affairs Robert McDonald, "but so long as there remains a veteran living on our streets, we have more work to do. The vouchers made available today are a vital tool to making sure veterans across the country have a home."
Let's sing the praises of landlords who help homeless veterans (San Francisco Chronicle)
You might want to check the skies over San Francisco for flying pigs. A media session was held Monday afternoon at City Hall in praise of … landlords. In the wild, high-priced real estate market of the city, it is rare that anyone says anything good about property owners who rent their units, but this event had support of everyone from Mayor Ed Lee to progressive Supervisor Jane Kim. Supervisors Mark Farrell, Julie Christensen and Malia Cohen were also supporters. And frankly, they got it right. The landlords in question are earning kudos for their efforts with homeless veterans. The city has roughly 720 homeless vets, and many of them, like Gary Costa, were desperate. "Three years ago, I was evicted from my home in Modesto," he said. "I was homeless for the first time in my life. I was 55, which is not a good age to be on the street. I was scared to death." Costa was the beneficiary of a city program that singles out vets for a federal housing voucher program called Veterans Association Supportive Housing, which makes monthly rent payments. Veterans qualify for $1,036 for a spot in a single-room-occupancy hotel, $1,381 for a studio and $1,798 for a one-bedroom unit. In San Francisco, that doesn't go far. "No payment standard is going to match the crazy San Francisco housing market," said Bevan Dufty, the mayor's point man on homeless programs. "The big issue for us is getting landlords who are willing to participate in the program." When Dufty says "participate," he means property owners voluntarily taking less than market rate to house a veteran. It sounds unlikely, but Dufty's office says more than 300 veterans are renting in San Francisco, with more than 150 landlords participating — and more to come.
Veterans honor Marine with no next of kin (KRIS-Corpus Christi)
Veterans and community members came out to the Coastal Bend State Veterans Cemetery in Corpus Christi on Monday to honor the life of a Marine veteran who had no next of kin. Steve Sherlock served in the United States Marine Corps from 1976 to 1979. Officials in Nueces County could find no record for next of kin, so they put out the call for fellow men and women who have served our country. "The staff here at the cemetery would like to invite all who wish to attend the military burial for Steve Sherlock, a United States Marine Veteran," said J.J. De Le Cerda, Assistant Director of the Coastal Bend State Veterans Cemetery in a message to the Veteran's community. "According to the Nueces County Department of Human Services, no next of kin could be identified and there is also no record of family." Speaking about the funeral in a message, Community Veteran's advocate Ram Chavez said, "Of course, we will be there. He is our brother and we are his family." Cassandra Ward and her mother saw a post on Facebook, inviting the public to come out an honor the fallen veteran. Ward was surprised by how many people came out to pay their respects. The crowd was made up of locals and veterans, like Butch Cone, who lost his grandson in Iraq. He says by being here he's honoring not only his grandson, but all fallen veterans.
Veterans find therapy partners in rescue dogs (Military Times)
For many in the armed services, valor means courage against impossible odds. But for one group in Chicago, valor has a different meaning. Veterans Advancing Lives of Rescues, VALOR, is the name of a new program created by Safe Humane Chicago. The nonprofit organization pairs veterans working through tough times with dogs that have been confiscated in criminal cases for abuse or neglect and are now property of the city of Chicago. "They are a little on a parallel track, in the sense that they have suffered some setbacks in their lives emotionally and sometimes physically," said Janice Triptow, manager of behavior and training at Safe Humane Chicago. "So the marriage of these two populations is interesting and I think heartwarming." VALOR's eight-week pilot program finished in November, when five veterans from the Army, Navy, Air Force and Marine Corps learned training techniques and socialization skills to help the dogs become more adoptable. All of the veterans in VALOR are part of Thresholds, a Chicago-based provider of recovery services for people facing mental health challenges. According to the Department of Veterans Affairs, "more than 1.3 million veterans received specialized mental health treatment from VA for issues related to mental health." The 2014 Annual Homeless Assessment Report to Congress estimated that 49,933 veterans were homeless in the U.S. on a given night in January 2014. Christa Velbel, VALOR co-founder and a Safe Humane Chicago volunteer, said the goal of the program is "to use this magical but scientifically documented human-animal bond to take people and dogs who have been through a lot of difficulty and a lot of pain and make their lives happier again."
Maintainers well-qualified for airline work (Air Force Times)
Scott McNabb was always a tinkerer. Tractors, dirt bikes, four-wheelers — anything motorized he could find lying around the farm he grew up on in Missouri, he tried to repair or enhance. With varying levels of success, to his parents' dismay. "Sometimes, not so much," McNabb said with a laugh. "I tried. But I learned, right?" So when McNabb became interested in a military career in 1989, he naturally gravitated to the Air Force and the maintenance career field, eventually becoming a staff sergeant and a C-130 crew chief serving in places like Dyess Air Force Base, Texas, and Ramstein Air Base, Germany, and working long hours to keep planes in the air during the first Gulf War. But by 2001, McNabb had grown tired of the toll deployments and frequent temporary duty assignments had taken on his family, and he became interested in other opportunities. He — as well as thousands of other maintainers with military backgrounds in recent years — found just such an opportunity in the commercial airline industry. Pilots aren't the only people airlines are hoping to poach from the Air Force. Recruiters and spokesmen from Southwest Airlines — where McNabb was hired in June 2001 — Delta Airlines and United Airlines agree that hiring military maintainers is a solid business decision. "Historically, we have looked to the military for [maintainer] candidates," United spokesman Charlie Hobart said. And Tiffany Harvey, who oversees recruiting for Southwest, said airlines are facing a labor shortage from the impending retirement of the baby-boom generation. This is making it more important to recruit from the military in the years to come, she said.