Veterans GOOD NEWS for April 23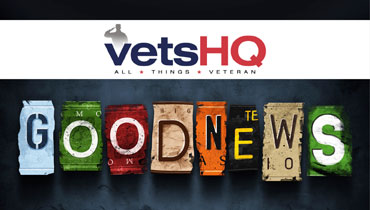 San Francisco mayor predicts end to homelessness for vets in city this year (San Francisco Chronicle)
Mayor Ed Lee predicted one success in San Francisco on Wednesday, saying the city would win the battle against chronic homelessness among veterans by the end of the year. "San Francisco has met this challenge by committing the resources necessary," Lee announced Wednesday at the San Francisco Veterans Memorial, along with U.S. Secretary of Veterans Affairs Robert A. McDonald. The city has among the highest concentrations of chronically homeless veterans in the country, but finding housing for them has proved difficult and expensive given San Francisco's skyrocketing rental market. In 2013, the city estimated that it had 1,267 homeless vets, with 507 of them chronically homeless — defined as a person with a disability who has lived without a permanent home for a year or more. Since then, the city has partnered with federal agencies and nonprofits and placed 1,000 veterans, half of them chronically homeless, in permanent housing, said Bevan Dufty, the mayor's point person for homelessness. Because of the large influx of homeless veterans to San Francisco — an increase of up to 77 percent every year — several hundred chronically homeless veterans still need permanent housing. "The mayor has marshaled all of our partners to overcome rental costs and be successful for our vets," Dufty said.
Homeless veteran gets honorable burial thanks to public (KVUE-Austin)
After his daughter was unable to afford a proper service and an outpouring of support by the public, a Vietnam veteran was laid to rest Wednesday. Alvin Simpson, 65, died in a homeless shelter in Waco in November 2014. "He served in the Marine Corps. I know that his dates are Vietnam era. Other than that there's very little known," said Robert Falcon with Affordable Burial and Cremation Service. After months of trying, Simpson's daughter, his only known relative, couldn't come up with the money for a proper service. The funeral home couldn't get McLennan County to help. "This gentleman belongs in a place of honor, not a potter's grave. So today we get to take him to that place of rest where he can rest with heroes," Falcon said. Falcon turned to the public, who donated the $1,350 needed through a GoFundMe account. The Patriot Guard Riders say Simpson is one of many who have not received a proper burial. "There are hundreds and hundreds more out there across the country. They are mostly in urns, sitting in somebody's funeral home someplace, waiting to be claimed. Waiting to be buried with honor," said Keith Longacre with Patriot Guard Riders. Affordable Burial and Cremation donated all its services for Simpson's service. The company is making it their mission to help in the future through a permanent GoFundMe account, so that the public can donate for veterans' funeral services in the future.
Military vets, service dogs, would get new protections under Michigan bill (MLive.com)
When Tom Jones took his family on a summer vacation to Higgins Lake, the hotel nearly turned him away when he tried to check in with a service dog. Staff tried to switch his room, he said, and told him he couldn't take the animal outside. Jones, a U.S. Army veteran from Livonia who served in Iraq with a field artillery unit, doesn't have any physical disabilities that visibly explain his need for a service dog. But like many vets who have "seen the worst that man has to offer," Jones said he has a hidden injury: post-traumatic stress disorder. Baxter, a service dog he was paired with through a non-profit in February of 2014, has played an important role in Jones' re-integration upon return from Iraq, but he explained that observers do not always understand the animal's role. "From putting his head in my lap when I'm anxious, to waking me up from nightmares. He's the companion I need. My co-pilot. He goes to work with me everyday," said Jones. Jones joined Michigan lawmakers at the state Capitol on Wednesday to announce the pending introduction of new legislation designed to protect military veterans with service dogs from discrimination. The bipartisan, bicameral four-bill package would expand current statutes on service dogs for the blind or physically disabled to include protections for military veterans with PTSD, traumatic brain injuries or other psychological disorders.
Veteran Service Organizations in the 21st Century (The Huffington Post)
Veterans Service Organizations in the 21st century are a force to be reckoned with from Iraq and Afghanistan Veterans of America (IAVA) to Wounded Warriors Project (WWP). These organizations are doing phenomenal work to meet the needs of today's warriors by filling the leadership vacuum that the VA and elected officials leave. Forcefully, through advocating and presenting compelling alternatives to the status quo of yesteryears our veterans are seeing a truly powerful awakening in the years ahead. IAVA recently launched " Sometimes Even Heroes Need Help" campaign outside the Rockefeller Plaza that directs people to IAVA.org in order to learn more about resources for returning veterans, and to educate the public on mental health issues including PTSD. Highlighting the fact that 9,800 military personnel will stay in Afghanistan through the end of 2015 underscores the necessity of reaching out to these veterans in their times of need. Wounded Warrior Project has a number of innovative programs. Warriors to Work will enable 10,000 Warriors to be employed this year. Over 100,000 Warriors and their families will be served along with over $96 million secured in entitlements for these Warriors through the WWP. WWP has branches across the United States that cares for injured veterans. These organizations are equipping veterans with the skills needed to overcome, challenge, and rectify the vacuum created by inefficient elected leaders and the VA. IAVA and WWP has been at the forefront of issues concerning veterans for a long time, and has overcome many challenges. Most recently IAVA achieved passing the Clay Hunt Act that had been challenged by a lone Senator in late 2014, but nonetheless was passed in 2015. It's that kind of never-give-up mentality that makes these VSOs (Veteran Service Organizations) a new brand of VSO that meets the needs of the modern veteran.
Anonymous grant helping vets finish school (Cincinnati.com)
When Domenico Fumarola deployed to Afghanistan in April 2013, he had the better part of a college degree under his belt. By the time he got back in March 2014, the school had changed its course catalog, and Fumarola was back to 60 credit hours from a diploma. He went online instead, finishing two associate degrees. Now, Fumarola is going back for his bachelor's degree. He's a military policeman in the Army National Guard, and he's also the first person benefiting from a new program that offers a stipend to low-income and underemployed veterans. He gets a $7,500 living stipend to pair with his service grant – $2,500 a semester for three semesters – and all he has to do is maintain regular attendance and a 2.5 GPA. "The scholarship's awesome. I think it's a big incentive for a lot of military people to come back (to school)," he said. "I think it's good for fellow veterans to know about it and take advantage of it." The stipends are run through Cincinnati's Union Institute & University and funded through an anonymous $293,000 grant. This is the first year of the program, and it's open to 15 veterans from specific Ohio, Kentucky and Indiana counties.