Veterans GOOD NEWS for April 24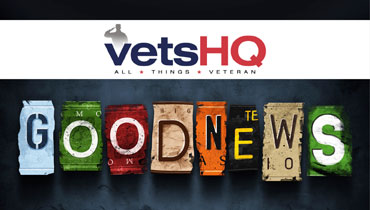 First Lady: Tech industry to train, hire 90,000 military vets (ABC News)
Michelle Obama announced Thursday that the technology industry has promised to hire and train 90,000 military veterans and spouses over the next five years — the latest private-sector commitment to her campaign to help veterans. Microsoft Corp., Cisco and Oracle are among firms making the commitment, she said. The first lady also said the private sector had far exceeded a challenge President Barack Obama issued in August 2011 to hire 100,000 veterans and military spouses by 2013. Mrs. Obama said more than 850,000 veterans and military spouses had been hired by U.S. businesses in the four years since the president set the hiring goal. The 850,000 is on top of the 30 percent of the federal workforce that is made up of veterans, she said. "This is an amazing accomplishment, it really is, and I am so grateful to everyone across this country who made it possible," Mrs. Obama said at Micron Technology, a Manassas, Virginia-based manufacturer of memory storage devices. The company hires and trains veterans for its workforce. It also participates in a pilot program that matches student veterans who attend local universities and community college with high-tech companies throughout the area, she said.
Cesar Chavez receives Navy honors 22 years after his death (Stars & Stripes)
Hundreds gathered Thursday to see military honors rendered belatedly for Cesar Chavez, the legendary rights and labor leader but also a Navy veteran. On the 22nd anniversary of his death, Chavez received full graveside honors from the U.S. Navy at his memorial in California's Central Valley. The idea for the ceremony came from a current sailor who learned Chavez didn't receive the honors at the time of his death, according to the Cesar Chavez Foundation. Paul Chavez, son of the civil rights leader, said Chavez's sudden death from natural causes in 1993, at age 66, had surprised his family. He and his siblings didn't ask at the time for military recognition for their father, who served in the western Pacific during a 1946-48 stint in the Navy, according to the foundation's website. "We just didn't do it," Paul Chavez said near his father's memorial site, where crowds gathered in the foothills of the San Joaquin Valley for the service. "We were busy trying to comfort people and bury him with dignity. We had always focused on his work with farmworkers" rather than his military service.
Tech team targets Pentagon-VA record sharing (Military Times)
A team of high-tech experts who helped fix the White House's healthcare.gov website after its botched rollout in 2013 is working at the Pentagon with a new mission: fixing the broken system for transferring military health records over to the Veterans Affairs Department. The team of 16 people from the U.S. Digital Service, a recently created division of top software engineers, set up an office inside the Defense Department on Monday, said Navy Cmdr. Bill Urban, a Pentagon spokesman. It's part of a broader effort to step up the military's computer literacy and cyber skills, and the first task will be "working on seamlessly transferring health care records" between the two agencies. The USDS was created last year and included many of the same software engineers who did the triage work and saved the healthcare.gov website. The White House said it is an effort to apply the same type of technology skills to other government agencies. "Bringing the U.S. Digital Service to the Pentagon will help us surge on some of the most vexing problems and give DoD access to some of the best engineers in the world," said one senior defense official. For years veterans have complained about the government's inability to share basic health care information that is required for former service members to get timely access to their benefits. That can result in gaps in health care and flawed decision making by health care professionals. An effort to create a joint Defense Department-VA system for electronic health records cost more than $1 billion before it was abandoned in favor of a plan that would create separate systems that could communicate with each other. That system has not yet been developed.
Can New York City end veteran homelessness this year? (Huffington Post)
New York City is on track to reach its goal of ending veteran homelessness by the end of 2015, according to numbers from Mayor Bill de Blasio's office, a potentially remarkable achievement for a city with one of the largest homeless populations in the country. The mayor's office has determined that there are 990 homeless military veterans in New York City. Of these, 971 are in city shelters and 19 have been identified as living in the streets. That represents a 40 percent drop from the number of homeless vets the city identified last year, and a 75 percent drop from 2012, when there were nearly 3,800 homeless veterans in New York City. "On our watch, the number of homeless veterans in New York City has dropped significantly, and Mayor de Blasio is fully committed to ending veteran homelessness by the end of this year," a spokesperson from the mayor's office told HuffPost. During his State of the City address in January, de Blasio promised to end veteran homelessness by the end of 2015 as part of the Mayors Challenge to End Veteran Homelessness, an initiative spearheaded by First Lady Michelle Obama. "Those who fight abroad to protect our freedom should never be left without a home here in the country they defended," the mayor said. "It makes no sense, and we won't let it happen."
Top employers for veterans (Forbes)
The unemployment rate among those referred to as "Gulf War Era II Veterans" — veterans who have served on active duty since 2001 — fell to 7.2% in 2014, according to data released last month by the Bureau of Labor Statistics, while the jobless rate among all veterans dropped to 5.3%. As of 2014, 21.2 million people–9% of the civilian population over the age of 18–are veterans, defined as men and women who have previously served on active military duty in the U.S. armed forces and are now civilians. Many companies are eager to capitalize on the technical, leadership, and process management skills of those with military experience. To determine the top employers for veterans, compensation information site Payscale.com took a look at companies hiring the most veterans for work in which military experience is highly relevant. This ranking is focused exclusively on employers seeking skilled labor. As a result, some major American employers, such as Wal-Mart, do not appear on this list, despite the fact that they employ greater numbers of military veterans in unskilled capacities. Within the list, companies are ranked by how many veterans they employ. Lockheed Martin takes the top spot this year, unseating three year list leader Booz Allen Hamilton. In fact, Aerospace and Engineering firms claim the top three spots this year, with Boeing and Northrop Grumman taking second and third place. Click the headline link to see the rest of the list.
Marines hold reunion for Vietnam-era recon predecessors (Stars & Stripes)
Ken Benckwitz was spit on at John F. Kennedy International Airport. People threw feces at Dan Mulvihill at LAX. After his return, John Baker was told by the first girl he dated not to mention to her friends or family that he had been a Marine in Vietnam. But this week, when about 175 fellow reconnaissance Marines from the Vietnam era gathered in San Diego County, they were welcomed and embraced. Cpl. Brandon Tan was one of several current recon Marines who participated in a raid demonstration Thursday for the veterans. Afterward, wearing camouflage face paint and foliage on his uniform, he shook the hand of veteran after veteran. "Thank you. You're the reason we're here," he said. The reunion was designed as a way for all Marines who served in recon units in 1965-71 to commemorate 50 years since the U.S. entered the Vietnam War. Active-duty Marines showed off their equipment and demonstrated a helicopter jump and a raid. Afterward, they honored the memory of their fallen recon brothers at a memorial service. It's important to honor the past and allow Marines to connect with their unit's history, while also recognizing that one day, they will be the ones holding reunions, said Lt. Col. George Hasseltine, commander of 1st Reconnaissance Battalion. Baker, who lives in Anaheim Hills and helped organize the event, said participants also included some of the pilots who helped support recon in Vietnam. Even today, he said, he gets a "warm fuzzy feeling" when he sees or hears a helicopter. The wop-wop-wop of the rotors is "the best music we have ever heard," said Baker, who served in Vietnam in 1969-70.
Hilton tests veteran hiring program in Phoenix (Phoenix Business Journal)
Hilton Worldwide has partnered with Chicago's Kendall College to create a program that trains veterans to become hospitality professionals by providing real-life experience and classroom training. The first participant of Hilton's veteran intern program was placed at Phoenix's Pointe Hilton Tapatio Cliffs Resort. Hilton's goal is to be the preferred choice for customers when it comes to travel, said Hilton's Director of Military Programs Melissa Stirling. She said U.S. veterans are the men and women to help the company do that. "We respect military experience and appreciate our nation's military service around the world," Stirling said. "We've built a multifaceted military program centered around our commitment to hire 10,000 veterans and family members over the next five years." Cassandra Ekblad is the first intern. She served for five and a half years in the Army as a linguist. She speaks Spanish, Arabic and sign language. At the Pointe Hilton, Ekblad is working in a number of capacities, learning the ins and outs of the hotel industry. She is also taking online hospitality management classes from Kendall College. Once her six-month internship is finished, she will be offered a leadership position with the company.
S.C. veterans finishing up 175-mile river journey (Hilton Head Island Packet)
Twenty-two combat veterans from South Carolina are finishing their 175-mile trip from Columbia to Charleston by water. The group left Columbia last Friday on the River Challenge to help increase awareness of the veterans who suffer post-traumatic stress disorder. Organizers say 22 veterans with the disorder die by their own hand every day. Following the weeklong trip, camping along the way, the veterans are arriving Friday at the boating center on the campus of The Citadel. The group of veterans includes men and women in their 30s and 40s who served primarily in Iraq or Afghanistan.