Veterans GOOD NEWS for April 27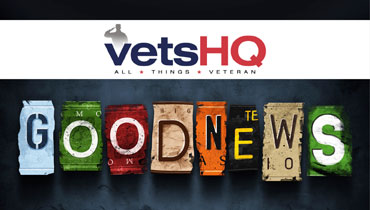 Marine veterans remember final hours of Vietnam War (KPBS-San Diego)
It's been four decades since Marine veterans John J. Valdez and Douglas Potratz were side-by-side in Vietnam. Both were stationed as security guards at the U.S. Embassy in Saigon, where they helped evacuate more than 7,000 people during the final 31 hours of the war. The two men recently reunited at Valdez's Oceanside home to reminisce about their time in Vietnam and make plans to return to the country on the 40th anniversary of the fall of Saigon on April 30, 1975. Valdez's home is filled with memorabilia from the war. There's a map of Vietnam above the fireplace and pictures of their unit taped to the mantle. The two men look through boxes of photos. Many of them Valdez snapped as the historic airlift known as Operation Frequent Wind was underway. Valdez, now 77, was a 37-year-old master gunnery sergeant and the noncommissioned officer in charge of the Marine Security Guards. He would also be the last Marine to leave Saigon in the last helicopter airlift from the roof of the U.S. Embassy. He said people began rushing toward the embassy after Tan Son Nhut Air Base was bombed. "People were panicking. They didn't know exactly what was taking place," Valdez said. "As the North Vietnamese started moving closer into Saigon, it seems like that all the villages and cities on the outlying areas and all the people started coming toward Saigon … the main road that led to Saigon," he said. The photos Valdez shares with Potratz show the chaotic scene they saw unfold —helicopters landing on the roof of the embassy and in the parking lot, evacuees lining up, and crowds of people attempting to breach the embassy compound. For Potratz, who was a 21-year-old sergeant in 1975, the war and its final hours made the South Dakota native grow up quickly. "The people were so scared. I felt so sorry for them," said Potratz, who lives in Santa Ana. "I wish we could have gotten some more out, but we just couldn't. At some point, the helicopters had to stop."
Military vets plan to climb Mount McKinley in Memorial Day tribute (Fox News)
Four military veterans are aiming to summit North America's tallest mountain on Memorial Day, armed with the names of hundreds of Americans who have died while serving their country. The Mission Memorial Day team is collecting the names of fallen veterans to be inscribed on flags the climbers plan to carry May 25 to the top of Alaska's 20,320-foot Mount McKinley, widely known in Alaska as Denali. The climbers all have sustained some kind of injuries themselves from their own military service in Afghanistan and Iraq. For the Denali expedition members, the day is not about finding the best deals in mattresses or cars or whatever else is being hawked in holiday sales. "We're really just trying to get the message across on what Memorial Day should be," expedition leader and former Navy SEAL Josh Jespersen of Boulder, Colorado, said Friday. "It's really about memorializing those that we lost overseas." The team developed the idea after meeting through their affiliations as participants or mentors with No Barriers Warriors, a nonprofit organization's program for veterans with disabilities. So far, the team has collected 100 names of people killed in war zones or during training exercises. Jespersen, 28, said the names submitted to date go as far back as World War II. He also will carry the names of 72 Navy SEALs lost since 9/11.
'Operation Babylift' kids, veterans reunite 40 years later (Military Times)
With the Viet Cong making their final push toward taking Saigon in April 1975, the fate of thousands of Vietnamese orphans was uncertain until President Gerald Ford ordered remaining forces to evacuate the children. Forty years after the final flight of Operation Babylift left Vietnam, 20 evacuees and their adopted families gathered Saturday for a reunion along with some of the servicemen who took part in the rescue. "Operation Babylift is one of the few great things to come from the Vietnam tragedy," said Lana Mae Noone, organizer of the event staged at the New Jersey Vietnam Veterans Memorial. Noone also is the founder of the website Vietnam Babylift, which aims to connect adoptees, their families and veterans involved with the mission. In all, 2,547 children were rescued and adopted by families in the United States and allied countries. Noone, 68, of Garden City, New York, adopted her two daughters — Heather and Jennifer — after they were among the last children evacuated to the United States. Heather developed pneumonia on her way to America, and died in May 1975. "I promised her I would make sure babylift would never be forgotten," Noone said. Dressed in a black ao dai, a traditional Vietnamese silk dress, Leah Heslin, 42, said she looked forward to meeting other adult adoptees who, like her, were raised in America but find interest in their Vietnamese heritage. "It's been very exciting, very anxious. I'm kind of nervous," said Heslin, who attended with her adoptive mother, Carole Heslin, 72. "It brings it back to home a little bit." Participants dedicated a plaque inscribed with the names of 138 children, volunteers and soldiers who perished when their C-5A Galaxy crashed while headed to Clark Air Base in the Philippines.
USS Midway Museum honors Vietnam veterans (CBS-San Diego)
A half-size replica of the Vietnam Memorial Wall in Washington, D.C., arrived in San Diego Friday, where it is being assembled and will go on display at the USS Midway Aircraft Carrier Museum. The Wall That Heals — which contains the names of 58,286 Americans who died in the conflict — arrived two days before the 40th anniversary of the fall of Saigon. A smaller display provides context to the wall, including photographs of some of the servicemen who never came home. About 5,000 people were expected at the museum Sunday for ceremonies marking the end of the war in 1975, including Vietnamese refugees and former Midway crew members, according to museum spokesman Scott McGaugh: "More than 3,000 Vietnamese refugees were rescued by the USS Midway in about two days." Larry Chambers, the captain of the USS Midway during the chaotic last few days, and Vern Jumper, the vessel's air boss, were among those scheduled to make remarks at the event. Volunteers have tied close to 58,300 yellow ribbons on a fence surrounding the Midway's flight deck to signify U.S. deaths in the conflict.
Ohio Military Hall of Fame honors veterans (The Washington Times)
The Ohio Military Hall of Fame for Valor is inducting its 2015 class of veterans honored for going above and beyond the call of duty and performing heroically in combat situations. This year's class includes veterans who served in World War II and in conflicts in Vietnam and Afghanistan. Hall officials say the annual induction ceremony Friday in the Atrium of the Ohio Statehouse brings the total number of Military Hall of Fame members to 287. Six of its members have received the Congressional Medal of Honor. The nonprofit Hall of Fame was established in 2000 to honor Ohio veterans who received medals for valor while serving in the U.S. Armed Forces. The inductees were born in Ohio, entered military service from Ohio or currently reside in the state.
Oklahoma veteran amputee inspiring others, giving back (KOCO-Oklahoma City)
An Oklahoma veteran amputee who made history is speaking out. William E. "Spanky" Gibson Jr. hasn't done a local television interview since returning from Iraq in 2008. He wants returning veterans to know they're not alone. "It was ugly," said Gibson, referring to when he was shot in the leg by a sniper in Iraq back in 2006. Gibson, a Marine Corps veteran, was given the nickname "Spanky" in boot camp, and the nickname stuck. Drill sergeants felt the name suited his personality and demeanor. Gibson lost his leg to a sniper's bullet in Iraq in 2006. "I had to look at the recovery to prove to everybody around me that I was no different than the day that I was wounded," Gibson said. Gibson went back to Iraq two years later. According to the Oklahoma Department of Veterans Affairs and Marine Corps Public Affairs, he became the first above-the-knee amputee to return to ground combat operations since the Civil War. "It was more to prove to our leadership that some of us could stay on active duty; some of us could deploy forward, some of us could do more with a higher level of amputation," Gibson said. He's gone on to compete in triathalons and ironmans. Now, with the most recent wars over, and many amputees returning to civlian life, Gibson wants them to know life isn't over, and for many, it's just begun. "If pushed that, and the young amputees and the young wounded warriors saw how far I could push it, then they would want to push it," Gibson said. Gibson retired a few years ago. He now gives back to other veterans by working as an itinerant veteran service representative for the Oklahoma Department of Veterans Affairs.
Students' donation overwhelms vets taking part in Honor Flight (WITI-Milwaukee)
A group of fifth graders from Menomonee Falls gave thanks and much more to our veterans on Friday, April 24th. The students from St. Mary's Parish made a presentation to one Charlie Wakefield. Wakefield is with the Stars and Stripes Honor Flight which flies World War II, Korean War and terminally ill veterans to Washington, D.C. to visit their war monuments. The trips are free — thanks to generous gifts like the one presented by the students. "On behalf of the 5th grade students of St. Mary's, we would like to present 'Stars and Stripes Honor Flight,' with a check for $2,700," said one student. The money came from elementary school students who earned it by doing service and odd jobs over the course of six weeks. "To be awarded $2,700 on the part of a fifth grade classroom is beyond even my wildest imagination," said Wakefield. Veteran Bob Smith knows what the money and the spirit behind the effort can mean to a former Marine. "I was amazed by the long, very emotional day. I'm so grateful to St. Mary's, for what they're doing! They're making it possible for more guys to go, and I very much appreciate that," said Smith.
Two veterans traveling 6,000 miles for service dog charity (WPDE-Florence)
On Sunday, two veterans started a 6,000 mile journey across the country from Jacksonville, North Carolina.  Their first stop was in Myrtle Beach. Along side them, they have man's best friend, their two dogs. Dan Spangler said they are doing it for Operation Keep Your Spanky.  Spanky is Spangler's 12-year-old dog.  He said Spanky saved his life. "If it wasn't for him I wouldn't be here," said Spangler. Operation Keep Your Spanky is a non-profit organization Spangler is starting that provides support for veterans and their families so they can keep their service pets.  He said whether it's food or help with vet bills, the program will keep families together. "We want to help all the veterans by keeping the pets with the vets," said Spangler.  "It's not just the vets.  It's the families. The kids get attached, and unfortunately people have financial hardships. We understand that, and we are here to help." Spangler knows firsthand how dogs can heal. "When I got back from Iraq back in 2003 I was injured.  I adopted him from the shelter, and he's part of the reason I'm alive today," said Spangler. It's not just Spangler and Spanky doing the trip.  Joe Trainor is also a veteran.  He said he contemplated suicide four years ago.  He said he was going to turn to pain pills, but as he reached for the bottle, a pug jumped in his lap.  He said that dog saved his life. "I want to make sure that every single veteran felt that same unconditional love that I felt at that very moment," said Trainor.
Roanoke Korean War vet finally receives Purple Heart (Roanoke.com)
Sgt. Herman Prillip didn't seek the Purple Heart initially when he was seriously wounded during the Korean War. But when the 85-year-old Roanoke veteran inquired about the honor decades later, U.S. Army representatives told him his records had been lost. "I don't know how they lost it," Prillip said. "And I was still getting benefits." Sixty-four years after Prillip's injury, representatives from the Veterans of Foreign Wars pooled old telegrams, medical records and other documents so that the wound on the battlefield could be recognized. He received the award Saturday during a ceremony at the Veterans Affairs Medical Center in Salem. Prillip's Purple Heart is one of more than 1.8 million that have been issued to military members who were injured or killed during combat. His award ceremony was attended by U.S. Rep. Bob Goodlatte, state Sen. John Edwards and several high-ranking military officials. "It is an opportunity after nearly 65 years to pay proper respect to a young American warrior who was grievously wounded in the service of his country," said Maj. Gen. Jim Archer. "All veterans who serve honorably deserve thanks, but those who are awarded the Purple Heart deserve special recognition." The search for Prillip's records began in 2014, after Prillip approached Senior Master Sgt. Frank Ware and his wife, Chief Master Sgt. Sarah Ware. Ware said it took six months to piece together evidence of the injury. Many veterans' records were lost during a large fire at the National Personnel Records Center in 1973.
Purple Heart anglers spread joy, hope to veterans (SFGate.com)
After a catastrophe, you realize that your family and friends provide a refuge and that your health — mental, physical and spiritual — is the link to a future with hope. If you love the outdoors, it can bridge your trip back to the mainland. That's what Randy Houston of Half Moon Bay learned about veterans. Especially vets who have been injured or who try to deal with post-traumatic stress disorder on their own. Houston is the founder and president of Purple Heart Anglers, a group of volunteers who have taken more than 1,000 disabled veterans into the outdoors to fish or hunt. Purple Heart will hold its fourth annual fishing event Saturday at Brannan Island on the Sacramento River Delta, where 40 boats, 80 disabled veterans and about 70 volunteers will make for a special day. It's a continuing mission to make life whole for people who have had it fractured while serving in the military. Purple Heart Anglers is nonprofit, nonpolitical and non-ego. It exists only to support disabled vets with the therapeutic value of the outdoors. "We don't take help from corporations (that want a commercial presence), so nothing interferes with the cause at hand," Houston said. Houston runs Purple Heart to honor his brother, a Purple Heart two-tour Vietnam vet who died from complications brought about by exposure to Agent Orange.
Senator: Vets' intangible skills key to civilian employment (Military Times)
Former soldier and current Republican Sen. Tom Cotton of Arkansas says that employers need to think outside of the box when considering whether or not to hire veterans transitioning into the civilian working world. While speaking as part of a panel discussion on veteran issues Saturday in Washington, D.C., Cotton called for an increased focus on "post-traumatic growth" and for employers to take into account during the hiring process the "intangible skills" veterans have gained in the field "If we put the focus on the growth that any veteran has, especially those who were in close combat … we'll be serving not only those veterans better, but serving our country and communities better," Cotton said. The context of Cotton's perspective was rooted in his own experience while serving in the Army. "As an infantryman, my soldiers didn't necessarily get a lot of tangible skills that are marketable in the private sector," he said, noting that things like "operating a machine gun" don't necessarily translate to the civilian working world in Arkansas. But the more abstract skills gained by veterans during their time in uniform, such as leadership and discipline, make them priceless commodities in the civilian working world, Cotton said. "It just makes them a tremendous asset to the community, to their country, future employers," he said.