Veterans GOOD NEWS for April 6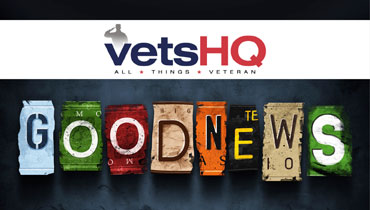 Researchers to explore 'light therapy' as treatment for Gulf War veterans (EurekAlert)
Following up on promising results from pilot work, researchers at the VA Boston Healthcare System are testing the effects of light therapy on brain function in veterans with Gulf War Illness. Veterans in the study wear a helmet lined with light-emitting diodes that apply red and near-infrared light to the scalp. They also have diodes placed in their nostrils, to deliver photons to the deeper parts of the brain. The light is painless and generates no heat. A treatment takes about 30 minutes. The therapy, though still considered "investigational" and not covered by most health insurance plans, is already used by some alternative medicine practitioners to treat wounds and pain. The light from the diodes has been shown to boost the output of nitric oxide near where the LEDs are placed, which improves blood flow in that location. "We are applying a technology that's been around for a while," says lead investigator Dr. Margaret Naeser, "but it's always been used on the body, for wound healing and to treat muscle aches and pains, and joint problems. We're starting to use it on the brain." The LED therapy increases blood flow in the brain, as shown on MRI scans. It also appears to have an effect on damaged brain cells, specifically on their mitochondria. These are bean-shaped subunits within the cell that put out energy in the form of a chemical known as ATP. The red and near-infrared light photons penetrate through the skull and into brain cells and spur the mitochondria to produce more ATP. That can mean clearer, sharper thinking, says Naeser.
VA restarts study to see if service dogs help veterans with PTSD (The Gainesville Sun)
Chiefland, Fla., resident and U.S. Army veteran Michael Gaither remembers how post-traumatic stress disorder isolated him. "For four or five years, I was at home," said Gaither, 69. "I had the doors locked. I had the curtains closed. Nobody came to visit. I did not open the door. I did not answer the phone." He only left home for his doctor's appointments at the Malcom Randall VA Medical Center. Gaither, who has medical conditions that include multiple sclerosis, said his constant isolation changed in 2011 when he received a German shepherd named Honey as part of a since-canceled VA study on whether service dogs could improve the quality of life of veterans with PTSD. Gaither, who said he developed PTSD after he was injured in an Atlanta riot following the assassination of Dr. Martin Luther King Jr., said the companionship of the dog has helped him deal with the world outside his home. Honey, who is now 5 years old, picks up the things he drops, nuzzles with him when she senses he is nervous or anxious and runs outside the home to get his wife, Kaye, when he needs her help. "I feel relaxed with her," he said. "I feel protected, I guess. She's not aggressive at all, but when we get into somewhere where I feel nervous, she knows it." In early February, Gaither met with North Florida/South Georgia VA Health Care System Director Thomas Wisnieski in Wisnieski's office at Malcom Randall to urge the VA to establish a program providing properly trained service dogs to veterans with PTSD. During the roughly one-hour meeting, Honey, wearing a vest decorated with military patches, sat quietly at the side of Gaither's wheelchair. The meeting came as the VA just launched a new study on the benefits of service dogs for veterans with PTSD, some 2½ years after canceling the study in Florida that Gaither was part of due to concerns about the care, condition and training of dogs. The new study comes as older veterans from the Vietnam War or Korea continue to deal with PTSD and more than 128,000 veterans from Iraq and Afghanistan have been diagnosed, according to a November report from the Congressional Research Service.
Military veterans continue to serve by volunteering in community (Orlando Sentinel)
Sweat drips from Jay Parsons' forehead as he slides his paint brush along the porch railing at the Hubbard House in Orlando, Fla. He signals over to a few of the volunteers to help paint while others grab mulch to spread throughout the garden surrounding the house. A lot has changed for the 51-year-old veteran since he was discharged from the military in 1988. He went from giving military orders in Japan to now guiding volunteers as the platoon leader for The Mission Continues, a volunteer group for veterans adjusting to civilian life. The one thing that hasn't changed for the Marine turned college student: The passion he feels to serve his community. He and 15 volunteers helped paint, garden and cook on Saturday at the Hubbard House, a home away from home for the family members of critical-care patients being treated at Orlando Health. Parsons said their organization gives veterans a new unit and a sense of camaraderie that helps them grow and adapt to civilian life. "When we get out of the military we're on our own again," Parsons said. "These platoons give us a new mission, a new unit and we get that sense of camaraderie back again, and we get a purpose again." Parsons said the Hubbard House is a great program and their organization wanted to help out in any way they could. The hotel-style, two-story home has 21 bedrooms and houses more than 50 people daily. Peggy Smith, corporate manager of hospitality at the Hubbard House, has lived on the second floor of the Miller Street house for the past 15 years. She acts as almost a house mother for the families. "We take care of the families while the doctors take care of the patients," Smith said. "We're a half of a block away from the hospital, so we take care of everything they need from lodging, to three meals a day, to a shuttle that takes them back and forth to the hospital. We really just want to ease the burden of this tragic time by taking care of their everyday needs."
Tampa veterans help line program may expand across Florida (Tampa Bay Times)
A support line that has counseled hundreds of Tampa Bay area veterans since its launch last year may be expanded statewide under a bill moving through the state Legislature. Begun in late October at the Crisis Center of Tampa Bay, the Florida Veterans' Care Coordination Program has so far counseled more than 500 vets on issues from substance abuse to chronic unemployment to post-traumatic stress disorder. "This is about veterans helping veterans," said Bruce Grant, who helped launch the pilot program in Tampa last year as chairman of the Statewide Veterans Advisory Council. Grant said the program operates under the Crisis Center but employs a separate toll-free line — 1-844-MYFLVET (693-5838) — to connect veterans to services. The line is open Monday through Friday from 7 a.m. to 7 p.m. The bill would expand the Tampa Bay program to Florida's 13 other crisis centers, effectively blanketing the state. Three veterans hired at the Tampa call center under a $150,000 grant last year operate the help line for vets in Hillsborough, Pinellas, Pasco, Polk and Manatee counties. Grant said hiring veterans helps callers relate to the people counseling them. Tampa Bay has one of Florida's highest concentrations of veterans. Hillsborough and Pinellas alone are home to nearly 170,000 vets, more than double that of Miami-Dade. Sen. Wilton Simpson, R-New Port Richey, said the bill expanding the help line is likely to garner broad support in both chambers. It sets aside $2 million to hire counselors at the crisis centers and set up the lines.
Injured vets get chance to live out dream with Tampa Bay Rays (WFTS-Tampa Bay)
For baseball fans, it's a dream come true: Having a chance to step into the batter's box on a major league field, taking your best swing against a major league pitcher. Jeremy Fore was one of a handful of Wounded Warrior veterans doing just that Friday at Tropicana Field. "It's one of those things we dream about as a kid to be able to step foot on a major league field, and to be able to do it against a major league pitcher is amazing," Fore said. While serving in the Army Reserves, Fore was injured during a training exercise. "Tore my meniscus, MCL, ACL, and my tendon, so I had three surgeries," Fore said. As an injured veteran he joined the Wounded Warrior Project, an organization that honors and empowers wounded warriors by offering a variety of programs, services and events like the one Friday with the Tampa Bay Rays. "I've been here a couple of times as a spectator, but to be out here in the field in a playing position is something else," Fore said.
Female Army vet helps fight poachers in Africa (KING5-Seattle)
A U.S. Army veteran from Western Washington is now helping in the fight against wildlife poachers in East Africa. Kinessa Johnson, whose home is in Yelm, Wash., served four years in the Army as a weapons instructor and mechanic, and served a tour in Afghanistan. Last November she decided to join Veterans Empowered to Protect African Wildlife (VETPAW) as an anti-poaching advisor. "(VETPAW) was searching for a female to train female park rangers so I applied and was selected," she said. VETPAW is a nonprofit organization that works to help end the African wildlife poaching crisis by utilizing the skills of U.S. veterans to train park rangers and support their communities. The organization was founded by a Marine Corps veteran who wanted to help endangered wildlife and thought who better to take on the operation than post-9/11 veterans. "We work side by side with park rangers and it's truly a learning experience for not only park rangers but also our team," said Johnson. "Our intention is not to harm anyone; we're here to train park rangers so they can track and detain poachers and ultimately prevent poaching." A photo of Johnson holding a massive weapon has been circulating on the Internet and on social media. That brings both admirers and "haters," but she just considers it to be part of her mission. "Find something you're good at and think of a way you can benefit an organization assisting to protect and conserve wildlife," she said. Johnson is quick to point out that she's not a "poacher hunter." "I'm a technical adviser to anti-poaching rangers so I patrol routinely with them and also assist in intelligence operations," she said. "Most of the time anyone that is in a reserve with a weapon is considered a threat and can be shot if rangers feel threatened. Our goal is to prevent trigger pulling through strategic movements and methods of prevention."
Positive trend for post-9/11 veterans' jobs (Military Times)
The unemployment rate for the latest generation of veterans ticked down slightly in March to 6.5 percent, continuing the positive trend that the group has seen for the last year and a half, government data show. For the nation as a whole, the unemployment rate in March was 5.5 percent, unchanged from the February rate, while the country tacked on 126,000 jobs, according to the Bureau of Labor Statistics. That 126,000-job increase was smaller than had been seen in recent months, complicating the image of an accelerating national economic recovery. But veterans of our most recent wars are continuing to see good jobs reports. Unemployment for post-9/11 veterans was 6.7 percent the previous month and 6.9 percent in March 2014. Four of these past five jobs reports have posted unemployment numbers below 7 percent. The metric has never recorded such a hot streak before. In fact, between the time that the Bureau of Labor Statistics started keeping records on post-9/11 veteran employment in September 2008 and the end of 2013, only one monthly jobs report showed an unemployment rate below 7 percent. For veterans of all generations, the unemployment rate fell to 4.9 percent in March, down from February's 5.3 percent and March 2014's 6 percent.