Veterans GOOD NEWS for April 8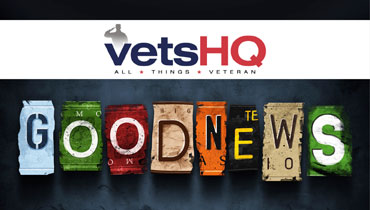 See Iraq War vet's performance on 'DTWS' that left many in tears (The Blaze)
Iraq War veteran Noah Galloway brought many to tears on "Dancing With the Stars" Monday night, performing a dance to Toby Keith's "American Soldier" that received a standing ovation. Galloway served in the U.S. Army and lost his arm and leg in an IED attack. He is paired with Sharna Burgess this year on the 20th season of the hit show. Monday's episode was focused on a dance inspired by the contestant's most memorable year — and Galloway openly talked about the struggles he faced after being wounded in war. After his performance, Galloway not only received an immediate standing ovation, but praise from the judges. "There was something that was free and something that was so beautiful, and we all felt it here tonight. And there was something that we would also like to say thank you for — because when you stand in front of that mirror, we all have things that we look at and don't like about ourselves. But for you to have have something physical and you come out here and do what you do and astonish us every single week —," one judge said before being cut off by the crowd's applause. Click the headline link to view the video.
How can it be rude to thank veterans for their service? (The Boston Globe)
Question: I am baffled by the recent news reports that some veterans resent being "thanked for their service." I am old enough to remember World War II vividly. Serving in the military is a family tradition going back many generations. I always say thank you to military personnel in uniform — at parties, airports, wherever. And now I learn that this is bad behavior? I understand the response of the soldiers who object. But do all soldiers feel this way? Are some pleased to have their work acknowledged?
Answer: Soldiers aren't uniform (oh, you know what I mean). Some dislike being thanked for their service for a variety of personal and political reasons, others appreciate it, and for a large number, it probably depends on how they're feeling that day. Some soldiers may be pleased by the gesture itself but come over all self-conscious when a stranger makes eye contact and offers heartfelt sentiments. As a general rule, it's bad manners to single people out for attention based on what they look like or are wearing. This principle applies not only to uniformed soldiers but also to pregnant women, people with assistive devices, hijabis, mixed-race families, and the like. Just because a person looks conspicuous doesn't mean he or she wants to be the center of attention. Just because you think you can tell what another person's story is doesn't mean you can. Let's apply some probability theory. Some soldiers dislike being thanked. However, no soldiers believe that every civilian they encounter is obligated to thank them. The non-thanking condition is utterly neutral. So you have, say, a 50/50 chance of an undesired outcome if you thank a soldier, and a vanishingly small chance of a bad outcome if you don't.
Nonprofit raises funds to send Texas veterans back to Vietnam (MySanAntonio.com)
As their plane descended toward South Vietnam, the scene was much different than the first time the 18 men had arrived. Looking out the windows, they didn't see bomb craters nor shrapnel-scattered runways. There wasn't a sign of military troops, weapons of war or helicopters ferrying the wounded to aid stations. When the door opened, there wasn't a blast of heat or the smell of waste, just a rush of memories from long ago. In early February, Tony Fuentes, 62, Lorenzo C. Rodriguez, 67, and Manuel C. Soto, 68, were among 11 veterans from San Antonio who returned to Vietnam for a 15-day tour. Inside the office of Operation Comfort on Broadway, the trio recalled their two-week journey with Janis Roznowski, founder of the organization that sponsored their trip. The nonprofit Operation Comfort helps wounded military members who served in Iraq and Afghanistan and their families. The trip was made possible through Operation Comfort and Vietnam Battlefield Tours, founded by six Vietnam veterans who put on the tours in Vietnam, Cambodia and Laos. In 2014, Operation Comfort raised more than $180,000 to send 35 veterans on tours this year. Ed Stiteler, president of the tour group, said in the past two years they've had nine tours a year with an average 15 veterans per tour. Each tour is modified to areas specific to each veteran, using GPS research and tactical maps to take them to areas from their past.
MLB umpire visits veterans at KC's VA hospital (KMBC-Kansas City)
A man who usually calls balls and strikes spent Tuesday saying thank you. Major League Baseball umpire Jerry Layne, who was behind the plate when the Kansas City Royals beat the Chicago White Sox Monday, visited veterans at Kansas City's VA Hospital on his day off. Layne said he does this everywhere he travels during baseball season, thanking the men and women for their service and hoping to make a difference in their day. "Even if it's just a smile, that's a difference in their attitude that day," he said. "So just sharing a little bit with them and letting them know we appreciate their past and what they've done for our country." Layne said he started these visits several years ago. During this visit to Kansas City, he said he also plans to visit the VA Hospital in Leavenworth, Kansas.
Work for Warriors: 3 years, 4,000 jobs (California National Guard via DVIDS.net)
When a motivated group of service members shoots for the stars, sometimes they can exceed even their own lofty goals. Three years ago, when California National Guard leadership set their goals for the new Work for Warriors program, they asked their troops to achieve something that apparently could not be done: find 1,000 jobs for Cal Guard members in the next five years.  "That was a totally unrealistic goal — 1,000 people — given the unemployment rate, given the state of the economy, given the other problems that we faced," Maj. Gen. David S. Baldwin, the adjutant general of the Cal Guard, said March 14. "But with the hard work of the Soldiers and Airmen and civilians that are on our team, and through the partnerships we've developed, we have now placed over 4,000 Soldiers and Airmen." Baldwin was speaking aboard the USS Midway to a group of Work for Warriors' employer-partners, representatives from several military branches and distinguished guests including Speaker of the State Assembly Toni Atkins. The event marked three successful years for the employment initiative and recognized the invaluable support of the Cal Guard's partners in the private sector and the state government. "This partnership between the Assembly and the California National Guard is an example of the best of what government can do when we truly collaborate," said Atkins, whose district includes the USS Midway Museum. "The community benefits, the economy benefits and thankfully, most of all, our veterans benefit. "The assembly is not only proud but determined to continue our partnership with the California National Guard on Work for Warriors." Work for Warriors was founded in March 2012 with funding from the State Assembly to assist Cal Guard members. It has been so successful, however, that it has since secured $1 million in funding from the U.S. Congress, enabling Work for Warriors to expand its services to include all of California's reserve-component members, military spouses, post-9/11 veterans and families of fallen troops.