Veterans GOOD NEWS for April 9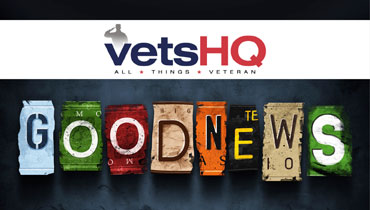 Congressman replaces vet's stolen American flag with one flown at U.S. Capitol (The Washington Times)
Army veteran John Miller got a heartfelt delivery this week from D.C., after his father's American flag was stolen from the front porch of his Oregon home. U.S. Rep. Greg Walden sent Mr. Miller a brand new American flag and a certificate showing that very flag had flown over the U.S. Capitol, a local ABC affiliate reported. "I am so very grateful," Mr. Miller said of the gift. "I almost couldn't believe it at first." The vet told the news station in March that a thief had stolen the flag that he had displayed proudly for decades at the front of his home. He later posted an ad in the "Lost and Found" section of Craigslist asking for anyone who had have any information on the theft to contact him. Mr. Walden heard the story and contacted the ABC affiliate to arrange for a replacement flag to be delivered to Mr. Miller's home this week. "I was so offended when I learned about this that I called up Mr. Miller and offered to fly a flag over the U.S. Capitol in his honor and send it to him to replace the one that was stolen," the Oregon Republican told the station. "We need to send a strong message: you don't mess with our veterans and you don't mess with our flag."
Something's brewing with B-17 bomber in Oregon (The Statesman Journal)
Opening a museum is not nearly as mind-boggling as restoring a World War II bomber to flight condition, but it's still daunting. Organizers of the B-17 Alliance Museum have had to delay its grand opening until Saturday, June 13, at Salem Municipal Airport in Oregon. Originally planned for April, the opening will now be held in conjunction with an already scheduled fly-in fundraiser. "We needed more time to get things set up," said Sean O'Brien, board member and co-operations manager for the B-17 Alliance. "We wanted to make sure when we do it that it looks nice and is inviting." Volunteers have been busy remodeling parts of the 64,000-square-foot hangar that will be home to the museum. Already inside is the B-17 Flying Fortress that for six decades was a landmark at a gas station in  Milwaukie, Ore. Space is at a premium in its new location, so volunteers also have been busy devising ways to best display the dismantled pieces of the plane. Heavy-duty steel racks have been installed in one corner for the engines and vertical steel frames will be built for the wings. Much of the work is being done on weekends because so many of the volunteers for the nonprofit B-17 Alliance have real jobs. A celebration and fundraiser for the B-17 Alliance, including the official release of Santiam Brewing Company's Lacey Lady Session IPA, will be held Saturday, May 30. Supporting the efforts of the B-17 Alliance and brewing a craft beer in honor of the bomber — nicknamed the Lacey Lady after Art Lacey, the man who brought it to Oregon in 1947 as a roadside attraction — is a natural for Santiam Brewing Company. "Many of us are interested in military and aviation history," said Brian Kelly, one of the company's co-owners. "We're just trying to get the community aware of what's coming. We're going to have a cultural icon in Salem, plus a tourist attraction with the museum. It's in line with our corporate philosophy — make Salem cool."
Kubota to provide support, equipment to veteran farmers (FarmersAdvance.com)
Kubota Tractor Corporation announced on Ag Day the launch of "Geared To Give," a new program in partnership with the Farmer Veteran Coalition (FVC) that will provide financial support and donated Kubota equipment to U.S. military veterans pursuing a future in farming. Kubota and FVC jointly launched their partnership at the California State Capitol in Sacramento during the Department of Food and Agriculture's Ag Day festivities. Beginning this spring, FVC will select qualified veterans who are pursuing a future in farming to receive donated Kubota equipment and other support for their respective farming operations. Farmer veterans who are FVC fellowship members can apply for the "Geared to Give" program and be considered for the donated equipment. Kubota has selected its versatile and efficient Standard L-Series compact tractors, which are proudly built in the U.S., to meet the varying needs of many small and medium-sized farming operations. "Kubota and the Farmer Veteran Coalition share a belief in the future of farming and the future of America's veterans," said Todd Stucke, Kubota vice president of sales, marketing and product support. "Our philanthropic mission is to 'power and empower those who move the earth.' We do this by providing equipment and funding to organizations that help people who work with the earth in ways that help our communities thrive — that is why we're proud to support FVC and their farmer veteran members: they need support to make their dreams of a career in farming a reality, and Kubota is honored to answer their call."
Oldest WWII combat vet prepares to celebrate 109th birthday (Fox46-Charlotte)
Next month the nation's oldest living World War II combat veteran turns 109. Richard Overton calls East Austin, N.C., home and he's already receiving some early birthday gifts. When Mr. Overton returned from war he built his home on Hamilton Avenue. Most days he can be found sitting on his front porch proudly wearing his WWII Veteran baseball hat holding a cigar. "I just woke up this morning feeling good," said Overton. At 108 years young he's fond of sharing stories and smoking cigars. "About 12 to 13 a day or something like that it doesn't bother me," explained Overton. On Wednesday he watched as crews work to replace the roof he built in 1945. Several vendors and Lon Smith Roofing teamed up to donate a brand new roof to Overton. The retail value is estimated around $14,000. "I think it's nice. This roof I put on in 1945 and it's been a long time and it's still good but they wanted to give me a new one so I appreciate it," said Overton. "It makes other people aware that veterans are in this situation where they need assistance and other vendors will come to the table to assist," said Scott Hamilton with Lon Smith Roofing. The company donated the roof as part of its new Roofs for Vets program. Congressman Roger Williams also stopped by to thank Overton for his service and presented him with an American flag that flew over the U.S. Capitol. "This is just one small way we can gather and say thank you Richard Overton and the world's greatest generation for keeping America free," said Congressman Williams. Soon Overton will celebrate another birthday. He's fond of ice cream before bed and whiskey. "Sometimes I put it in my coffee and if I'm drinking a coke I'll put a little in there," he said.
WWII female pilot remembers exhilarating flying exploits (LillieNews.com)
World War II veterans Betty Strohfus and Dolly Kawczynski chatted like old friends when they met for the first time, swapping stories of their military service completed some 70 years ago. The occasion was Strohfus' appearance at an assisted living community where Kawczynski is a resident. Strohfus was invited to discuss her time during World War II as a WASP aviator — a member of the Women Airforce Service Pilots — piloting fighter jets and bombers stateside under the direction of the U.S. Army Air Forces. Strofhus, 95, has been speaking about her time as a part of WASP since the 1980s, shortly after congressional action in 1977 granted the women flyers veteran status. Credit for the creation of WASP, according to Strohfus, goes to three people: Jacqueline Cochran, a famous female pilot; General Henry H. "Hap" Arnold, commander of the USAAF, and First Lady Eleanor Roosevelt. The group was created out of the merger of the Women's Flying Training Detachment and the Women's Auxiliary Ferrying Squadron, officially becoming WASP in August of 1943. The intent of all three squadrons was to allow female civilians to fly domestic missions, freeing up male pilots to fly in combat in the Pacific and European theaters. Some 25,000 women applied to be a part of it; only 1,074 were accepted. Strohfus said the WASP flyers were brave, dedicated individuals who had a groundbreaking role in aviation. All told, 38 WASP flyers died during training or while flying missions. The paramilitary organization was disbanded on Dec. 20, 1944, and she said it was disheartening to be told somewhat dismissively, "Now you can go home and have a normal life," as she imitated the tone of some Army brass. Upon receiving the news, she remembered sarcastically thinking, "Oh, thanks a lot." Strohfus also joked about the restrictions put on the women pilots during the war, noting how they were not allowed to fly over water. Yet they were allowed the dangerous job of towing targets behind their planes; targets at which male pilots shot live ammunition. "We couldn't do a lot of things, but we could be shot at!" Strohfus said.
East Texas family hopes to house homeless vets (Bryan-College Station Eagle)
A family whose roots spread from the days of slavery into the woods near present-day White Oak has high aspirations for the land their patriarch was deeded from his one-time master. "This is Butcher Christian," Debra Christian said, leaning over a stone marker at the back corner of a three-acre cemetery along Shiloh Road. "He's my great-great-grandfather. He was born in 1836, and he died in 1903." Christian lives in Tyler, Texas, where her nonprofit agency Christian Restoration Community Residential has helped eight veterans find housing. She and others in her Christian-Jones clan hope to bring that independence to homeless veterans on their Gregg County home ground — 665 acres that antebellum farmer (and slave holder) Gideon S. Christian gave to their patriarch. "We are ready to put our homes right here on this 14 acres," she said, gesturing toward treetops that were mere feet above eye level due to the sloping land. A former Goodyear shop manager, Debra Christian is commander of the Disabled American Veteran Auxiliary, Unit 5, Woodrow Wilson unit in Tyler. Her brother, Randall Christian Jr., and father, Randall Sr., served in the military. "We'll take pieces at a time, but we do have this 14 acres all ready to go," she said, referring in part to a long-running family battle on nearby tracks with an oilman that on March 2 became a district court lawsuit filed by Christian. Standing near her great-great-grandfather's grave, Christian envisioned the homes she hopes to see built through a USDA home loan program. "We can do low, very low-income families and get them into a 30-year loan," she added.