Veterans Good News for May 15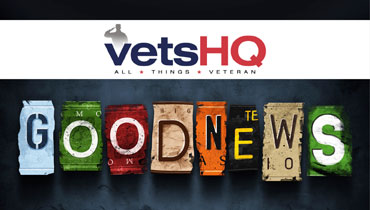 White House: WWI hero Henry Johnson to receive posthumous Medal of Honor (TimesUnion.com)
From the Sgt. Henry Johnson statue in Washington Park to the pocket park dedicated to the African-American World War I hero on Henry Johnson Boulevard in Arbor Hill to the 1972 mural of Johnson inside City Hall, joyful news rang out late Thursday afternoon of a long-delayed recognition and redemption of an injustice. Johnson, who died in 1929, will be awarded the Medal of Honor, the nation's highest military award. In a White House announcement tinged by the long shadow of racial injustice, the nation's first African-American president, Barack Obama, said he will award the nation's highest military honor on June 2 to a black soldier who displayed "conspicuous gallantry." Johnson served in a segregated Army and returned home to a city and country deeply divided by race. He died broken and penniless. A three-decade campaign on behalf of Johnson was waged most vigorously by John Howe, of Albany, a black Vietnam War veteran who died in 2005. "John Howe is looking down from heaven and smiling," said U.S. Sen. Chuck Schumer, who made it a personal quest and handled much of the maneuvering in Congress to overcome obstacles, procedural and otherwise. Schumer recalled that Howe was one of the first constituents who scheduled a meeting after he was elected to the Senate in 1999. "He told me about the injustice of Henry Johnson and he got me involved," the senior senator from New York said. "It was an injustice to an American soldier. America is a great country. We can make mistakes and admit them." The Harlem Hellfighter from Albany singlehandedly fought off an enemy patrol in France during World War I, but it took two generations of boosters who included Johnson's family members, Capital Region veterans and elected officials to win him the posthumous honor after years of snubs and denials on technicalities from the American military.
Comcast making push to hire 10,000 veterans (Philly.com)
Comcast Corp. plans to hire 10,000 military veterans, reservists, and their spouses and domestic partners over the next three years – roughly 15 percent to 20 percent of all new employees, a Comcast human resources executive said Thursday. The hiring pledge more than doubles a prior military-hire plan at Comcast, under which the company has hired 4,200 veterans since 2012. To hit its target, the cable and Internet giant will appoint a vice president of military and veteran initiatives, who will report to Dave Watson, the cable division's chief operating officer, and John Wallace, president of operational and technical services at NBCUniversal. Comcast employs 139,000, with some job functions such as theme-park employees and call-center representatives experiencing high turnover. William Strahan, executive vice president of human resources at the Comcast cable division, said most veterans would be hired for sales, technician, and call-center positions. He added that Comcast would like to hire more veterans for supervisory positions. Strahan said the company was interviewing internal candidates for the military and veteran vice president position and expects to announce the appointment in several weeks.
100,000 Jobs Mission hires more than 240,000 veterans (MarketWatch.com)
The 100,000 Jobs Mission announced today that its coalition of private companies has collectively hired 241,833 U.S. military Veterans through the first quarter of 2015, demonstrating that it is well on its way toward reaching its new goal of hiring 300,000. Founded in 2011 by 11 companies, including JPMorgan Chase & Co., the coalition now stands at 196 member companies. "This latest milestone reflects the growing number of private sector companies that place high value on the skills of our nation's Veterans," said Ross Brown, director of Military and Veterans Affairs for JPMorgan Chase. "More companies making a commitment to join the coalition reaffirms how important this Mission continues to be to employers." Launched in 2011, the 100,000 Jobs Mission brings together companies committed to hiring U.S. military Veterans and military spouses. The 196 companies now involved have pledged to hire 300,000 Veterans.
How dogs are giving veterans a reason to live (Time.com)
Phil Ruddock had trouble adjusting when he returned home to rural Louisiana, disabled by a traumatic brain injury he received during an Air Force tour of duty during Desert Storm. He had all the classic symptoms of PTSD: "I drank all the time, I couldn't get along with anyone, I kept checking every room in the house to make sure it was clear every time I came home, I got up and checked the locks on the doors and windows too many times to count, I was always depressed and pissed at the world, and I never slept. I drove my family so crazy that they wanted to leave," he says with a country twang. "I still do some of those things," he adds, "but it's getting better." Sit. Stay. Lie down. They're the words that helped him through his recovery. Ruddock's now assisting other veterans afflicted with post-traumatic stress disorder from Vietnam, Iraq and Afghanistan the same way he survived his night terrors and flashbacks — with service dogs. His nonprofit Brothers and Sisters in Arms is a boot camp of sorts based out of central Louisiana, where he's teaching veterans to train their own service dogs, all adopted from shelters. The repetitive learning of commands works like physical therapy for disabled vets and gives them something to work towards. Once they've completed the program, they gain a loyal companion and a sense of accomplishment, "a pride that you can't imagine," Ruddock says. "When a soldier is deployed or on base, they feel secure because they have all the other soldiers there watching their back. But when they are out of the military, when their spouse goes to work, their kids go to school and they're left alone, they have nobody watching their back," Ruddock says. "It makes them very anxious, paranoid. A dog turns out to be their battle buddy and watches their back. It never leaves them, it never judges them, it never asks questions that they don't want to answer. It gives them unconditional love," Ruddock explains. A program connecting veterans and rescue dogs may sound cutesy, almost saccharine, but for Ruddock, it's serious — vital even. He asks the veterans to list Brothers and Sisters in Arms as the primary contact associated with the animal's microchip, rather than the owner's home phone. "The suicide rate for veterans is 22 per day," Ruddock says, about 8,000 every year. "If that dog would show up at a shelter and they ran the microchip, chances are that veteran is not going to answer his phone."
Wounded veterans flock to Kansas City for empowering cycling event (KMBC-Kansas City)
Wounded veterans from around the country are in Kansas City this week for a special cycling event. The veterans are getting special adaptive bicycles to take part in Soldier Ride, an event put on through the Wounded Warrior Project. From the minute the veterans arrived for the three-day retreat, they got a hero's welcome. They were fitted for bicycles designed to meet the needs of their injuries and abilities. "All of their injuries are totally different, so it can be physical injuries – amputations, burns or things of that nature – it could be traumatic brain injury. A lot of people with post-traumatic stress disorder. The invisible wounds, whatever they are, we're here to fit that need and help everyone have a wonderful weekend," said Nick Kraus of the Wounded Warrior Project. Cpl. Chris Stout, whose leg was crushed in Afghanistan 10 years ago, said the camaraderie at the retreat is healing. "You're dealing with the internal demons and PTSD. You're not the same person when you come back because you have the physical injuries. You're not the same husband or father coping with all that stuff," Stout said. Stout was recently fitted with a hybrid prosthetic leg brace and said he's eager to get on a bicycle and to unite with other soldiers. "We have that bond that never goes away, and this bike ride kind of rekindles that a little bit for us," Stout said. "We're going to be dressed in the same uniform again. We're going to be on the same mobile device again, and so we're going to be back rooting each other on again."