Veterans Good News for May 21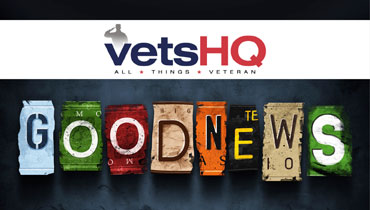 After Hollywood, Gary Sinise enterains only for veterans (The Washington Times)
Gary Sinise began providing free performances and dinners for Vietnam veterans — what he called "vets nights" — in the late 1970s, long before he was a household name thanks to his Oscar-nominated portrayal of the man who loses his legs in the jungles of Vietnam. Even before he portrayed Lt. Dan Taylor, the Vietnam commander saved by Forrest Gump from certain death in the 1994 best picture winner, the Chicago native and co-founder of the iconic Steppenwolf Theater knew he had to do something to give back to America's heroes. "I have lots of veterans on my side of the family and on my wife's side of the family," Mr. Sinise told The Washington Times. Despite a storied theater resume in Chicago and on Broadway, to say nothing of a Hollywood career encompassing 50 film and television credits, Mr. Sinise is proud that his greatest role is away from the cameras — shining a light on those who fight to keep America safe. "I spend all my time these days working with veterans," Mr. Sinise said.
Honor, duty, service: Young woman learns valuable lesson on Honor Flight (The Naples News)
Commentary: "Honor. Duty. Selfless Service. These Army values are embodied by the veterans who take part in Honor Flight, and being one of their guardians for a day is an experience like no other. I'm Cadet Sergeant First Class Alexandra Stanco of the Cougar Battalion at Barron Collier High School, and I feel blessed to know what it's like to be a guardian. On May 2, I walked into Naples Airport at 5 a.m. with no expectations other than to enjoy each moment I was about to spend with the greatest people to ever walk the planet. What took place over the next 20 hours transformed me and changed my perspective on what it means to serve. First, let me introduce you to my hero. Meet John McGlue, a New Jersey boy who at the age of 16 decided to join the National Guard. He served in the Old Guard 3rd Infantry Regiment, where he performed for the U.S. Army Drill Team and worked military police security shifts around Washington, D.C., and at the Smithsonian Institution guarding valuable pieces of art. Shortly after beginning this new job, he was summoned to Korea for a one-year tour. While operating in a weapons company on the border between North and South Korea, Staff Sergeant McGlue carried out his missions in the face of grave danger and earned the Purple Heart on three separate occasions. … Collier County Honor Flight is the perfect example of how one small group of citizens can transform a community. These flights take a huge amount of planning and money to put together, and I consider myself very lucky to have been a part of the May 2 mission. I will never forget the memories McGlue and I made in D.C., and this program has definitely strengthened my desire to serve and pass on the legacy of the Greatest Generation. Honor Flight taught me that I do not have to wait until I join the military to be able to serve my fellow citizens; I can serve right now, by volunteering with them and other organizations within the community. Sometimes one can serve a neighbor simply by spending time with them and talking to them, or by helping a family member, or by learning about the world around them."
UNC creates online program, advising for military students (News & Observer)
UNC-Chapel Hill has announced a new push to help veterans and active-duty military pursue higher education. At an event attended by students in uniform Wednesday, Chancellor Carol Folt announced an online education program available to active-duty military, so they can take introductory, general courses that could lead to an undergraduate degree. The program, dubbed UNC Core, will allow soldiers, sailors, Marines and Air Force members to take UNC courses at a distance – from their bases across North Carolina or at military installations around the world. The university also created a student veteran assistance program, including a new full-time coordinator to help veteran students navigate the campus. Folt said the university had experienced a 95 percent increase in the number of students using GI Bill benefits since 2009-10. Between fall of 2014 and 2015, she said, the university doubled the number of incoming transfer students identified as veterans and active-duty service members. "We're really proud of that, and we want to make sure we're ready and able to give the proper services," she said. The program was created in conjunction with the UNC Board of Governors and the UNC system staff. Online courses make it easier for on-the-move service members, reservists and National Guard members to begin pursuing degrees wherever they are, while they're serving the country, Folt said. "We don't want them to have to wait," she said. "We want to make it possible to have a jump start, as part of that military service, into the next phases of their lives."
Raytheon joins Student Veterans of America to award scholarships to Army vets (Your Defence News)
Raytheon Company, in partnership with Student Veterans of America (SVA), awarded two $10,000 scholarships to student veterans under a new educational program honoring those who serve in the U.S. Army. The Raytheon Patriot Scholarship, named for the company's Patriot Air and Missile Defense System, is designed to help returning soldiers achieve educational goals that lead to success in their civilian lives. The scholarships are awarded to Army student veterans pursuing an undergraduate or graduate degree at an accredited university. The scholarship recipients are:
• America Luna, 29, pursuing a master's degree in higher education at Old Dominion University, Norfolk, Virginia.
• Henry Scott, 32, pursuing a bachelor's degree in management information systems at Fayetteville State University, Fayetteville, North Carolina.
"We want to help position Army student veterans for future success as they make the transition from active military service to civilian life," said Ralph Acaba, vice president of Integrated Air and Missile Defense for Raytheon Integrated Defense Systems. "It is also an opportunity to show our appreciation for our military heroes as we celebrate Military Appreciation Month in May." Raytheon is committed to empowering veterans and military families through educational programs and mentoring to help service members and their families reach their goals. In March, the company pledged $10 million to support initiatives to empower those who serve and their families. Raytheon and SVA joined forces in November 2012 to help provide military veterans with the resources, support and advocacy needed to reach their higher education goals.
State hospital cremains of veterans to be interred (The Statesman-Journal)
Thanks to the diligent work of the Oregon State Hospital and the Oregon Department of Veterans' Affairs, the cremains of 19 military veterans and two spouses of veterans will be interred with full military honors on Friday, May 22, at Willamette National Cemetery in Portland. The state hospital is the custodian of the cremated remains of approximately 3,400 people who died between 1914 and 1971 while living or working at the hospital and other state facilities. It has been working with the ODVA for nearly 10 years to identify the deceased who are eligible for veteran burial. "Just as we thank all veterans for their service, we thank the amazing team from the Oregon State Hospital and their partners for all of their research and hard work to correct the record," ODVA Director Cameron Smith said. The 19 honorably discharged veterans, ranging from the Civil War to World War I, who will be interred at Willamette National are: Thomas A. Bond, Rollin Curd, Henry Gore, John Q. Howard, Arthur B. Hunter, Herman G. Kluedtke, Frank F. Moore, Curtis L. Oaks, Davis B. Parmenter, Matthew Ross, Jr., and, John W. Sevedge, Edward C. Shaw, Charles Sherwood, Harry N. Thompson, John Tooley, Lawrence C. G. VanWert, Graham Cambell, John A. Walters and Fred Warner. The spouses of veterans, also eligible for burial at the cemetery, are Emma Rowland and Edna May Ward.
Why fire departments need to hire military veterans (FireEngineering.org)
Commentary: "It's not uncommon for municipalities to give extra credit to veterans as part of the firefighter hiring process. This is a practice that I applaud and hope that more agencies begin to follow. Over the last several years, thousands of military personnel have begun to transition from their military careers into civilian life. Sadly, a large number are still unemployed and are struggling to find jobs back here at home. It is my hope that fire departments across this country will recognize this outstanding pool of potential applicants is out there, ready and willing to join the fire service. Many have access to education funding through the G.I. Bill and are just looking for an opportunity to start a career and obtain gainful employment. Our fire department was organized in 1957, and was led by our first chief, Gaylord Faze. Chief Faze was a decorated WWII veteran. He served as member of the elite Seabees, building roads and airstrips in the middle of jungles under the toughest of circumstances imaginable. Veterans of this era are referred to as "the greatest generation," a title well deserved and earned. Fast forward to today, and I believe that the current Iraq/Afghanistan era military veterans are the greatest of our current generation, and they deserve our respect and our assistance. As of April 2015, our department employs 24 firefighters, of which 8 are former United States military veterans. This is a statistic of which we are very proud. Each of these fine young men brings talents and experiences to our department which impacts all of us in a positive way."
Michelle Obama pays tribute to military caregivers (Military Times)
Michelle Obama on Wednesday recognized the "quiet courage" of family members who serve "right alongside" wounded warriors when they take on duties as caregivers. Mrs. Obama said the selfless stories of about 1 million caregivers often go unnoticed, though the country is aware of service members who are awarded for their combat and bravery. "We want to show you that you're not alone in this journey — because here in America, caring for our wounded warriors cannot be a one-person assignment," Mrs. Obama said. "It's a solemn obligation for our entire country to be there for you." The first lady spoke Wednesday at the Elizabeth Dole Foundation's Hidden Heroes Coalition Summit, which honors military and veteran caregivers.
Harley rolls out free rider training for troops, vets (Military Times)
If you happen to pass Army Chief Warrant Officer 4 Eric McKoy on his way to work astride his 2013 Harley-Davidson Road Glide, you'd probably never guess that just two years ago, he was nervous about even getting on a bike. The 5th Special Forces Group maintenance officer at Fort Campbell, Kentucky, had always wanted to ride, but he also knew the dangers. "I won't lie — I was scared," he says matter-of-factly. But all that changed in just three days after McKoy took a $250 class at a local Harley-Davidson dealership. "There was a lot of good knowledge in that class. By the time we finished, I was completely confident and ready to ride on my own," he says. Now Harley-Davidson is offering that confidence-boosting knowledge for free to all current and former service members. The Learn to Ride program, running through Sept. 13, is open to all active-duty troops, reservists, retired service members and veterans. "For us at Harley-Davidson, this is our way to thank the millions of people who have courageously defended our country and everyone's personal freedom to ride," said Christian Walters, the company's managing director of U.S. sales and marketing and a former Army major. The classes usually run three to four days — two full days of training over the weekend plus a few hours after work during the week. To find a class near you, visit a Harley-Davidson dealer or go online to h-d.com/militarylearntoride.