Veterans Good News Update for May 1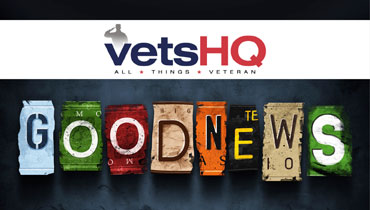 Report: Veterans are civic assets (Military Times)
Veterans are more likely to volunteer in their communities, vote in elections and belong to civic groups, according to a report released this week. Researchers with the veterans advocacy group Got Your 6 said the findings point to a new image of former military members as involved neighbors and future leaders instead of strangers to civilian society. "This puts a new spin on how and why we should be engaging veterans, and how they can help strengthen our communities," said Chris Marvin, managing director of the group. "The idea that veterans are civic assets is no longer an opinion. It's a fact." The findings are based on census sampling data from recent years, and show higher rates of volunteer work and civic engagement among veterans than their peers without military experience. Veterans give an average of 160 volunteer hours a year, 25 percent more than non-veterans. Nearly 18 percent belong to community service groups, three times the rate of non-veterans. And nearly 60 percent of veterans under 50 say they participate in local elections, compared to less than half of their civilian peers.
George W. Bush kicks off 100k bike ride with wounded vets (Dallas Morning News)
Seventeen wounded veterans joined former President George W. Bush at his Central Texas ranch Thursday morning for the first day of his institute's annual 100-kilometer bike ride. The fifth annual Warrior 100K, which is part of the George W. Bush Institute's military service initiative, is a three-day bike ride to honor service members injured in Afghanistan and Iraq. Before setting off on the 12-mile ride around the president's ranch, Bush shook hands with all of the warriors before getting on his red, white and blue bike–that was outfitted with the presidential seal. Bush's rider number was–of course—43. Trek Bicycle Corporation donated a bike to each of the warriors Wednesday night in preparation for the ride. After quick opening remarks, which ended with Bush saying "let's ride!" the riders set out on the nearly hour-and-a-half long bike ride. Throughout the trail, which took the vets through creeks and down slick ravines, Bush could be heard encouraging the group and yelling out his signature trail calls: "Yeah, baby!" and "That's what I'm talking about!" He also offered an Elvis impersonation, saying "thank you, thank you very much." During one part of the trail, in which the group passed through a water crossing, where the water was deeper than expected, the warriors could be heard cheering as they made their way through. "There were a couple spots where some of [the water] came to my calves and this was deeper than I thought, my pedals were under water and my feet were wet, but this is a blast," said Command Sgt. Major Brian Flom. "You don't want to come clean right on the road–you are mountain biking."
Vietnam veteran finally gets a chance at citizenship (Military.com)
Born in Poland in 1941, Erhard Wensel was 11 when he and his family became legal residents of the United States. Drafted by the Army in 1967, he spent a year in Vietnam as a cook with the Fourth Infantry Division, and earned a citation for "meritorious service in support of allied counterinsurgency operations." One day, he fell into conversation with a lieutenant who knew he had a green card but not citizenship. "Do you want to be a citizen?" the officer asked. "I do," said Wensel, "but I ship out in three weeks." "I'll get some papers. I'll take care of this," said the officer, "and you will hear about it" stateside. But Wensel heard nothing, not that year, not ever, he said Wednesday in Philadelphia, flanked by his immigration lawyer ahead of a bid Thursday to finally become a citizen of the country he served so honorably so long ago. "He's a vet, and he's entitled," said the lawyer, Elizabeth Ricci, who will accompany Wensel to the U.S. Citizenship and Immigration Services office in West Philadelphia. There, he will present his naturalization petition and must answer at least six of 10 questions about U.S. history and government correctly to qualify. "Mr. Wensel is as American as anyone else," said Ricci, a Tallahassee, Fla., lawyer who is representing him free and flew to Philadelphia to be by his side. "Tomorrow is his big day," she said. Ricci developed a reputation as the go-to lawyer for veterans in similar straits after she handled the case of Mario Hernandez, an Army veteran in Florida who came to America as a Cuban refugee in 1965 and lived for nearly a half-century in the belief that he was a citizen when he was not. After a series of legal ups and downs, said Ricci, Hernandez finally won his case for citizenship last year.
Jim Webb commemorates the Vietnam War (The National Journal)
As Sen. Bernie Sanders was making his presidential campaign official at the other end of the National Mall Thursday afternoon, Jim Webb, who is still considering his own underdog campaign against Hillary Clinton, was speaking to Vietnamese-Americans and U.S. veterans near the Vietnam Memorial. Webb, a former senator from Virginia, was speaking to commemorate the 40th anniversary of the fall of Saigon during the Vietnam War. Webb is a Vietnam veteran, and he voted against the Iraq War during his time in the Senate—a point he and other Democrats have used to contrast themselves with Clinton. Webb and his wife, Hong Le Webb, stood on a small stage adorned with oranges, pineapples, flowers, and incense. Hong Le Webb, who was born in Vietnam, was 7 years old when Saigon fell. Her family fled the country on a fishing boat and after three days at sea was eventually rescued by the U.S. Navy. They lived in refugee camps in Guam and Arkansas. "In those places, they were moving into new communities, they were learning a new language, and they were making new lives as Americans," Webb said Wednesday. "That is the story told 2 million times over by the members of the Vietnamese community in the United States." In 2006, Hong Le Webb told The Washington Post that her husband sometimes teased her about her family's escape. "He says that if [U.S. troops] hadn't rescued me, I'd be snaggletoothed and selling pencils on the streets of Saigon," she said at the time. "It wouldn't be too far from the truth. If I'd stayed behind in Vietnam, I wouldn't be where I am today."
Military Appreciation Days lasts all of May in Myrtle Beach (MyrtleBeachOnline.com)
Military Appreciation Days has long outgrown its identity as a Memorial Day weekend staple for Myrtle Beach and the Grand Strand. This seventh annual event — with tributes, celebrations, golf tournaments that always hit a hole-in-one for fundraising and remembrances — commands all of May. Mark Kruea, spokesman for the city of Myrtle Beach, said this tradition "survives and grows because so many people throughout Horry County are involved in serving and thanking our troops and veterans." "From Rolling Thunder to Blue Star Mothers," Kruea said, "and the Military Officers Association of America to Scents for Soldiers, everyone has the same goal. This year, we added the Vietnam Veterans Association of America, Chapter 925 Grand Strand, and the Myrtle Beach Pelicans are doing wonderful things for veterans. PGBA TriCare is a sponsor, too. The list goes on, and the common thread is military service, whether active duty, veteran, wounded, retired, reserve or National Guard, and the families who support them." The Vietnam Veterans of America chapter has become a busy partner, Kruea said, with a golf tourney benefit on May 14, a dinner dance May 16 (for which reservations are due Friday, providing history programs for students, and helping arrange stops of a traveling Vietnam Memorial Wall and the Agent Orange Quilt of Tears. For the 2015 parade, at 10:30 a.m. May 16, J.R. Martinez, an Iraq War veteran, and an actor, author and Mirror Ball Trophy winner from ABC's "Dancing With the Stars," will step right into the grand marshal's role. He joins a roster of star veterans who have ridden in past parades: Buzz Aldrin, retired astronaut, in 2010; U.S. Sen. John McCain in 2011; Army Maj. Gen. Robert E. Livingston Jr., S.C. adjutant general, in 2012; Rocky Bleier, a four-time Super Bowl running back with the Pittsburgh Steelers in the 1970s, in 2013; and Montel Williams, a motivational speaker who has penned several books, former TV show host.
Service ditches 'Army Strong' for new branding strategy (Army Times)
Can you sum up your service, your commitment, your strength in a marketing slogan, five words or less, encapsulating everything the Army has and ever hopes to stand for? Don't sweat it. Army officials didn't think so, either. The service's latest 60-second commercial debuted Monday, featuring black-and-white photos over stirring narration and music, offering glimpses of many aspects of service and sacrifice, and extolling the virtues of joining "the Army team." It ended without the "Army Strong" tagline — a phrase soldiers will continue to see in internal Army communications, but one that's ended a nine-year run as the familiar face of Army branding after research showed civilians didn't buy in. "Our job is to market the Army [to the public]," Mark Davis, deputy assistant secretary of the Army for marketing and the director of the Army Marketing and Research Group, said in a Wednesday interview. " 'Army Strong' just didn't resonate with them. You'd either get an 'eh' sort of response, or you'd get an, 'Of course you're strong. You're supposed to be. You're in the Army. …' "Everybody in the Army understands ['Army Strong'] intuitively, because they're a stronger human being for their experiences. People outside the Army didn't get it." The tagline won't be replaced, Davis said.
VA hospital to be named for Vietnam War hero Michael Crescenz (Philly.com
Charlie Crescenz has many reasons to think of his little brother Michael. A statue is being made in his honor, a VFW hall bears his name, and on Saturday, Philadelphia's VA hospital will be renamed for the boy who died at 19 in a blaze of machine-gun fire while protecting his platoon in the mountains of Vietnam. None of that, however — not even the Medal of Honor that President Richard M. Nixon gave Michael's family — is what rekindles 47-year-old memories of the brother born a year and a half after Charlie. "When I see people defend others, that reminds me of Michael," said Charlie Crescenz, a retired police officer who choked back tears as he spoke Thursday of his long-ago-lost little buddy. "When they come to the aid of other people when they don't really have to." This was the first time, Crescenz said, he had told anyone how he felt; he made a point of pointing it out. And no wonder: The ex-Marine returned home from Vietnam just months before his brother was shipped out to die an Army man charging up a mountain to save his brethren. On Saturday, there will be more words. More memories. And, most assuredly, more tears. Crescenz and his four brothers are expected to be among up to 1,000 people at a 10 a.m. rechristening ceremony for what will henceforth be known as the Cpl. Michael J. Crescenz Department of Veterans Affairs Medical Center. The complex at 3900 Woodland Ave. becomes only the third of 151 veterans' medical centers nationwide to be named after a Medal of Honor recipient. The youngster from West Oak Lane shares that honor with Second Lt. Audie L. Murphy, of World War II fame, from near Kingston, Texas, and Sgt. Alvin C. York of World War I, from Pall Mall, Tenn. "It's very surreal. It's like I can't believe it's even happening," said Joseph Crescenz, 58, who was just 12 when his brother died but who will speak for all the siblings when he takes the lectern alongside a congressman, a U.S. senator, and other dignitaries.