Veterans Good News Update for May 26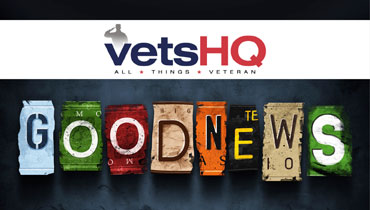 Devoted bugler honors deceased vets with personal touch (The Seattle Times)
Taps is 24 notes that can make the toughest soldier cry. It's a musical recognition of a life ended, a goodbye that hangs in the air as friends and family wipe their tears, look up and know they must live the rest of their lives without someone. Since 2001, retired Army Reserve Lt. Col. Philip Kowzan, 77, has played taps at military-honor funerals in the Spokane area. His debut came unexpectedly at longtime friend Ivan Brayman's funeral. "They had a recorder there and I said, 'No, you're not using that, not at my friend Ivan's funeral,' " Kowzan said. A lifelong trumpet player, he got his trumpet out of the car, took a deep breath and played for his friend one last time. "I wasn't in uniform or anything," Kowzan said. "I'm not even sure I did it right." That was the only time he played taps in 2001. But since then, he's played at 1,259 funerals, sometimes playing at three services in the morning and another three in the afternoon. "I did seven one day," Kowzan said. "That's a lot." Every funeral Kowzan has participated in is meticulously recorded in a little black notebook, its cover worn from being carried in his pocket. When he ran out of notebook pages, he switched to a small three-ring binder. He tries to get the funeral program and the obituary from each service, and he's working on creating a scrapbook for the Washington State Veterans Cemetery. "It's become my mission," Kowzan said, flipping through the pages of his notebook, recognizing many of the names.
A special focus on caring for vets at the end of their lives (NPR)
Caring for the nation's veterans at the end of their lives can be a complex task. Service members — especially combat veterans — can struggle with guilt, abandonment and regret. The Army and the Department of Veterans Affairs are working to help them. At one Army hospital in Seattle, its mission is to make those last days meaningful. Mark Goodwin rode a Harley. He liked to barbecue, and he loved the Seattle Seahawks — the retired Army first sergeant was a season ticket holder. "He's the kind of person that wanted to make sure that everyone else in his life was taken care of," says his wife, Traci Goodwin. "I think that's part of being a soldier, of being a leader. So he was used to looking after people." But when Mark was diagnosed with stage 4 colorectal cancer last year, she says it was Mark who needed someone to look after him. He ended up at Madigan Army Medical Center in Tacoma, Wash. The Palliative Care Team there helped the couple manage everything from pain care to Mark's veteran benefits. "While we were focused on recovery and healing, they wanted to make sure that all of his documents were in order … to make sure that I wouldn't be left with a pile of paperwork or unsure of what to do," Traci says. The end of life is an intimate journey. When confronted with it, many are unprepared. To help, Madigan has one of the Army's most comprehensive and well-trained end-of-life teams. It includes physicians, nurses and social workers. Chaplain George Wallace works with the group full time. "Sometimes what emerges are issues of betrayal and guilt. We have these really, really high — almost superhuman — standards. We call it the warrior ethos: 'I'll never quit,' that sort of thing, and that's great," Wallace says. "But it often comes with baggage after the fact, if you feel like you didn't live up, or, 'I left a buddy behind that I couldn't bring home.' " There are other challenges: Some vets are alone at the end of life. They may be estranged from friends and family because of post-traumatic stress or substance abuse issues. It can be a terrifying place, but also ripe for transformation and forgiveness.
Jon Stewart, Iraq War critic, runs program to help veterans enter TV (The New York Times)
During the surge in Iraq in 2008, Nathan Witmer led an Army scout platoon in a thicket of villages rife with insurgents and roadside bombs. What he really wants to do is direct. Or maybe write — or produce. "Anything with movies was always the dream," said Mr. Witmer, who left active duty in 2010. Like many troops leaving the military, he was steered instead toward jobs in government agencies that offered preferential hiring or with big corporations that recruited veterans, and he assumed his hope of working in show business would remain only that. But after selling medical equipment for two years, he had the chance to join a five-week industry boot camp designed to bring young veterans into the television business. To his surprise, it was run by one of the Iraq war's fiercest critics, Jon Stewart, the longtime host of Comedy Central's "The Daily Show." "It was actually inspirational," said Mr. Witmer, who went on to work at Fox News and then found a job as a "Daily Show" associate field segment producer. "We hear 'Thank you for your service' all the time, but here was concrete action, people working to really make a difference. And it changed lives. I'm proof of that." "The Daily Show" developed the program over the last three years without publicizing it, but now, because Mr. Stewart is preparing to leave the show, he has taken it into the open, urging other shows to develop their own programs to bring more veterans into the industry. "This is ready to franchise. Please steal our idea," Mr. Stewart said in an interview at his Manhattan studio recently. "It isn't charity. To be good in this business you have to bring in different voices from different places, and we have this wealth of experience that just wasn't being tapped."
Journalism students aim to dispel myths about veterans (Detroit Free Press)
Wishing living U.S. military veterans a "Happy Memorial Day" might be well-intentioned but misses the mark on an occasion meant for remembering those who lost their lives. That and other timely reminders can be found in a new book researched and written by a Michigan State University journalism class with assistance from former servicemen and women. "100 Questions and Answers About Veterans" is aimed at clearing up myths and misunderstandings held by some civilians. "A day of mourning doesn't square with 'happy,' " instructor Joe Grimm said. "They're thinking, 'I'm still here. My day is coming in November (on) Veterans Day.' " The book, available in print and digital versions, is the eighth that Grimm's classes have published. Others have covered Hispanics and Latinos, Native Americans, East Asians and Muslim Americans. "Given the similarities between vets and other groups of people who are frequently stereotyped, this would be a place we could do some work," Grimm, a former recruiting and development editor for the Detroit Free Press, said. Veterans told students they can feel similarly conflicted when civilians thank them for their service. People mean well, Grimm said, but some veterans say kind words can ring hollow if the person doesn't know how, when or why they served. The book's content was reviewed by veterans of the Army, Navy, Air Force and Marines, including Jeff Barnes, director of the Michigan Veterans Affairs Agency.
Honor Flight veteran writes sympathy notes to families (USA Today)
It's been six years since the first South Dakota Honor Flight left Sioux Falls. Through a total of 12 flights, 1,400 area World War II veterans were given a chance to visit Washington, D.C., and the WWII Memorial there. Ken Salisbury, 92, of Sioux Falls was on the first flight. The WWII veteran was so moved by that trip that he went on to serve as a guardian for other Honor Flights. He traveled eight times, assisting veterans with special health needs. With 50 wheelchairs on every flight and 10 stops while in Washington, there were "lots of logistics," he says. The final Honor Flight left June 3, 2011. Afterward, Salisbury felt he somehow needed to do more. He was saddened to read of the deaths of veterans who were part of earlier Honor Flights. So he took it upon himself to write letters of condolence to each of their families. Salisbury carefully reads the daily obituaries, looking for names of Honor Flight travelers, and then composes a personal letter to the veterans' families. So far, 183 Honor Flight veterans have died. The average age of Honor Flight veterans is 90, and Salisbury is writing at least one letter a week — sometimes as many as three. "The veterans who have died since the Honor Flight shouldn't go unnoticed," Salisbury said. "I know I have outlived them, so I feel compelled to send a letter. It's a tough deal when a veteran dies. A special note is so nice for the family." Each letter has its own special message and references the veteran's specific service.
Ohio bill would give boost to veteran entrepreneurs (Military Times)
Navy veteran Mike Nichols says veteran-owned businesses aren't asking for handouts from the state, but they could use a little help leveling the playing field in competing with non-veterans who may have had more time to get on-the job-experience. Ohio lawmakers are considering a bill to provide a bid preference of 5 percent or $5,000 to veteran-owned businesses competing for state contracts. Ohio would join at least 27 states — up from 12 in 2009 — that have some type of law or executive order to help those businesses, according to the National Veteran-Owned Business Association. Some, including California and New York, go further by requiring a percentage of state contracts be set aside for businesses owned by service-disabled veterans, as does federal law, said association spokesman Matthew Pavelek. Nichols, who owns Prudential Construction Group in Dayton, said veteran-owned business could compete better with bids lowered by 5 percent. "We're just looking to get our foot in the door. Then we have to prove ourselves like anyone else," said Nichols, who also heads the nonprofit Veteran-Owned Businesses of Ohio that provides entrepreneurship training and assistance. State Rep. Niraj Antani, the Republican joint sponsor of the bipartisan bill, says veterans deserve a preference for having served their country. "It's our moral obligation to do what we can to help them," Antani said. The bill has had its first hearing before the House Ways and Means Committee and would proceed to at least another hearing before a committee vote could be made on sending it to the full House.
Veterans take to the skies in vintage planes (CBS News)
On this Memorial Day weekend, a group of heroes will take to the skies in a vintage biplane from 1940 in Lakeville, Minnesota. The Dream Flights pay tribute to military veterans from Vietnam, Korea and World War II, CBS News' Jericka Duncan reports. Darryl Fisher is on a mission. Armed with a small squadron of World War II-era biplanes, his orders come not from a commanding officer, but from within. "We developed a mission, and that is to give back to those who have given, and we've gone out with the airplane and given back to a generation that has done so much for us," Fisher said. Fisher runs the Ageless Aviation Dreams Foundation, which organizes free rides to our nation's veterans. John Miller was on a Navy destroyer during the Korea conflict. "I've been waiting 80 years for this flight," Miller said. "It's fantastic." Bud Farrell served in World War II. "This makes me think about the crew of 11 men. I think of them every day, but now all but one are gone," Farrell said. "It means something to remember them." Fisher also invites widows of veterans to take flight. A third generation aviator from Washington state, Fisher began the foundation in 2001. "We are 100 percent volunteer-driven, and we get paid in satisfaction, and I say many, many times we're overpaid because the joy, the connection that we get with people is priceless," Fisher said. On Memorial Day in Lakeville, Minnesota, 95-year-old Bob Campbell will be Fisher's 1,000th flier. "It's a dream to me," Campbell said. Campbell received the Distinguished Flying Cross as a B-17 bomber pilot during World War II, and he can't wait until Monday. "Like a 23-year-old kid when I went in; I love flying," Campbell said. "I've always loved flying. Flying has been my dream."