Veterans Good News Update for May 4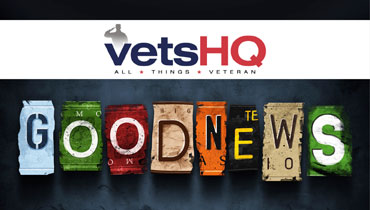 Veteran Richard Overton nears 109th birthday with yard work, whiskey (The Wall Street Journal)
As he closes in on his 109th birthday later this month, Richard Overton said he is enjoying his growing renown as one of the nation's oldest living World War II veterans—and one who continues to drive, tend his lawn here, and partake of whiskey and small cigars. "I smoke at least 12 Tampa Sweet cigars a day," said Mr. Overton, a U.S. Army veteran, who visited President Barack Obama at the White House in 2013 and has been feted by more Texas politicians than he can catalog. "I like the attention," he admitted. "I never thought I would be that important." In advance of his May 11 birthday, the city's mayor joined about a hundred revelers Sunday at the east Austin home of Helen Elliot, a neighbor of Mr. Overton's, for a birthday bash with the theme "Mighty Fine at 109." Mayor Steve Adler told the crowd that Mr. Overton had lived through two world wars and the passing of the 19th Amendment, awarding women the right to vote. "You are one of this city's treasures," he said. Mr. Overton greeted a stream of well-wishers and sipped a vanilla milk shake provided by Mighty Fine, a local restaurant chain enlisted because of its name. Ms. Elliot, his neighbor, said that on most days Mr. Overton can be found hanging out on his porch or working in his yard, sweeping his driveway and picking up fallen branches. Once, she recalled, she asked him the secret to his longevity and he pointed to a plastic cup with whiskey, saying, "I'm drinking it."
Veterans' PTSD awareness efforts may save lives (San Jose Mercury News)
Editorial: "In an effort to raise awareness about combat post-traumatic stress disorder or PTSD, Joe Dimond, a Marine Corps veteran of the Iraq war, has founded an initiative called Stain of War. With fellow veterans, he recently appeared at the Pennsylvania Veterans Museum in Media, Delaware County, to spread the word. "We take it for granted that everyone knows about PTSD, but that's not the case. This campaign is to get the word out," said Dimond whose father, Bob Dimond of Media, is a Korean War veteran and executive director of the U.S. Veterans Legacy Project. According to the U.S. Department of Veterans Affairs , PTSD afflicts almost 31 percent of Vietnam veterans, 20 percent of Iraq war veterans, 11 percent of Afghanistan war veterans and as many as 10 percent of Gulf War or Operation Desert Storm veterans. They have been shot at, watched their buddies die and otherwise endured the atrocities of war. The disorder can lead to depression, substance abuse, violent behavior and suicide. According to a VA study released in January 2014, about 22 veterans a day commit suicide. While there was a slight decrease in suicides among older veterans since 2011, there was a 44 percent increase in the rate of suicide among male veterans under 30 or an average of two young veterans a day taking their own lives. During that same period, suicides among female veterans increased at a rate of 11 percent."
VA program takes veteran from homeless to hopeful (The Virginian Pilot)
The Department of Veterans Affairs has come under fire for serious failings in delivering health care to veterans. Don't tell that to Richard Donovan. As far as he's concerned, the VA helped lift him out of a cycle of drugs, put a roof over his head and gave him a new future – after he'd spent the better part of four decades fighting homelessness and drug addiction. Donovan used to be one of tens of thousands of homeless veterans, a statistic that first lady Michelle Obama called a "stain on our nation." Now he lives in Norfolk in an apartment subsidized by the VA as part of a national program Obama spearheaded to end veteran homelessness. "I've been clean now over a year and a half," said Donovan, 57, who has a permanent roof over his head for the first time since he was a teenager. "They saved my life." Since 2010, the VA and the Department of Housing and Urban Development have helped 230,000 veterans either avoid or overcome homelessness. The number of veterans nationwide without permanent housing has declined by an estimated 33 percent, while the number of veterans sleeping on the streets declined by 44 percent, according to the White House. The efforts are part of a five-year program aimed at ending veteran homelessness. While that once seemed unattainable, Obama announced recently that a new approach — including offering housing to veterans like Donovan before asking them to stop using drugs — is proving effective. New York cut its numbers in half; Phoenix and Salt Lake City have come close to eradicating it.
7-Eleven: All 3 veteran finalists to receive a store in operation (PRNewswire)
7-Eleven, Inc. hit a triple in Operation: Take Command, the contest to award a U.S. military veteran a 7-Eleven® store. Although one finalist was expected to emerge in the last round of the competition, all three finalists were selected as winners. Active-duty Active Duty U.S. Army Captain Robert Kemna of Miami (currently stationed at Fort Bragg, N.C.), Army veteran Salil Gautam of Chesapeake, Va., and U.S. Navy veteran Mark Anthony Page of Granbury, Texas, will all become business-owners of their own 7-Eleven franchise. As the last step in the almost six-month long contest, the three finalists interviewed with 7-Eleven President and CEO Joe DePinto, an Army veteran himself, last week at the company's home office in Dallas. So impressed was he by the caliber of the three Operation: Take Command finalists that DePinto made an on-the-spot executive decision. "How can you pick just one winner when you have three?" DePinto asked. "I was extremely impressed by each one of them – for overcoming adversity, serving their country selflessly, having a heart for service and demonstrating outstanding leadership qualities. These are the kind of folks we want in the 7-Eleven system. They are all too deserving not to win. "7-Eleven is a franchise-centric company focused on how we can best support our franchisees," DePinto added. "We are proud of our independent franchise business-owners who love Brand 7-Eleven and tirelessly serve the customers in their communities every day. I look forward to welcoming these three new franchisees to the 7-Eleven family."
Ohio veterans' medical care to expand under pact (Bucyrus Telegraph-Forum)
An agreement intended to help decrease wait times for veterans seeking medical care has been forged between Air Force and Veterans Affairs officials in Ohio. The five-year agreement signed by Wright-Patterson Air Force Medical Center and U.S. Department of Veterans Affairs officials allows VA medical facilities in Ohio to send veterans to Wright-Patterson's medical center for inpatient or outpatient services. The VA in many parts of the country has been plagued by long wait times for patients, and VA facilities across the nation are working to cope with rising demand for care. Officials have said they hope the agreement will significantly increase the number of VA patients who can seek treatment at the hospital and also allow the medical center to better use its resources. "We think this cost-effective solution could be a model for other regions as well," Col. Tim Ballard, the 88th Medical Group commander at Wright-Patterson, said in a statement. The pact covers VA patients enrolled at one of five major VA facilities in Ohio that fall under the Veterans Integrated Service Network 10. The facilities, which are in Dayton, Cincinnati, Columbus, Cleveland and Chillicothe, serve patients in Ohio, southeastern Indiana and northern Kentucky.
New Mexico veterans hired to prevent, fight wildfires (KRQE-Albuquerque)
Several New Mexico military veterans are back on the field, but the only enemy they are fighting is fire. Twenty-five veterans have trained to help battle wildfires through the state's Returning Heroes program. For many, being out in the wilderness is a lot more comfortable than cubicle culture. For Greg Hesch, a Santa Fe native and U.S. Air Force veteran, working in the outdoors is a better fit for former servicemen like himself. "It has a natural appeal to most military veterans as opposed to making parts in a factory or in office," Hesch, 53, told the Santa Fe New Mexican. The veterans have learned new skills while also working on prescribed burns and forest-thinning projects. They can do a range of tasks from using a chain saw to serving as part of an incident command system at a disaster site. The vets are familiar with being part of a structured crew. Now in its first full year of operation, the State Forestry Division's program was established in 2013 to help get vets back to work. Gov. Susana Martinez has been an avid supporter since its inception. She and lawmakers approved more than $1.8 million in funding to maintain the program for two years.
Jacksonville, PGA Tour invest in vets through Military Job Fair (Defense.gov)
The city of Jacksonville, Florida, and the PGA Tour continued their commitment to serving military veterans and transitioning service members today with a large-scale military fair. Working in conjunction with the PGA Tour's The Players Championship and Jacksonville Veterans Coalition, Jacksonville Mayor Alvin Brown discussed the city's efforts to increase veteran employment and end veteran homelessness. "When I came in, I elevated military affairs to a cabinet-level [and] appointed a two-star admiral — Vic Guillory — to head it up," Brown said. "My whole goal is to put veterans back to work. We've got over 250 companies putting veterans back to work. We created a 'Week of Valor,' and we're also focusing on making sure we have no homeless veterans in Jacksonville." The mayor noted the city is "totally" committed to its military veterans. "We're the number one city when it comes to military veterans, and that's because we're committed '1,000' percent," Brown said. "My philosophy is this," he added, "once you serve your country with distinction, you should be able to get out and get a job and take care of your family."
Hundreds of strangers attend homeless Oklahoma City vet's funeral (WPIX-New York)
Hundreds of strangers attended the funeral of a homeless veteran in Oklahoma City. Jerry Billings was a U.S. Navy aviation specialist airman who served in Vietnam from 1964 to 1968. The 69-year-old passed away on Christmas Eve with no family to claim his remains, KFOR reports. But thanks to social media, the veteran who would have been buried alone, was surrounded by hundreds of people. The OKC Veterans Connect posted a photo to Facebook with the information about the funeral. The post received over 6,500 shares and 110 comments. More than 750 people ranging from military personnel to first responders paid their respects to a man they never knew. The Dignity Memorial Network, a program that helps provide burial services for homeless veterans helped with paying for the funeral. "Whatever happened in the preceding years when they ended up homeless and somebody had forgotten their name, we want to give them the opportunity to give their name back," Jared Newman told KFOR. "We'll honor him in death for a decision he made when he was in his 20s."
Oregon veteran on a mission to save outdoor spaces (The Washington Times)
On days when his Army uniform was saturated in sweat from the nearly 120-degree temperature in Iraq, Matthew Zedwick would reminisce about the times he spent hiking, camping and fishing with his family back in Oregon. He wanted nothing more than to hike Saddle Mountain, climb Smith Rock and fish for brook trout in a secluded lake in the Cascades with his uncles. Thoughts of home helped Mr. Zedwick, a Corvallis native who now lives in Astoria, make it through difficult days serving with the Oregon Army National Guard 2nd Battalion, 162nd Infantry during a yearlong deployment in Iraq in 2004. "When I was in the desert, I wanted to come home to Oregon. It's so incredibly beautiful here and it's home," Mr. Zedwick said. "It's what we swore to defend and swore to maintain, and it's something we need to leave our future generations." Now back home in Astoria, Mr. Zedwick, 34, co-owns the Columbia Veterinary Hospital with his wife, Kristin Zedwick, and serves as an executive officer with the Oregon Army National Guard at Camp Withycombe in Clackamas. He recently found a way to assist his fellow soldiers by joining the Vet Voice Foundation, a nonprofit, nonpartisan organization focused on helping veterans speak out on national issues, including environmental concerns.
Merkel joins survivors, U.S. vets to mark Dachau liberation (Stars & Stripes)
It was a shocking, horrifying "beautiful day." Survivors and liberators alike recalled on Sunday the horror of the Dachau concentration camp and the overwhelming relief of its liberation 70 years ago. German Chancellor Angela Merkel pledged to keep alive the memory of Nazi crimes and give no quarter to present-day discrimination or anti-Semitism. Dachau, near Munich, was the first concentration camp the Nazis set up – a few weeks after Adolf Hitler took power in 1933. Before it was liberated by U.S. troops on April 29, 1945, more than 200,000 people from across Europe were held there and over 40,000 prisoners died. "When we entered the camp exactly 70 years ago, it was a terrible shock to see how much you, the survivors, had suffered from starvation, disease, brutality and freezing conditions," Alan Lukens, who entered Dachau as a U.S. army private in 1945, said at the anniversary ceremony at the former camp. "But we will never forget your excitement and ours as were entered the camp and were overwhelmed by you, as you hugged us and brought out a hand-sewn American flag which you had hidden for the occasion," said Lukens, who later became a U.S. diplomat.