Veterans Good News Update for May 6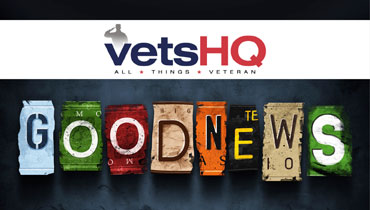 New initiative pairs small veteran-owned businesses with larger companies (Stars & Stripes)
A new business initiative that features some of the biggest companies in the country aims to connect veteran-owned small businesses with larger corporations. The Coalition for Veteran Owned Business, a collaboration between Syracuse University's Institute for Veterans and Military Families and First Data Corp., launched Tuesday as a way to put an estimated 2.5 million veteran- and military family-owned businesses into the supply chains of large corporations. Companies in the initiative include American Express, The Walt Disney Company and the U.S. Chamber of Commerce. The launch coincides with National Small Business Week. With the military downsizing and up to a quarter million veterans transitioning to civilian life each year, improving the landscape for veteran-owned businesses is crucial, said James Schmeling, the Institute for Veterans and Military Families managing director for programming. Schmeling said veterans start small businesses at a higher rate than the general population but often aren't as aware of private sector opportunities. "It's not that they can't do it, it's that this (program) allows them to do it faster," he said. The idea is to put small businesses owned by veterans or military spouses into direct contact with larger corporations to sell products or services. The coalition will also offer entrepreneurial education and training. One goal is to indirectly improve veteran hiring by boosting veteran-owned businesses, which are more likely to hire former servicemembers, Schmeling said.
Obama to Letterman: Let's get more veterans jobs (GovExec)
President Obama joined The Late Show with David Letterman Monday night for the eighth and final time before Letterman leaves the show later this month. Obama praised Letterman's 33 years on television, telling the 68-year-old that the country has "grown up" with Letterman, and suggested some post-retirement fun for them to share. The president spent most of his appearance talking about recent unrest in cities like Baltimore connected to police violence, but also touched on his administration's efforts to shore up education and to assist military families and returning veterans. Regarding veterans, Letterman noted Michelle Obama's recent appearance on the Late Show and Obama praised his wife on the Joining Forces initiative. The president touted his administration's efforts toward veterans hiring both inside and outside the federal government. "Part of our mission is to communicate with employers, 'If you want to get a job done right, hire a veteran,' " Obama told Letterman. "Because they can do it like nobody's business."
Paramobile offers paralyzed veterans another chance to stand (HeraldOnline.com)
Veterans confined to wheelchairs now have another option, thanks to an extra dollar at the drive-through or counter. Stand Up and Play, a foundation that helps paralyzed people stand to play golf or other sports, now has a Charlotte, N.C.-area Paramobile for use free of charge. A Paramobile is a three-wheeled device that lifts people into a standing position. Or, as founder Anthony Netto describes, "it's a Hummer wheelchair." The foundation paid for the Charlotte-area Paramobile through donations from Hardee's stores. "These dollars made a difference," said Bryan Haas, past president of the company franchise association who owns restaurants in North Carolina and Georgia. Hardee's and its affiliated companies host Stars for Heroes each year, where patrons pay a dollar to support military charities. About 3,500 locations nationwide will participate when Stars for Heroes begins May 20. Last year, the companies collected more than $1 million for two national and dozens of regional charities, with more than $3.5 million collected since 2011. Stand Up and Play returns as a recipient this year. "It's just wonderful to give back to our community," Haas said. "There's just not a better cause than our veterans."
Smashing Pumpkins frontman bringing awareness to vets' issues (Fox News)
When Smashing Pumpkins takes the stage this summer, part of the band's mission will be to raise awareness of the plight of U.S. military veterans. For its "The End Times" tour, the band will work with the Easter Seals Dixon Center on a joint venture called "New Beginnings: Reaching America's Vets." Frontman Billy Corgan doesn't see it as a partisan issue; rather, he thinks the alt rockers can help some veterans and their families that simply fall through the cracks. "We kind of want to raise awareness of what's going on in our veterans' communities, we want to support families," Corgan told The Associated Press on Tuesday at a Live Nation event promoting National Concert Day. He added: "It sounds like a very simplistic message, but it needs to be branded in a new way in American society." Corgan attended the event with Col. David Sutherland, chairman of the Easter Seals Dixon Center. The former U.S. Army officer explained why it was important to increase public awareness of issues surrounding the quality of life for veterans, military families and families of the fallen. "There are 1.4 million veterans from all generations living at or below the poverty line. There's nearly 600,000 that are unemployed, 190,000 post-9/11," Sutherland said. "So it's not just awareness as we forget about the wars. We can't forget about the veterans."
For women veterans, a housing community to call their own (The Los Angeles Times)
Maria Alcazar beamed as she clutched the keys. The Navy veteran surveyed the two-bedroom town house in San Pedro that she could now, finally, call home. "You fight for freedom but you carry so much with you after you leave the military," said Alcazar, 34. "But with this: I feel like I'm dealing with freedom for the first time." Alcazar is one of five female veterans who moved Tuesday into one of the first housing projects in the country that focuses on female veterans facing homelessness. By the end of this year, the Blue Butterfly Village — named for the endangered Palos Verdes Blue butterfly that's protected in a nearby preserve — will provide homes to 73 veterans and their children. "Women have a specific set of issues transitioning out of the military. And we have a duty to support them through the process," said Los Angeles Mayor Eric Garcetti, who welcomed the women to the community with city officials and Veteran Affairs Secretary Robert McDonald. "To all of the veteran women, I'm proud to be one of the first to say 'welcome home,' " McDonald said. For many women, the adjustment to civilian life is not without obstacles. Female veterans are the fastest-growing part of the homeless population, according to the U.S. Department of Veterans Affairs. In 2013, 8% of the nation's nearly 58,000 homeless veterans were women, according to the Department of Housing and Urban Development.
Veteran surprised with medals lost long ago (KOCO-Oklahoma City)
Fifty years after serving his country, a Guthrie, Okla., veteran is again recognized for his service. During a surprise ceremony Monday, he was reunited with medals earned decades ago. Fred Shultz, 72, now works for the Guthrie City Parks Department. That's how he met Guthrie Edmond Regional Airport Manager Justin Heid.  "Fred and I started working for the city at about the same time … and we really got to know one another and, both being veterans, shared our stories," Heid said. "(I) went over to Vietnam … two tours over there," Schultz said. "I kept talking to find about trying to find … see what I could find medal-wise." Heid spent months researching the medals Shultz earned in Vietnam and then lost while moving. "We were able to purchase them on base and through Army surplus stores to be able to find them all," Heid said. Exactly 51 years to the day since he enlisted, Shultz showed up for what he thought was a mandatory city employee meeting. He soon realized that's not what it was at all. Shultz could not hold back his tears as Heid presented him with replacement medals for those he had lost. "It brought back memories, good memories," Schultz said.