Veterans Good News for June 1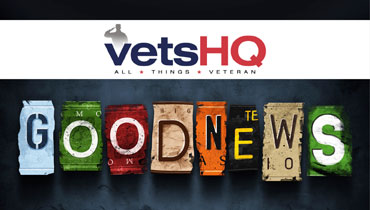 World War II veteran fulfills goal of pitching at Wrigley Field (Stars & Stripes)
More than 70 years after he hoped to make his major league debut, a World War II veteran fulfilled his goal of pitching at Wrigley Field. Tony Gianunzio walked to the mound Sunday and threw out the first ball before the Chicago Cubs hosted the Kansas City Royals. Wearing a Cubs cap, the 92-year-old Gianunzio threw from just in front of the rubber. His pitch reached the plate on a couple of bounces, with Cubs reliever pitcher Justin Grimm serving as his catcher. "It feels just like 1942 when I could do it," Gianunzio said. "I could throw that ball beyond 90 miles an hour and I had a curve like nobody else had one." Gianunzio was a teenage pitching prospect and being looked at by the Cubs when he joined the U.S. Coast Guard. He was a gunner's mate in the service and didn't return to baseball after the war. Gianunzio lives in the vicinity of Kalamazoo, Michigan. He taught English and writing in high school for nearly 40 years before retiring. "My dream really ended with the war, because after the war and late in the war I knew I wanted to get a college education," he said. "I wasn't going into professional baseball – as much as I loved it – because my real love was in teaching," he said. The Cubs were contacted by students from the Compass College of Cinematic Arts in Grand Rapids, Michigan, who are doing a documentary film on Gianunzio. Once the Cubs confirmed the details, they invited him to throw out the first pitch.
Disabled veterans compete in Valor Games (Military Times)
Laura Root's brow was dripping sweat as she pulled back hard on a rowing machine Wednesday at Duke University's Cameron Indoor Stadium. The effort paid off for Root with a third-place showing during the second day of the Valor Games Southeast, a series of adapted sports for emotionally and physically disabled military veterans. Root, a Navy veteran, was diagnosed with muscular dystrophy in the middle of her military career, and had to retire. She's had some tough times in the past two years, but the Valor Games have been good medicine. She said most veterans like to be independent and view themselves as "warriors who can handle anything." But the truth is that many need help. "We need the civilian population to understand what we went through, so they'll know what we're dealing with when we come home," she said. "A lot of veterans never go back to being 100 percent civilian again." Root said one of the best ways to help is to listen to veterans. "We also need a lot of help getting medical coverage," she said. "Every veteran I know has a horror story with military medicine or the (Veterans Affairs Department). We need friends and family to help us through the endless paperwork, the pain and the medication. We need patience. It's a long process." Root spoke of the veterans with post-traumatic stress disorder who kill themselves, more than 20 a day. "When we lose someone on the home front, it's even more of a tragedy than losing them in combat," she said. "We need more attention to those returning with PTSD," Root said. "They might not have a physical limitation, but they still need support."
Cuyahoga County, Ohio dedicates new Veterans Treatment Court (WKYC-Cleveland)
Veterans charged with crimes in Cuyahoga County may qualify for a new program that can help them become productive members of society. On Friday, dignitaries dedicated the new Veterans Treatment Court. The mission of the court is to successfully rehabilitate veterans by diverting them from the traditional criminal justice system and providing them with the unique tools they need to lead a productive and law-abiding life. Cuyahoga County Common Pleas Veterans Court Judge Michael E. Jackson, a Vietnam Marine combat veteran, has worked to bring the court to Cuyahoga county for three years. He will preside over the court. The Cuyahoga County Common Pleas Court Judges voted last fall to create the Veterans Treatment Court. In February, Judge Jackson and the Veterans Treatment Court personnel submitted the necessary paperwork to obtain approval from the Ohio Supreme Court. The Specialized Docket Section of the Ohio Supreme Court granted preliminary approval to operate the court in April. Many veterans have serious readjustment issues when they return home from service, particularly combat veterans. The most serious of those issues include engaging in high-risk conduct, unemployment, post-traumatic stress syndrome, traumatic brain injuries, homelessness, drugs and crime. Studies have shown that 18% to 30% of veterans need treatment for these issues. The Veterans Treatment Court will address those issues. Under the Cuyahoga County Common Pleas Veterans Treatment Court, Judges will have the discretion to transfer a veteran's case to the Veterans Court. The program will last 12 to 18 months. Veterans charged with any felony that results in a sentence of probation (formally called, Community Control Sanctions) or released from prison and placed on probation, may also be transferred to the Veterans Treatment Court. Veterans are eligible regardless of the type of discharge.
Casper event hopes to heal decades-old wounds for Wyoming's Vietnam veterans (WyomingNews.com)
It was in the early hours of 1972 when Ted Durante landed in Oakland, California. Fresh off a one-year deployment in Vietnam, he arrived just after midnight on Jan. 1 to a quiet, nearly empty airport terminal. There were no jubilant family members awaiting his return nor any proud community members holding up signs or waving flags. There were just a few buses waiting to transport him and other members of the Navy's Construction Battalion Maintenance Unit 302 to Naval Station Treasure Island. There, they would be processed and sent to other parts of the country. In a way, Durante was relieved there was no one there that night. "I thought the only people we might see would be protesters," he said. "I was not in the mood for that. In fact, under the right conditions I would have probably ended up in jail. I probably wouldn't be able to put up with the protesters." The cold, sometimes even hostile, reception that many Vietnam War veterans got when they returned home is said to be a well-documented black eye on the country's treatment of those who fought in that controversial conflict. Even now, 50 years after the start of the war, many veterans still carry emotional scars from not only the conflict itself but also from how they were treated when they came back. Durante, a Cheyenne resident, said he has learned to move on. But he understands why others haven't. And for him and many others, it's not too late for the country to make amends. A four-day Veterans "Welcome Home" Reunion planned for this week in Casper hopes to accomplish just that. Hundreds of veterans from across the state are expected for the event that runs Thursday through Sunday.
Maui veterans cemetery to get $6 million renovation (Honolulu Star Advertiser)
As hundreds of people paid tribute to veterans during a Memorial Day service at the Maui Veterans Cemetery, a Hawaii National Guard official said that a $6 million cemetery expansion project will honor veterans' sacrifices even more. "Upon completion, the appearance of Maui Veterans Cemetery will achieve shrine (status) . . . and will demonstrate that the nation appreciates their selfless service," said Col. Kenneth Hara, deputy adjutant general of the Hawaii National Guard, The Maui News reported Tuesday. Hara was keynote speaker at the annual program that included a flower drop over flag-decorated graves and the reading of the names of 79 veterans who were buried in the cemetery during the past year. "For over 60 years, Americans have come here to pay tribute to our heroes who have faithfully served our country," Hara said. "It is fitting that the final resting place for these heroes is such a serene and resting place." He said it is estimated that the cemetery, established in 1951, will run out of room in less than a year. But the purchase of 10 additional acres and the funding secured by agencies working together will provide an additional 500 crypts and 400 burial spaces, as well as 50 additional paved parking spaces and 100 unpaved parking spaces, Hara said.
$20 million for veterans' mental health OK'd in Texas legislature (San Angelo Standard Times)
Lawmakers approved Senate bill 55 to provide $20 million in grant funding over the next two years for veterans' mental health. The Senate and House ironed out differences between their versions of the bill, and the bill goes now to the governor for his signature. "This legislation will allow the state to partner with communities and the private sector to help veterans recover from the psychological wounds of wars in their own communities and with programs tailored specifically to their needs," said state Sen. Jane Nelson, R-Flower Mound, the bill's author. "SB 55 creates a truly unique program that will truly help veterans." The bill creates the Texas Veteran's Initiative, which is set to help community efforts support veterans' mental health. The Texas Health and Human Services Commission is set to seek $20 million in private matching funds over the next two years as well. State Rep. Susan King, R-Abilene, carried the bill in the House. King is the chairwoman of the House Defense and Veterans Affairs Committee. "I think it's really a state and national emphasis on veterans' and families' mental health issues," King said. "We want to make sure we're doing the best we can in that arena."