May 19 Veterans News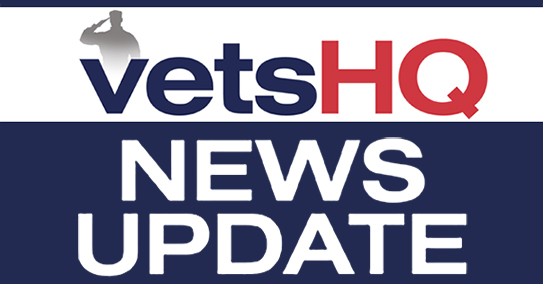 House votes to expand benefits for Vietnam 'Blue Water Navy' vets (MilitaryTimes)
Veterans who served on Navy ships off Vietnam and have diseases linked to Agent Orange were buoyed Thursday by House passage of a measure that could expand their Veterans Affairs benefits. An amendment added to the House Military Construction and Veterans Affairs funding bill would require the department to presume these veterans were exposed to the toxic herbicide and provide health care and compensation if they are sick as a result. The initiative still must pass the Senate before it becomes law, but it marks a major step forward for a cause that has languished in Congress and at the VA for years. "Members from both sides of the aisle have been fighting to make sure these sailors get the health care they need," said amendment sponsor Rep. Chris Gibson, R-N.Y. "We will never turn our backs on our service men and women." VA already has presumed that sailors and Marines who served on ships on inland waterways in Vietnam faced the same risks as those who served on the ground and provide them benefits if they have one of several diseases linked to herbicide exposure, including Parkinson's disease, diabetes and peripheral neuropathy. But VA does not consider "blue water veterans" to have been directly exposed to the herbicide and therefore are ineligible for benefits. Advocacy groups and legislators say a VA policy that excludes bays and harbors from the definition of "inland" is unfair, and, they add, studies indicate that service members may have been exposed when the ships they were assigned to used distilled contaminated sea water for bathing and drinking. "These personnel were heavily exposed to this toxin through shipboard water systems that drew Agent Orange-affected waters through filtration systems," said retired Navy Cmdr. John Wells, Military-Veterans Advocacy executive director. "Although they may never have been on land where the toxin was sprayed, they were still exposed through eating, drinking and bathing." The Institute of Medicine released a study in 2011 saying there is not enough information to determine whether these veterans were exposed to Agent Orange. Despite the research gap, Wells said many of the estimated surviving 90,000 sailors and Marines who served are sick and dying from Agent Orange-related diseases. "There is incontrovertible, scientific proof of this exposure, but the Department of Veterans Affairs has been reticent about restoring benefits, even in light of recent court cases," Wells wrote in a recent press release. Sen. Kirsten Gillibrand, D-N.Y., has introduced similar legislation in the Senate. A spokesman for Gibson said Thursday the congressman was working closely with colleagues to ensure that similar language is passed in the Senate. The House Military Construction and Veterans Affairs appropriations bill passed 295-129.
House passes bill to let VA docs talk to vets about medical marijuana (Military.com)
The U.S. House of Representatives on Thursday approved a measure to let doctors at the Veterans Affairs Department talk to patients about using medical marijuana. House lawmakers passed the legislation as part of the Military Construction and Veterans Affairs Appropriations bill by a vote of 295-129. The Senate was expected to approve a similar provision later in the day. If signed into law by President Barack Obama, veterans in states where medical or recreational marijuana are legal will be able to receive feedback from doctors at the Department of Veteran Affairs on how the drug may be used as part of their treatment for conditions such as post-traumatic stress disorder, or PTSD. VA doctors are currently prohibited from filling out forms required for a veteran to seek the drug, even in places where purchasing it is legal. The new measure blocks the VA from spending any funds to enforce that rule — effectively lifting the restriction and clearing the way for veterans to receive help. "One of the greatest tragedies of our time is our failure to adequately deal with the needs of our veterans returning home with wounds both visible and unseen," Rep. Earl Blumenauer, an Oregon Democrat who sponsored the measure, said in a statement. "Medical marijuana can be a safer, more effective alternative." While the department concedes some veterans use medical marijuana to relieve post-traumatic stress disorder symptoms, it questions its effectiveness and suggests the practice might actually be harmful. The language was included in a larger bill that includes $73.5 billion in funding for the VA, a 3-percent increase in funding over 2016. Similar measures have been cut from the bill in the past, including during the same legislative process last year. Medical marijuana is currently legal in 24 states and the District of Columbia.
Senate moves to approve fertility care for wounded veterans (MilitaryTimes)
Veterans whose war wounds have rendered them infertile are one step closer to having their service-related condition covered by the Veterans Affairs Department. The Senate version of the Military Construction and Veterans Affairs funding bill, which passed Thursday in an 89-8 vote, included a provision that would require VA to cover fertility treatments for the estimated 1,800 to 2,000 post-9/11 troops whose combat or training-related injuries have affected their ability to have children. Sen. Patty Murray, D-Wash., has lobbied for the change for more than five years. Thursday's vote marks the second time the measure has passed the Senate; the House must approve similar language before it becomes law. "This issue shouldn't be about politics. It shouldn't be about partisanship. And we shouldn't cut corners when it comes to our veterans and their families," Murray told her Senate colleagues just prior to the vote. The VA currently provides assessments and some treatment, like surgeries and medications, to increase a veteran's odds of creating a baby, but it is barred by law from covering in vitro fertilization and other advanced reproductive treatments. The Defense Department covers in vitro fertilization and other fertility services for severely wounded troops, but only while they remain on active duty. Affected veterans were on Capitol Hill last week to tell lawmakers about the challenges facing them as they have recovered from horrific injures, only later discovering that the VA doesn't offer fertility services for service-connected wounds. "I felt betrayed, forgotten. I don't want other veterans to have to go through the heartache I went through. Why should any of us have to beg for something like this?" said retired Army Staff Sgt. Matt Keil, who was paralyzed from the upper chest down by sniper fire in Iraq. The last time the Senate approved Murray's proposal was in 2012, but the measure failed in the House over funding concerns. The current proposal would allocate $88 million over two years to VA to cover in vitro fertilization and other advanced reproductive treatments for injured personnel and their spouses. Last week, the House Veterans Affairs Committee rejected bills containing the same provisions as Murray's proposed amendment. Instead, the panel advanced legislation that would give $20,000 in new compensation payouts to veterans who suffered injuries to reproductive organs, paid out over two installments. The money could be used for fertility treatments, adoption or reproductive services but would not have to go toward family planning.
House, Senate pass VA budget plans for next year (MilitaryTimes)
House and Senate lawmakers adopted separate spending plans for the Department of Veterans Affairs on Thursday, setting the stage for another program funding boost in fiscal 2017 but also months of negotiations over a host of new veterans initiatives. The House plan, which includes $73.5 billion in discretionary funding for the department, passed by a 295-129 vote with significant opposition from Democrats. The Senate plan, which calls for $74.9 billion in discretionary spending, was approved by an 89-8 vote. Both fall below the White House request of $75.1 billion for fiscal 2017 veterans programs, although administration officials have quietly backed the Senate plan as within reasonable parameters of their reqiest. Earlier this week, President Obama threatened a veto of the House measure, in part because of the VA funding shortfall. But Republican leaders in the House have repeatedly warned that simply adding more funding to the department won't fix ongoing problems they see in operations. House Majority Leader Kevin McCarthy, R-Calif., after the vote blasted critics and said the House plan responsibly reacts to veterans' needs. "The VA continues to be led incompetently as problems with wait times, the disability claims backlog, and a lack of basic services let our veterans down," he said in a statement. "This legislation includes reforms that House Republicans have long called for, such as a provision to stop bonuses to VA employees who don't do their jobs and increased resources to tackle the disability claims backlog." The House VA budget was adopted as part of the chamber's annual veterans and military construction appropriations bill, the Senate's as part of a massive appropriations mashup which also included funding for the departments of Transportation and Housing and Urban Development. Congressional negotiators will not only have to wade through the financial conflicts in the two measures in coming months, but also the policy differences each included in the drafts. The Senate version includes language which would allow the department to provide fertility treatments to wounded veterans, while the House version does not. The House version includes a ban on flying the confederate flag at VA cemeteries, while the Senate version does not. Both measures include language to withhold some administrative funds if VA and Defense Department officials don't meet certain progress benchmarks for the sharing of electronic medical records. And the two measures include differing provisions on limiting VA executives bonuses and protecting whistleblowers who identify department fraud and abuse. Senators rejected an attempt by Sen. John McCain, R-Ariz., to attach a long-term extension of the Veterans Choice Card program to the legislation. The program, approved by Congress two years ago, was intended to offer more medical care options to veterans outside VA hospitals but has received heavy criticism for overly complex rules and sluggish response times. How long negotiations on the differences will take is unclear. Lawmakers are amid yet another overarching budget fight that has stalled a number of appropriations measures, and resolution of the VA budget will require some compromise on a number of issues unrelated to department spending. Meanwhile, both the House and Senate are considering separate omnibus measures that would deal with accountability in the department, a frequent point of contention between lawmakers and department officials. And VA leaders are continuing to push lawmakers for separate legislation to address their main priorities for the year: appeals reform and consolidation of multiple outside medical care authorities into a single, more flexible program.
House would ban Confederate flags on VA cemetery flagpoles (Military.com)
The House voted on Thursday to ban the display of the Confederate flag on flagpoles at federal veterans' cemeteries. The 265-159 vote would block descendants and others seeking to commemorate veterans of the Confederate States of America from flying the Confederate Battle Flag over mass graves on the two days a year that flag displays are permitted. California Democrat Jared Huffman drafted the prohibition, saying the flag represents "racism, slavery and division." Huffman's amendment is mostly symbolic and applies only to instances in which Confederate flags are flown on flagpoles over mass graves. The amendment would not ban the display of small Confederate flags placed at individual graves. Such displays are generally permitted on Memorial Day and Confederate Memorial Day in the states that observe it. Top House GOP leaders such as Majority Leader Kevin McCarthy of California and GOP Whip Steve Scalise of Louisiana voted with Democrats to approve the amendment. By tradition, House Speaker Paul Ryan, R-Wis., rarely votes. Republicans said recently that the Mississippi State Flag, which contains Confederate imagery, will not be returned to a House hallway where it was displayed prior to a recent renovation. "Symbols like the Confederate battle flag have meaning. They are not just neutral, historical symbols of pride. They represent slavery, oppression, lynching and hate," Huffman said. "To continue to allow national policy condoning the display of this symbol on Federal property is wrong, and it is disrespectful to what our country stands for and what our veterans fight for." After a mass shooting at a South Carolina black church last year, the state legislature ordered the flag removed from the capitol in Columbia. The House approved amendments last year to block the display and sale of the Confederate flag at national parks but a backlash from Southern Republicans caused GOP leaders to scrap the underlying spending bill. GOP leaders subsequently scrapped action on the remaining spending bills.
Federal employee groups blast Veterans First Act (FederalTimes)
A group of 12 federal employee unions and associations are voicing their displeasure with several provisions in the Veterans First Act. The group—which includes the Senior Executives Association, National Active and Retired Federal Employees Association and Federal Managers Association—penned a May 18 letter to Sen. Mitch McConnell, R-Ky., and Sen. Harry Reid, D-Nev., outlining three sections in the omnibus reform bill that the coterie said undermine employee rights. "If enacted, these provisions would undermine constitutionally-guaranteed protections available to Department of Veterans Affairs employees who are subject to discipline for misconduct or performance," the letter said.  "Moreover, these provisions would fail to protect the integrity of services to our nation's veterans by permitting the VA's workforce to become vulnerable to undue political influence." The Veterans First Act was introduced on April 28 as a bipartisan reform bill shepherded by Sens. Johnny Isakson, R-Ga., and Richard Blumenthal, D-Ct., the chairman and ranking member of the Senate Committee on Veterans' Affairs. Acting SEA president Jason Briefel said the bill, if passed, could face a challenge in the courts for its sweeping discipline changes, but could also usher in a spate of political favoritism and reprisals. "There're a couple of different levels here," he said. "One is should this become law, the immediate on the VA. By the read of the SEA and other signatories to the letter, [there are] potential unconstitutional deprivation of rights and due process for public employees, whether they are senior executives or otherwise. But I think the bigger picture is kind of the precedent that policies of this nature would set for the government." … Absent from the letter signatories was the American Federation of Government Employees, which counts 100,000 VA employees in its National VA Council, a third of the union's total membership. In a statement, AFGE said it supports the bill following negotiations with Blumenthal on issues like allowing probationary employees to become full-time, providing fired employees their complete evidence file and 10 business days when preparing an appeal, performance appraisals and time-limits on reprimands in employees' files. But AFGE also said it didn't support the due process changes for SES members in the bill, particularly a reduction of annuity benefits for executives fired for misconduct, and seemed to express surprise at SEA's stance on the issue. … The bill cleared the Senate Committee on Veterans' Affairs unanimously on May 12, but could face a tough battle once it hits the Senate floor. Sen. Marco Rubio, R-Fla.—who also authored VA reform legislation—said in a May 17 statement that "labor unions have so far gotten their way in writing the VA accountability provisions in the bill" and promised a strong fight against the bill as it stands. Inversely, Briefel said that the current system of accountability is already sufficient and it's the leaders of agencies who have not adequately used their power to police misconduct.
Senator calls for improved loan forgiveness for veterans (MilitaryTimes)
Sen. Angus King, I-Maine, has introduced an amendment he says would help veterans more easily get student loan forgiveness. King's amendment would require the federal Department of Veterans Affairs and Department of Education to streamline the disability verification process. He says that would ensure permanently disabled veterans are relieved of their federal student loan debt. This kind of loan forgiveness is allowed under current law, but King said a lack of coordination between federal departments is potentially causing veterans to miss out on it. King introduced the amendment along with Sens. Rob Portman and Chris Coons. Portman is an Ohio Republican and Coons is a Delaware Democrat. It is an amendment to the Military Construction and Veterans Affairs.
Bill introduced to cut down VA backlog (Capital Gazette)
A bipartisan bill introduced by Congressmen C.A. "Dutch" Ruppersberger, D-Baltimore County, and Richard Hudson, R-North Carolina, will look to expand access to healthcare at the Department of Veterans Affairs. In a release, Ruppersberger said the bill, titled "Veterans Deserve Act of 2016," would improve "choice, flexibility and quality in veterans' healthcare." H.R. 5262 would target the backlog of VA appointments by extending pharmacy hours to nights and weekends and allowing for walk-in clinic visits without prior authorization or copayments among other changes. The department has come under fire in recent years after media outlets exposed large lists of veterans' having to wait months or years to be considered for healthcare enrollment by the VA. A 2015 report found that of about 800,000 records that sat in wait in the agency's system, more than 307,000 records belonged to veterans who died months or years before. The Baltimore office of the department, which serves Maryland's 450,000 veterans, was once the slowest and most error-prone in the country, according to a Baltimore Sun investigation completed in 2013. The office then hire a new director and said last year it had reduced its backlog of disability claims by nearly 60 percent. Ruppersberger office wrote that the Baltimore office "has reduced the claims backlog … by 95 percent" with an average wait time of 111.6 days. "The VA backlogs in Baltimore and around the country are slowly improving, but we still have a lot of work to do on behalf of our nation's heroes," Ruppersberger wrote in a statement. "This bipartisan bill will help us make good on our promise to give veterans the very best care and quality of life possible." In addition, the bill would to make the Veterans Choice Card program, which allows veterans to receive health care in their communities rather than through the VA, a permanent program and would expand "eligibility to veterans with a 50 percent service-connected disability rating or higher."