May 23 Veterans News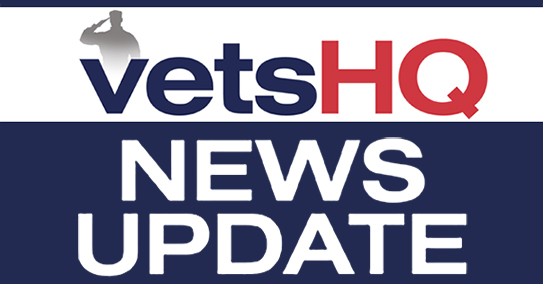 Trump campaign admits it did not raise $6 million for veterans (CNN)
When Donald Trump skipped a GOP debate in January to host a fundraiser for veterans, he touted its success by citing the $6 million raised for veterans groups. One problem — that figure is inaccurate. Following the rally in Des Moines, Iowa, the Trump campaign said the event raised $5 million and Trump personally contributed an additional $1 million. But campaign manager Corey Lewandowski told CNN Friday the amount raised was actually less than $6 million. Lewandowski said he did not "know the exact number" off the top of his head and would confirm the number in coming days. He explained the discrepancy by saying at the time of the rally, Trump believed he had raised $6 million but more money had been pledged than was actually donated. The Washington Post reported Friday that Lewandowski said the fundraiser actually netted about $4.5 million. Lewandowski told CNN that number is incorrect. Trump has made support for veterans a cornerstone of his presidential bid, saying at the January 28 fundraiser, "Our vets are being mistreated… and it's not going to happen anymore." But the fundraiser was light in details from the very beginning. The website initially setup to collect funds did not disclose which charities would benefit but simply said "Honor their valor" and "Donate now to help our veterans." Since the event, questions about the money raised have followed him on the campaign trail. In March, after a CNN report aired questioning the contributions, Trump's campaign provided a list showing 27 veterans organizations had received a total of $2.9 million to date, but the campaign did not confirm when the rest of the funds would be dispersed. The list showed that the majority of the money that had been donated at that time came from Trump's foundation or the foundations of two of his friends, businessman Carl Icahn and pharmaceutical billionaire Stewart J. Rahr. The campaign did not identify any contributors Friday who pledged funds without following through in actual donations. Charities that have benefited from the fundraiser include Fisher House Foundation, Green Beret Foundation and Disabled American Veterans, while others, such as Iraq and Afghanistan Veterans of America, said they did not want to receive any of the contributions.
VA secretary: Disney doesn't measure wait times, so why should VA? (Washington Examiner)
Veterans Affairs Secretary Robert McDonald on Monday compared the length of time veterans wait to receive health care at the VA to the length of time people wait for rides at Disneyland, and said his agency shouldn't use wait times as a measure of success because Disney doesn't either. "When you got to Disney, do they measure the number of hours you wait in line? Or what's important? What's important is, what's your satisfaction with the experience?" McDonald said Monday during a Christian Science Monitor breakfast with reporters. "And what I would like to move to, eventually, is that kind of measure." McDonald's comments angered House Speaker Paul Ryan, who tweeted out Monday afternoon, "This is not make-believe, Mr. Secretary. Veterans have died waiting in those lines." McDonald faced questions at the breakfast about the VA's lack of transparency surrounding how long veterans must wait to receive care at VA facilities around the country. The agency has weathered controversy over the past several years due to its struggle to provide timely care for many patients. The VA secretary said most veterans report being satisfied with their care and argued that the average wait time for a veteran seeking VA treatment is only a matter of days. He said he did not believe a measure called the "create date," which gauges a veteran's wait time by counting from the day the veteran first requests care, was a "valid measure" of a veteran's VA experience. The Government Accountability Office released a report in April exploring the metric used to count a veterans' wait time, called the "preferred date." The measure does not count from the time a veteran first calls to make an appointment.
Veterans groups seek a crackdown on deceptive colleges (The New York Times)
Some of the nation's largest veterans and military organizations sent letters last week to the Veterans Affairs Department asking it to crack down on colleges that prey on veterans by charging exorbitant fees for degrees that mostly fail to deliver promised skills and jobs. The letters were signed by top officials at the American Legion, the National Military Family Association, the Military Officers Association of America and nearly 20 other groups. They called on the department to improve its oversight of colleges that have engaged in deceptive recruiting and other illicit practices but that continue to receive millions in funding under the G.I. Bill. "We encourage you" to take steps against the dozen or so colleges facing "federal and state action for deceiving students," one of the letters says. The career training and for-profit college industry has been accused in recent years of exploiting veterans, poor people and minorities. Veterans are an especially enticing target because, under a loophole in federal law, money from the G.I. Bill does not count against a cap on federal funding to for-profit schools. The Veterans Affairs Department has traditionally done little to police the for-profit college industry despite handing more than $1.7 billion for the 2012-13 school year to for-profit colleges. A 2014 Senate report found that seven of the eight for-profit college operators that received the most money from the department were under investigation by state or federal authorities for misleading recruiting practices or other violations of federal law. In an emailed statement, Terry Jemison, a spokesman for the department, said it relied largely on states to police the industry. State agencies "are required to ensure that all schools, including nonaccredited schools, have been licensed to operate in their state," Mr. Jemison wrote. But a recent study by Yale law students found that the department was required by statute to enforce federal education guidelines prohibiting fraudulent practices. Democrats on Capitol Hill have cited the study as more evidence that the department is failing to protect veterans from predatory practices. "The failure to crack down defies not only the White House priorities and congressional demands, but logic and common sense," Senator Richard Blumenthal, Democrat of Connecticut, said in an interview. The industry, defending itself against the allegations, says it offers nontraditional students a flexible way to gain career skills. "Those that demonize our sector do so because of ideological reasons, not rational arguments," said Michael Dakduk, a vice president at the Association of Private Sector Colleges and Universities. "For the veteran holding down a part-time or full-time job in addition to their studies, our sector's institutions and programs are the right fit." "Our sector continues to support more consumer education and resources for veterans, service members and their families," Mr. Dakduk added. "We look forward to working with members of the veterans community, as we have done in the past, to strengthen resources for student veterans and their families." But among those who have called for better oversight of the G.I. Bill are the veterans department's own education advisory committee and a group of eight state attorneys general who have sued for-profit colleges, accusing them of consumer fraud. The institutions that have failed to meet regulatory standards or been accused of violating legal statutes include tiny beauty schools with staggering loan default rates and online law schools with dismal graduation rates and no bar association accreditation. Without government money, few of these institutions could attract students or stay in business. Corinthian Colleges, once one of the largest for-profit college chains, went bankrupt last year after the Education Department suspended its access to federal student aid. The chain was accused of false advertising, including exaggerations about its students' career placement. Education advocates say the veterans department's unwillingness to police a program that costs taxpayers billions is difficult to understand. "The veterans we serve are understandably angry when they discover that the very consumer fraud they faced at a predatory school is one the V.A. knew about but approved for G.I. Bill benefits anyway," said Carrie Wofford of Veterans Education Success, a nonprofit group.
5 years later, Veterans Treatment Court is a success story (ABC News)
William Delaney, a former Marine, had already served four years of probation for an alcohol-related offense in Florida and was back in court, this time in Rhode Island, for driving under the influence. His newest brush with the law, combined with his alcoholism and depression, he feared, could close the door on the rest of his life. That was almost two and a half years ago. Delaney now mentors other veterans in that same court, and he's working toward earning his master's degree in social work to continue helping veterans. The Veterans Treatment Court opened five years ago in Warwick, Rhode Island, as the first specialty court in New England to help veterans avoid jail and turn their lives around. Like Delaney, most of the 220 veterans who have completed the program haven't committed another offense. The rate of recidivism stands at about 6 percent, according to the court. "We judge ourselves really harshly in addition to how the court judges us because of how far we've fallen," Delaney said. "It's just devastating. Even such a small thing as having a judge smile and say she understands, and having a treatment team that truly cares, it's a spark. It makes you believe you can do it differently this time." For Delaney, that jurist was Associate Judge Pamela Woodcock Pfeiffer. "She seemed like she cared. She reminded me of who I could be and who I was. I wasn't the bad guy," he said. "I wasn't the lost, drunk person. I could be something better again. That was the life-changing moment." Woodcock Pfeiffer also has kind words for the court and for veterans like Delaney. "I am totally convinced it's working," Woodcock Pfeiffer said. "People are very clear that if it were not for this, then they would have all these problems." The first veterans treatment court started in 2008 in Buffalo, New York. Similar courts sprang up nationwide as a way to help reform the criminal justice system, lower costs by reducing the prison population and recidivism rates, and connect veterans with treatment programs. Today, there are more than 250 and hundreds more are planned, according to Justice For Vets, which advocates for the establishment of the courts and provides training for jurisdictions with new courts. The Rhode Island court has received hundreds of referrals from District Court for misdemeanor cases. Veterans can opt to stay in District Court, where their case would likely be resolved faster. If they go to the veterans court, they have to follow whatever treatment the court prescribes to address substance abuse, behavioral or other issues and regularly check in with court staff, usually for 10 months to a year. At the end, often their case is dismissed entirely and expunged.  The court currently has about 70 active cases. Chief District Judge Jeanne E. LaFazia said the veterans court gives people tools to reintegrate into their community. She credits Woodcock Pfeiffer for getting to know the veterans well, which invests them in the process. "By the time you get someone in here, they are often at rock bottom," LaFazia said. "You're helping them rebuild themselves. It's a remarkable difference." Both LaFazia and Woodcock Pfeiffer said the state has a duty to help veterans and give them a chance. The court holds graduation ceremonies for veterans who complete treatment. At a recent ceremony, Woodcock Pfeiffer praised the veterans for their hard work and asked them pointed questions about their future plans to make sure they would not fall back on old patterns. "I hope we've been able to give you hope, and the ability to control some of the things that sometimes control you," she said. The veterans were presented with a coin in the style of a military command coin, which is meant to show one's military affiliation and instill pride. It bears the last six words of the Pledge of Allegiance: With liberty and justice for all.
Does PTSD affect your ability to get life insurance? (MilitaryTimes)
An Army veteran and his wife said they were "shocked and saddened" when they learned he was denied life insurance because of his history of post-traumatic stress and depression. "There have to be a lot of veterans with this diagnosis," said the wife, who asked to remain anonymous as they continue the process of getting insurance through another company that specializes in life insurance for service members and veterans. The denial letter they received from USAA cited his history of depression, anxiety, post-traumatic stress disorder, chronic pain and asthma. The Army veteran said a USAA representative emphasized his PTSD and the depression in explaining the denial. Insurers don't talk about a particular individual's situation for privacy reasons, but they do offer general information about how they make their decisions. And comparing companies' policies is often like comparing apples and oranges. The veteran said one difference is that he was applying for an individual term policy with USAA. The policy he has been approved for with another company is a group term policy. In group term policies, the risk is spread over a broader category of people and the underwriting requirements aren't as strict. He also applied for a lesser amount of coverage initially. Can you qualify for commercial life insurance if you have PTSD? It depends on each individual's circumstances, as well as the insurance company's policies, according to officials at four companies that are among a number that specialize in providing life insurance to the military community. "The great majority of members with histories of PTSD are offered life insurance, many at our very best price," said Alex Gairo, a spokeswoman for USAA. "As with so many health issues ranging from diabetes to depression, it is a question of degree and duration. "The applicant's health history is reviewed to determine the following: how severe are the symptoms, what was the date of the onset of symptoms, how necessary are the medications to achieve effective control, does the applicant need counseling/psychotherapy? All these factors weigh in on the decision of the applicant." "Talk to us and other insurers. All of us have different underwriting rules," advised Mike Meese, a retired Army brigadier general who is chief operating officer at AAFMAA. At AAFMAA, "we probably, as a percentage, have more people with PTS that we underwrite and insure than any other condition," said Meese. The company looks at each individual's case, including the treatment, the medications, and the doctor's diagnosis. Depending on the situation, he said, the applicant might pay a higher rate, but it's usually cheaper than Veterans Group Life Insurance. When he left the Army in 2008, the veteran didn't sign up for Veterans Group Life Insurance, which is available to those who have been insured under the Servicemembers Group Life Insurance (SGLI) program. … Under VGLI, service members have one year and 120 days from the date of separation from the military to apply for the insurance. If service members apply for VGLI within 240 days after separation, they will not need to answer health questions. Since being turned down for insurance, the couple has applied for coverage elsewhere and initially applied for a lesser amount of coverage. They were accepted by another company that specializes in coverage to the military community, and are now trying to increase the amount of coverage. The wife said the rate is competitive with the life insurance she has as a federal employee. Insurers also look at whether the applicant has a VA disability rating, "The decision is made based on the risk. That's how the insurance industry works," said Mike Reyna, a retired Air Force colonel who is president of Military Benefit Association. "A high percentage of veterans have a PTSD diagnosis," he said. "That's usually disclosed in the application process. But there are no automatic disqualifiers. Like other medical issues, there are levels of severity." Navy Mutual has insured people with PTSD, but again, it depends on the individual circumstance and the whole health picture, said Stephen Pietropaoli, a retired Navy admiral who is chief operating officer at Navy Mutual. Post-traumatic stress itself is not disqualifying, he said, but the applicant may be denied or have to pay more for insurance when the PTS is more severe and if he or she is on medication for other physical injuries, for example. Navy Mutual tries to come down on the side of approving the application. "We exist to provide life insurance for those who serve and their families," he said. But if they don't assess the risk properly, it could affect the financial strength of the company. "We have to be around for 30, 40, 50 years from now to pay the claims," he said. He and others advise applying for commercial life insurance before transition or soon after leaving the military. That gives the option of applying for VGLI when you're still eligible. And like this veteran and his wife learned, it's wise to shop around to find options.
Historic preservation training brings vets back into society (MilitaryTimes)
Many programs help veterans learn skills and find jobs, but being able to work with civilians again is a big part of that process. The fifth year of a partnership between the U.S. Forest Service Passport in Time volunteer program and HistoriCorps provides veterans and civilians with a triple threat: learn new skills, restore a historic site and work with different types of people. "It makes this a much better experience for veterans because they are working on crews that are mixed with volunteers who are different ages and who may not have military experience," said Jason Maloney, an Army veteran and director of the Northern Great Lakes Visitor Center and Forest Lodge team leader. The restoration project is at Forest Lodge, part of the Chequamegon-Nicolet National Forest in Wisconsin. Forest Lodge has more than a dozen historic buildings that volunteers will help bring up to code so they can be used by the public. "We've got historic preservation and heritage working out in this beautiful natural setting on a national forest," Maloney said. "The way I like to put it is that we're making dollars work harder because the same dollar that we're using for veterans training is the same dollar that's providing historic preservation to these historic buildings." There are four sessions running through June and July, and each crew has about 10 people, including the crew leader and supervisor. Veterans up to age 35 and students ages 18-25 can volunteer. The sessions are June 6-10, 13-17, 20-24 and June 27-July 1. Volunteers stay in tents onsite with three meals provided each day. Veterans earn a weekly stipend of $480 as they learn such skills as window restoration, historic landscaping, foundation repair and preservation theory. "The idea is to try and incentivize them to do the training and to open them up to another career opportunity," said Towny Anderson, executive director at HistoriCorps. Many of the participants haven't done this kind of work before, Anderson said, so HistoriCorps provides supervisors who can pass the skills along in a hands-on learning environment. Marine veteran Geoff Wilson will be volunteering with the program for the second time in a row this year. "It's nice to feel that camaraderie again and to hear other vets' stories," he said. "For someone like me, I haven't had the chance to hang out with other veterans since I got out of the Marines in 2011." Wilson said he also enjoyed connecting with the group as a whole. "We had great project leads, and the Passport in Time volunteers only enriched the cheerfulness of the group," he said. "They were mostly retirees who brought wisdom and a great sense of humor." He plans to graduate from Northland College in December with a history degree, and he said he hopes to work with youths and help them build a connection to the wilderness. "That connection for me has helped me through a lot of dark times, and I'm sure it would help children who don't have the opportunity to experience it as well," Wilson said. Volunteers who complete all four sessions will receive a Certificate of Achievement in Heritage Conservation and Construction from HistoriCorps. Maloney said they're working on partnering with colleges so volunteers can receive credit toward a degree in historic preservation. "We have veterans that pick up all sorts of skills and really help re-acclimate into the job market on the civilian side of society," he said. "And being out in the natural setting is therapeutic for us. I always find that it calms the soul and helps one heal."
Young vets are breaking the silence on the realities of war (New York Post)
When David Chrisinger's grandfather returned from World War II in 1946, he had transformed into a drunk and a wild man. He eventually died from complications due to alcoholism. Decades later, Chrisinger, 29, began researching his grandfather and the role he had played in the war — only to discover that in battle, his grandfather's whole company had been slaughtered. "He'd had survivor's guilt and was bitter and angry about things," Chrisinger says. "I often wonder [whether] if someone had been there for him, maybe he wouldn't have gone down the path he did." Determined not to let other war veterans suffer a similar fate, Chrisinger, a Wisconsin-based communications specialist and veteran-transition expert, has dedicated his life to helping veterans express their experiences on the battlefield and come to terms with what they've been through. The result: "See Me for Who I Am: Student Veterans' Stories of War and Coming Home" (Hudson Whitman, out now), a new anthology edited by Chrisinger. The book's idea was hatched in the midst of Chrisinger's popular veteran reintegration course, Back From the Front, offered to first-year undergraduate student vets at the University of Wisconsin-Stevens Point. "I started teaching it two years ago," Chrisinger says. "A lot of vets struggle upon entering higher education. Instead of feeling supported, they feel alienated on campus, fighting against media-created stereotypes such as being superhuman, broken, disabled and traumatized, or as dangerous, ticking time bombs." Reflective writing and storytelling became an integral and revealing part of Chrisinger's curriculum. "When you're trying to make sense of what you've been through, it's powerful and transforming to put it in writing," he says. Remarkably, as more stories were submitted, "the writing was so good and powerful, I felt guilty that I was the only one getting to read it," says Chrisinger. One essay that resonated with Chrisinger was penned by Travis Jochimsen, a Midwesterner who served four tours in Iraq. "His unit captured a financier of a terror cell that had killed Americans," Chrisinger recalls. "His uncle, a Vietnam vet, had recently passed away, and though close, he'd never rehashed a word of his experiences. Travis said he didn't want to die without anyone knowing what he himself had gone through. He wanted to tell his story." Before seeking out a publisher, Chrisinger talked with his students about the benefits and consequences of telling their stories in a public way. He warned that while sharing their work may help them reconnect to friends and family, it may also make those who read it see the writer in a less flattering light. "When you share your story, people feel compelled to tell you their own. Some students have had to deal with folks who are going through similar things. It can be tough to deal with other people's trauma on top of your own," Chrisinger adds. Still, the students all agreed they wanted their stories to be heard. Chrisinger hopes the anthology will inspire civilians to step up their roles in helping troops with coming home, he says. "Instead of saying, 'Thank you for your service,' ask them if they were in the military, what job they had, and what they're doing now. Making people feel validated and appreciated in a real way can do wonders," he says. Chrisinger's admiration and respect for vets drives his efforts to assist them. "It's in their blood to be strong leaders and contributing members of a community. That's why they joined in the first place. They wanted to be involved in something bigger than themselves and have a purpose."
VA finds no improper scheduling at 3 clinics in Colorado (CBS Denver)
Investigators found no indications of improper scheduling lists at one VA specialty medical clinic in Grand Junction and two in Denver, the Veterans Affairs Department said Friday. The department's inspector general said an endoscopy clinic at the VA medical center in Grand Junction and clinics for prosthetics and audiology at Denver's VA medical center had followed the rules. The VA released summaries of multiple investigations into Colorado VA clinics and hospitals. The investigations were launched after revelations that some VA hospitals across the nation had falsified records to make their wait times look better than they really were. The inspector general also reviewed scheduling at a VA mental health clinic in Denver, but the report didn't say whether anything improper was found. The reports released Friday also summarized investigations into two instances of improper or unauthorized scheduling lists in Colorado that were made public previously. Two years ago, the VA said employees at a multi-specialty clinic in Fort Collins had changed records in a way that made its scheduling performance appear better than it was. VA officials said at the time that no one was disciplined because there had been no deliberate misconduct. Last year, the VA said a sleep clinic in Denver had an "unofficial" scheduling list, but that officials transferred it to the authorized, computer-based list as soon as they discovered it in 2012.