September 16 Veterans News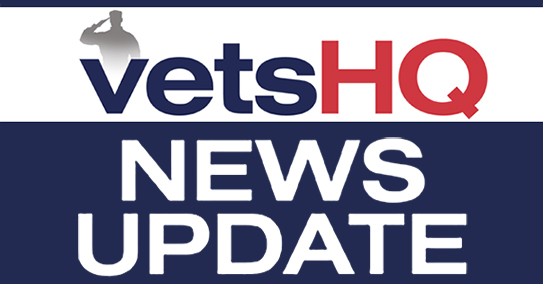 House passes bill to make it easier to fire VA employees (MilitaryTimes)
House Republicans on Wednesday passed a controversial Veterans Affairs reform bill that would make it easier to fire department workers despite concerns of prominent Democrats that the changes would do little to provide better services. The measure also includes an overhaul of the department's benefits appeals process, a provision that veterans groups have fervently lobbied for and White House officials have praised. But that's likely not enough to get bipartisan support to move the measure in the Senate. A similar accountability measure has been stalled for months there, and Democrats in that chamber have also expressed concerns about the constitutionality of the proposal. White House officials this week asked for the appeals reform aspects to be moved as a separate, stand alone bill, apart from the problematic firing rules. But supporters said the action (which passed by a 310-116 vote, with all opposition from Democrats) is needed to reform the culture within the department. "The average today to dismiss somebody from the VA is more than a year," said House Majority Leader Kevin McCarthy, R-Calif. "That is unacceptable. We need to protect the VA for those who go to it, the veterans who need the service." Unlike past VA accountability legislation, many of the provisions would apply to any department employee, not just senior leaders. The bill would shorten the firing and demotion process to no more than 77 days, give the VA secretary the authority to recoup bonuses and suspend pensions of disciplined employees, and limit workers' appeals of those actions. "Everyone in government knows that the civil service laws that were once meant to promote the efficiency of government are now obsolete and make it almost impossible to remove a poor-performing employee," said bill sponsor Rep. Jeff Miller, R-Fla., chairman of the House Veterans' Affairs Committee. "I want a civil service system at VA that serves and protects veterans, not bad employees." Union officials and Democrats argued the measure will do much more than that. Rep. Mark Takano, D-Calif., ranking member of the House veterans committee, said it will remove critical federal employee protections and hurt the VA workforce. "The majority (party) continues to treat the constitutional rights of VA employees as inconvenient obstacles to evade instead of fundamental civil service objections to uphold," he said. "We can pass (this law), but we will be right back here a year from now when the law is deemed unconstitutional." That was the problem earlier this year, when VA leaders announced they would no longer enforce accountability laws passed by Congress two years ago because of Department of Justice concerns over their constitutional viability. Meanwhile, the intraparty and intrachamber accountability fight has stalled the appeals reform plans, which VA officials have said is their top priority for this year. A bipartisan group of lawmakers joined leading veterans organizations at a Capitol Hill rally Wednesday before the House vote to urge party leaders to find a solution to get appeals done in the waning months of session. Currently, benefits cases that go to appeal take multiple years to complete. VA leaders have outlined a plan to cut that wait down to less than a year, but need congressional approval to move ahead with the changes. Rep. Dina Titus, D-Nev., whose legislation outlining those changes was included in Miller's accountability measure, said she is upset that lawmakers haven't already acted on the issue. "I'm mad, because this bill could go to the president right now," she said. "Why get it tangled up in the politics of the accountability bill?"
Read More: How did your congressional representative vote on the VA reform bill?
VA secretary says ideologues, corporations behind push for more private care (Stars and Stripes)
The secretary of the Department of Veterans Affairs on Wednesday pushed back against new recommendations on private health care and blasted "ideologues" and corporate interests for trying to privatize the veteran medical system. Secretary Bob McDonald urged a Senate committee weighing the VA reforms to instead keep the agency firmly in control of when and how veterans receive private care, and to support its own $17-billion plan to manage outside doctor and hospital visits. Congress is considering a new $65-$85 billion integrated public-private VA health care system recommended in July by the Commission on Care, a special review panel created after the 2014 VA wait-time scandal to overhaul the troubled agency and improve veteran access. "Let's face it, privatization would put more money into the pockets of people running health care corporations," McDonald said in testimony to the Senate Veterans Affairs Committee. "It's in their interest, so of course it makes sense to them, even if it's not what veterans need or want." McDonald continued: "Then there's the ideologues" who deal with the privatization issue only in the "simplest, laziest, theoretical terms. Government bad, private sector good. That's as far as the thinking goes." The Senate Committee on Veterans' Affairs invited McDonald and David Shulkin, the VA undersecretary for health, to testify on the Commission on Care report. The VA pitched its own plan to Congress in October to consolidate its patchwork of public-private health care networks but it has failed to gain traction in Congress. McDonald and Shulkin criticized the panel's plan, which calls for a "high-performing, integrated community health care network" called the VHA Care System to be created. Shulkin claimed the recommendation to overhaul private care would be overly expensive. "On the cost side, this would be in my view irresponsible just to turn people out with no deductibles and no cost control mechanisms," he said. "This would be returning us to late '80s, early '90s where there was just runaway costs." Shulkin said the VA needs an additional $3.5 billion yearly for emergency medicine and new infrastructure to create its integrated public-private health care network. The VA already spends $13.5 billion each year on private health care, which includes the Choice program. That multibillion dollar emergency measure was passed in 2014 after VA employees hid long waits for care and allows veterans to go to outside providers if they cannot get an appointment within 30 days or live too far away. "We think that is the best use of money for taxpayers, that it actually is an efficient plan," Shulkin said. "The Commission on Care's plan was far more expensive than that." The Senate veteran committee and its counterpart in the House are working through the Commission on Care report, which includes a raft of reform proposals, and will decide whether to move ahead with new legislation. A heated debate over giving veterans greater access to private health care — and possible privatization of the VA — has broken out this year, including the race for the White House. Hillary Clinton accused Donald Trump this month of angling to privatize the nationwide system of federal hospitals and clinics serving nearly 9 million beneficiaries. The Commission on Care recommendation would retain a strong public role in veteran health care. Other recent proposals in Congress have swung further toward private control, such as a veteran insurance card suggested by Sen. John McCain, R-Ariz., and a draft House bill that would turn the VA into a not-for-profit corporation. But veteran groups are strongly opposed to privatization. Many of them want the VA to remain in control of coordinating veteran access to private hospitals and doctors. Lawmakers have also gotten the message. "I don't think any U.S senator supports a full privatization," said Sen. Thom Tillis, R-N.C. But Tillis, who sits on the Senate Committee on Veterans' Affairs, said he does believe the VA could work more with private health care providers, a position that tracks closely with veteran groups.
Commentary: Suicide prevention is a top priority (USA Today)
Dr. David J. Shulkin, Under Secretary for Health, Department of Veterans Affairs: Among veterans and the American public at large, suicide is a public health crisis. Losing even one veteran to suicide is unacceptable, which is why suicide prevention is a top priority at VA. We know that we save lives when we get veterans into treatment. This past year, VA has expanded our suicide prevention efforts providing greater access to our services, and we are continuing to ensure same-day access for urgent mental health needs at every medical center. We continue to hire more VA mental health professionals and are aggressively utilizing telemental health technologies where services are limited. We are actively exploring more effective treatments and searching for new approaches using innovative, technological strategies. We are strengthening the Veterans Crisis Line, doubling it in size, opening a new hub in Atlanta, and using best-in-class business practices to improve its capacity as a call center and its effectiveness as a lifesaving resource. Last year, the Crisis Line dispatched emergency responders an average of 30 times daily and made 80,000 referrals to suicide prevention coordinators at our medical centers. We are saving thousands of lives. But we will not rest as long as there are veterans who remain at risk. Despite these improvements and deploying assets of the country's largest integrated medical and behavioral health care system, VA cannot fully address this issue alone. Of the 20 veterans who died each day by suicide in 2014, 14 were not connected to VA for care in the past year. So we are enhancing our partnerships with community-based providers to broaden the network of mental health professionals and are researching to find new solutions. A recent report by the Centers for Disease Control and Prevention showed suicide is rising across all demographics and generations of Americans. We believe our partnerships, research and new technologies will benefit all Americans, and we will continue to be seen as the fore­runners in suicide prevention efforts. As a nation, we must support each other and direct friends, family members, veterans and colleagues to the right resources where hundreds of caring professionals are standing by to help.
VA uses cash payouts to get rid of problem employees, lawmaker says (MilitaryTimes)
House lawmakers want to know whether Veterans Affairs officials are using employee settlement policies to dismiss problem staffers instead of punishing them and push aside whistleblowers rather than address their allegations. "In an effort to make the disciplinary process more convenient, VA often agrees to pay out thousands of taxpayer-funded dollars both to the employee and their legal representation, as well as other benefits for the employee to simply just go away," said House Veterans' Affairs Committee Chairman Jeff Miller, R-Fla., during a hearing Wednesday. "I wonder what type of message VA is sending to other good employees when they allow bad employees to settle for thousands of dollars, just because it would be too expensive or embarrassing to litigate." In response, VA's top lawyer said she does not see signs of abuse within the program but also acknowledged the potential for abuse. "The use of this tool is not and has not been taken lightly," said VA General Counsel Leigh Bradley. "We also take seriously our obligation to hold employees accountable and … we will not hesitate to litigate appropriate cases." The inquiry into the practice comes amid news reports of a Puerto Rico VA hospital employee who has been offered up to $300,000 to quit after filing complaints about a supervisor's criminal record. VA officials would not comment directly on the case, saying it could interfere with ongoing personnel matters. But Miller said 96 percent of the cases the VA provided for committee review included those clean records, raising the question of whether supervisors are more interested in ignoring problems instead of addressing accountability. That drew the ire of several committee members. "We want justice to be done," said Rep. Doug Lamborn, R-Colo. "If withholding derogatory (employment) info is a negotiating tool in these processes, that seems liable for abuse." Bradley said the number of settlement cases and processes used by department supervisors are in line with other federal agencies, but officials are using new tools to evaluate VA's use of the practice for potential future changes.
After review, Army could upgrade dozens of discharges for soldiers with PTSD, TBI (ArmyTimes)
The Army will consider upgrading the other-than-honorable discharges of 73 soldiers diagnosed with post-traumatic stress disorder or traumatic brain injury after a servicewide review found they may not have undergone a required medical examination. Army Secretary Eric Fanning outlined the results of the review in an Aug. 25 letter to Sen. Chris Murphy, D-Conn., which Murphy's office posted online Thursday. The review came after a Nov. 4 letter from Murphy and 11 other Democratic senators to senior Army leaders citing a National Public Radio investigation that reported more than 20,000 soldiers with PTSD or TBI diagnoses had been separated for misconduct since 2009. Fanning's letter offered discharge figures from January 2009 through July 2015:
The Army separated 469,294 soldiers, 67,697 of whom "had a behavioral health diagnosis in their record and were separated for misconduct."
Of those, 3,327 soldiers had deployed within 24 months of separation and had a PTSD or TBI diagnosis, meaning they should have undergone a pre-separation medical exam to evaluate that diagnosis.
The vast majority of those soldiers received honorable discharges. Of the 394 who didn't, 221 received "appropriate behavioral health evaluations" that were available to their commanders when their discharge status was determined.
However, the remaining 73 cases had "insufficient documentation" and will be sent to the Army Review Boards Agency "to determine if the Soldier's discharge should be upgraded based on evidence of record," Fanning wrote. "The Army remains confident in the administrative processes that define misconduct separation procedures," he added. Fanning also pointed to a recent All-Army Activities message that requires officials to record the reception and review of the required exams. Murphy praised the Army's response in a news release that accompanied the letter. "I'm grateful the Army took our concerns seriously and has made internal improvements to ensure that returning soldiers with brain injuries or PTSD receive the health care, benefits and respect they deserve," he said. "I will continue to work to make sure that all veterans are treated fairly and honorably by our government." Eight other senators wrote to Defense Secretary Ash Carter last week asking him to consider a militarywide policy that would require a review before the issuance of an involuntary other-than-honorable discharge to determine whether the misconduct stemmed from physical or mental trauma, such as TBI or sexual assault. Navy Secretary Ray Mabus added a layer to his department's involuntary separation process June 1, requiring a review similar to what the eight senators proposed. Sailors and Marines facing separation who have been diagnosed with a mental health condition can be referred to the service's Disability Evaluation System, and any other-than-honorable cases must be reviewed by a flag or general officer.
Vietnam veterans honored with new exhibit at Air Force museum (Stars and Stripes)
Under heavy enemy fire, Army Green Beret 1st Lt. Randy Harrison had one chance to get on board an Air Force Huey helicopter or face the likelihood of death. Door gunner and Air Force Staff Sgt. Fred Cook wasn't going to wait any longer: He fired an M-60 machine gun with one hand at North Vietnamese Army soldiers and yanked Harrison aboard with his other hand so the bullet-riddled helicopter hovering near a river bank could escape. "I was scared and he was slow," Cook said. Harrison, Cook and members of Air Force 20th Special Operations Squadron known as the "Green Hornets" who flew in a secret war in Cambodia and Laos during the Vietnam war reunited Thursday to dedicate a new exhibit at the National Museum of the U.S. Air Force that commemorated that dangerous mission in November 1968. They joined a throng of hundreds to watch present-day 20th SOS airmen, based at Cannon Air Force Base, N.M., land a tilt-rotor CV-22 Osprey on the front lawn of the museum Thursday morning to mark the link between the old warriors and the new. "The same thing is happening almost every day in Afghanistan where Air Force guys and Army guys and Navy guys are being put in incredibly dangerous situations," said Harrison, 72, of Issaquah, Wash. "…But the main thing is this kind of brotherhood and dedication and sacrifice is going on today with young Americans today in godawful places." "They're our heroes," said Lt. Col. Charles Mauze, 37, of Wilson, N.C., who flew the aircraft with pilot Capt. Heidi Harker, 32, of Enon. "This squadron has a long legacy going back to Vietnam and even before." Paul "JJ" Jensen, 70, of Pelkie, Mich., an Air Force left door gunner whose gun jammed so he said he stood in a doorway to protect those aboard on the 1968 rescue flight, was "elated" the secret missions were revealed. "It was something that could not be told back in the '60s and '70s because it was a classified mission," he said. "As far as any of the American public knew, we had nobody in Laos and Cambodia and we were there." Harrison, then 24, didn't think he and the six other men on the Army special forces team — including four mercenaries — were going to survive that day. The Air Force airmen had flown the Green Beret-led team to near Duc Co, South Vietnam. They were on a mission to find out if the North Vietnamese were using a river as a supply route. But about an hour after they left the helo, they faced withering North Vietnamese gunfire on three sides. Hundreds of enemy soldiers, perhaps between 800 to 1,200 — were hunting for the men, Harrison said. What started as a reconnaissance mission turned into a call for a rescue. Cook and Jensen were the door gunners on the UH-1F Huey that tried to rescue the Special Forces team, but the aircrew abandoned a first attempt under heavy fire when the Special Forces team couldn't reach them. The airmen tried again. "When you got shot at and had to leave and come back, now you know what you're getting into so it brings a whole different feeling," said Cook, 72, of Dothan, Ala. "But you also know you are the only way that team has to get out of there. Because there's no back up, if you don't get them they get killed." Again, the helicopter came under fire, penetrating metal and blowing out the windshield. The pilot, Lt. James P. Fleming, "sat there on the ground and waited for us to fight the 50 meters to him with NVA coming at us" within a few dozen feet, Harrison remembered. The pilot would later receive the Congressional Medal of Honor. Another gunship flown by Maj. Leonard Gonzales provided covering fire, according to the museum. Everyone involved survived. "Not one friendly wounded," Harrison said. "Nobody got the Purple Heart that day. That's why they call it the miracle on the river. It was absolutely incredible."
Fish oil may help improve mood in veterans (Texas A&M Today)
New research has revealed that low concentration of fish oil in the blood and lack of physical activity may contribute to the high levels of depressed mood among soldiers returning from combat. The study was conducted by Major Nicholas Barringer, PhD when he was a doctoral student under the direction of HLKN professor and department head Dr. Richard Kreider, in collaboration with several current and former members of the US Army, and colleagues at Texas A&M University. The study originated from research conducted by Colonel Mike Lewis, MD who examined Omega-3 fatty acid levels of soldiers who committed suicide compared to non-suicide control and found lower Omega-3 levels in the blood was associated with increased risk of being in the suicide group. In conjunction with Dr. Lewis' research, Drs. Kreider and Barringer (now an assistant professor in nutrition at Baylor University) worked with 100 soldiers at Fort Hood to identify which factors affected moods in returning soldiers. "We looked at how physical activity levels and performance measures were related to mood state and resiliency," Dr. Kreider said. Fish oil contains Omega-3 fatty acids that help in boost brain function. Studies also show that fish oil acts as an anti-inflammatory within the body — helping athletes and soldiers manage intense training better. Fish oil content is especially important for soldiers due to the consistent training and physical regiments performed in and out of combat and risk to traumatic brain injury. "What we found was the decrease in physical activity and the concentration of fish oil and Omega-3s in the blood were all associated with resiliency and mood," Dr. Kreider said. Dr. Barringer believes it to be a significant forward step toward addressing some of the issues many soldiers face.
Texas college officials want state to pay veterans' tuition (Stars and Stripes)
Texas university officials urged the state to either absorb millions of dollars in higher education benefits for veterans and their dependents or limit who can access the funds. During Tuesday's joint hearing before the House higher education and veterans affairs committees, college officials discussed who exactly receives benefits from the Hazlewood Exemption law, which covers college costs for veterans and their dependents under the age of 26. The state's colleges have protested the high price of waiving these tuition and related costs – in 2014, that figure was $169.1 million in lost tuition income, officials said – for a population that they say largely consists of veterans' dependents. Veterans can transfer their unused hours to a dependent through a 2009 legacy act, which expanded the original law that dates to the 1920's. Some supporters say that these benefits incentivize military participation and help repay the service to veterans and their families. But universities, who pay most Hazlewood-related costs, say the law pushes steep costs to tuition-paying families. At the University of Houston, for example, non-Hazlewood students pay $186 each to fund the program, which predominately supports veterans' children, each year, President Renu Khator said at the hearing. Right now, the Hazlewood Act can benefit those who have served in active duty for 181 days, a figure that university officials urged lawmakers to increase. Committee members and panelists stressed that they needed better data on how long recipients served before limiting access. Projections vary on how many students will receive these college benefits in the next decade. Rice University's Hobby Center for the Study of Texas projects that by 2025, about 61,500 people will use Hazlewood benefits, higher than 2014's 36,747 students, even though the number of veterans under the age of 50 and their children is expected to decline. The value of awards increased to $169.1 million in 2014 from $24.7 million in 2009, according to the Legislative Budget Board. From 2012-14, about 80 percent of that increased cost was connected to the rise of legacy exemptions, The Hobby Center found. "I have a difficult time supporting the situation," said University of Texas chancellor Bill McRaven, a retired U.S. Navy four-star admiral. Rep. Cesar Blanco, who served in the U.S. Navy, said he would be open to the state funding the program. "We owe that to our veterans," he said. In 2015, House budget-writing committee members also said they would be open to funding the program. Lawmakers heard some people say they were concerned that limiting the program would reduce the heavy draw of education incentives in military service. Nearly three-quarters of military recruits said education benefits were a primary reason for enlisting, said National Guard recruiter Jim Carney, who added that he thought that limiting Hazlewood would hurt recruiting and therefore perhaps national security. "I don't care where the money comes from. I don't care if someone grows a tree and gets the money from there. We just need to continue to fund our veterans and their families," former Rep. Joe Farias told the joint panel of state legislators.