November 14 Veterans News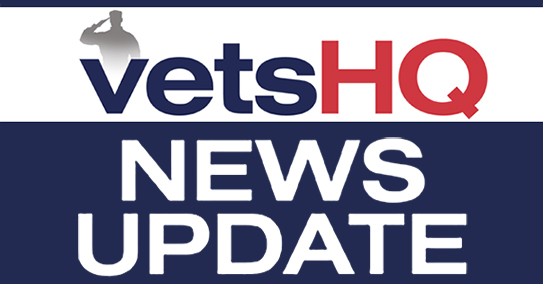 Vets group wants Congress to wait for Trump to pass more aggressive VA reform bill (Stars and Stripes)
A massive veterans reform bill backed by the Department of Veterans Affairs will face resistance in Congress' lame-duck session starting Tuesday from a group intent on letting the new Republican-controlled Senate and President-Elect Donald Trump have a say in how expeditiously VA employees can be fired. With only a couple of months left as VA Secretary, Bob McDonald is making one final appeal to Congress to pass the reform bill that's the culmination of his two-year tenure. The 400-page Veterans First Act contains dozens of provisions to streamline the appeals process for disability compensation, allow more leeway in disciplining employees and grant VA medical staff the ability to work flexible hours, among other things. "We worked to design a new law. We've given a new law to Congress, and we've asked Congress to pass that new law," McDonald said Thursday during an event at The Washington Post. "I'm hoping it gets passed in the lame-duck session." But the legislation has garnered opponents, including conservative-leaning Concerned Veterans for America, an organization that serves veterans and plans a major campaign starting Tuesday to thwart efforts to move the bill through the Senate. The bill was authored by the Senate Committee on Veterans' Affairs chairman Sen. Johnny Isakson, R-Ga., and ranking member Sen. Richard Blumenthal, D-Conn. In the months after its introduction, six large veterans service organizations came out in support of it: Vietnam Veterans of America, Veterans of Foreign Wars, Paralyzed Veterans of America, The American Legion, Disabled American Veterans and AMVETS. Concerned Veterans for America says the legislation is "watered down." With Trump elected president, Congress should wait to pass a stronger bill that would give the next VA Secretary more power to immediately fire employees, said CVA leader Dan Caldwell. Trump would likely be in favor of "more aggressive accountability efforts," Caldwell said. In campaign statements, Trump said he wants to "use the power of the presidency" to discipline and fire VA employees and pass legislation that gives that authority to the new VA Secretary. Furthermore, he's said he wants to "drain the swamp" in Washington and cut the number of federal employees. "They wrote it with the intent of hopefully passing it and having President [Barack] Obama sign it into law," Caldwell said of the Veterans First Act. "It is a compromised bill. With the new reality we're facing as a result of the election, and with the incoming president making it very clear he supports making it easier to fire bad VA employees, it doesn't make sense to pass a watered-down accountability bill at this point." The day after the election, Concerned Veterans for America initiated a campaign to halt the Veterans First Act. The legislation passed the Senate Committee on Veterans Affairs unanimously in June and could be taken up by the full Senate during the session starting Tuesday. The group is asking veterans to contact their senators and tell them to vote against it. CVA has created an advertising campaign against the bill, and it flew in its field staff to go door-to-door to senators' offices Tuesday. … A piece of the Veterans First Act aims to reduce the amount of time required to notify a federal employee of disciplinary action and allow them to appeal it. Under the current system, the Merit Systems Protection Board hears appeals from federal employees when they're demoted or fired. The legislation proposes removing that board from the process for VA employees and creating a new Office of Accountability and Whistleblower Protection, which would be under the oversight of Congress. Lawmakers have pushed for the MSPB to be removed from the process after the board reversed a series of disciplinary actions against VA executives in malfeasance cases. Rep. Jeff Miller, R-Fla., introduced legislation in the House that competes against that provision of the Veterans First Act. The House passed the bill – the VA Accountability First and Appeals Modernization Act – in September. Miller's bill would set a time limit the MSPB has to decide a case, and it would remove the board altogether from the process of disciplinary action against senior executives. The Obama administration issued a statement about it, saying that part of the bill would strip VA employees of their rights, raising questions about its constitutionality. Caldwell said that if the current Congress were to pass a veterans bill in the lame-duck period, Miller's bill should be it. Miller, who has been critical of the VA since the wait-time scandal in 2014, could soon have a larger hand in what happens in the department. Trump has said he is considering Miller as the next VA Secretary, The Associated Press previously reported. Miller is retiring from Congress in January. In a report released the day following Election Day, the VA cataloged its achievements since McDonald took the position in 2014. The report states the VA has completed about 58 million health care appointments in fiscal 2016, up by 1.2 million from fiscal 2015. It also states 82 percent of VA facilities have improved overall quality and that more veterans trust the VA. In the report and in person Thursday, McDonald criticized Congress for the progress that hasn't been made. Besides holding up a Senate vote on the Veterans First Act for several months, Congress has stalled the approval of leases for 24 new community clinics, McDonald said. In a letter topping the new report, McDonald appealed to Congress to pass the Veterans First Act, writing that current members have "one final opportunity to do what's right for veterans." "Otherwise, we risk prolonging eminently surmountable challenges that have plagued you and your VA for far too long," he wrote. "Congress should fulfill its responsibility to veterans and their families by taking immediate action."
Mike Pence: 'Help is on the way' for nation's veterans (IndyStar)
Vice President-elect Mike Pence said Friday that "help is on the way" for the nation's veterans, including a commitment to reforming health care for those who have served. The Indiana governor's comments came as he addressed a large crowd at a Veterans Day event at Camp Atterbury. President-elect Donald Trump is passionate about keeping "our promises to our veterans," Pence said. He said the creation of "real-time, world class" health services would be a focus for the incoming administration. "He and I both understand that the benefits that are available to our veterans are not entitlements," Pence said. "They are part of the ongoing compensation to those who served in the uniform of the United States." Pence spoke soon after news broke that he would lead Trump's transition team, a high-profile role for the soon-to-be vice president. But on Friday, Pence kept his 15-minute speech at the Edinburgh facility's Veterans Memorial centered on those who have served, calling their service a "debt that we can never fully repay." He was introduced by Maj. Gen. Courtney Carr, Indiana's adjutant general, who described Pence as a "true advocate for veterans." Pence said he is not a soldier but the son of a combat veteran and the father of a U.S. Marine. "But I've often thought that maybe it's altogether fitting that those of us who have benefited by the selfless and courageous service of men and women who have answered the call of duty in this country are heard from today," Pence said. "Because it is we who owe the debt to you." Pence, who returned to Indiana on Thursday after winning election as vice president and touring his new offices in Washington, D.C., said to chuckles by the crowd that it was a "joy to be home after a fairly busy time in our family's life." But on Veterans Day, Pence said, he would be "nowhere else than here in my beloved home." "Here in this very special place at Camp Atterbury," Pence said. Pence recalled paying a visit to a family member where his father's service came up. He said his father "went off to war, and his smile was different." Like a lot of combat veterans, Pence said, his father came home and promptly put his medals away and "never talked about it." "There's a burden that you bear, having worn the uniform, having seen what many of you have seen," Pence said. "And we honor your service, and we honor that ongoing burden on this Veterans Day." After the speech, Pence stayed to visit with attendees. Army Capt. Trevor Plummer, of Franklin, said Pence hit on the main point of health care. He said quicker services would "definitely help recruitment." Veterans can now wait months to hear back from the U.S. Department of Veterans Affairs, Plummer said. Pence also was greeted by a World War II veteran, 91-year-old Bob Gipson, of Morgantown, who said the governor was "out for the veterans, and that's what we are going to need." It's important to Gipson that he leaves younger soldiers with a "solid ground." With Trump and Pence, Gipson said, "I think we're heading that way."
Trump's VA chief to decide on new Agent Orange ailments (Military.com)
Bob McDonald won't be the VA secretary to decide if thousands more Vietnam War veterans – those with bladder cancer, high blood pressure, hypothyroidism or Parkinson's-like symptoms – should be eligible for VA health care and disability pay because of research associating the ailments with possible exposure to Agent Orange or other herbicides used in the war. The decision to add any of these ailments to the list of 17 conditions VA already presumes are tied to herbicides will be left for President Trump's VA Secretary, department officials told us Wednesday. "For this administration, the deadline for proposing new rules for potential new presumptions [of service connection to herbicide] has passed, and this will become work for the new administration to take to completion," VA officials explained in a written statement. As reported here in March, McDonald convened a working group of VA senior scientists and health experts to study the tenth and final biennial review of health problems linked to Vietnam-era herbicides. The Institute of Medicine (IOM), a division of the National Academies of Sciences, conducted every review. The latest took account of medical and scientific literature published from Oct. 1, 2012, through Sept. 30, 2014. The IOM concluded that the research supports changing the strength of association to herbicide exposure for several ailments. For bladder cancer and hypothyroidism, it found "limited or suggestive" evidence of a link, an upgrade from "inadequate or insufficient" evidence determined earlier. Looking again at scientific literature on cardiovascular conditions and herbicides, the IOM didn't upgrade but it did affirm limited or suggestive evidence that herbicides can cause hypertension, or high blood pressure. The IOM also considered whether conditions resulting in Parkinson's-like symptoms, apart from Parkinson's disease itself, should fall into the same limited or suggestive category of evidence. Yes, it concluded, finding "no rational basis" for the current exclusion. The IOM also withdrew an earlier finding that herbicide exposure may have caused spina bifida in children born to Vietnam veterans. For 20 years VA relied on a preliminary finding of an association. Based on newer research the IOM says it no longer believes the evidence shows service connection. Dr. Ralph Loren Erickson, chief consultant of post deployment health services for the Veterans Health Administration, has co-chaired the working group reviewing the recent IOM findings. He predicted last March that McDonald could get final recommendations in time to decide by August whether to expand the Vietnam-era list of presumptive diseases. That didn't happen, however. One official said the group got diverted to other work including support for VA's announcement in September of eight diseases linked to contaminants found in the water supply at Camp Lejeune, N.C., before 1988. An Agent Orange law that Congress allowed to sunset last year would have required the VA secretary to take action on IOM recommendations within 60 days of receiving its report, in this case by last May. The VA technical work group now expects to have a draft response and action plan on findings of the IOM, renamed the National Academy of Medicine, by early December. The packet then will be given to a VA IOM Task Force before recommendations are made to the secretary. By then, Trump will be president and VA presumably will have a new secretary. "Limited or suggestive" epidemiological evidence that a disease is associated with herbicide exposure means a link to increased risk for a health effect. But the term doesn't always produce a decision to presume service connection. For some ailments, including ischemic heart disease, VA secretaries have used "limited or suggestive evidence" to add to the presumptive list of Agent Orange diseases. For others, including hypertension, which is suffered by two thirds of Americans 65 and older, the same evidence hasn't been seen as strong enough.
Survey: Women troops feel undervalued and unappreciated (MilitaryTimes)
Female troops and veterans want the public to know their military service is much more than just discussion of sexual assault in the ranks, according to a new survey released Monday. Almost three in four women in the new Service Women's Action Network survey said they do not believe their military service is understood or valued among the general public, and only 24 percent said they think military leadership does enough to publicize their work. While 42 percent of women surveyed saw sexual harassment and assault as a common issue confronting the female servicemember community, far fewer listed it as a personal obstacle to their service. Instead, 43 percent said their biggest military hurdle is assignments and job opportunities, 35 percent said family policies, and 36 percent said general gender bias problems. And despite the perception of widespread problems for women serving in the military, 80 percent said they would recommend enlisting to other women. "We were pleasantly surprised by that, because that is how most of us feel about our experiences," said Ellen Haring, director of the SWAN's Service Women's Institute. "Even if you had some bad experiences, for most of us the positives have outweighed that." Group officials said they don't want the results to minimize the problems with misogyny and sexual assault in the ranks. But they do hope the survey results help broaden public understanding of what female servicemembers have done while serving, and create a broader appreciation of their sarifices. The survey drew responses from nearly 1,200 active-duty troops, reservists and veterans over the last 45 days. When asked to rank the three most pressing issues facing women troops and veterans, access to women-specific health care in the Defense Department, access to women-specific health care in VA and access to mental health programs topped respondents' list. But when asked their own most pressing challenges, the women answered differently. About 35 percent still said access to mental health care was of top importance, but that was followed by finding ways to connect with other women veterans (32 percent) and ensuring their families' financial stability (32 percent). Roughly 68 percent said the military needs to take a bigger role in improving awareness of women's military and veterans contributions, and 57 percent said veterans groups need to do more. Forty-seven percent said the media needs to do a better job with that. When asked how often the entertainment industry portrays servicewomen, 78 percent said they rarely or never see those roles.
Veterans who worked as interpreters say Pentagon failed to pay bonuses (Stars and Stripes)
When the California National Guard desperately needed interpreters to accompany troops headed to Iraq and Afghanistan, it promised enlistment bonuses of up to $20,000 each to dozens of Arabic, Dari and Pashto speakers. The Pentagon's need for crucial language skills on the battlefield was so great that some interpreters were put in uniform even though they were too old or had health problems that might have disqualified them from military service. That relaxing of the rules has come back to haunt them. Many of the interpreters who went to war were only partially paid their bonuses because the California Guard later decided they were unfit for the military service that they already had given. Some say they are now unemployed, suffering from post-traumatic stress and combat injuries. Many are embittered at the California Guard, which they say broke its commitments. "As far as I know, it's only the interpreters who didn't get paid," said Khatchig Khatchadourian, an Arabic interpreter from Los Angeles' San Fernando Valley who says the California Guard still owes him half the $20,000 bonus it agreed to pay when he enlisted in 2008. "They think we're stupid because we are immigrants." The plight of the interpreters, known in military jargon as 09 Limas, offers a new wrinkle in the enlistment bonus scandal that has roiled the California Guard and the top levels of the Pentagon. The Los Angeles Times/Tribune Washington Bureau reported last month that the Pentagon was demanding repayment of enlistment bonuses paid to nearly 10,000 California Guard soldiers at the height of the wars in Iraq and Afghanistan a decade ago. In response to a public outcry, and at the urging of the White House, Defense Secretary Ashton Carter ordered a suspension of the repayment program and set up an appeals process to review the debts. But the 09 Limas are different. Unlike soldiers who received large bonuses and were ordered to repay the money years later, the interpreters say they were never paid. The California Guard has identified 44 interpreters who were affected by the shifts in recruitment standards or other problems, said Col. Peter Cross, a spokesman. "The complexity arose in cases where neither the soldier nor the Guard could locate a copy of any agreement, although work was done by the soldier that likely would have given rise to a bonus payment," he wrote in an email. Nearly half the 09 Limas deployed within the first year and then requested to go to the Inactive National Guard to work as private contractors, who normally were paid much more, Cross said. That violated the bonus terms of their enlistment contracts, he said. To add to the confusion, soldiers serving in the same unit often enlisted under different terms and different bonus entitlements. Enlistment bonuses for the 09 Limas also were blocked after California Guard auditors noticed that some interpreters had served in the Army even though they had failed to meet normal enlistment standards. The translators say recruiters assured them that the 09 Lima program had eased recruitment rules so they could enlist even if they were too old or in poor physical condition or had scored too low on aptitude tests. Before the wars in Iraq and Afghanistan, the Pentagon didn't recruit many soldiers who were fluent in Middle Eastern and South Asian languages, relying on contract interpreters instead. But as the conflicts intensified, deploying combat units needed thousands of native speakers to communicate with Iraqis and Afghans on patrols or in meetings with local officials. Although contractors were still widely used, the Pentagon wanted at least some interpreters in uniform who were trained as soldiers and who couldn't quit on short notice or refuse dangerous assignments. To meet that goal, the Pentagon in 2006 ramped up the 09 Lima program. It offered special bonuses, eased enlistment standards and even accelerated U.S. citizenship applications for immigrants who agreed to join the Army. National Guard recruiters, including California's, scoured the country for Arabic, Dari and Pashto speakers. One of those who signed up, now a 47-year-old resident of Brentwood, near San Francisco, said the California Guard informed him in 2011 that he would not get his $10,000 bonus because he had failed an aptitude test required of all Army recruits. Yet his low score had not stopped the Army from accepting him in 2008 and sending him to Iraq. Like several interpreters interviewed, he asked that his name not be made public, fearing public attention would further complicate his attempts to get paid. He was in many respects an ideal 09 Lima recruit. The son of a Libyan military officer, he was a U.S. citizen because he was born at Fort Benning, Ga., in the 1960s when his father was on a military exchange program. The married father of three enlisted as an Arabic interpreter after losing his job in the 2008 recession. Promised a $10,000 enlistment bonus, he received half after completing boot camp but never got the rest despite his appeals, he said. In Iraq from 2009 to 2011, he was close to bomb blasts and other combat while accompanying U.S. troops on missions, he said. After he returned home, a Veterans Affairs doctor diagnosed him with mild traumatic brain injuries. He also needed shoulder surgery for noncombat injuries in Iraq. When he left the Army in 2014, he gave up trying to get the bonus money. He is now in college using GI Bill benefits he is entitled to as a former soldier. "I'm proud to have been in the service, but I don't understand why they would say you get this amount, then all of a sudden say you don't get it," he said. "I'm disappointed." Another former interpreter, a 45-year-old resident of Glendale, was born in Iran and immigrated in 1998. He joined the Army reserves in California in 2008 after his truck business failed. He deployed to Afghanistan in 2009 and spent six months translating for a Marine special operations unit in Shindand district near Iran. In 2010, he returned for a second tour. "When I came back (home in 2011) I was mentally not stable," he said. "I would get drunk at 10 or 11 in the morning until I passed out." When the Army Reserve rebuffed his claims for the unpaid half of his $20,000 enlistment bonus and for back pay he says he was owed, he contacted Rep. Adam B. Schiff, D-Calif., his congressman. Schiff's office wrote the Pentagon, which partly backed down and sent the interpreter $6,000 in back pay. He insists he is still owed the rest, but he has lost documents to support his claim. "It's an honor to have served," he said. "But that's not enough. I have lost my hope in the whole government system." Khatchadourian was born in Syria and grew up in Lebanon before he moved to Los Angeles with his family in 2006. He joined the California Guard two years later after finishing high school. In return for a $20,000 bonus, he agreed to sign up for three years as an Arabic interpreter. He planned to use the money for college. "It was mixture of serving my country, something to do (and) money," he said, recalling his motivation. His bonus agreement, signed by Khatchadourian and his California Guard recruiter, reads, "I will receive a total bonus of $20,000 … less taxes." He got the first $10,000 after he finished boot camp in 2009. He expected the remainder in December 2010, his second anniversary in the Army. He was then in Iraq with the 224th Sustainment Brigade, a California Guard support unit based in Long Beach. He says he never got the check — or an explanation. When he returned home in 2011, California Guard officials said they had found a problem with his enlistment contract. He would not get the second $10,000 — and he might have to give back the first $10,000. Khatchadourian said he later learned that auditors flagged his bonus because he had failed to initial one page of an addendum to his contract. In October 2015, after years of appeals, he received a letter from the National Guard Bureau, the Pentagon agency that oversees state Guard organizations, ruling that he was eligible for his entire $20,000 bonus. Khatchadourian "accepted an incentive offer in good faith and has otherwise fulfilled the obligations under the contract," it read. "Therefore, withholding payments of this incentive would be against equity, good conscience and contrary to the best interest of the military." A year later, he is still waiting for the money.
VA employee emailed veterans' personal data to himself (Military.com)
The Department of Veterans Affairs has warned more than 2,100 veterans in Eastern Colorado and parts of Kansas that their personal information may have been compromised when an employee emailed documents to himself. An agency employee told The Associated Press that he is the person who emailed the information to himself, describing it as an unauthorized wait list used by VA health care facilities in Colorado. The employee, who spoke on condition of anonymity because he fears retaliation, said he wanted to document the lists because they could have been used to conceal lengthy delays in providing care. In Wednesday's warning to veterans, the VA said the potentially compromised information included veterans' full names, the last four digits of their Social Security numbers and medical diagnoses. The agency said the employee emailed it to himself in unencrypted form. The VA said it is investigating. The agency didn't identify the employee. The VA's internal watchdog, the Office of Inspector General, announced last month it was looking into the employee's claims at the request of Sens. Ron Johnson of Wisconsin and Cory Gardner of Colorado. Johnson and Gardner said the employee came to them with the allegations and described him as a whistleblower. The whistleblower also provided redacted copies of the information to The AP. The VA said Wednesday that it takes the allegations of unauthorized wait lists very seriously and will work with the inspector general. Unofficial wait lists have been used by VA facilities elsewhere to hide how long it takes veterans to get health care appointments. The discovery of the lists created a nationwide scandal when 40 veterans died while waiting for appointments at a Phoenix VA hospital. The scandal led Congress to fund the Veterans Choice program, which allows veterans to seek private care at government expense if they have waited 30 days or longer. It also led to the ouster of VA Secretary Eric Shinseki. Wait times have been an issue in Colorado as well. In February, the inspector general said workers at a Colorado Springs VA clinic reported some veterans got appointments sooner than they actually did, while at least 288 people had to wait longer than the 30-day target. Investigators didn't say whether the records were deliberately falsified. The inspector general's office said in May that it found no indication of improper scheduling lists at an endoscopy clinic in Grand Junction and clinics for prosthetics and audiology in Denver.
VA drops plans to allow sex change surgeries (MilitaryTimes)
Veterans Affairs officials are dropping controversial plans to allow sex-change surgeries for transgender veterans, not because of criticism but instead due to budget constraints. The move, first reported by Military.com, is a significant setback for LGBT advocates and raises questions on whether the surgeries will be offered anytime in coming years, given conservative control of the White House and Congress in 2017. In a statement Monday, VA officials said they plan on continuing to offer assistance to transgender veterans by offering "hormone therapy, mental health care, preoperative evaluation" and other services. But pursuing a rule change to allow the long-held ban on VA physicians offering the surgeries will be delayed until "when appropriated funding is available." Department leaders suggested in June that they would work to overturn the ban this year, to allow sex-change operations to take place in coming years. On Monday, they indicated that they still believe the idea is worthwhile, even if not financially feasible. "Increased understanding of both gender dysphoria and surgical techniques in this area has improved significantly and is now widely accepted as medically necessary treatment," the statement said. "VA has been and will continue to explore a regulatory change that would allow VA to perform gender alteration surgery…" Numerous conservative groups decried the proposal earlier this summer, calling it ridiculous for taxpayers to foot the bill for the controversial procedure. Some Republican lawmakers have also pushed back in recent months against Defense Department plans released this summer to allow transgender troops to serve openly, and to develop plans for sex reassignment surgeries in the near future. Republican leaders included language objecting to "social engineering" in the ranks in the party's political platform at the GOP convention in July. President-elect Donald Trump has not specifically commented on the VA surgery proposal, but crafted his campaign around a return to "traditional" values and railing against political correctness. On Monday, officials from the LGBT advocacy group American Military Partner Association called the VA decision upsetting. "All of our nation's veterans, regardless of their gender identity, deserve access to the medical care they earned serving our nation," said AMPA President Ashley Broadway-Mack said in a statement. "This is a deeply disappointing setback in making sure an often medically necessary procedure for transgender veterans is part of that care. Moreover, as we face a new incoming administration, we implore fair-minded Americans to stand united in holding our new administration officials accountable by insisting this be fixed."
Still fighting: Vietnam vets seek help for rare cancer (Stars and Stripes)
Mike Baughman considered himself one of the lucky ones, returning from Vietnam without any major injuries or psychological scars. But after falling ill nearly a half-century later, he found out he did not escape the war after all. The 64-year-old is among hundreds of veterans who have been diagnosed with a rare bile duct cancer that may be linked to their time in the service and an unexpected source: parasites in raw or poorly cooked river fish. The worms infect an estimated 25 million people, mostly in Asia, but are less known in America. They can easily be wiped out with a few pills early on. Left untreated, a cancer known as cholangiocarcinoma can develop, often killing patients just a few months after symptoms appear. The U.S. government acknowledges that liver flukes, endemic in the steamy jungles of Vietnam, are likely killing some former soldiers. Ralph Erickson, who heads post-deployment health services at the Department of Veterans Affairs, said about 700 cholangiocarcinoma patients have passed through the agency's medical system in the past 15 years. Less than half of those submitted claims for benefits, in part because they were unaware of a potential link to time in service. Of the claims submitted, 3 out of 4 have been rejected, according to data obtained by The Associated Press through the Freedom of Information Act. The VA requires veterans to show medical conditions are at least "as likely as not" related to their time in service to receive financial help, but doctors note that often isn't easy with bile duct cancer caused by liver flukes. The parasites typically go undetected, sometimes living for more than 25 years without making their hosts sick. The body reacts by trying to wall off the organisms. This causes inflammation and scarring and, over time, can lead to cancer. The first symptoms are often jaundice, itchy skin and rapid weight loss. By then, the disease is usually advanced. If American doctors better understood bile duct cancer and the potential risks to those who served in Vietnam, they could use ultrasounds to check veterans for inflammation, and then surgery might be possible for some of them, said Jeff Bethony, a liver fluke expert at George Washington University. "Early is key," he said, adding he regularly receives desperate letters from veterans' family members. "The VA should be testing for this." Once diagnosed, most men don't realize there may be a connection to their service in Vietnam. The few who figure it out often spend their final months fighting for recognition and benefits, leaving them feeling angry and abandoned, as many did when they first came home from the war. "Hard to believe," Baughman said in his living room, flipping through a photo album from his war days. "I dodged all those bullets, then get killed by a fish." … In October 2013, he was about to remarry and decided to get a long-overdue physical. He felt fine, but his blood work indicated there might be a problem with his liver. Further testing revealed he had bile duct cancer. After researching the condition, Baughman discovered that worms ingested decades ago in that raw "fish on a stick" could be killing him. He turned to the VA for help, and his private physician wrote a letter highlighting the potential connection between the worms and the disease. He went to a VA doctor as well, who also acknowledged liver flukes were one of the main risk factors for the cancer but concluded there was "no evidence of infection" from Baughman's service time. He was twice denied benefits in 2015, and is waiting for the results of his latest appeal. … Once cancer is detected, surgery is sometimes an option, depending on the tumor's location. Liver transplants typically aren't performed due to organ shortages and poor prognosis. In the United States, cholangiocarcinoma is extremely rare, with roughly 5,000 people diagnosed each year, including some Asian immigrants who ate infected fish in their native countries. Liver flukes aren't the only risk factor for the disease; others include hepatitis B and C, cirrhosis and bile duct stones. But some physicians say for Vietnam veterans diagnosed decades after U.S.-backed Saigon fell to communist forces in 1975, the cancer is "as likely as not" tied to their service time. And by VA standards, that should be enough to receive benefits.
Teenager seeks to honor veterans of war by preserving their stories (The New York Times)
As nations honored their war veterans on Friday — Armistice Day and Veterans Day —a 19-year-old in California is trying to preserve as many voices of World War II veterans in the United States as he can. Many of the veterans are in their twilight years, with ages in the late 80s and the 90s. The teenager, Rishi Sharma, has started a nonprofit organization, Heroes of the Second World War, to record video interviews with them for posterity. Of the 16 million Americans who served in World War II, about 620,000 are still alive, and 372 die each day, according to the National World War II Museum. The teenager, who graduated last year from Agoura High School outside Los Angeles, wrote on a crowdfunding page that there is "no commercial aspect" to the project. He said he's putting off many of the typical priorities of 19-year-olds, like going to college, finding a job or dating, so that he can focus on the project. "These men are my biggest heroes and my closest friends," Mr. Sharma wrote. "I am just trying to get a better understanding of what they had to go through in order for me and so many others to be here today and to get a better appreciation for how good I have it." Mr. Sharma received an influx of donations on Friday as the United States commemorated Veterans Day. Across the country, Americans — including President Obama, who laid a wreath in Arlington Cemetery in Washington — led tributes to past and present military members. Several countries also honored their veterans on Armistice Day, commemorating the end of World War I, with two minutes of silence on the 11th hour of the 11th day of the 11th month.