November 30 Veterans News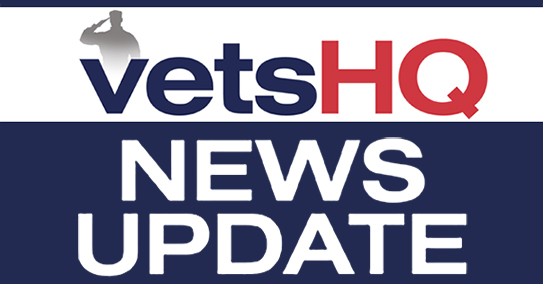 Sarah Palin Under Consideration for VA Secretary (ABC News)
Sarah Palin is under consideration for secretary of veterans affairs, a close Palin aide and a top Donald Trump transition official tell ABC News. The Palin aide tells ABC News that in "recent days," Palin told Trump transition officials: "I feel as though the megaphone I have been provided can be used in a productive and positive way to help those desperately in need." The VA is the largest government agency with over 300,000 federal employees and a budget of $182 billion for 2017. Palin's son-in-law, Medal of Honor recipient Dakota Meyer, posted a SarahPAC video to his Facebook page earlier this week that heavily focuses on her work with veterans and her specific connection to the community. Her eldest son, Track, is a veteran who served in Iraq in 2008. The video, which is not new, seems to clearly show her interest in the position, and in the speech, she hits the VA "bureaucracy," saying it is "killing our vets." The speech included Palin's ideas on reforming the VA including improved health care, using military skills to return to the workforce and securing their benefits. The speech also included a hit at the current president. "Stop blaming the victim and wake up, Mr. President," she said. "While Christians bow our heads to pray for you, radical Islamists want to cut off your head. The only thing standing between us and savages, it's the red white and blue, it's the United States military! And if you love freedom, thank a vet! Thank them. Honor them." The former GOP vice-presidential nominee has not been to Trump Tower to meet with the president-elect, but she was one of his earliest and most high-profile endorsers. The Palin aide says Palin has had discussions with the transition team, and the top transition official confirms this. Former Massachusetts Sen. Scott Brown is also in the running for the position. Brown visited Trump Tower on Nov. 21 and told reporters he had a "great meeting" with the president-elect about the VA secretary position. "We obviously spoke about my passion and about his passion, which are veterans and veterans' issues," Brown said, also noting that he's worked on veterans' issues since serving in the Massachusetts state legislature. "I think it's the toughest job in the Cabinet is to lead the VA because while it has so many angels working there, it has so many great problems as well." Other names that have surfaced for the position include Rep. Jeff Miller and Gen. Keith Kellogg. The former Alaska governor has also been talked about for energy secretary and secretary of the interior positions. Earlier this month, she posted on Facebook about her "Drill, baby, drill" energy philosophy. "NOW is the time to shut off the Saudi oil cartel flow valve and develop our own God-given natural resources. The only excuse not to become energy independent is a political excuse," she wrote. That same day, she wrote about her family's connection to native Alaskans, a relationship covered by the interior secretary position. Palin's husband Todd is part-native Alaskan. Steve Bannon, Trump's campaign CEO and the president-elect's pick for chief strategist, is close with Palin. In 2011, he made a documentary about her titled "The Undefeated."
Tomah VA: Veterans could have been infected with Hepatitis, HIV (WEAU)
Nearly 600 veterans who received care at the Tomah VA may have been infected with several types of disease due to violations in infection control procedures. VA administrators made the announcement Tuesday afternoon at a press conference. The Tomah VA says it's in the process of notifying 592 veterans that they may be infected with Hepatitis B, Hepatitis C, or HIV after they received care from one particular dental provider. Acting Medical Center Director Victoria Brahm said the dentist was using his own equipment, then cleaning it and reusing it, which violates the VA's regulations. The Tomah VA says it uses sterile and disposable equipment. The VA says he did this for one year, from October 2015 through October 2016. It came to light when someone filling in for his assistant noticed what was going on and reported it. That dentist has been removed from patient care and is now working in an administrative role. The VA also referred the case to the inspector general for assessment of any criminal charges. "It was purposeful that he was violating VA regulations," Brahm said. "During all of the orientation, he used all of our equipment. He used it appropriately, so it was very purposeful from what we found in our investigation that he knew exactly what he was doing, and preferred to use his own equipment against procedure." Brahm told reporters that the Tomah VA has made improvements but still has others to make. "We have clear evidence that we are moving forward and the people that remain here are very vested and here for the mission of taking care of veterans," she said. "There are pockets of improvement that need to occur they still need to I'll be honest, and we are aware of where they are and we are dealing with them as quickly as we can." The VA is offering free screenings to those veterans and will provide free medical treatment to those who test positive for an infection. The news is very alarming to a lot of people, especially veterans in Western Wisconsin. Several veterans WEAU 13 News spoke with Tuesday on and off camera say me they were surprised and concerned to hear the news out of the Tomah VA. While all of them said they have received care at the medical center, none of them received dental care. Army vet Jan Gross says he uses many of the services offered through the Tomah VA. While his experience has been good, he has seen others become frustrated with the medical center. Gross says that the level of care provided to vets at the Tomah VA isn't where it should be. He said he is concerned the clinic isn't keeping enough seasoned staff around to provide the best care. "I don't think they are paying them enough to keep good support staff and keep the main stay help for the VA so we suffer. People get frustrated, I see guys sick and tired of just waiting that they just walk out and don't come back," Gross said. This isn't the first time the Tomah VA has come under fire for its medical practices. In recent years, the center has been under investigations on allegations doctors there over prescribe prescription painkillers to patients.
Lawmakers reach a compromise to help California soldiers ordered to repay enlistment bonuses (LA Times)
House and Senate negotiators announced a compromise Tuesday that would permit the Pentagon to forgive debts owed by thousands of California National Guard soldiers who received improper bonuses during the height of the wars in Iraq and Afghanistan. The agreement, included in a defense bill due to be voted on by the House on Friday and the Senate next week, seeks to strike a balance between the Pentagon's concerns about fraud in the bonus system and lawmakers' attempts to resolve a scandal that has hurt thousands of military veterans and sparked a public furor. The compromise calls on the Pentagon to forgive the enlistment bonuses and student loan benefits unless the soldier who received the money "knew or reasonably should have known" that he or she was ineligible for it. The provision stops short of requiring the Pentagon to forgive debts owed by all California Guard soldiers as long as they fulfilled the terms of their enlistment contracts and did not commit fraud — a far more sweeping waiver that members of the California delegation had proposed. But by placing the burden on the Pentagon to contact the soldiers and prove that each was ineligible, the compromise provision is likely to result in forgiveness of the debts for most of the 9,700 soldiers ordered to repay some or all of their reenlistment incentive payments from 2004 to 2015, according to lawmakers. "This largely meets the needs of the soldiers who accepted their bonuses in good faith, as the vast majority of them did," said Rep. Adam B. Schiff (D-Burbank). "It should give these soldiers peace of mind during the holidays that the Pentagon won't claw them back." Under the compromise, if the Pentagon forgives a soldier's debts, it would have to inform credit agencies to correct any adverse effect on credit scores that could affect applications for car loans, mortgages and other debts. The Times reported last month that the Pentagon was demanding repayment of enlistment bonuses given to California Guard soldiers to help fill enlistment quotas for the wars. Many of the soldiers served in combat, and some returned with severe injuries. Many of the soldiers were told to repay bonuses of $15,000 or more years after they had completed their military service. Student loan repayments, which were also given out improperly to soldiers with educational loans, sometimes totaled as much as $50,000. In response to a public outcry, and at the urging of the White House, Defense Secretary Ashton Carter ordered a suspension of the repayment program on Oct. 26 and set up an internal appeals process to review the debts by July. The congressional compromise would make it mandatory that the Pentagon completes its review on that timetable. It would also require the Defense Department to refund any repayments already made by soldiers as long as they were not guilty of fraud. But Pentagon officials emphasized that they could not fully forgive all the soldiers' debts, which totaled tens of millions of dollars, because some of the benefits were accepted fraudulently and because that solution would create a precedent that soldiers in other states could use to escape repaying bonuses they were not entitled to. Soldiers ordered to repay bonuses began receiving letters last week from the National Guard Bureau, the Pentagon agency that oversees the California Guard, telling them the recoupment effort had been suspended because of Carter's action. But the agency warned that the Pentagon had not made a final decision on waiving their debts. … Schiff said that if the compromise provision did not result in most soldiers having their debts forgiven, California lawmakers in Congress would revisit the issue next year.
Veterans urge Obama, Trump to pardon thousands of vets (The Hill)
A group of veterans is urging President Obama and President-elect Donald Trump to pardon thousands of post-9/11 veterans who were given less-than-honorable discharges for behavior related to mental health issues. Advocates say thousands of veterans have received "bad discharge papers" as a result of behavior associated with post-traumatic stress disorder (PTSD), traumatic brain injury (TBI) or military sexual assault. Such discharges haunt veterans for the rest of their lives, advocates say, denying them veterans benefits and casting a stigma that can affect aspects of civilian life, such as finding employment. "This period of transition between administrations offers the opportunity for you to work together to use the power of the office to bring thousands of injured veterans in from the cold and finally get them the care that they need," Vietnam Veterans of America president John Rowan wrote in a letter to Trump and Obama on Wednesday. "Your cooperation and focus on veterans will help to bring this country together and heal some of the festering wounds of war. More than 300,000 post-9/11 veterans have received bad discharge papers, according to Rowan's letter. Veterans can appeal to have their discharges upgraded, but advocates say the process is too cumbersome and rarely results in changes. Lawmakers have been working to make the process easier, and the final version of the annual defense policy bill released Tuesday would call for the appeals process to give "liberal consideration" to mental health diagnoses. But advocates say the problem could be fixed quickly through executive action. "We cannot allow our country to forget the many tens of thousands of veterans who suffered physical and mental wounds yet were cast aside," Rowan wrote. "This could be rectified if, prior to leaving office, President Obama simply upgraded them all to honorable discharges, and instructed the Secretary of Veterans Affairs to immediately grant access to PTSD and TBI screening at the VA for all veterans, regardless of discharge status." Obama should work with Trump, Rowan added, to ensure the process continues into the next administration. "President Obama should start working now with President-elect Trump to ensure that this program extends as long as it takes for every applicable veteran to be properly screened and granted the appropriate pardon," Rowan wrote. Rowan compared pardoning less-than-honorable discharges through executive action to President Carter issuing full pardons in 1977 to Americans who had avoided the draft. "We believe that veterans who have done their duty and served their country deserve similar consideration before President Obama leaves office," Rowan wrote. "This action has the potential to save lives, and it is not without legal precedent. We ask that President-elect Trump support this initiative and make this pardoning program's success a top-priority for his transition team."
F.D.A. agrees to new trials for Ecstasy as relief for PTSD patients (MSN)
After three tours in Iraq and Afghanistan, C. J. Hardin wound up hiding from the world in a backwoods cabin in North Carolina. Divorced, alcoholic and at times suicidal, he had tried almost all the accepted treatments for post-traumatic stress disorder: psychotherapy, group therapy and nearly a dozen different medications. "Nothing worked for me, so I put aside the idea that I could get better," said Mr. Hardin, 37. "I just pretty much became a hermit in my cabin and never went out." Then, in 2013, he joined a small drug trial testing whether PTSD could be treated with MDMA, the illegal party drug better known as Ecstasy. "It changed my life," he said in a recent interview in the bright, airy living room of the suburban ranch house here, where he now lives while going to college and working as an airplane mechanic. "It allowed me to see my trauma without fear or hesitation and finally process things and move forward." Based on promising results like Mr. Hardin's, the Food and Drug Administration gave permission Tuesday for large-scale, Phase 3 clinical trials of the drug — a final step before the possible approval of Ecstasy as a prescription drug. If successful, the trials could turn an illicit street substance into a potent treatment for PTSD. Through a spokeswoman, the F.D.A. declined to comment, citing regulations that prohibit disclosing information about drugs that are being developed. "I'm cautious but hopeful," said Dr. Charles R. Marmar, the head of psychiatry at New York University's Langone School of Medicine, a leading PTSD researcher who was not involved in the study. "If they can keep getting good results, it will be of great use. PTSD can be very hard to treat. Our best therapies right now don't help 30 to 40 percent of people. So we need more options." But he expressed concern about the potential for abuse. "It's a feel-good drug and we know people are prone to abuse it," he said. "Prolonged use can lead to serious damage to the brain." The Multidisciplinary Association for Psychedelic Studies, a small nonprofit created in 1985 to advocate the legal medical use of MDMA, LSD, marijuana and other banned drugs, sponsored six Phase 2 studies treating a total of 130 PTSD patients with the stimulant. It will also fund the Phase 3 research, which will include at least 230 patients. Two trials here in Charleston focused on treating combat veterans, sexual assault victims, and police and firefighters with PTSD who had not responded to traditional prescription drugs or psychotherapy. Patients had, on average, struggled with symptoms for 17 years. After three doses of MDMA administered under a psychiatrist's guidance, the patients reported a 56 percent decrease of severity of symptoms on average, one study found. By the end of the study, two-thirds no longer met the criteria for having PTSD. Follow-up examinations found that improvements lasted more than a year after therapy. "We can sometimes see this kind of remarkable improvement in traditional psychotherapy, but it takes years, if it happens at all," said Dr. Michael C. Mithoefer, the psychiatrist who conducted the trials here. "We think it works as a catalyst that speeds the natural healing process." The researchers are so optimistic that they have applied for so-called breakthrough therapy status with the Food and Drug Administration, which would speed the approval process. If approved, the drug could be available by 2021. Under the researchers' proposal for approval, the drug would be used a limited number of times in the presence of trained psychotherapists as part of a broader course of therapy. But even in those controlled circumstances, some scientists worry that approval as a therapy could encourage more illegal recreational use. "It sends the message that this drug will help you solve your problems, when often it just creates problems," said Andrew Parrott, a psychologist at Swansea University in Wales who has studied the brains of chronic Ecstasy users. "This is a messy drug we know can do damage." Allowing doctors to administer the drug to treat a disorder, he warned, could inadvertently lead to a wave of abuse similar to the current opioid crisis. During initial studies, patients went through 12 weeks of psychotherapy, including three eight-hour sessions in which they took MDMA. During the sessions, they lay on a futon amid candles and fresh flowers, listening to soothing music. Dr. Mithoefer and his wife, Ann Mithoefer, and often their portly terrier mix, Flynn, sat with each patient, guiding them through traumatic memories. … Research has shown that the drug causes the brain to release a flood of hormones and neurotransmitters that evoke feelings of trust, love and well-being, while also muting fear and negative emotional memories that can be overpowering in patients with post-traumatic stress disorder. Patients say the drug gave them heightened clarity and ability to address their problems. … In interviews, study participants said MDMA therapy had not only helped them with painful memories, but also had helped them stop abusing alcohol and other drugs and put their lives back together.
Report: Fix VA benefits by making troops buy their own health insurance (MilitaryTimes)
A health policy expert at the libertarian Cato Institute is offering a radical idea to help reform the Department of Veterans Affairs and prevent future wars at the same time: Make troops and veterans pay for their own medical insurance. In an online essay last week, institute Director of Health Policy Studies Michael Cannon recommends dropping the idea of free health care for veterans and instead offering better pay for current troops and vouchers for current veterans to buy their own coverage on the open market. He also calls for privatizing the Veterans Health Administration — something the major veterans groups have all argued against — with shares of the new publicly-run company to be given to veterans and servicemembers based on time in service. "Privatization would improve the quality of veterans' benefits immeasurably," he wrote. "The federal government promises veterans' benefits to military personnel once they leave active duty. Only it's not an explicit promise. And Congress doesn't fund it. "As a result, Congress can — and does — renege on that commitment." Cannon also argues that since the government would have to front the costs for insurance stipends and vouchers, it would also make the costs of war clearer before the first shots are fired. "Veterans benefits are one of the largest financial costs of any armed conflict," he wrote. "Yet Congress does not pre-fund those obligations. It only funds them once they come due. "(In the event of war), the added risk of deaths and injuries would cause premiums to rise, which would increase the amount of added pay Congress must provide each service member. The result is that future Congresses and presidents would have to confront this enormous cost of war at the moment they decide to send U.S. troops off to war, and every day they decide to keep them there." The idea is as radical as it is theoretical. While Republicans including President-elect Donald Trump have argued in favor of expanding private care options for veterans, none have offered plans to completely dismantle veterans benefits and hospital management. Meanwhile, Democrats and veterans groups have warned against even small steps towards privatization of VA functions, arguing that many outside hospitals and physicians lack the expertise or motivation to handle the most difficult service-connected injuries. But Cannon argued that without radical changes, any reform effort is doomed. "If Trump retains the VA's basic structure, he will join a long line of presidents who have failed our nation's veterans," he wrote.
Iraq-Afghanistan veterans with epilepsy more at risk of death (Eurekalert)
U.S. Iraq and Afghanistan war veterans (IAVs) with epilepsy were more than twice as likely to die between 2011 and 2015 as were similar veterans without epilepsy. A study published Nov. 11 in the U.S. Centers for Disease Control and Prevention's (CDC's) Morbidity and Mortality Weekly Report revealed that IAVs were found to have a higher prevalence of mental and physical comorbidity and to have substantially higher mortality than were veterans without epilepsy. The study from investigators at The University of Texas Health Science Center at San Antonio, the South Texas Veterans Health Care System, the CDC and several other VA facilities examined records of more than 320,000 Iraq and Afghanistan war veterans receiving VA care in 2010 and 2011, and found 2,187 who met the criteria for epilepsy. Examination of mortality over the next five years revealed that approximately five times more IAVs with epilepsy died by the end of 2015 than similar IAVs without epilepsy. Because IAVs with epilepsy were also significantly more likely to have conditions such as cardiac disease, stroke, cancer and mental health conditions that may also be associated with death, a second analysis controlling for these co-occurring conditions was conducted to determine if epilepsy uniquely contributed to mortality. "Similar to studies of civilian samples, we found that cancer, stroke and cardiac disease were strong predictors of five-year mortality. But, even after controlling for the impact of these comorbid conditions, we still found a substantial effect for epilepsy," said lead author Mary Jo Pugh, Ph.D., RN, professor of epidemiology, biostatistics and medicine at the UT Health Science Center. "After controlling for comorbidities, IAVs with epilepsy were about 2.6 times more likely to die during the follow-up period than similar veterans without epilepsy." Causes of death were not available from federal databases at the time the study was conducted, Dr. Pugh said. Therefore the report does not speculate on cause of death such as suicidality, car accidents, heart attack, cancer and sudden unexplained death in epilepsy. The report makes it clear, however, that deaths and comorbidities were more frequent in the highly vulnerable group of Iraq-Afghanistan veterans with epilepsy. Epilepsy is a complex condition, and the addition of these comorbidities presents health care providers with competing demands, Dr. Pugh said. … This is the first published study to examine mortality in veterans with epilepsy, and is unique compared to studies of epilepsy-related mortality in the United States. Civilian studies in the United States have consisted of small samples in localized areas, not a national population such as the population of Iraq and Afghanistan war veterans, Dr. Pugh said. However, the growing availability of electronic health records nationally makes this type of study in civilian settings more feasible. Dr. Pugh is developing a plan to examine similar questions in large data sets such as i2b2 locally, and eventually with data from the Great Plains PCORnet Collaborative. Dr. Pugh, who is co-director of the Research to Advance Community Health (ReACH) Center at the UT Health Science Center San Antonio, will present the study at the American Epilepsy Society meeting that convenes Dec. 2-6 in Houston.
Navy to bury veteran's remains in area where submarine sank in 1963 (NavyTimes)
The U.S. Navy will fulfill the wish of a veteran to be buried more than 200 miles off the New England coast where a submarine sank five decades ago. The Day newspaper reports that a submarine from the Naval Submarine Base in Groton will transport the cremated remains of Navy Capt. Paul "Bud" Rogers to the area where the USS Thresher sank in 1963. Navy officials declined to release the burial date. Rogers, from Wernersville, Pennsylvania, died last year at the age of 86. He was supposed to be on the Thresher on the day it sank, but was replaced at the last minute by someone with more experience. All 129 men aboard the sub died. Navy officials have blamed a leak in the sub's engine room.