Appeals court hands Camp Lejeune Marines, families a setback
Camp Lejeune Marines and their families have lost another attempt in their bid to sue the U.S. government for diseases caused by contaminated groundwater on the North Carolina base between the 1950s and 1980s.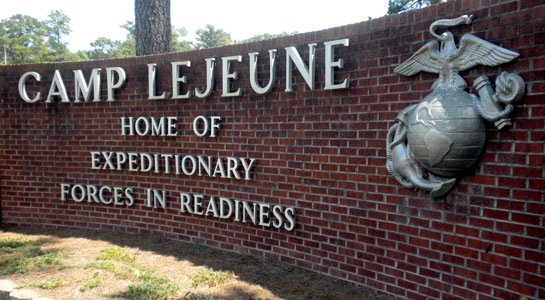 The 11th U.S. Circuit Court of Appeals has ruled that time has run out for victims to file lawsuits seeking damages or other remedies because of North Carolina's "statute of repose", a 10-year limit on lawsuits for liability. The State of North Carolina passed a law earlier this summer seeking to clarify that the "statute of repose" was aimed at product liability and not meant to shield companies or institutions from accountability in cases like groundwater contamination.
The appeals court found that the clarification passed unanimously by the state legislature and signed by Gov. Pat McCrory after the Supreme Court ruling could only apply to future claims, according to McClatchyDC.
This is the latest blow to Camp Lejeune Marines and their families who lived at the base between 1957 and 1987, when drinking and bathing water on the base contained more than 70 chemical contaminants including degreasers, dry cleaning solvents and flammable liquids at concentrations 240 to 3,400 times permitted safety standards.
In June 2014, the Supreme Court ruled in a 7-2 decision that a group of homeowners in North Carolina cannot suit a company that contaminated their drinking water decades earlier because the state deadline of 10 years had passed before they filed suit against the company — nevermind that the victims were unaware of the circumstances surrounding the toxic water until after the deadline had passed.
The time limit on N.C.'s "statute of repose" starts a 10-year clock running from the last culpable act of the defendant. In the case of the Camp Lejeune contamination, that would be 1985, when the last well was shut down. But in 1995 the contamination and its impact weren't yet known, according to McClatchyDC.
The Obama administration then asked the appeals court to dismiss the lawsuit over contaminated groundwater at Camp Lejeune.
In response to the appellate court decision, Jerry Ensminger, a former Marine drill instructor who lost his 9-year-old daughter to leukemia in 1985, told the Associated Press, "This is a slap in my face. This is blasphemy . . . This is what we served to protect? Really?"
Sen. Kay Hagan (D-NC) said in a statement, "These men and women and their families have sacrificed on behalf of our nation, and it is unconscionable that the administration has tried to deny them justice after all they've been through."