Veterans GOODNEWS for Oct. 16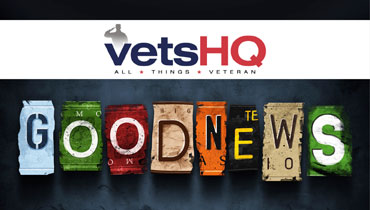 This app is saving veterans' lives (Fast Company)
At a memorial service for a buddy who had just committed suicide, Jake Wood, who had served alongside that soldier on both tours, discovered that three other Marines from their unit lived within 15 miles of Hunt's Houston, Texas, apartment, but no one knew he had moved there. Wood couldn't help but think that if they had connected, their presence might have saved Hunt's life. So he joined forces with fellow vets Anthony Allman (Chief Executive Officer) and William McNulty (Chief Expeditionary Officer) to create POS REP, a proximity-based app that uses GPS to connect veterans to each other and to resources that can help them adjust to–and thrive in–life after service. It couldn't have come a moment too soon; the VA estimates that 22 veterans take their lives every single day.
This Army vet has driven 165,000 miles to help his fellow soldiers receive medical care (Nation Swell)
Prowers County, Colo. sits in the rural southeast corner of the state on the Kansas border, more than four hours away from Denver. Its remote locale makes it difficult for the elderly and disabled veterans who live there to get to their far-flung medical appointments. Luckily, these American heroes can count on champion volunteer driver Cliff Boxley, who doesn't hesitate to set out at 4 a.m. — sometimes up to four days a week — to bring them to their doctors' appointments in Denver, Pueblo, La Junta and Colorado Springs. Boxley himself served in the Army from 1972 to 1980 and has kept close to his fellow vets, in part through his serving of four terms on the Board of Governors for the First Cavalry Division Association. In 2007, he started driving veterans in Prowers County to their medical appointments and has since racked up more than 6,000 volunteer hours — driving a total 165,000 miles in that time.
Inmates help reset veterans cemetery headstones (The Elkhart Truth)
Inmates from the Henryville Correctional Facility are helping the state reset headstones at a southern Indiana cemetery for military veterans. The inmates plan to help workers at the Indiana Veterans Memorial Cemetery in Madison realign and raise 803 headstones starting next Tuesday. The headstones weigh around 280 pounds and often sink unevenly over time. Cemetery Superintendent Alan Burnham said that weather often causes headstones to shift and move.
Veteran cafeteria worker surprised with a new home (Huffington Post)
Even the people who spend their days giving back to others need a little help sometimes. Trista Hopkins, an Army veteran living in Love Field, Texas, is a beloved employee in the cafeteria of Edward H. Cary Middle School. She spends her days serving food to the kids, who refer to her as "Ms. T." And as a single mom of two daughters, she tends to a second job after she leaves the school grounds in order to provide for her family. Luckily a committee behind local nonprofit organization Rebuilding Together Greater Dallas noticed her struggle and decided to offer her family a helping hand, reported WFAA. On Monday morning, Dennis Luellen from the organization walked into the school cafeteria, surrounded by faculty, students and the media, to inform Hopkins that she was the latest recipient of their Homes 4 Heroes program. She burst into tears as he explained to her that her current house, which had been inherited from her grandfather and was falling apart, would be completely gutted and renovated into a new, three-bedroom home for her family.
'Your pal, Gary Sinese': Quadruple amputee gets a smart home (Bangor Daily News)
Mills lost his arms and legs when an improvised explosive device detonated in Afghanistan. Because of it, the retired sergeant has faced challenge every day. But life just got a little easier for this deserving soldier. The special day started with a motorcade escorting Mills and his family to their new home. Daughter Chloe, 3, poked her head through the sunroof to wave to everyone. When Mills stepped out of the driver's seat, people started cheering. "All right, let's give a round of applause to Travis Mills." Mills told a crowd of supporters, "I got hurt April 10 — an earth-shattering moment. No arms and legs. What am I going to do?" He recalled the day he was told that actor Gary Sinise, who played an amputee in the movie "Forrest Gump," was going to build him a house. He couldn't believe it at first, but it was true. He was told, "We're going to build you a house whenever you're ready, wherever you want." In his best Forrest Gump voice, Mills told the crowd, "I tell you what. I may not be a smart man, but I know what love is."
Wounded veteran finds peace in handcycling marathons (Detroit Free Press)
Commentary: One second, you are on a recovery mission, traveling in a seven-vehicle convoy in southern Afghanistan. The next second, a bomb goes off. The ground explodes, and your hair melts, and your pelvis is crushed, and your lung gets punctured, and your skull is fractured, and shrapnel goes into your knee, and your backbone breaks, and your face is bleeding, and your legs catch on fire. "A wall of fire literally went up," Travis Wood said. "I remember floating straight up in the air. My seat became detached. I hit the top of the cab and then the steering wheel. When I came to, I was partially hanging outside the vehicle." It was Jan. 15, 2007, and Staff Sgt. Wood was trapped. He couldn't move his legs. Couldn't get out of the vehicle. This is a story about one of the athletes who will compete Sunday in the 37th Detroit Free Press/Talmer Bank Marathon. It is a story about feeling trapped and then finding a way out.