Veterans' GOODNEWS for Oct. 28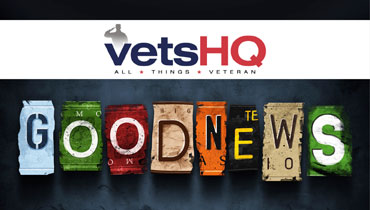 San Antonio ranks No. 1 for military retirees (Houston Chronicle)
A new study confirms that San Antonio, often called Military City, U.S.A., is a prime landing zone for troops and veterans parachuting into civilian lives. The study listed San Antonio as the best in the nation for military retirees, beating out Washington, D.C., Virginia and San Diego. USAA and Hiring Our Heroes, a U.S. Chamber of Commerce Foundation program, commissioned the study through Sperling's BestPlaces to work and Syracuse University's Institute for Veterans and Military Families. The survey ranked cities in 379 U.S. metro areas. San Antonio was at or near the top of the list in three categories. The city was ranked as one of the best cities for veterans who leave the military in mid-career, and for those who retire from the armed services. Houston was No. 1 for troops leaving the military during the middle of their careers, while Austin was No. 2 for retirees.
Military veterans find a second career (Pensacola News Journal)
The end of a military career doesn't mean the skilled learned no longer are useful. More often, military veterans are finding that their skillsets are useful in the civilian world, often allowing them to be their own boss. "When you get out there, use the things that are the backbone of your career," said Tim Anderson, co-owner of Batteries Plus Bulbs in Pace, Fla., on veteran business ownership. "Use your self discipline, use your ability to think your way through complex situations and things like that. If you do that, there's nothing you can't overcome." After 20 years of serving in the Army as an infantry non-commissioned officer, retired Staff Sgt. Anderson worked at Batteries Plus in Clarkville, Tenn., as a store manager for 12 years before deciding to open his own Batteries Plus store. "Choosing this business was a no-brainer because I had the experience," Anderson said. "I knew the ins and outs of the business — how the corporate worked and everything basically involved in the business."
Through pen and paper, veterans find a way to cope (InnovationTrail.com)
Andrew Miller had finished his second tour in Afghanistan for the U.S. Army, but he didn't have a lot of time to think about it before being thrown back into the world, now labeled a veteran. Struggling to figure himself out after the military, Miller got a nose ring, stopped shaving and grew his hair out. Coping with stress is something he's always had trouble with. He said he was easily upset and needed a different outlet. He had begun to drink more. The way Miller found to best get him through "the tough crap," as he puts it, is writing. He's a member of a veterans writing group that meets once a month at Syracuse University's writing center. About 10 people sit in a circle of plush chairs. A notebook and pen finds room on small writing slabs between coffee and muffins. Their writing focuses on their experiences in the military.  "The writing group is a group of peers who are more like you than not like you. And I don't really feel like that in my day to day life," said Miller. "I never feel the way I do anywhere else like I do when I'm in that room."
Veterans enrich the experience at San Jacinto College (Houston Chronicle)
Student veterans are much like any other student entering community college, said Amy Ammerman, the dean of enrollment services for the North Campus of San Jacinto College. They are there for quality education and to fulfill their unique dreams. Their presence on campus and in the classroom enriches the experience for all, she said. "Veterans have traveled the world," Ammerman said. "They have been educated in career paths. They have been leaders. They come to college with a lot of capabilities. Recognizing those characteristics is one of the factors that makes San Jacinto College such a military-friendly school." San Jacinto College, with 1,400 student veterans, has earned the designation "military-friendly" for the fifth year in a row from the independent organization Victory Media. For the designation, Ammerman said San Jacinto College was evaluated on the level of commitment to veterans from school leadership and faculty, academic credibility, size of veteran population in the student body, flexibility in working with active-duty students, and support systems on campus for veterans and active-duty personnel.
Army vet, mother of 3, calls getting Habitat home "overwhelming" (Gainesville Times)
At first glance, the newly rebuilt house, situated in a nondescript neighborhood called Wintergreen Court, doesn't look any different from every other freshly constructed home in the Flowery Branch area. "When I saw the stairs, it just filled my heart with so much joy and so much emotion," said Charmaine Smith, the property's future resident. The home is being rebuilt by Habitat for Humanity of Hall County, and the stairs are where the organization's many volunteers have left their mark in the form of positive messages and well wishes, handwritten in all different colors. Smith, a 35-year-old Air Force veteran and mother of three, will move into the Wintergreen Court property with her children, Tariq, 13, Ellishiah, 7, and Dorrian, 4, as soon as construction is completed.  She found out on Oct. 17 that she would be receiving a "Home for a Hero." The "Home for a Hero" project was born in early 2014, when the Wintergreen Court location was donated to Habitat for Humanity by the Hunter family, after their home burned down in January. The family specifically requested the property go to a military veteran once it was rebuilt.